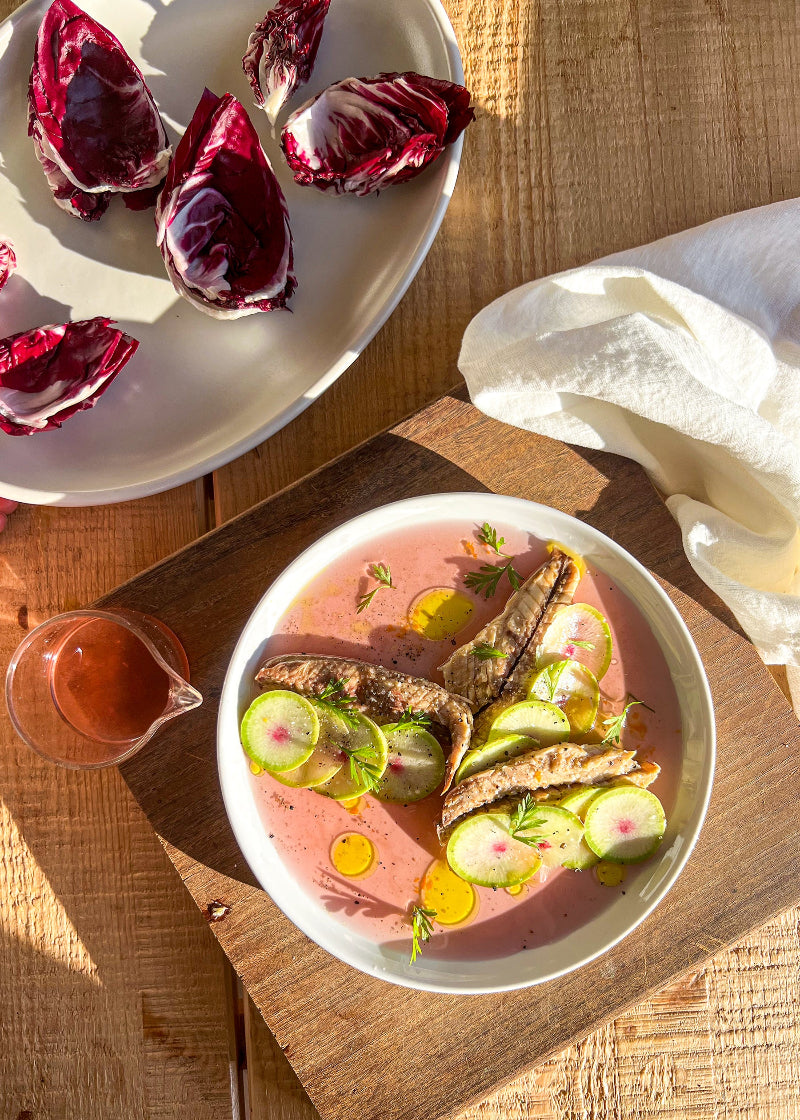 Supper Club: The Perfect on trend salad you need to cook right now
Posted: 09 May 2023
Get involved with one the most popular food trends right now and make this delightful simple, colourful and abundant dish that is perfect for your next weekend soiree. Layer your table in linen, choose your favourite serving dishes and leave your guests asking for seconds.
Have you heard? Tinned fish is the current food trend and we're very eager to try this delicious and moorish recipe which is smoky in flavour as well as light and balanced. And best of all it involves minimal prep.
keep scrolling for the full recipe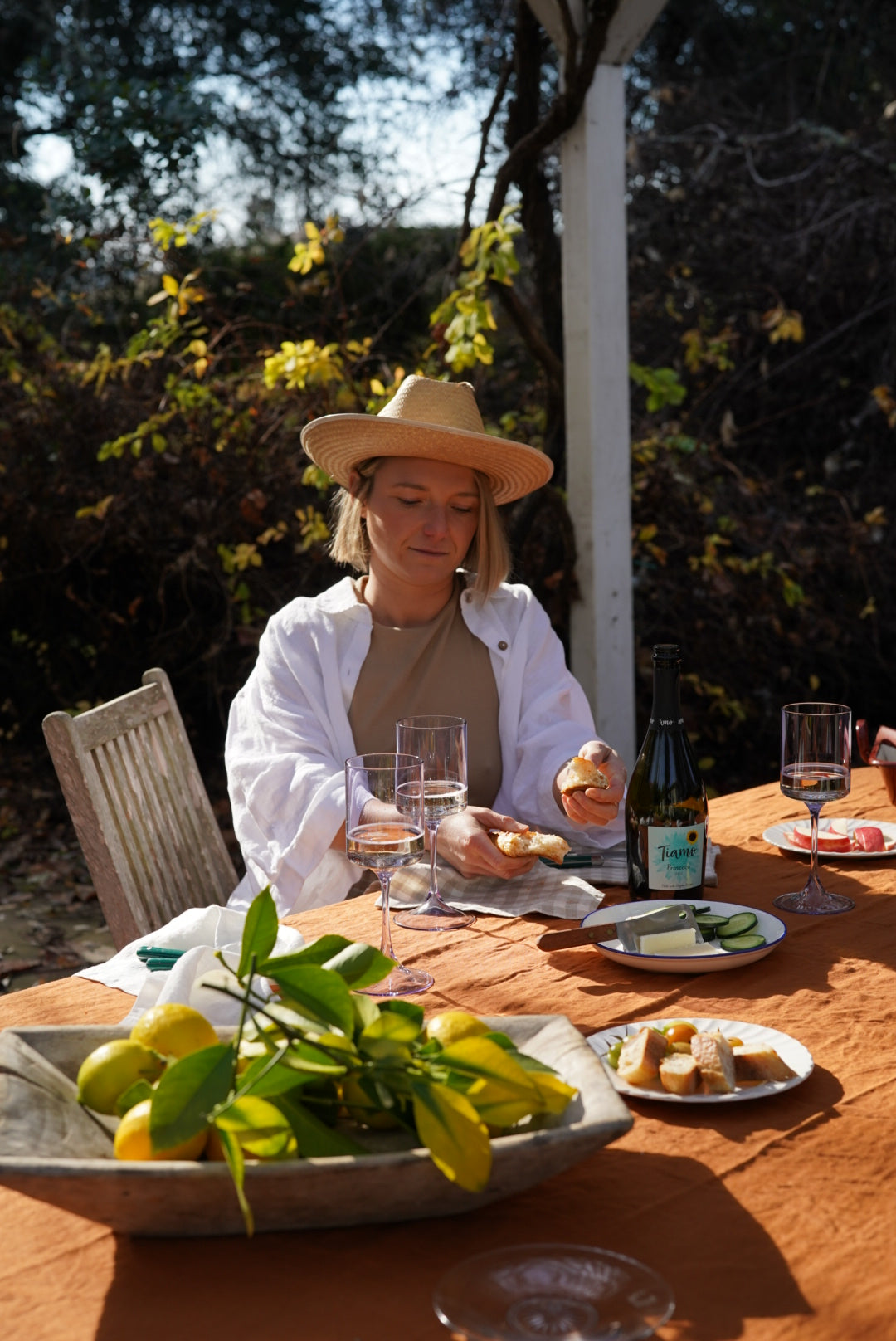 The table dressed in our French Flax Linen Table Cloth in Ochre and Napkins in Beige Gingham
Introducing this month's Supper Club
Welcome to the kitchen of Rebecca Taylor, aka @souley_nourished, where in a sun dappled corner of her kitchen in Los Angeles we learn to pull together a simple but on trend and simple supper that leans into the current tinned fish trend. 

Taylor says "In the kitchen I'm a free spirit. Designing a menu is a lot like getting dressed. I think about the layers and textures before anything else. Tinned fish is a staple on my shelf so this menu is based around mackerel in a pink vinaigrette. Alongside there's a winter lettuce salad, tuscan bread, and roasted tahini carrots. 

Below Rebecca wears our Ruby Shirt in White with Relaxed Shorts in Beige Gingham and styles her table with our Beige Gingham Napkins Set.
Where is this dinner party being hosted?
Rebecca cooks and styles most of her food in her own home in Los Angeles, and as she says "It's where I do so much of my cooking and entertaining and I absolutely love the light that streams in during the golden hour."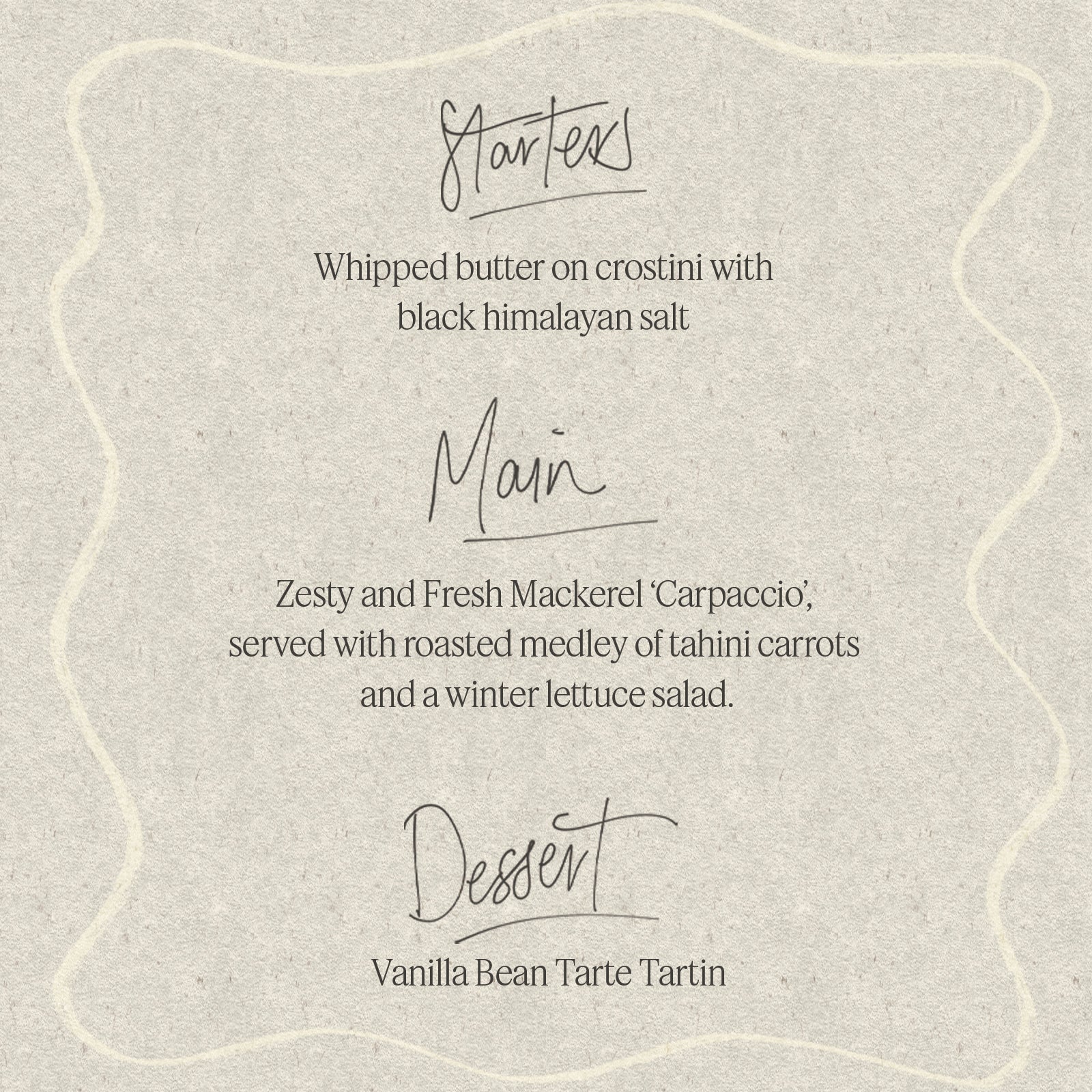 This menu is a celebration of colour, unique and in season ingredients with a California lightness.  
Recipe: Zesty and Light Marinated Mackerel 'Carpaccio'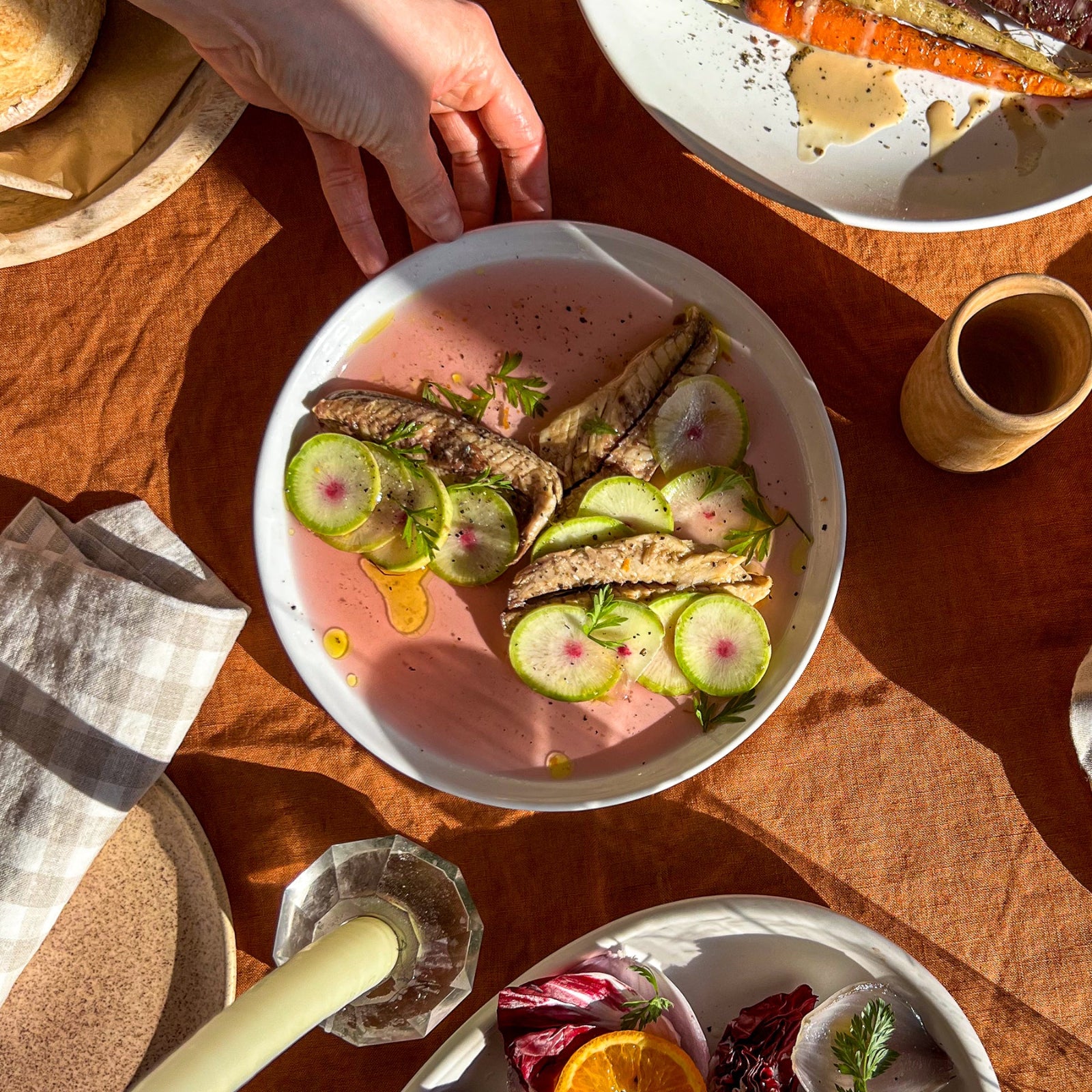 Ingredients:
- 1 4-oz (115g) tin mackerel in oil, reserve the oil from the tin (Note: you could substitute with other smoked fish or even salmon and trout)
- 1 small radish
- 1/4 cup white wine vinegar
- 1 tbsp fresh herbs, of your choice
- 1 tangerine, juice + rind
- 1 tsp beet powder
- Pinch of salt
- Pinch of pepper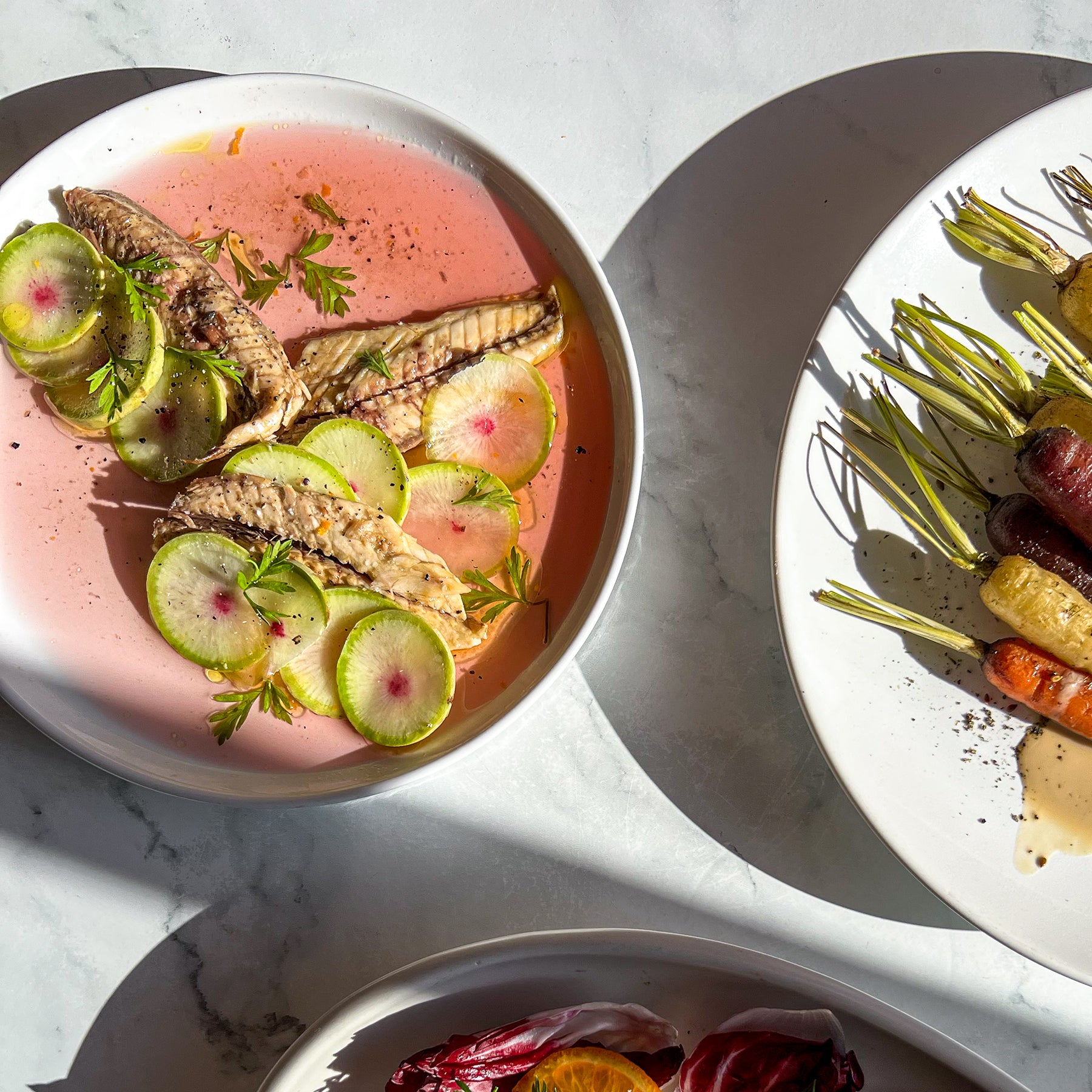 The Method
1. Remove mackerel from tin and reserve the  oil to be used later as a garnish. Using a knife or mandolin thinly slice radish into rounds.


2. Whisk the tangerine juice and beet powder with the white wine vinegar in a bowl and taste. If it's too harsh you can mellow out the flavour with a few splashes of water.


3. Choose a plate with raised edges so things don't get messy then layer the fish and radishes… pour the tangerine and beet liquid so it pools around the fish.


4. Finish with some tangerine zest, salt, pepper and fresh herbs and finish with a drizzle of the reserved oil from tin.

Rebecca styles her delicious Supper Club dishes on our Ochre Table Cloth and Beige Gingham Napkin Set.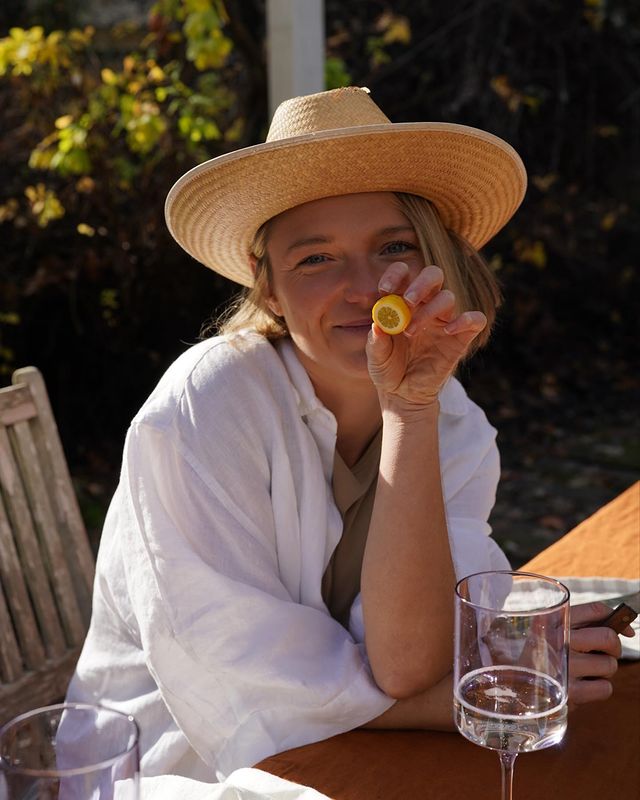 Meet our host Rebecca Taylor
Q: What would the playlist sound like?


A:The sounds of this dinner would be dreamy, cinematic and calm. Having guests at my table should feel peaceful, that;s what makes me feel inspired.


Prep + cooking: Feather, Ishmeal Ensemble
Table setting: Mogoya, Oumou Sangare
Dining: This Is How We Walk On The Moon, Jose Gonzales; Gay Sons of Lesbian Mothers, Khaki King
After dinner: Black Milk, Massive Attack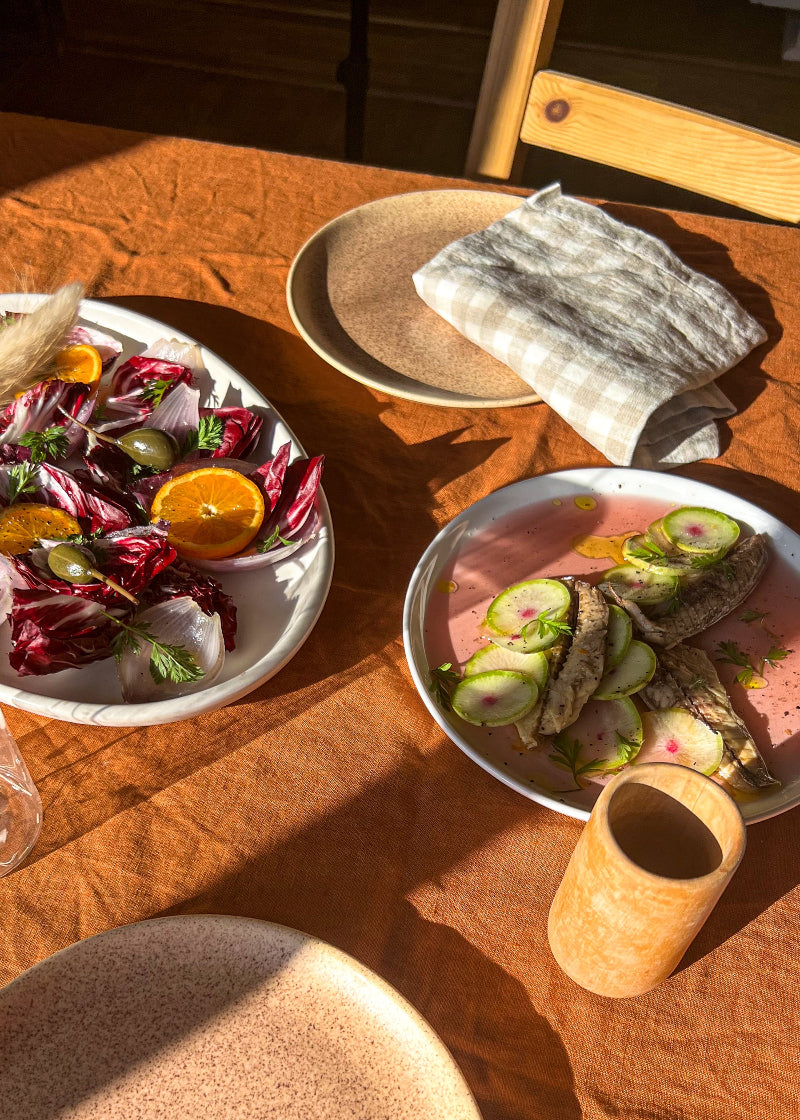 Q: How do the linens work as part of your dinner party design?

A: The colors of course! I love how linen is relaxed and has a rustic look but feels sophisticated. The menu is similar with simple rustic components but elevated. That's what I do, take humble ingredients and turn them into something artful.

Q: What do you love about the dish you chose to cook?

A: It's colorful, sustainable, fresh and light. I think people who know me would see that dish and know I designed it.
Q: You can invite six celebrities, dead or alive; who would they be?


Douglas McMaster, Chef/ Owner of Silo in London. The most sustainable restaurant, even the light fixtures are made of seaweed
Naomi Pomeroy, Chef/ Author of Taste & Technique. A self taught chef who's inspired my own cooking through what I've learned in her books
Cat Power (Chan Marshall) Musician/ Artist. I grew up with the beauty of her music 
Frank Lloyd Wright, Architect. His appreciation for nature and building around that is something special
David Lynch, Filmmaker. When I was writing music for a living, I would channel David Lynch and his dark, moody style for inspiration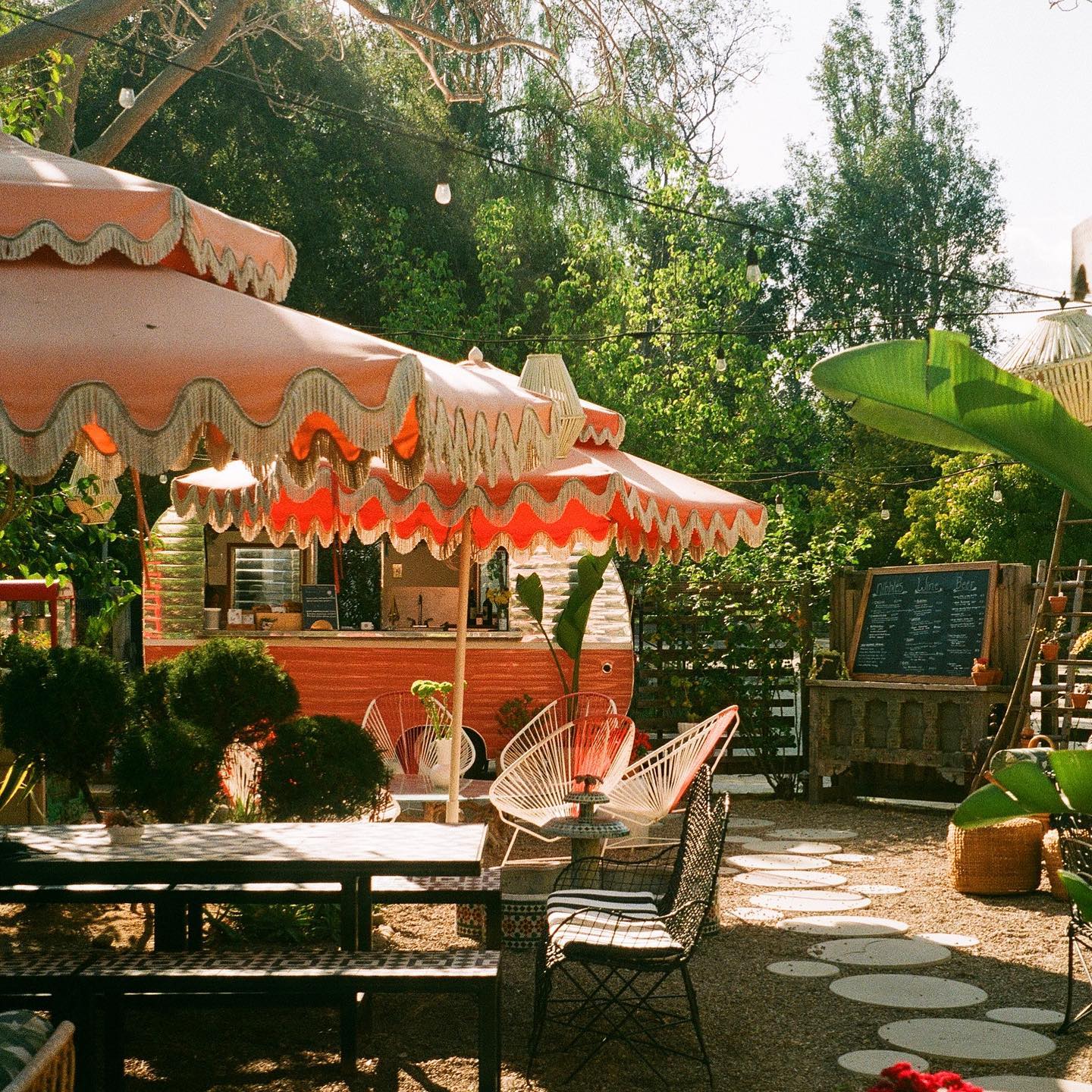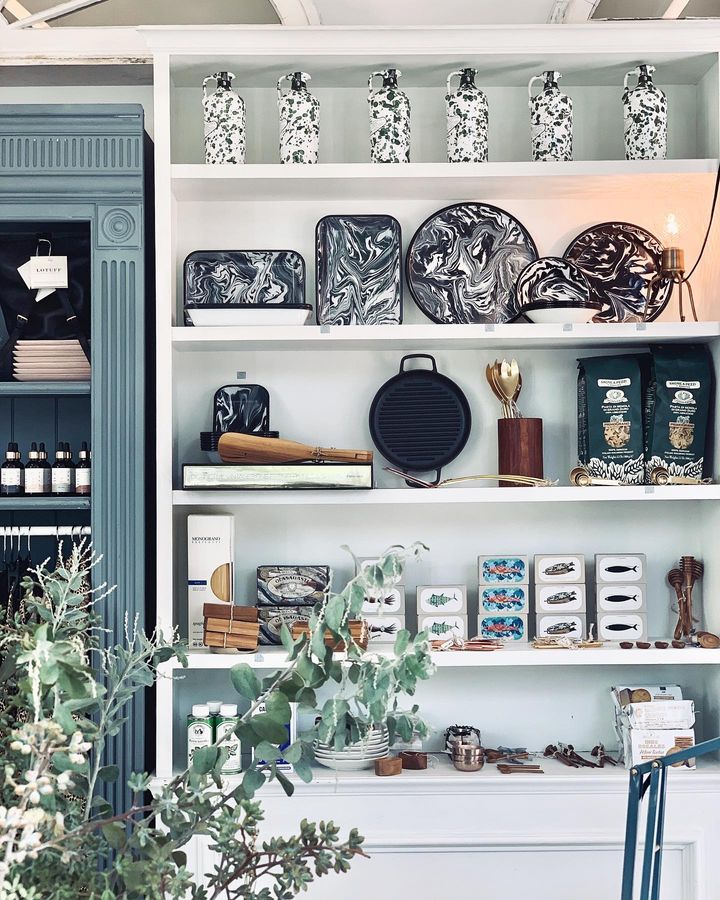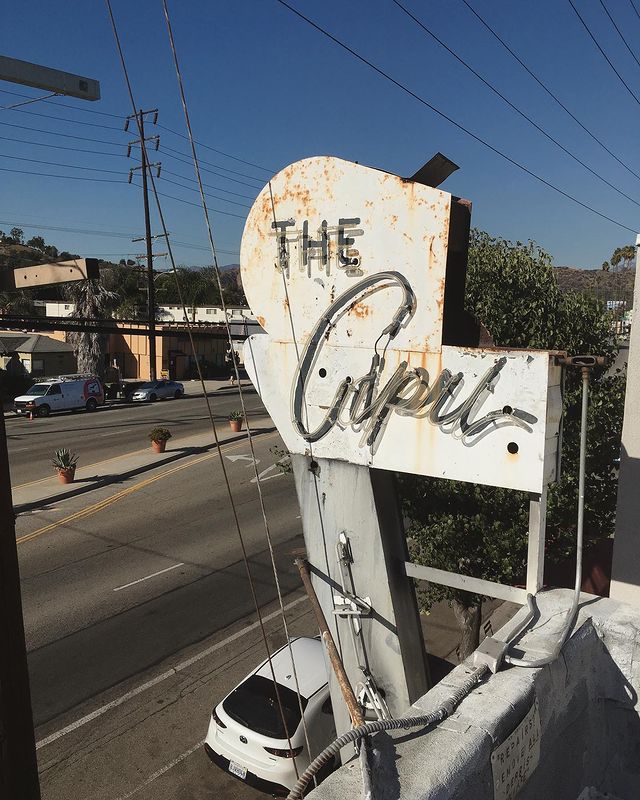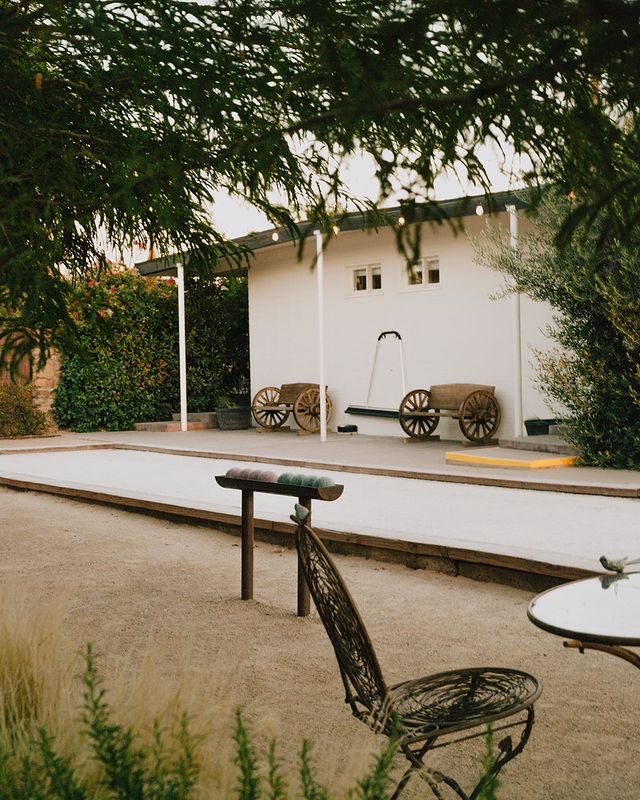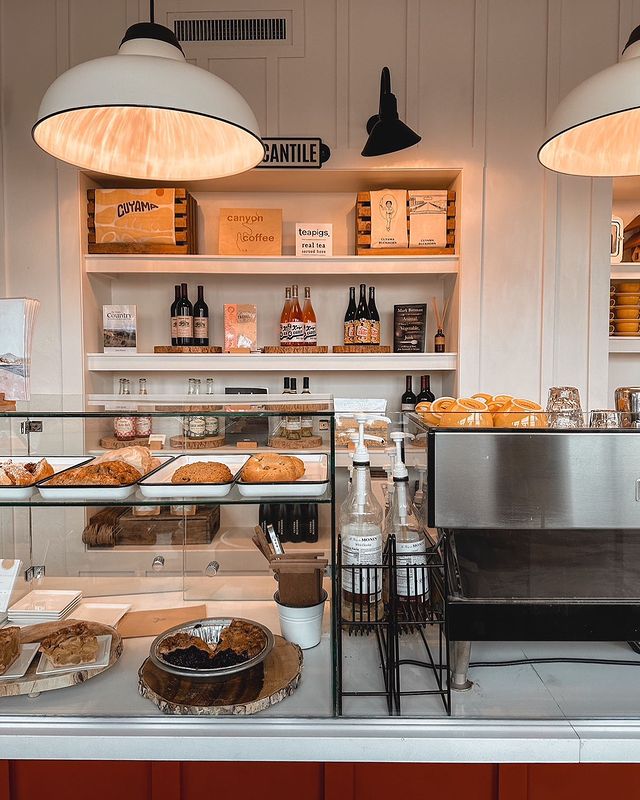 Q: Tell us about where you live - where do you go for
1. Coffee
2. Deli/cafe
3. Best place to go on a day trip nearby
4. Good pub/wine bar 

A: I split time between LA and Ojai. It provides the balance I need between "busy city work mode" and retreating to the mountains. Ojai is full of creative artists and organic living, while LA offers lots of diversity and opportunity.
1. LA - Broome Street General Store / Ojai - Beacon Coffee
2. LA - Lamill / Ojai - The Dutchess
3. The Cuyama Buckhorn Hotel in the Cuyama Valley
4. LA - The Capri Club / Ojai - Tipple and Ramble
Create a dreamy table scape inspired by the redwoods of California