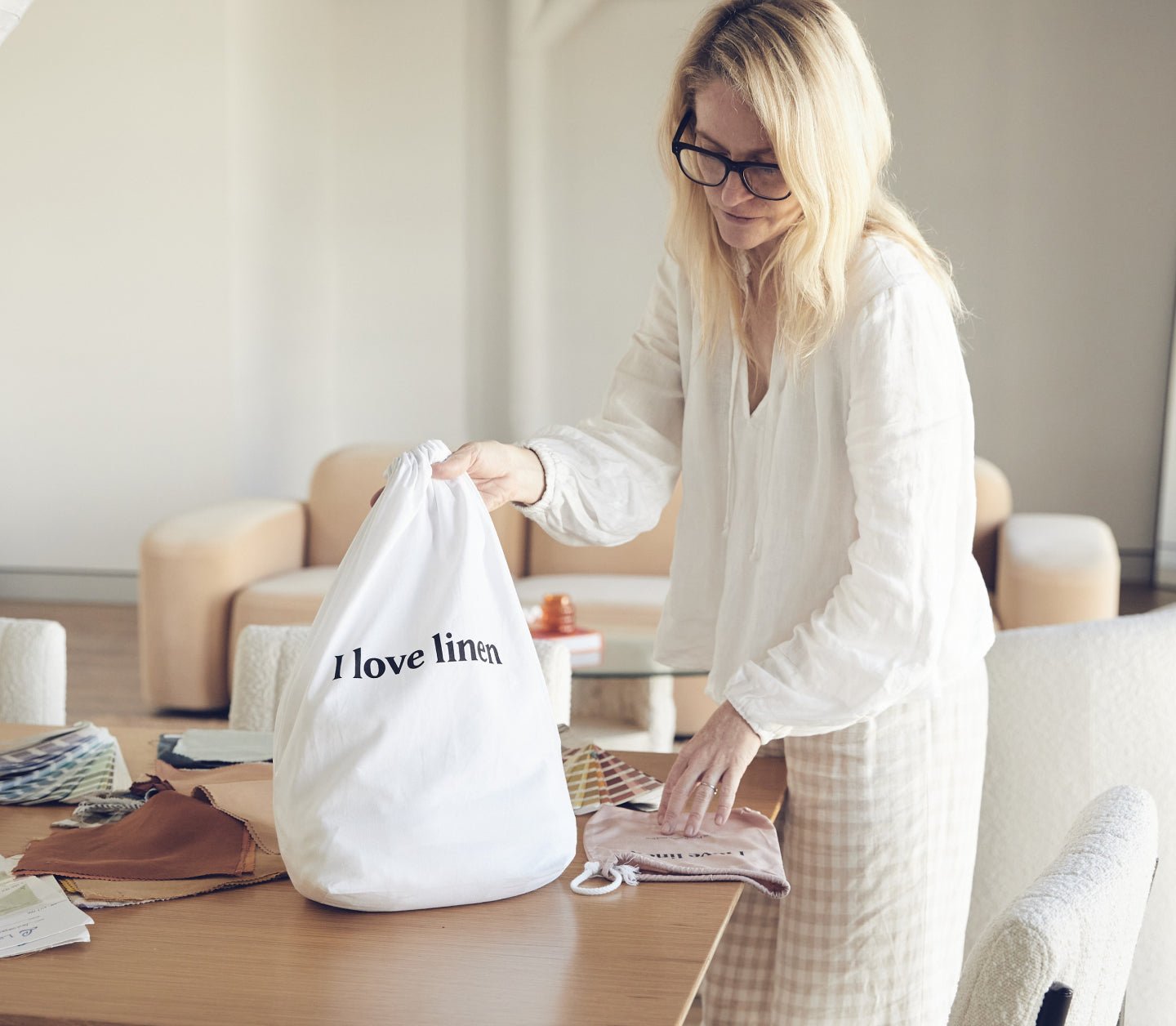 Product Care
Shopping online is just one part of the experience.
Receiving your order and knowing how to take care of it willensure that everything lasts for a long time.
Caring for your new wares
Please read your care labels on all items very carefully as each item has its own set of guidelines. We have captured them all below just for ease of reference before your order arrives.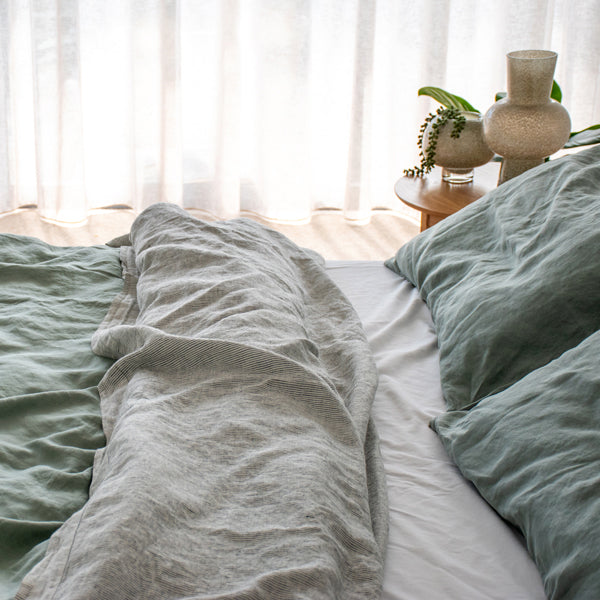 Sleeping on stonewashed linen is like no other, treat it with care and enjoy a beautiful night's sleep.
There's nothing quite like having linen bedding; the beautiful textured yet soft feeling is what appeals to us so much. But do you know how linen bedding is made? It starts with the raw flax, which is a sustainable plant that when first woven, produces a rough and scratchy fabric. It's perfect for curtains, furniture and in times gone by this was what bedding could be made from. Thick, but very uncomfortable.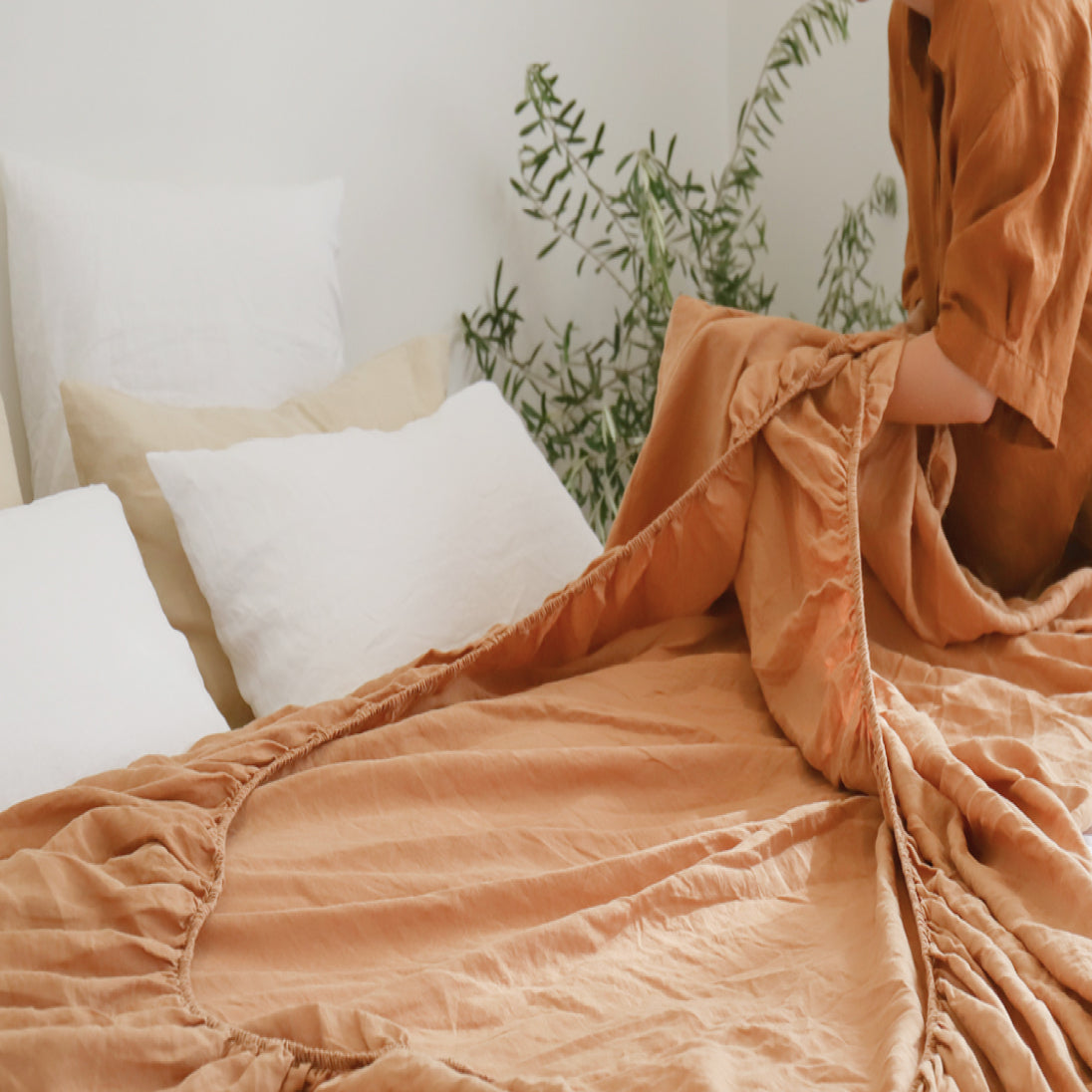 You can still find raw linen bedding available for sale, but it can take a long and uncomfortable time of washing and laying directly on it to soften the fabric. Now, there is demand for bedding to be immediately soft and ready to be slept in which is hopefully why you love your linen bedding so much as soon as you jump into bed.
In order to make the fabric soft and supple, we ensure that the fabric has been stonewashed. Imagine a machine with hundreds of pumice stones inside, and the fabric is placed in that machine and it spins around and the stones coming in consistent contact softens the fabric. This process is vital to making the fabric soft enough for you to want to sleep on it immediately, meaning you avoid the difficult process of softening it yourself over a long period of time.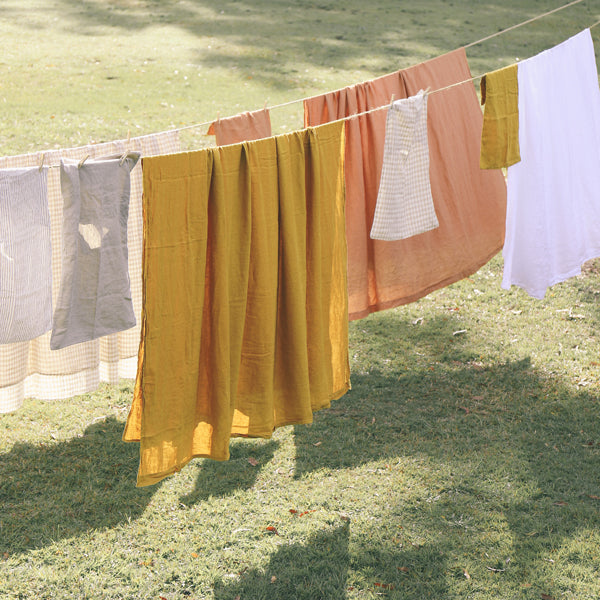 Ensuring a perfect colour match
Flax is a unique fibre and seasonality can affect the shade. This means there may be up to a 6% variation in the colour of woven linen fabrics. If you intend to purchase items in a particular colour in different product types (e.g. quilt cover, fitted sheet) on their own or at different times, please get in contact with us prior to purchase to ensure we can guarantee a perfect colour match. We hope you understand this is not always possible because each batch will show different seasonal colour variation.
Recommended Care
Gentle cycle cold or warm wash the linen on its own (but see other suggestions below for fitted sheets)
Place pillowcases in a delicates bag to avoid any unwanted snagging
Ensure you wash with similar colour, avoid mixing darks and lights
Gentle warm tumble dry is ok, but we do suggest line drying if you can
Do not bleach, or use stain removers and do not dry clean
Use a gentle liquid detergent
Opt to hand wash/soak your linen fitted sheets to minimise friction and prolong the lifespan of the fabric. Why? Because the more delicate stonewashed fabric will last longer if you avoid the agitation of a constant machine wash cycle, even if you use the gentle setting, it is not the same as caring for it as we suggest.
To prolong the lifespan of the fabric, please always rotate your sheets. With at least one set on the bed, one on the line, and one set in the linen closet adopt the European way. If you choose to rotate less than we suggest, you'll need to keep in mind that it is to be expected that the fabric (especially your fitted sheet) may show signs of wear earlier.
If you plan to store your linen away and not use it (i.e. over an entire season), please place in a vacuum-sealed bag. Linen is known for its moisture-wicking properties and if it it not being used it may lead to over absorption and degrading of the fabric.
Time and love goes into making your linen; for the most part, all of our items are made by humans, not machines. While we state the intended sizes, measurements, and colours, there may be variation of up to 6%, reflecting that each piece is unique and made by human hand.
Pure Linen FAQs
Why does linen need to be stonewashed?
Because you've skipped the stonewashing process, you can enjoy your bedding immediately, and (this is the important bit) it makes the fabric more delicate and susceptible to incorrect use and care. Fitted sheets, in particular, will always need the most care because of any item, it is the one item that receives consistent and continuous pressure and movement from your entire body as you're sleeping.
What makes this linen premium?
Our Flax linen is sourced from France and is 170 GSM. This fabric sits at the premium end of the market because of its weight and the fact that it's all been stonewashed, meaning that it is ideal to sleep on immediately.
Why is linen more expensive than other bedding?
As lovely as flax is, it is difficult to weave, because it is an inelastic fibre and takes a longer time to break in and soften compared to fibres like cotton. The cost to produce linen bedding is generally higher but this price does not imply that the fabric produced is longer lasting; for example compared to cotton bedding. You may read elsewhere that linen is 'X% stronger than cotton' which may be true of raw linen but if you're purchasing stonewashed linen the fabrics are already soft and delicate.
Unlike thread count with other fabrics, linen is measured by Grams per Square Meter. Our linen sits in the premium end at 170gsm.
What is stonewashed linen and how is it different?
Stonewashing is a traditional and artisanal way of softening the fabric naturally. It is done by placing your lovely linen sheets, in their raw and scratchy form into a large machine with hundreds of pumice stones inside, the machine then spins your sheets and the stones around to make sure that the pumice stones come in consistent contact with the fabric, softening it so it can be ready to sleep on. This is a natural and more environmentally friendly way of ensuring your sheets are ready for you to sleep on as opposed to cheaper and more common chemical enzyme washes.
Why must I rotate my linen sheets?
With all premium linens, their price and opulence comes from the fact that the finest linen fabrics follow the artisanal ways of genuine stone washing. Our linen is delicate and true to nature being a luxury product and as with all items that sit within this category it requires its own level of care. To make sure you prolong the lifespan of this product - especially the fitted sheet - make sure you follow the care guide and rotate your sheets with at least two other sets (they don't need to be linen).
Why would I invest in pure linen sheets instead of 1000 TC sheets?
Linen is woven from the flax plant and is different to cotton because the fibrous strands of flax are much larger, hollow grass-like stalks. It's because of these hollow stalks that woven linen has an amazing ability to cope with moisture and because of the air in the centre, release moisture to dry very quickly. For you as the lucky linen sleeper, you luxuriate on bedding that allows cool, dry air to pass freely, keeping your body the right temperature as you sleep. When you purchase this linen and put it on your bed for the first time, you will notice that it has a cool, dry, textured feeling and feels ridiculously amazing on your skin - even in humid weather. This bedding has a soft textured feeling - that's the unique luxury 'linen feeling'. This is not to say that cotton is without merit, and indeed the 1000 TC range we also sell is just beautiful, but it's like comparing apples and oranges. Ultimately it's the texture of linen to sleep on that makes it a worthwhile investment.
Why do some linens have a different texture?
You may notice our Natural, Beige Gingham & Striped linens are slightly more texturised than our solid colours. This is because our solid colour linens go through an additional dying process which further softens the fibre, unlike our two-toned weave and undyed flax which don't need to go through this colour process. It may mean these fabrics are more durable as they have not been heavily softened. If you give this linen a few extra washes to speed up the softening process this will assist.
Please expect fading to occur to your fabrics. As a business we choose not to use formaldehyde as a setting agent, instead opting for non toxic setting agents that are better for your health. These agents will never be as strong as toxic setting agents and so fading is typical with your beautiful natural fabrics. It is difficult to say when fading may occur, as it also depends on the shade the original flax plant was at the time it was harvested from the ground. Typically, a lighter shade of flax will fade into a lighter shade of fabric, and this is part of the natural fibre journey.
Due to our stonewashing process, you may find that your linen fabric will shed fibres for a period of time, due to the fabric being softened and the excess fibres needing to be still removed. This is normal with linen goods and you can speed up the process by a few extra cold washes and tumble dries. Darker colours will often tend to shed more as they have been dyed more times.
To enjoy a comfortable and relaxing sleep with your Hotel Cloud Collection, it is important to maintain and care for your bedding - just as a hotel does for guest comfort.
The entire Hotel Cloud Collection™ range is hand-filled with our patented blend of microfibre and there can be a slight variation in the amount of fill within each product, between + / - 5%. This includes all Mattress Toppers (in each individual pocket), Quilts (in each individual pocket) and Pillows, sold separately or in a set. We do not suggest the use of an electric blanket underneath or placed on top as we have not had the item tested in conjunction.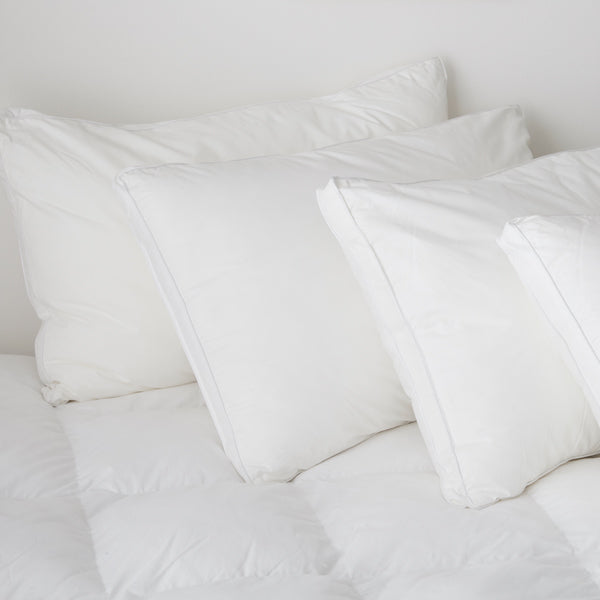 Hotel Cloud Collection™ Pillows
A crafter fusion of cotton and microfibre, assures your pillows remain spotless. You can also get the benefits of your free pillow protector and then adhere to the subsequent guidelines:
Plump the pillow every few days, or at a minimum weekly to ensure that the soft filling inside does not start to clump together. We suggest replacing your pillow every 12 to 18 months.
Once every 6 months you may choose to freshen up the pillow, so please follow as below.
1. Place your pillows in direct sunlight for a fast & easy freshen up
2. Do not rub, soak, wring or bleach or dryclean
3. Do not machine wash
Plumping is vital to regulating your filling and maintaining the integrity of the fibres for as long as possible. Please ensure that you are giving your pillow a good 'plumping' every second day to regulate airflow, keeping the fibres from clumping.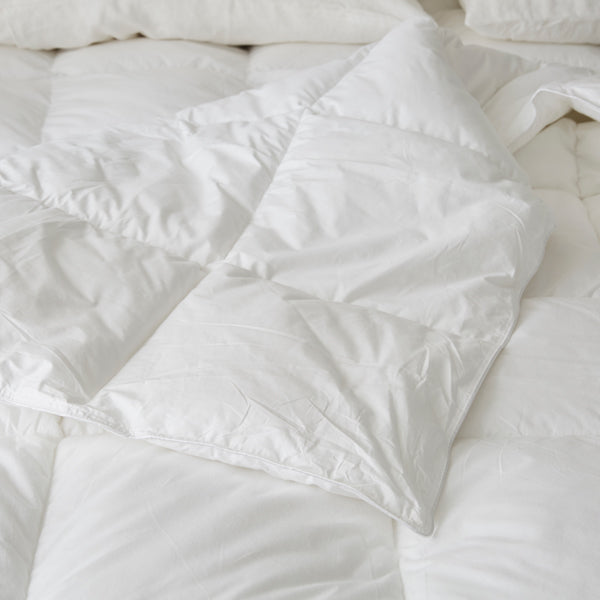 Hotel Cloud Collection™ Quilts
A blend of cotton and microfibre, offers peace of mind knowing your duvet can stay crisp and clean. It's recommended to fluff and air out your duvet on a weekly basis. For optimal comfort and hygiene, consider updating your duvet every two to three years.
Once every 6 months you may choose to freshen up your quilt, so please follow as below.
1. Place your quilt in direct sunlight for a fast and easy freshen up
2. Do not rub, soak, wring or bleach or dry clean
3. Do not machine wash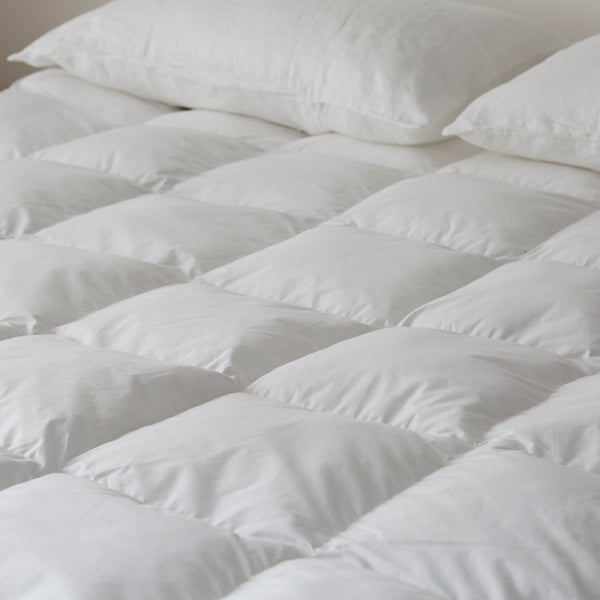 Hotel Cloud Collection™ Mattress Toppers
A blend of cotton and microfibre, instills confidence in maintaining the freshness of your mattress topper. Invigorate it weekly through a vigorous shake. Be aware that, due to the gentle nature of the fibres, some pockets might lose their springiness over time. We recommend refreshing your mattress topper every 12 to 18 months for optimal comfort.
Once every 6 months you may choose to freshen/clean up your mattress topper, so please follow as below.
- Place your mattress topper in direct sunlight for a fast and easy freshen up. Note: lay it flat in the sunlight otherwise if hanging you will increase the risk of the filling clumping together as gravity pulls it downwards into the pocket.
- Do not rub, soak, wring or bleach or dry clean
- Do not machine wash
Your mattress topper should be plumped/shaken out once a week as you change your sheets, as well as your quilt.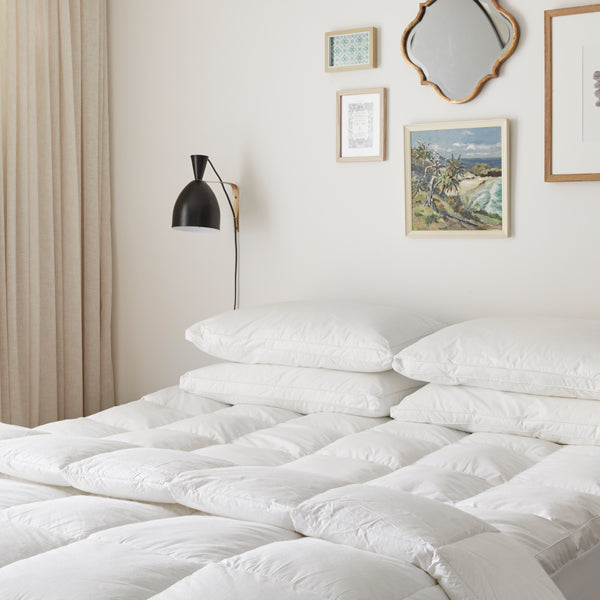 Hotel Cotton Collection - Sheets and Bedding
Please follow the below instructions when caring for all of your Hotel Cotton Collection Sheets & Bedding.
1. Use a gentle liquid detergent.
2. Wash your bedding on a cold / warm wash setting with a maximum temperature of 40 degrees.
3. Line dry in shade or on a warm tumble dry.
4. Do not bleach or dry clean.
5. Do not wash with any colours.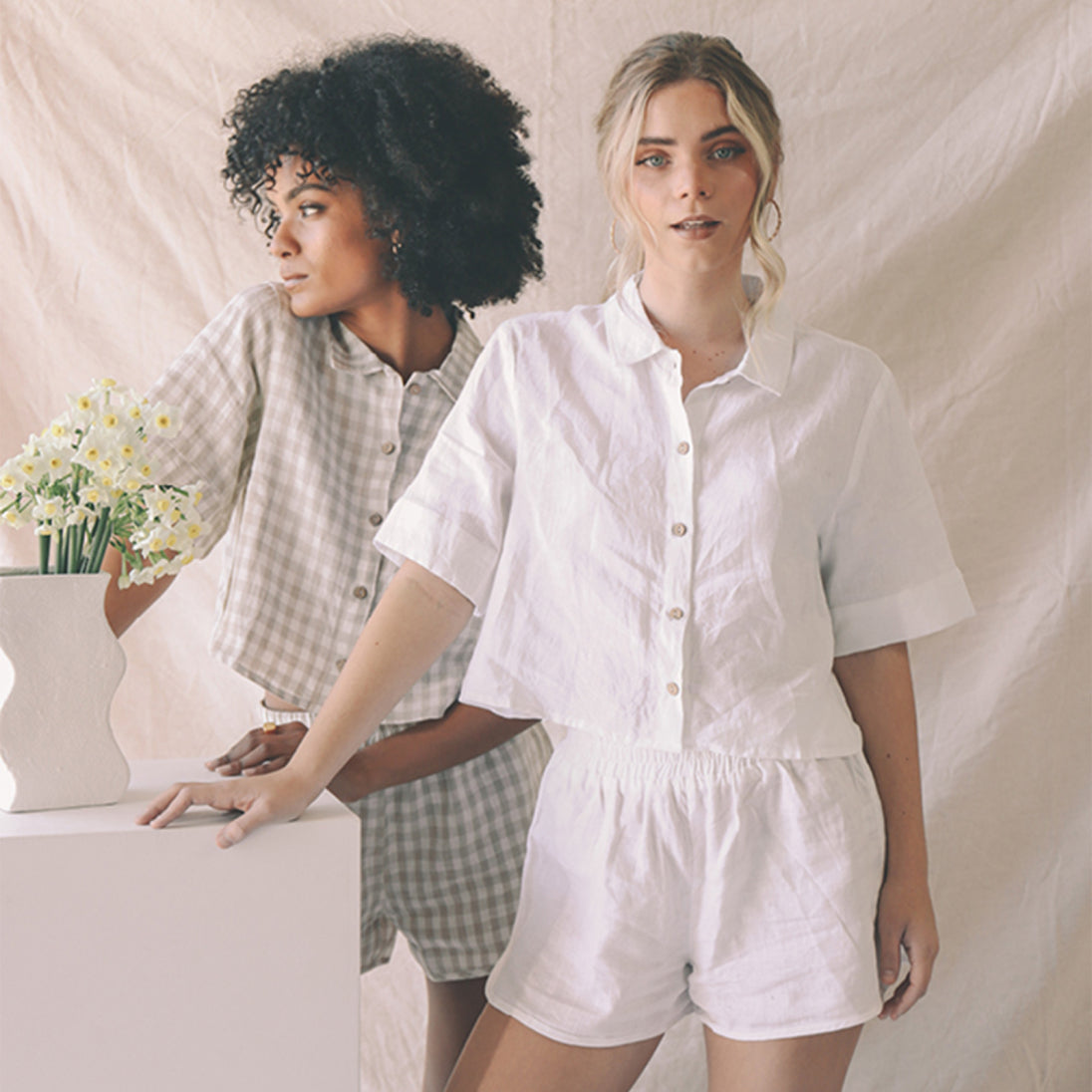 Loungewear Care Guide
This fabric has been pre-washed before stitching each garment. However, to achieve the signature lived-in linen look, we recommend a warm wash and if possible drying on a hot setting once to soften the fibres and ensure the drape of the linen sits just the way you want it to. After this, please follow the care instructions below.
1. Gentle wash in cold or warm water (maximum 40 degrees).
2. Use a gentle liquid detergent (powders will coat the fabric).
3. Dry on the line in the shade.
4. Do not bleach or use fabric softener when washing
5. Do not wash in hot water, and do not leave in direct sunlight for extended periods so to prolong the lifespan of the fabric.
Flax is a unique fibre; seasonaility can affect the shade, this means that there may be up to a 6% variation in the colour of woven linen fabrics. If you intend to match several colours together, please get in contact with us prior to purchase.