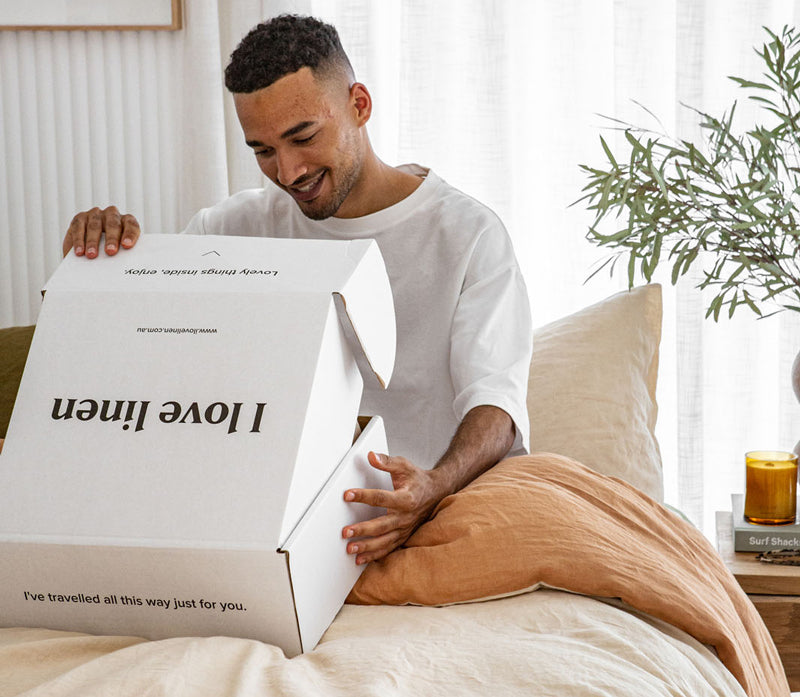 Shipping
We offer free standard shipping within Australia, via Australia Post.*
Christmas Delivery
For the best chance to receive your items before Christmas, place your order by Sunday 17th December. We will dispatch your order prior to Australia Post's shipping cut off. Please ensure you check delivery times from our postcode (4220), to yours, via the Australia Post website here, as some regional areas require longer delivery times.
To minimise risks to everyone, all parcels require a signature.
To minimise risks to everyone, all parcels – be it at a post office or at a residence – a signature is required for all deliveries. The Australia Post team will continue to record your name and delivery on their handheld device to ensure that your parcel is delivered safely and to the correct person and if no one is home, your parcel will be taken to the nearest post office unless you have specified that is is safe to left on the premises. Our first priority is to update our customers with any changes to the operations of our business, so if any shipping delays are to be expected, we will let you know.
We pick and pack your orders on business days (Monday to Friday)
If you place an order from 12pm on Friday or over the weekend, your order will be shipped the following week. Please check carefully if your item is a Pre Order or Custom order for further information on arrival dates.

As our product is a higher price point, we cannot ship your order to a parcel locker as this is considered a higher risk location. If you cannot be home, we recommend sending your order to another location where you can sign on delivery, ensuring you receive your beautiful linen as soon as possible.

We have also extended our returns period to 30 days. Please refer to our returns page here for more information.
Standard Shipping:
Free Standard Shipping is availale to everyone who reaches our minimum spend of $75.00 for shipping for the majority of our products and most locations across Australia. You will see the option of Free Standard Shipping at checkout if your order is equal, or greater to $75.00 and destinations are listed. Please kindly note this applies to Australia mainland and Tasmania only.

If your order does not reach the minimum shipping threshold of $75.00 you will have the option of Standard Shipping for $9.95 for shipping for the majority of our products and most locations across Australia.
Express Post:
We offer express post on the majority of our products and for most locations across Australia. You will see the option of express shipping at checkout if your order and destination are listed . Please kindly note this applies to Australia mainland and Tasmania only and we do not express ship internationally.
International Shipping:
We do ship worldwide! Based on your location our store will show you an indication of the pricing in your identified locale. If you're located in the USA, Canada, United Kingdom, Germany, Netherlands, New Zealand, Hong Kong, Japan and Singapore please continue to check out and enjoy your beautiful items. We ship with DHL for International orders for peace of mind, this method is fully trackable and the best way to ship your precious goods. We do have some products that due to the bulky nature of these goods the cost for International shipping is too high.
We use DHL Express to send your goods. Please ensure you enter the correct address at the time of order as the courier will be booked for that address. Please note DHL will require a signature for delivery and I Love Linen is not liable or responsible for parcels that are marked as delivered with proof of signature that corresponds to the recipient's name.
Please choose your linens carefully as the cost of return shipping might be high and is covered at your own expense.
When returned and once we have your goods back, we will re-ship to you but you will incur 50% of the reshipping fee. 
Customers are responsible for all import duties, taxes and any import fees levied by the country your items are being shipped to. These will be due at the time of or after delivery and will not be reimbursed or refunded by I Love Linen.  If you are unsure of the charges that apply, please contact your local customs office for more information. Should you choose to not pay the import duties and taxes, I Love Linen will not be liable for the shipping fee.
We want to assure you that we are still dispatching and sending all orders with Australia Post as normal. All parcels are sent via standard post, however Australia Post are currently experiencing some delays within their network.
About Dispatch:
We ship all our domestic parcels using Australia Post, you can view the expected network delivery speeds and coverage here, please note that we cannot control the whereabouts once the parcel has left our warehouse. Please see our shipping FAQs for more information.

Our linen swatches are sent using Letter Post which tends to be longer than parcel post. Please allow up to 10 business days in most cases, in the meantime, you can view our look book here for our favourite colour combinations
About Pre-ordering items:
About Pre-ordering items: If an item is on preorder, we will hold the whole order until the item arrives and then ship the whole order in one. If you would prefer an alternative arrangement, please email help@ilovelinen.com.au.

Please note, while we strive to ensure delivery of your items is in accordance with the preorder dates stated on the website, the nature of shipping is complicated and shipments may be delayed, by factors including production delays, stock not arriving as planned, boats missing their next connection, and delayed customs clearance. We will always update you on any setbacks as we hear them but always keep this in mind when you pre-order an item from us.

Please note, custom items are different to pre-orders and will display a message to contact our customer service team for more information on arrival times and charges. Any custom order purchased without prior contact will be refunded after 5 business days.
Re-shipping and handling
If for some reason your parcel is returned to I Love Linen or you return an item and then wish for it to be reposted, you will incur a $9.95 shipping and handling fee.
Changing your postal address
If you have put in your wrong address or wish to change your address, contact us! If the parcel has not been packed, our team may be able to resolve this for you!

Australia Post will return your order to us if the courier is unable to deliver due to an incorrect, unclear or partially filled address. Please ensure that your details are correct at checkout to ensure safe delivery. A return to sender will require a reshipping fee to be paid and a longer wait time for your order.
The parcel has not arrived or is later than expected
We use Australia Post to deliver Australia wide. If your parcel goes missing, you will require to start a Track and Trace enquiry with their customer service team on 13 76 78. Please request authorisation for I Love Linen to access the enquiry there are times where we may need to follow up and request final outcomes in order to assist you!

We understand how frustrating it can be when a delivery is not as smooth as hoped and of course we will look to resolve on our end as soon as possible. Please bear in mind, we do need to wait for Australia Post to advise of the final outcome of their internal investigation which can take between 5 - 10 business days in most instances.

Given the price of many of our items and the investment made, please note that I Love Linen sends all parcels with 'signature on delivery' required. If you, the customer request a Safe Drop or Authority to Leave with either Australia Post or DHL please understand I Love Linen is not liable if your parcel has not been received as we need to send with 'signature on delivery' to ensure the safest method of delivery.

If Australia Post does not deliver to the time frames they state and your order is later than expected, we cannot be held liable for any damages including discounts on an order. You can lodge a formal complaint, as the owner of the parcel with Australia Post.
At I Love Linen, our team is committed to making sure that your goods always maintain a high level of quality, upholding our premium standards and love for quality goods.
What happens if I receive my goods and it's faulty?
At I Love Linen, our team is committed to making sure that your goods always maintain a high level of quality, upholding our premium standards and love for quality goods.

Our dispatch centre works hard to ensure your parcel has been picked and packed with the correct items, if we have made a mistake with your order please contact us and we resolve for you! Please note that we require all returns to arrive at our warehouse before sending new goods.

After receiving your goods please ensure you check and contact us within 2 weeks of receiving them if you find any faults. Please note that production faults are generally apparent within the first few washes. A faulty weave generally will not withstand more than a few washes and there is a chance that wear and tear has occurred.

Please note: wear and tear that occurs in the course of normal use is not considered a fault of the product.

I Love Linen are not liable for products that have been damaged in transit by uncontrollable circumstances. In the unfortunate instance that the parcel has been delivered is damaged, you will need to contact Australia Post for a resolution. I Love Linen can only reimburse compensation offered by Australia Post under these circumstances.