Supper Club: Homemade focaccia for your next meal with friends
Posted: 17 October 2023
Making focaccia is not only easier than you think but all the more delicious when it's homemade and is still warm from being in the oven. The team behind popular food account @foodbymayaandchels show you how to make your own in this month's Supper Club.
Introducing this month's Supper Club
Welcome to the world of Maya and Chels, two friends and creative partners who live and work in the NSW Northern Rivers area. You'll find them creating recipes, cooking and hosting events and always focused on styling beautiful tablescapes. 


We were excited when they wanted to share a focaccia recipe as we're big fans of the moorish texture and flavours of bread like this, perfect for grazing and dipping into a simple olive oil and balsamic vinegar. 


Said the duo, "We have chosen to serve focaccia topped with anchovies accompanied by spaghetti pomodoro. Arguably one of our favourite ingredients, the balance of salt that the anchovies bring to this delicious Italian flat bread is sensational."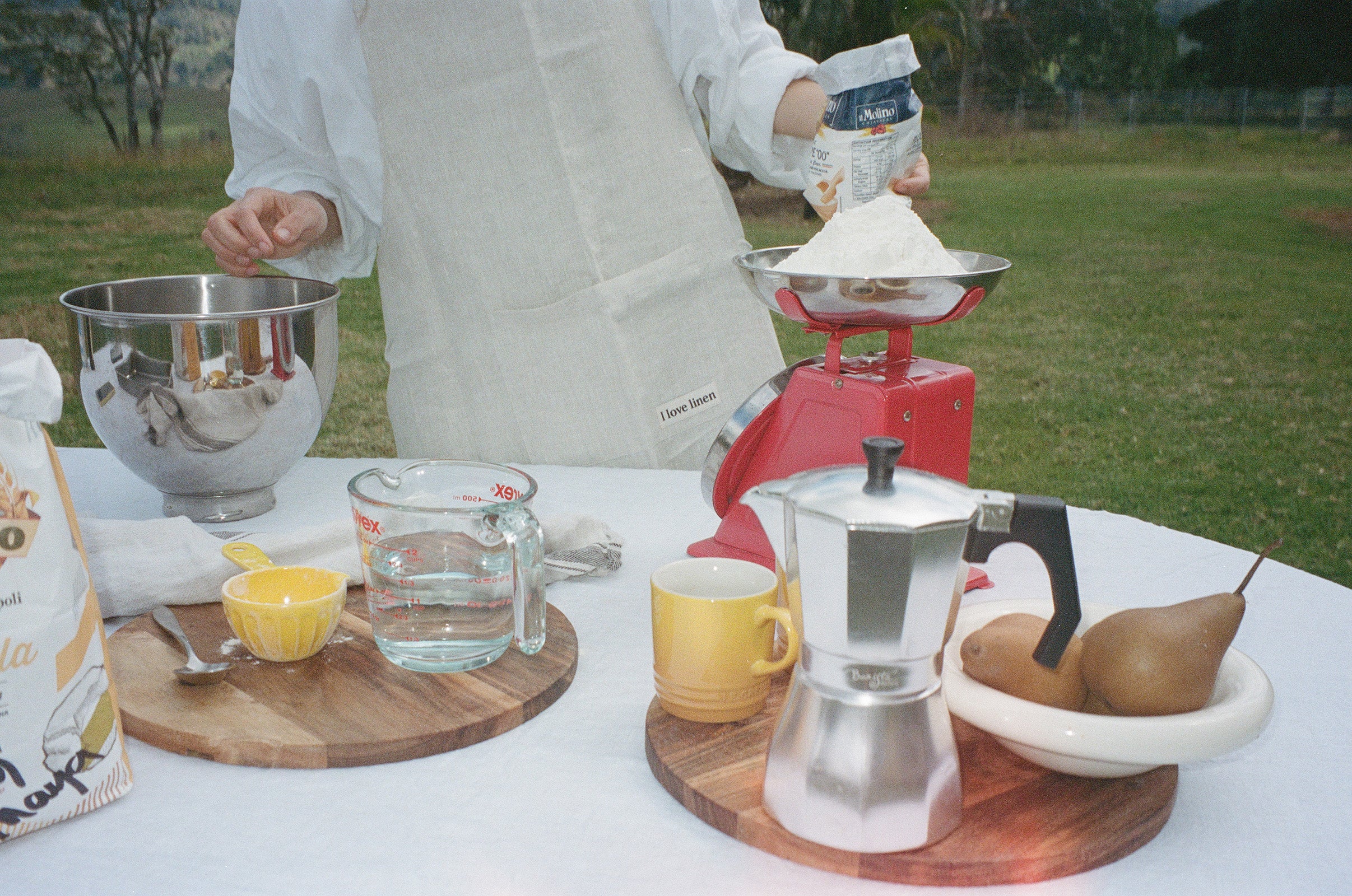 The table dressed in our French Flax Linen Table Cloth in Milk and Maya wears our Apron in Natural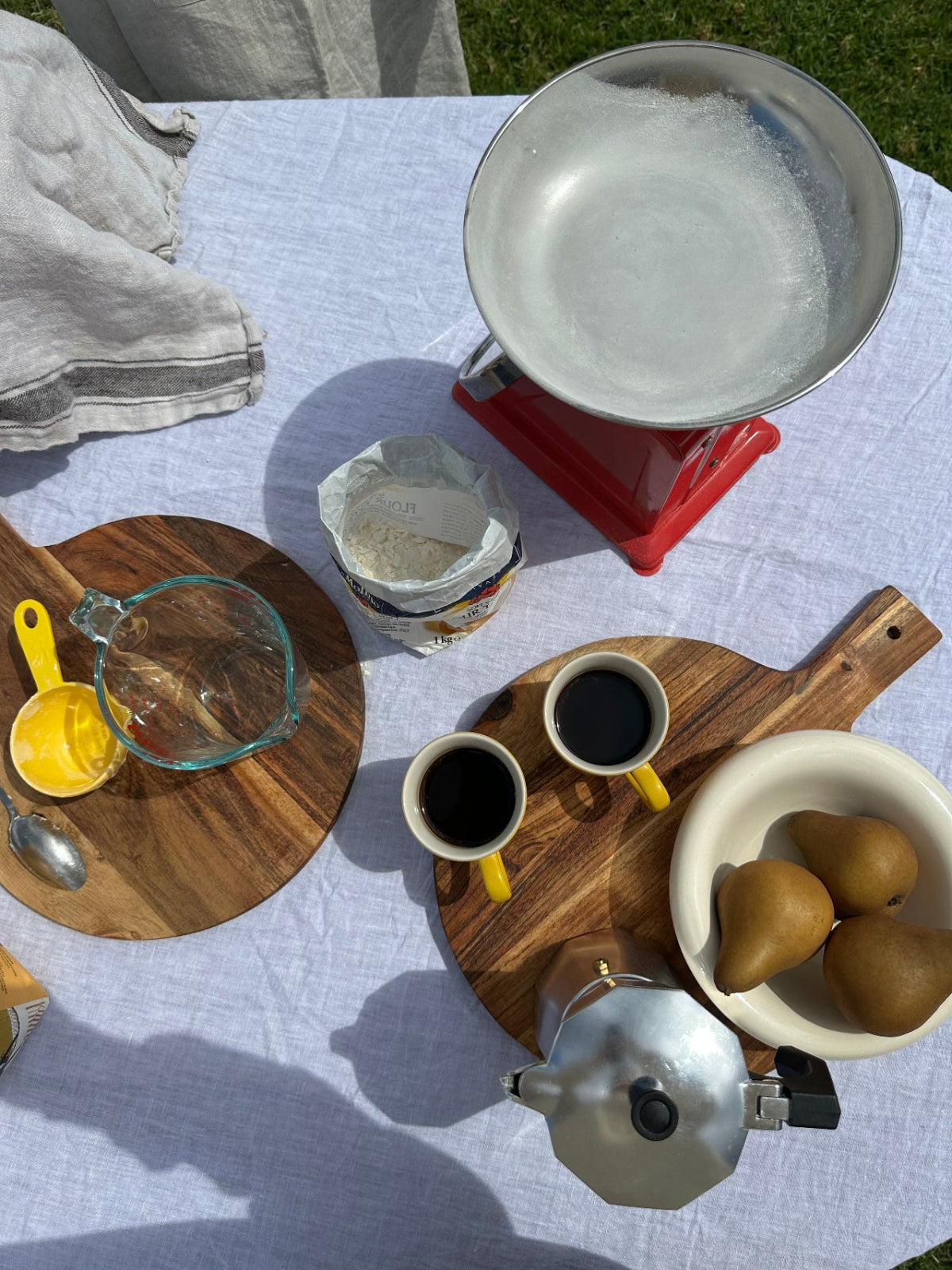 Ingredients:
- 1 4-oz (115g) tin mackerel in oil, reserve the oil from the tin (Note: you could substitute with other smoked fish or even salmon and trout)
- 1/2 cup semolina flour 
- 2 & 1/2 cups 00' bread flour 
- 1 sachet instant yeast 
- 100 ml olive oil 
- 1 teaspoon of sugar 
Toppings - this is the fun part, don't be scared to get creative. 
We are using anchovies with some salt for this one! 
The Method
1. Combine yeast, sugar and water, stir and set aside for a couple of minutes until it's frothy 


2. Combine both flours and a pinch of sea salt into a bowl 


3. Slowly pour yeast in and mix until combined 


4. Add 50ml of olive oil and knead 


4. After some elbow grease of kneading or watching your kitchen aid it should be soft and form a nice round shape 


5. Place into an oiled bowl and cover with a clean tea towel to prove for 40 minutes or until it's doubled in size 


6. Before removing it from the bowl, knock it down (literally make a fist and push it down a couple of times) 


7. Then, transfer to an oiled case iron pan (you can use a baking tray but a cast iron gives it a crispy bottom crust) 


8. Time to get your hands dirty, go crazy on those dimples. Drizzle with some olive oil and seat sale. Cover with your tea towel and give it another 30 minutes - now's the time to preheat your oven to 220c 


9. It should have puffed up and be looking like a delicious pale, oily, lumpy weirdly beautiful blob 


10. Add your toppings and cook in the oven for about 20-25 minutes. 


11. Enjoy it warm, toasted with pecorino cheese or anyway you wish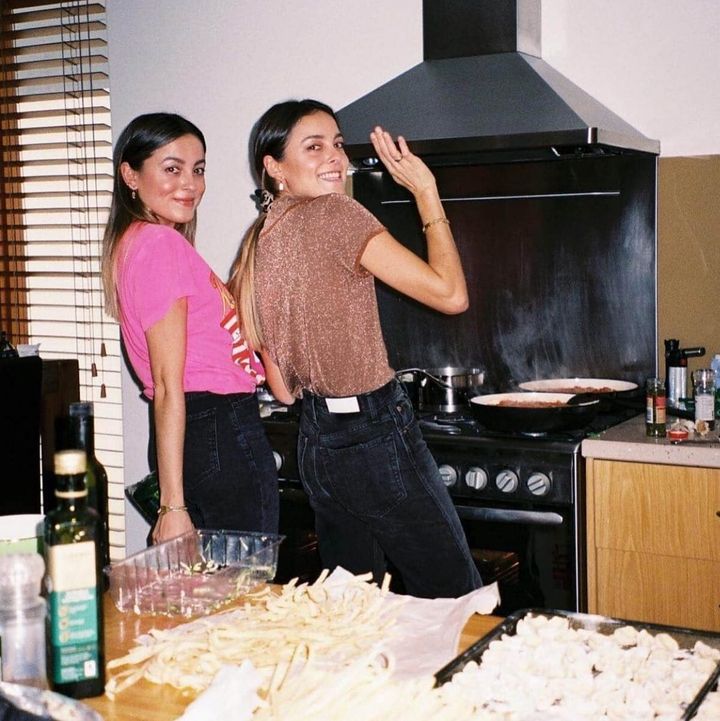 In conversation with our hosts…
Q: What do you love about the dish you chose to cook? 
A: Focaccia is such a labour of love, simple ingredients used to create the most delicious versatile bread. Top it with anchovies or leek and potatoes, use it to soak up the last of your pasta sauce or dip it in olive oil. I mean who doesn't love homemade bread?


Q: What does your cooking playlist sound like?


Prep + cooking — Feather, Ishmeal Ensemble
Table setting — Mogoya, Oumou Sangare
Dining — This Is How We Walk On The Moon, Jose Gonzales; Gay Sons of Lesbian Mothers, Khaki King
After dinner — Black Milk, Massive Attack 
Q: How do the linens work as part of your design? 
A: For us linen creates a sense of luxury. Using it on the table is the foundation for our table scapes, and is such a simple way to elevate a casual meal. When having family over, popping beautiful soft furnishings, such as linen tablecloths and napkins, just makes it feel really considered and thoughtful with minimal effort when you're busy or short on time. 
Q: What are your favourite places to visit where you live?  
We live in Byron Bay. We were fortunate enough to grow up by the ocean and after some time away in Brisbane we decided to move back to be closer to our families. 
Coffee – Roadhouse


Deli/cafe – Highlife, the best duck egg tacos and freshest OJ!


Best place to go on a day trip nearby – The beach! We are very lucky to have so many beautiful beaches nearby, packing a picnic and lying in the sun with friends is a dream come true.


Good pub/wine bar – you beauty!