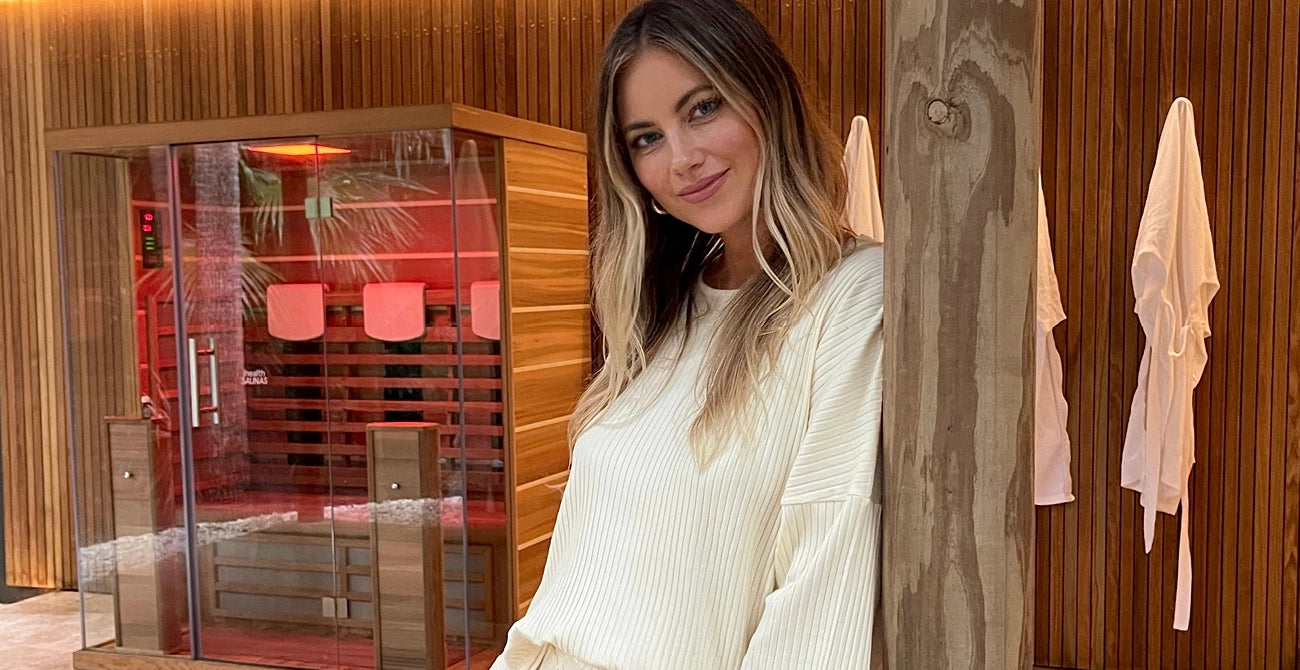 Places We Live: @cassie_cameron_
Posted: 16 August 2022
Join us as we discover the minimal, chic home of Cassie Cameron, Co-Founder and Ceo of One Eleven Health.
Simple luxe | @cassie_cameron_
Join us as we discover the minimal, chic home of Cassie Cameron, Co-Founder and Ceo of One Eleven Health. Reminiscent of a luxurious day spa, Cassie's home oozes with serenity, filled with quality finishes and an array of textures to soothe the senses, as an ode to her travels and passion for holistic wellness.
LESS IS MORE | An eclectic twist
Q: How would you describe your interior style?
Cassie: " I would describe my style as simple, chic, luxe but with an eclectic twist. I don't follow any particular style as such, but I know what I like when I see it. The most important thing to me when it comes to interiors is the feeling that is created through how the space is shaped, which I feel is achieved by the flow of the room with how things are placed in an energetic sense, to really make people feel calm and comfortable in the space."
"I love spaces that look aesthetically beautiful but also feel warm, comfortable and have beautiful music and smells wafting through it, really enlivening all the senses. I take a 'less is more' approach and choose less pieces but buy well - elegance is always in simplicity and minimalism in my opinion. When we were renovating our new place for example, our focus was less on a particular direction but more on how we wanted to feel in the room. I also have this thing for different textures; I love marble, stone, wood and brass when building a room, complemented by statement eclectic pieces. "
"In terms of what has influenced my interior style, it has definitely been from traveling. I think when you travel you pick up different bits of magic that stay with you subconsciously and weave their way into your style. All the favourite places my husband Matt and I have travelled to have always had palm trees (The Maldives, Philippines, Thailand, Mauritius, California etc.) which has been I think why we ended up where we are now (on a property surrounded by hundreds of palm trees). A couple of key destinations style-wise which I've drawn inspiration from would have to be Palm Springs and Miami, in particular The Parker Hotel in Palm Springs and The One Hotel & The Edition Hotel in South Beach."
FAVOURITE NOOK | Stillness of Nature
Q: What is your favourite nook in your home?
Cassie: "My favourite space to spend time at home is definitely the 'wellness' space we've built which incorporates our Found-Space Infrared Sauna. At the end of the day at least a few times a week, I indulge in some me-time and relaxation before my evening meditation by sweating it all out in the stillness of nature. The perfect wellness ritual for me is to do self-abhyanga (Ayurvedic oil massage), step into the sauna to sweat it all out and relax, and then wash off with a cold shower, all with a view of the palm trees and chirping birds. I then sip on One Eleven Health Bliss, and enjoy an evening meditation by the fire. The whole thing feels like heaven."
"When we first bought this house, our vision was to create a space of wellness at home. Whenever we'd travel, we'd find ourselves spending most of our time relaxing under palm trees or spending hours at the spa, so we thought, why not make every day feel like a holiday by bringing this experience to our home. We created an in-door outdoor space with timber panelling from floor to ceiling, travertine pavers, LED lighting and an outdoor shower, and installed a stunning 3-person sauna by Found—Space as the main feature. I've loved having infrared saunas for years for all of the health and relaxation benefits, so it's been incredible to finally have one at home and experience it more regularly and in our own little paradise."
FAVOURITE PIECES | Soft and Luxurious
Q: A few words about your favourite I Love Linen pieces.
Cassie: "I absolutely love the Bamboo sheet sets from I Love Linen. I find the Bamboo so soft and luxurious with its silky sheen, but at the same time cosy and warm. I'm loving the grey colour, as it complements all the neutral tones and textures in our house as well as the pops of green inside and outside."
Cassie styles her bedroom with the Grey Bamboo Sheet Set and the Soft Grey Quilt Cover
FEELING OF HOME
Q: What makes you feel most at home?
Cassie: "I'm a very sensual being, so what makes me feel most at home is when all my senses are soothed. I think this is because when I am tuning into my senses in such a mindful and pleasurable way, l more grounded in my own body, which is essentially our true home in this life. I do this by making my environment beautiful, wearing textures I feel comfortable in, listening to beautiful music or mantras, lighting some incense or a scented candle, enjoying sweet treats or delicious and relaxing herbal drinks like One Eleven Health Bliss.
Also carving out that time and space for relaxation and stillness in my 'wellness space' of the house by having a sauna makes me feel so grounded and nourished."
GIVING BACK | One Girl
Our aim is to inspire our community with our designs & styling, in addition to using our ever-growing platform to give back. Each time we feature our lovely customers in Places We Live, we will also shine a light on a charitable cause that is close to their heart. In turn, we make a donation on their behalf from orders placed for a specified time from when their feature is released.
The charity of my choice is One Girl (https://www.onegirl.org.au/). There are many issues close to my heart, but I chose this one for a few reasons. Firstly, throughout my life I've met so many incredible women who have built organizations and businesses effecting positive progressive change in the world, from a place of deep love and compassion for the human condition. This is what we need more of in the world, but unfortunately so many girls and women today simply haven't had access to opportunities such as education, let alone basic human rights. I'm so grateful to have had the education I've had, which has equipped me with the skills to be running and growing the conscious business of my dreams, One Eleven Health. It's my wish for every girl (and boy) on this planet to have access to education, a key tool for their empowerment in this world.

More on our Giving Back initiative here.