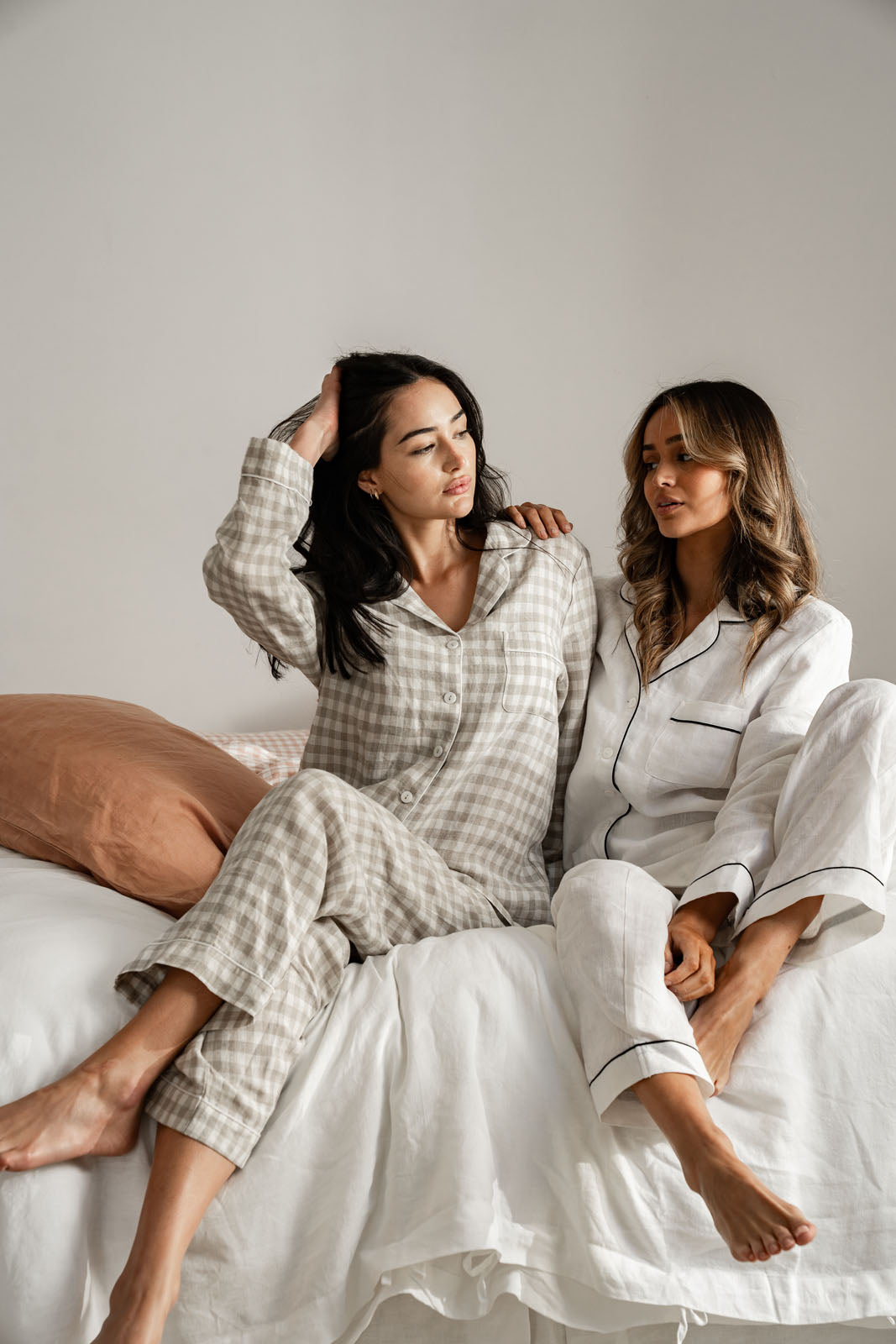 The Real Secret to Happiness is New Pyjamas and Clean Sheets
Posted: 18 July 2023
After months of perfecting, our new ever so classic and comfortable Linen Pyjamas have arrived and we promise you won't want to take them off. The timeless button up style is perfect for both lounging and sleeping at home or on relaxing weekends away with the sublime qualities of the linen fabrication; crisp, clean and comfortable.
Name a better combo than new Pyjamas and freshly washed bed sheets?
At I Love Linen we truly appreciate that getting a good sleep can definitely make your life happier so create the ultimate cosy moment with our classic and chic French Linen Pyjamas. It's one thing to enjoy our coveted linen bedding, but let yourself take it to a whole new level of comfort by wearing linen to bed too. These guys make for the perfect Sunday morning outfit as you reset the house and take things slow. And in case you need more of an excuse to treat yourself to new pjs, here are three reasons why you need to add a French Flax Linen Pyjama Set to your nighttime and morning rituals.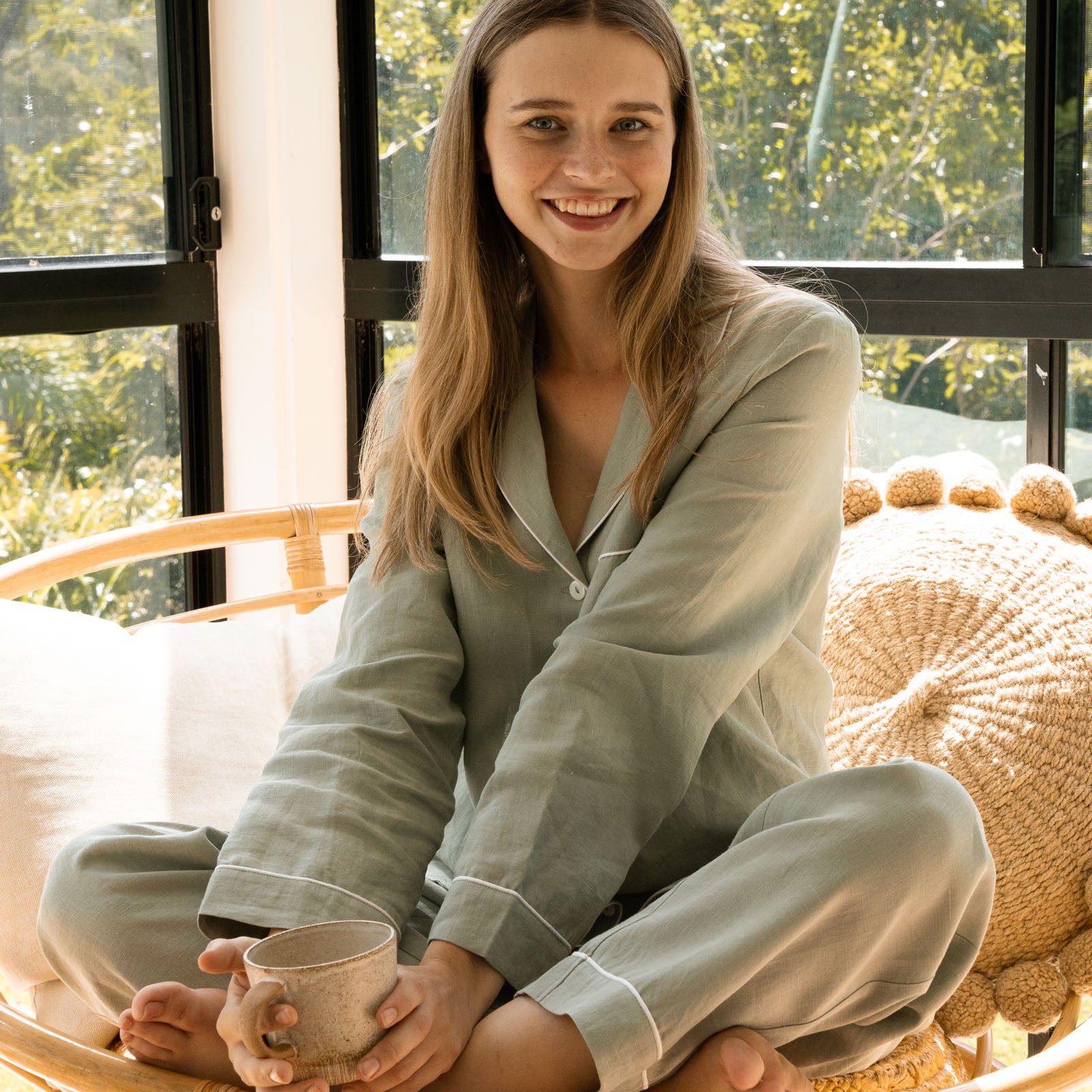 1. They look amazing
If you've fallen in love with the sumptuous look and feel of our bed linen then you too will love our French Flax Linen Pyjama Set. We made our Pyjamas with our signature stonewashed French Flax linen so you don't have to wait for it to soften with time, giving you the softest Pyjamas that look as luxurious as they feel, detailed with contrast piping. The natural linen texture of the fabric makes for the most heavenly Pyjama sets, like the set in Sage.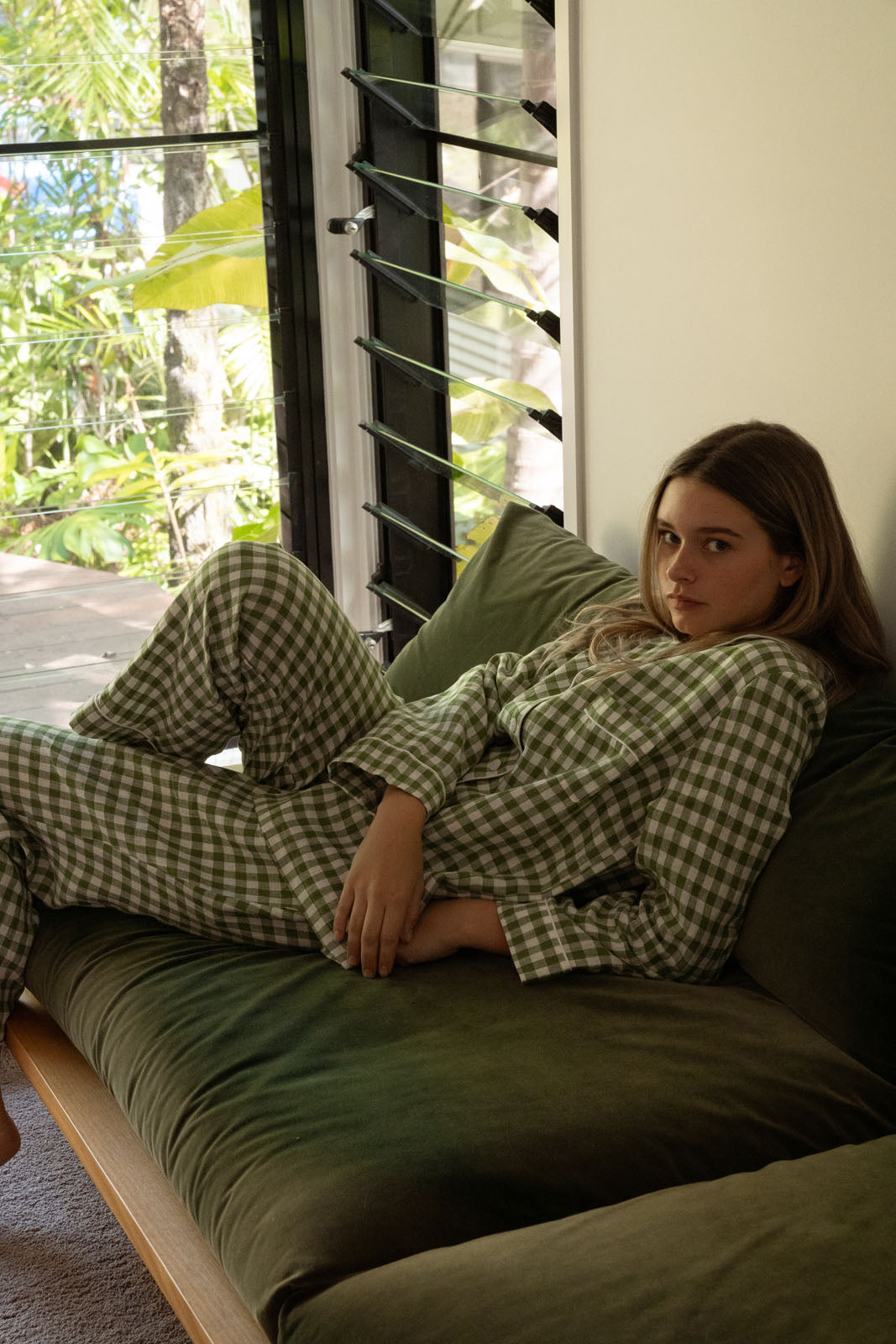 Pictured: French Flax Linen Pyjama Set in Ivy Gingham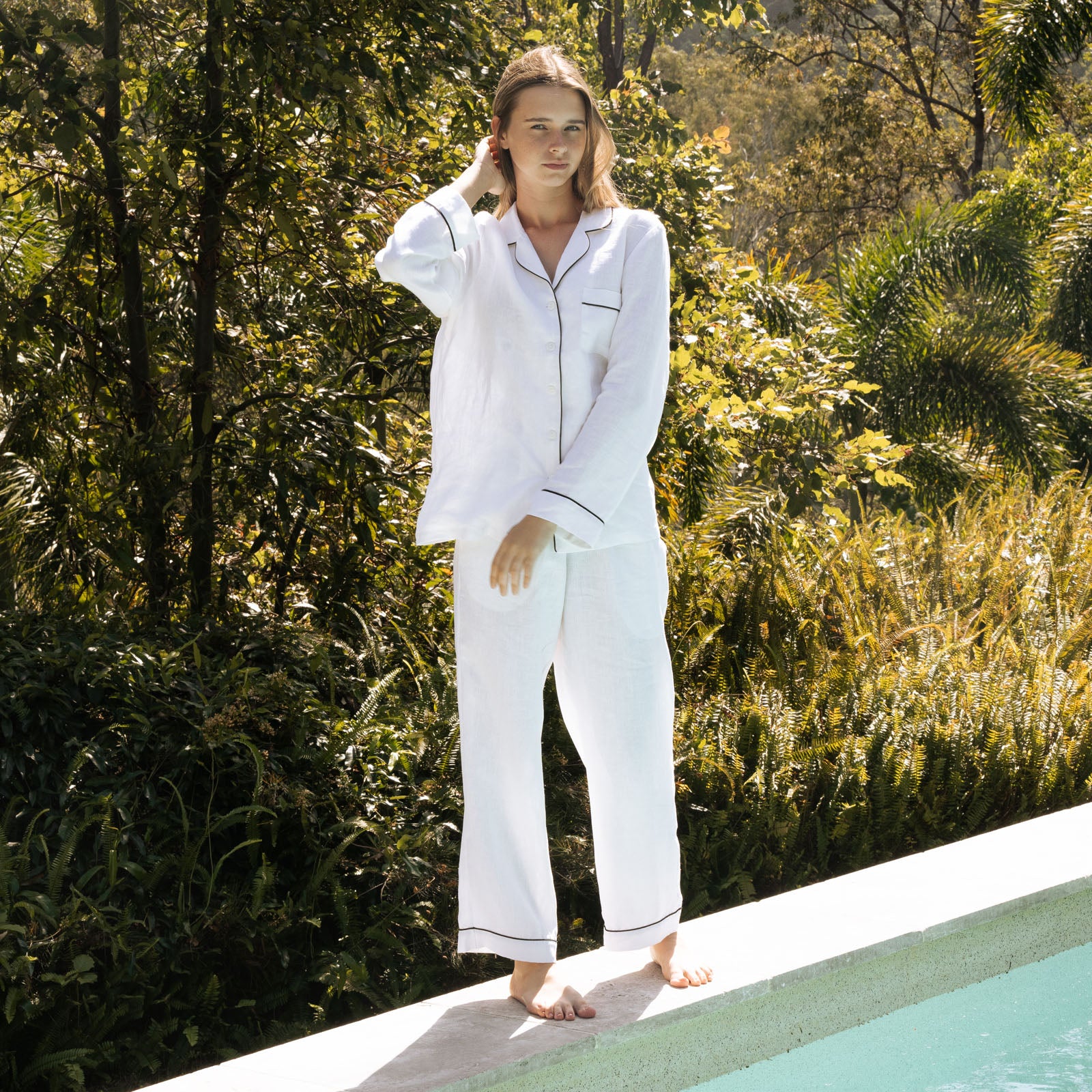 2. They are comfortable
When choosing Pyjamas, comfort is the most important consideration as great Pyjamas are essential for a great night's sleep. Linen is a fabulous fabric for Pyjamas, with its ability to keep cool and stay fresh as well as its suitability to sensitive skin. The French Flax Linen Pyjama Set is also perfect to keep you cosy in bed during the cooler months, as our French Flax linen is a magical material, absorbing and releasing body heat away from your body helping you to feel cool, calm and collected throughout the night.

Shop the French Flax Linen Pyjama Set in White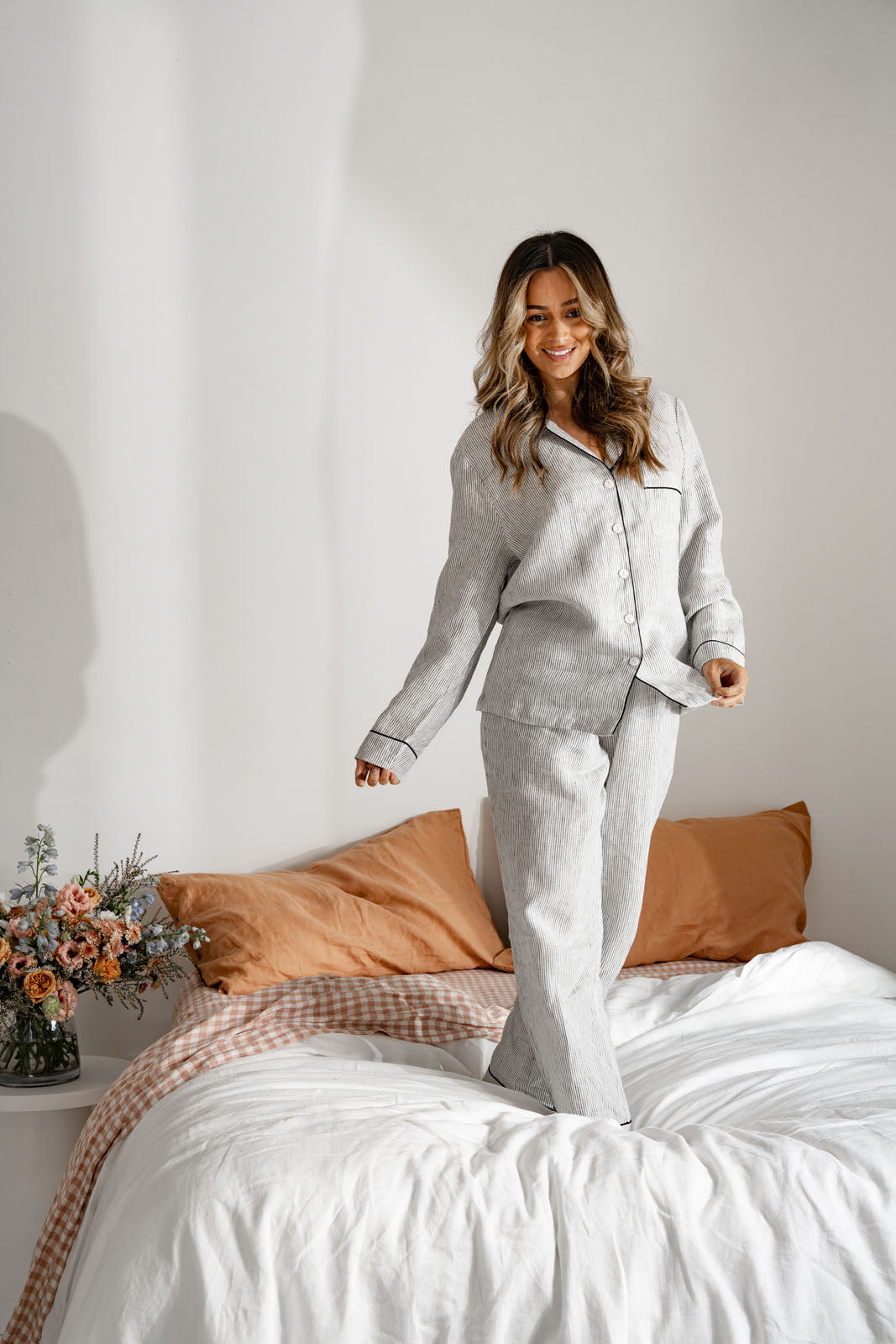 3. They will last
While we're used to buying new clothing items every season, once you purchase our linen Pyjamas they will be a long-standing item in your wardrobe. More durable than cotton, linen is known as one the world's strongest fibres and its natural elasticity means that it will hold its shape well, making your Pyjamas durable and more sustainable when considering price per wear. Our French linen is also made from flax, a plant that requires less pesticides and fertilisers than other natural fibres. 

Shop the French Flax Linen Pyjama Set in Pinstripe