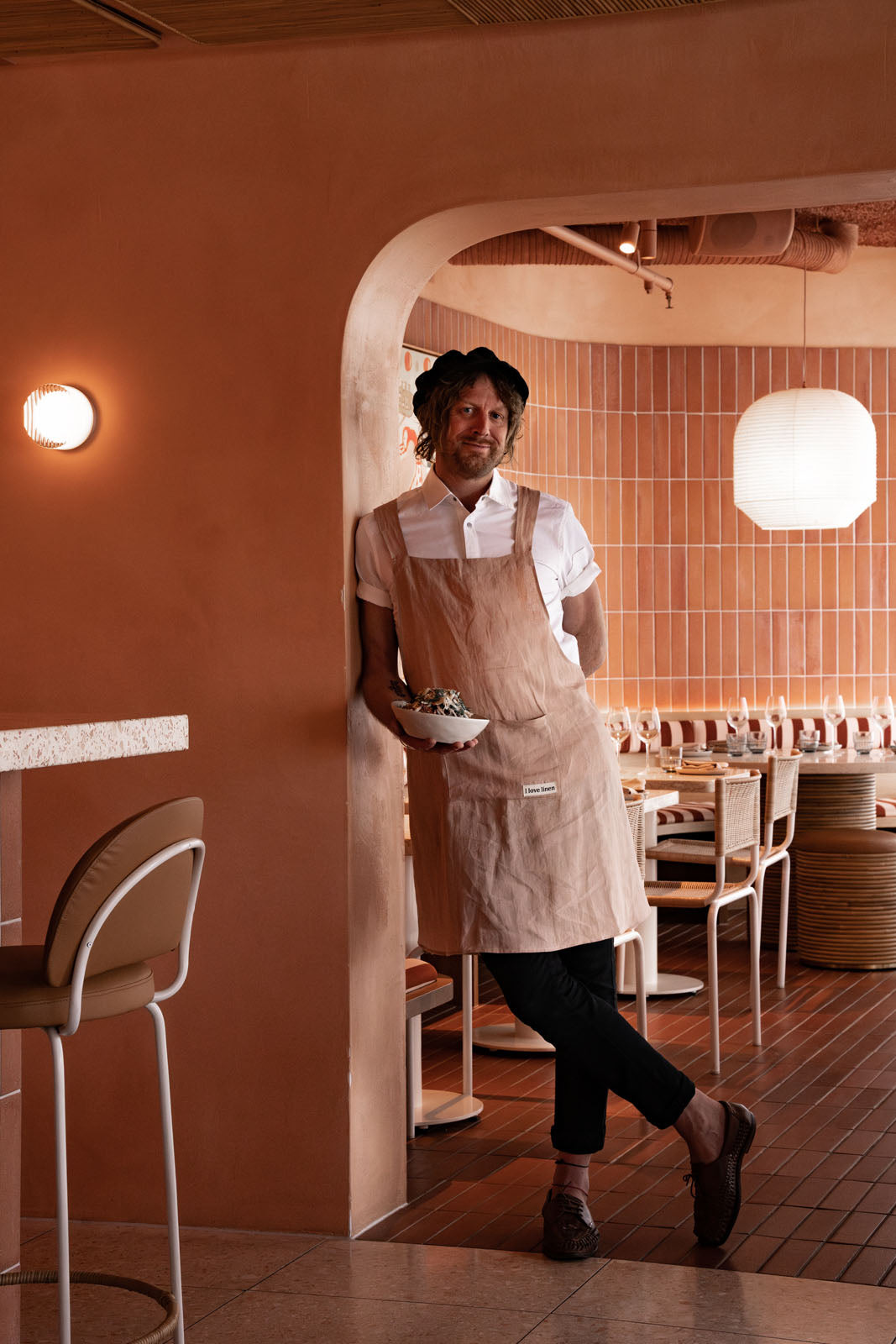 In conversation with: Head Chef Robbie Oijvall from Light years Byron Bay
Posted: 12 September 2023
A beautiful combination of elevated interiors to match a winning menu and cocktail list means you'll be bookmarking Light Years in Byron Bay for your next dining experience. We had the chance to visit for the day and have been dreaming about the food ever since, but luckily we were able to leave with a signature recipe in hand to share with all of you.
When Lightyears reopened in its new Johnson Street abode there was much deserved anticipation. An expanded food and drinks offering combined with a beautiful fit out by Sarah Ellison and Studio Plenty creates a dining experience you're sure to not forget and, be looking forward to your next visit. We had the opportunity to visit the team, and meet with chef extraordinaire Robbie Oijvall to learn more about the menu, his job and how he winds down after a long day behind the pass.

Plus, we were able to walk away with a recipe for one of the restaurant's signature dishes, Kingfish Ceviche with coconut, chilli and kaffir lime leaf. Keep scrolling to read more.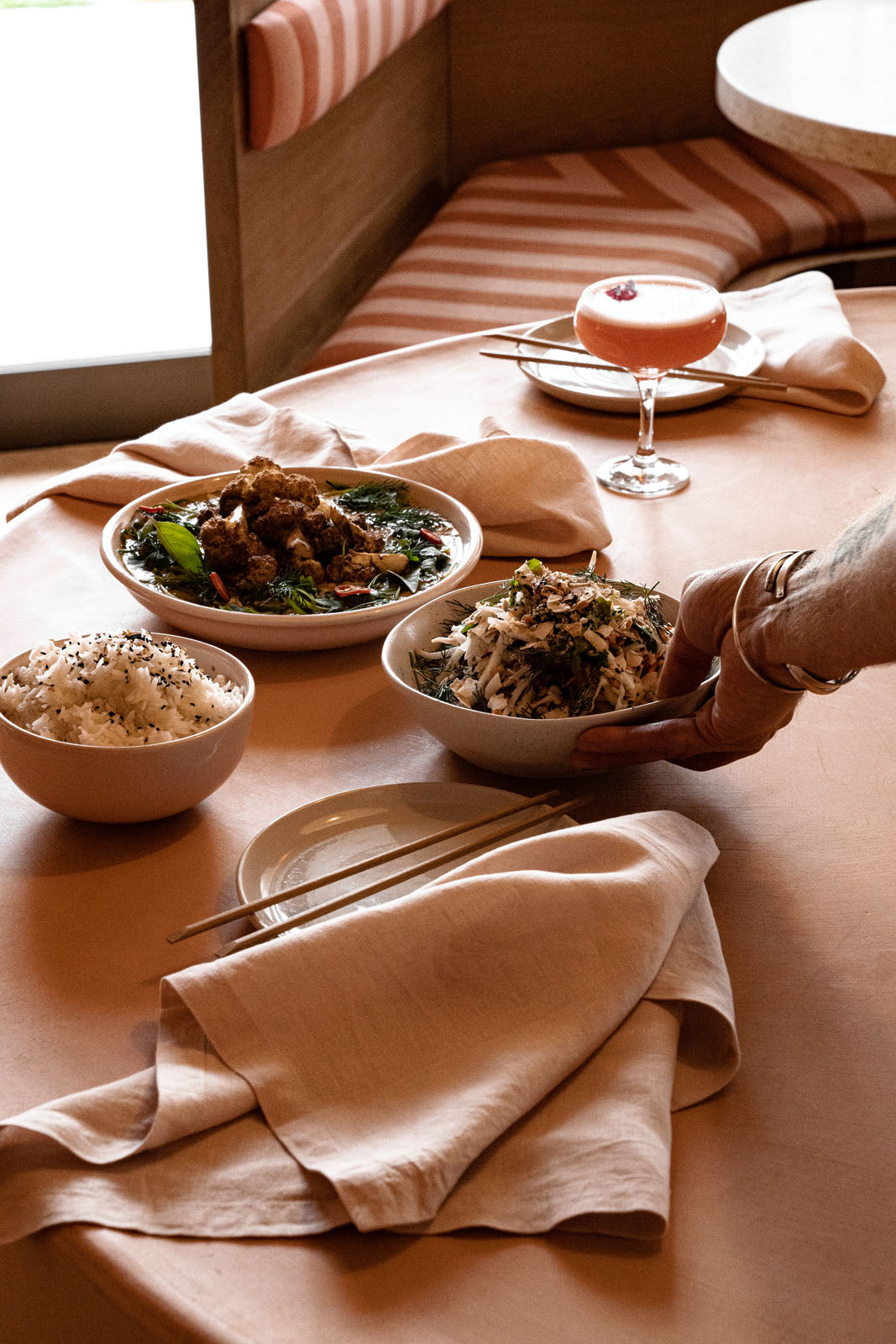 Q: Lightyear's is one of the best dining experiences in Byron. Were there any considerations to the menu in terms of making the experience feel unique? 


A: Thank you for such kind words, it's very humbling. We're incredibly proud of what we've achieved in Byron, this after all is where Light Years began. We wanted the new menu to be elevated but not so much that it alienated our customers.  


Q: What is it about the sharing style of dining that works so well? 


A: You never miss out! Everyone gets a bit of everything.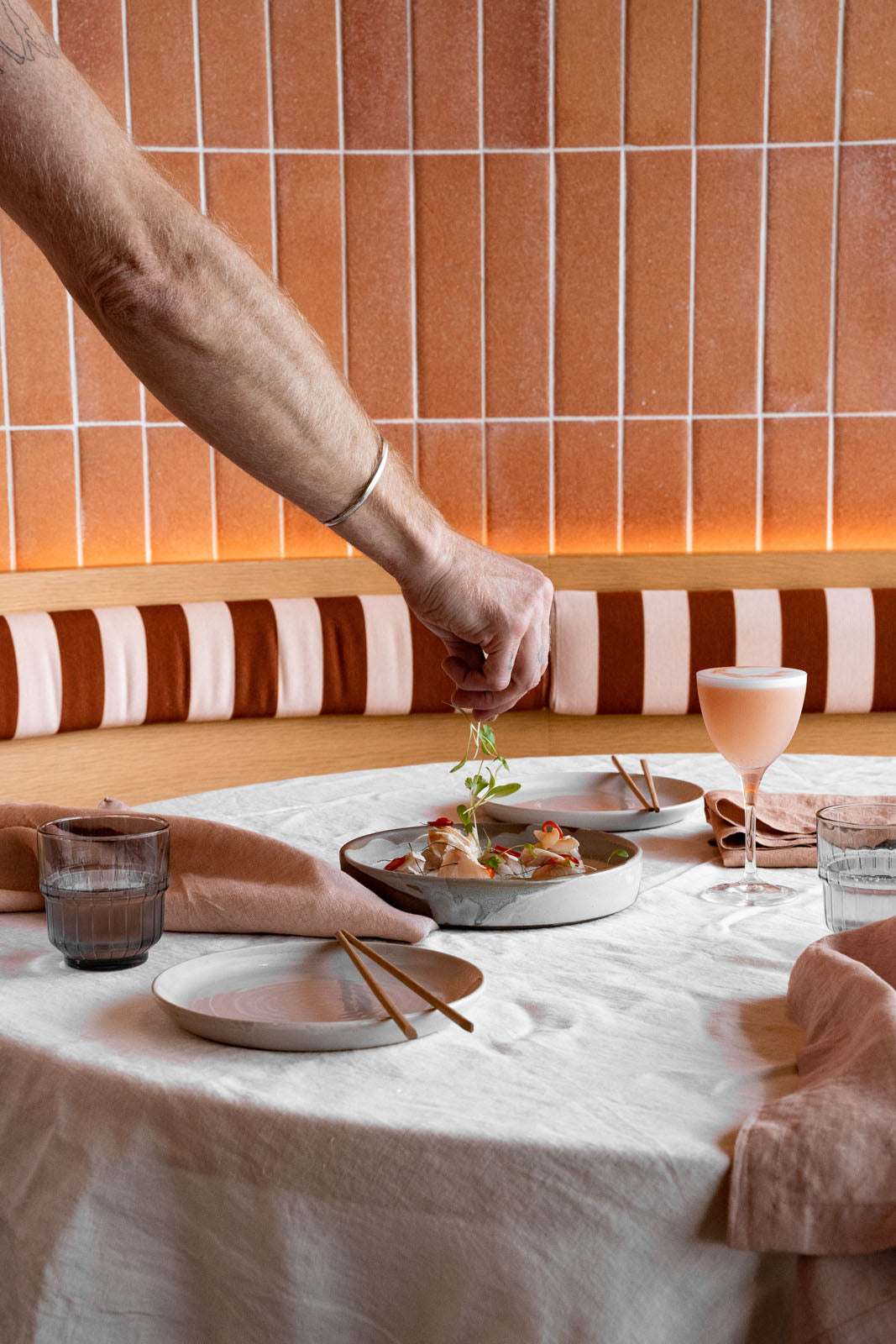 Q: Tell us more about the menu, is it seasonal? Are there any dishes that you think will never leave the menu?


A: I think you'd be pretty hard pressed to find a restaurant that's not seasonally driven these days. But as for things that will never leave the menu. I think we'd have a riot on our hands if we removed the kingfish ceviche. 


Q: What's the best part of your job?


A: 100% the people I get to work with. Each and everyone one of our team members is an absolute legend. We've worked really hard over the years to create a culture that's both fun and supportive of growth. There's also never a dull moment, just the way I like it! 
Q: The interiors are quite a popular drawcard with diners, and in some way do you craft your menu to align to the feeling that the designed interiors sets out to create?


A: It's actually the reverse! The menu is created first, then we work out what we want for the interiors! The brief to Studio Plenty and Sara Ellison was an elevated yet casual diner with warm holiday tones, a good pinch of beach club and an earthy-natural feel to signify the grounding nature of Byron Bay.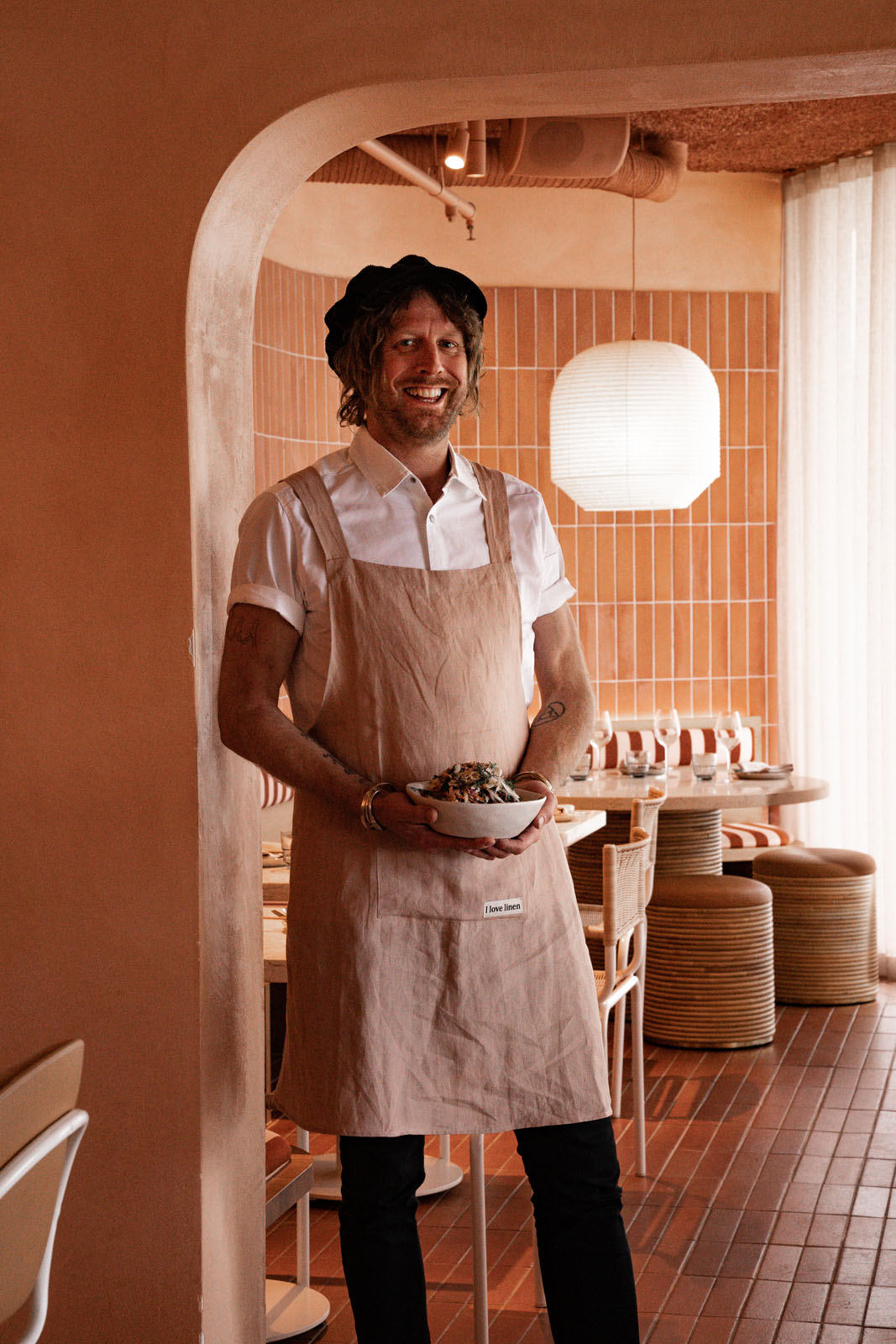 Q: When you're not at the helm, what does the perfect day trip out for you look like? 


A: 100% the perfect day would be spent with my son Milo. Maybe visiting a museum to check out some old dinosaur bones or going down the beach with his metal detector looking for that elusive Rolex or diamond ring…


Q: Slowing down, being mindful and wasting time for the pursuit of pleasure is so important. What do you do to take time out?


A: When I do get some time off, I really enjoy strolling around listening to music or maybe a podcast whilst rummaging around in second hand shops for vintage bargains. 


Q: We believe that if you sleep well, you live well. What does your sleep wind down routine look like (or one you aim to try and commit to when you can!)


A: It's a very simple and short routine! I'll jump into bed, put on a movie or a tv show and I'll be asleep within 30 seconds - works a treat every time. 
Recipe: Kingfish Ceviche with coconut, chilli and kaffir lime leaf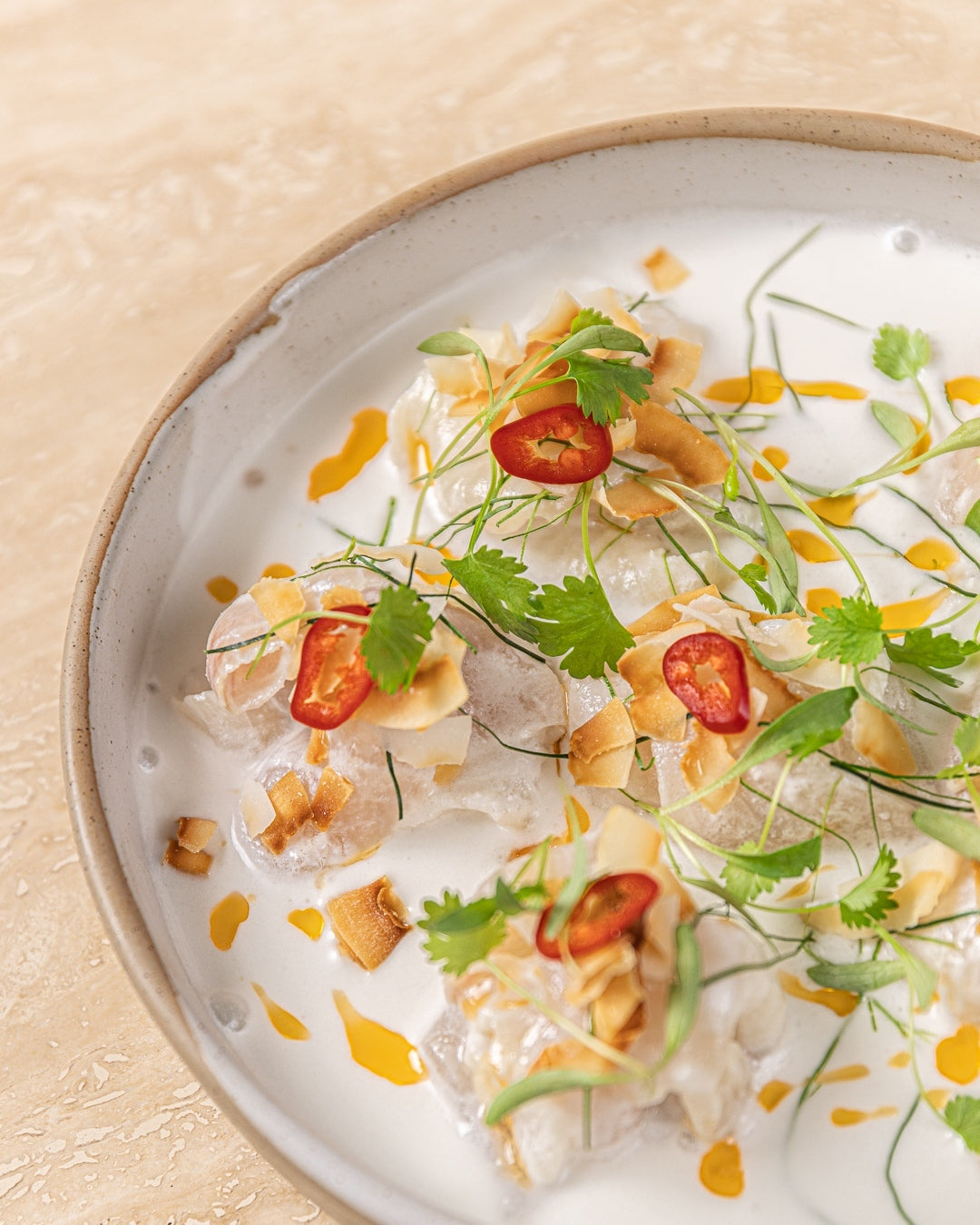 Serves
6-8 people 


Start with the… Coconut and Lime Brine 
- 200 ml unsweetened coconut milk 
- 100 ml freshly squeezed lime juice 
- 75 ml white wine vinegar 
- 20 ml fish sauce 
- a pinch of sugar 
- a pinch of sea salt 

Mix all ingredients together


Kingfish Ceviche Ingredients
- 400 gr kingfish, sliced in 5 mm sashimi 
- 400 ml coconut and lime brine
- 10 finely shredded kaffir lime leaves
- 1 finely sliced red chilli 
- 1 punnet micro coriander or micro shiso or coriander leaves 
- 10 gr toasted coconut flakes 
- Drizzle of chilli oil (optional)
Dish assembly

1. Combine the kingfish with the coconut and lime brine and leave to stand for a couple of minutes then take the kingfish out of the brine, keep the liquid. 

2. Arrange the kingfish as creatively as you seem appropriate on a serving platter of your liking / or smaller individual plates and pour the remaining brine over the dish.

3. Sprinkle the kaffir lime leaves, toasted coconut shaving and chillies over the kingfish as aesthetically pleasing as you like and finish off with a generous amount of micro coriander (or herb of your choice)