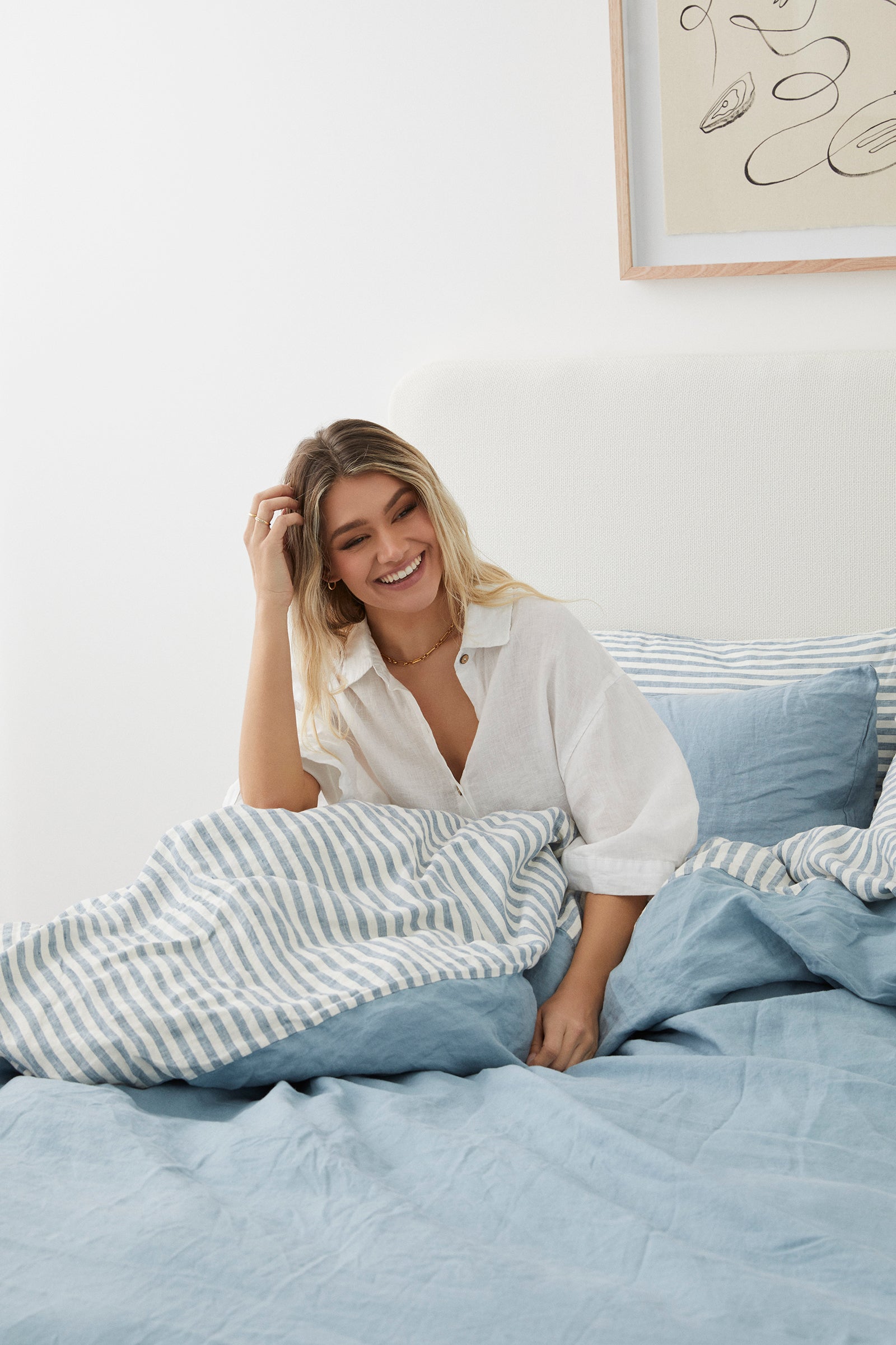 How to care for your linen bedding
Posted: 19 May 2023
Linen is the miracle bedding natural fabric that gets softer with every wash, brings your Pinterest board to life in your bedroom and provides unparalleled breathability and comfort. It's also suitable for year-round use by thriving in all seasons (keeping you warm in winter and cool through summer), and finally, it's crafted to last you for years to come.
Linen is a low-maintenance bedroom option. However, despite its durability and tendency to become softer with age, there are still a few simple steps to keep your linen looking and feeling its finest.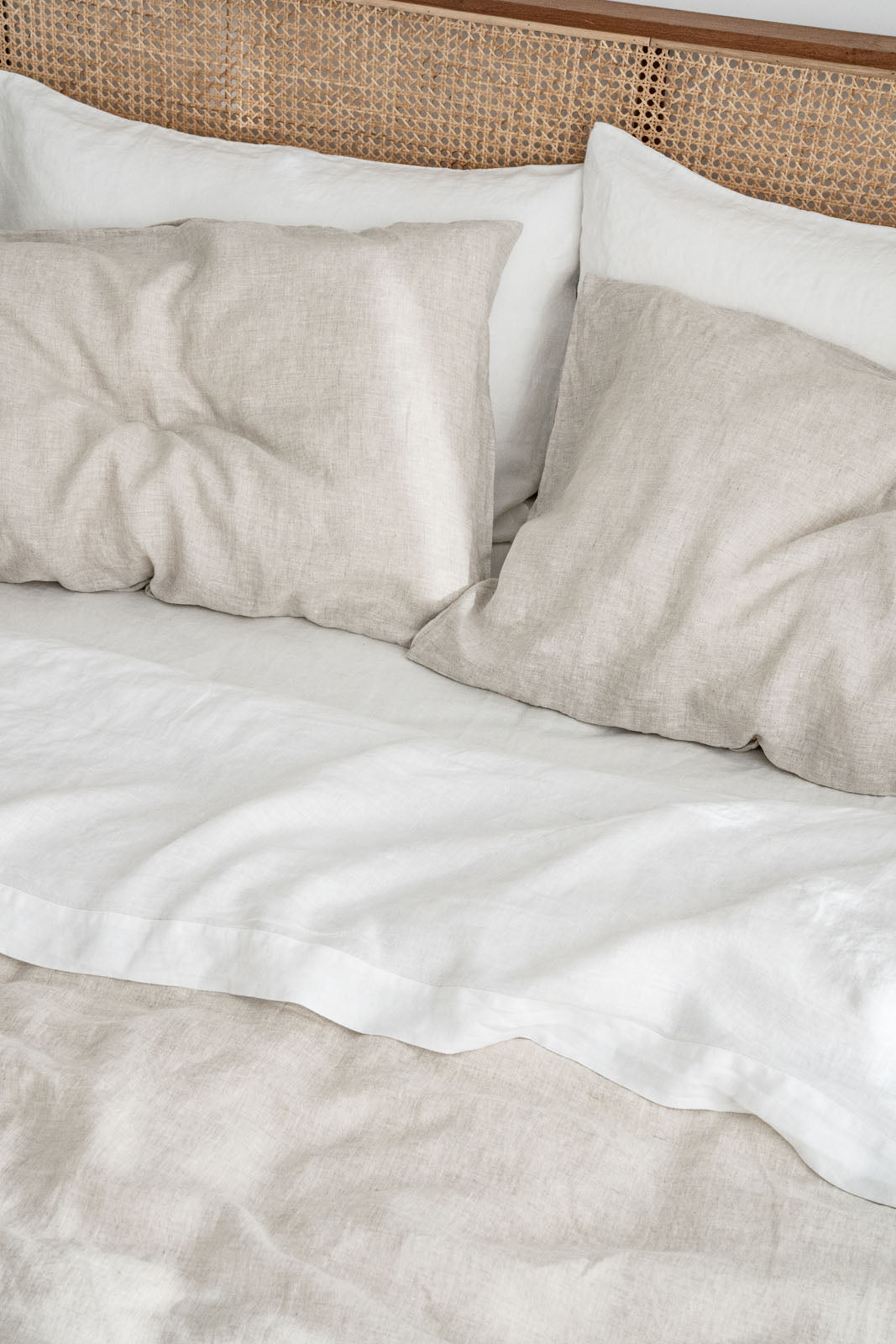 First things first, what exactly is linen, and where does it come from?
Linen is a fabric crafted from the fibres of the flax plant, a relatively sustainable plant that doesn't need much water to grow. Linen fabric is made from natural fibres, hence being prized as a premium natural fabric. It's a versatile fabric known for its absorbency, coolness to touch, softness and breathability. Naturally, these qualities make linen the perfect cosy option for all things bedding.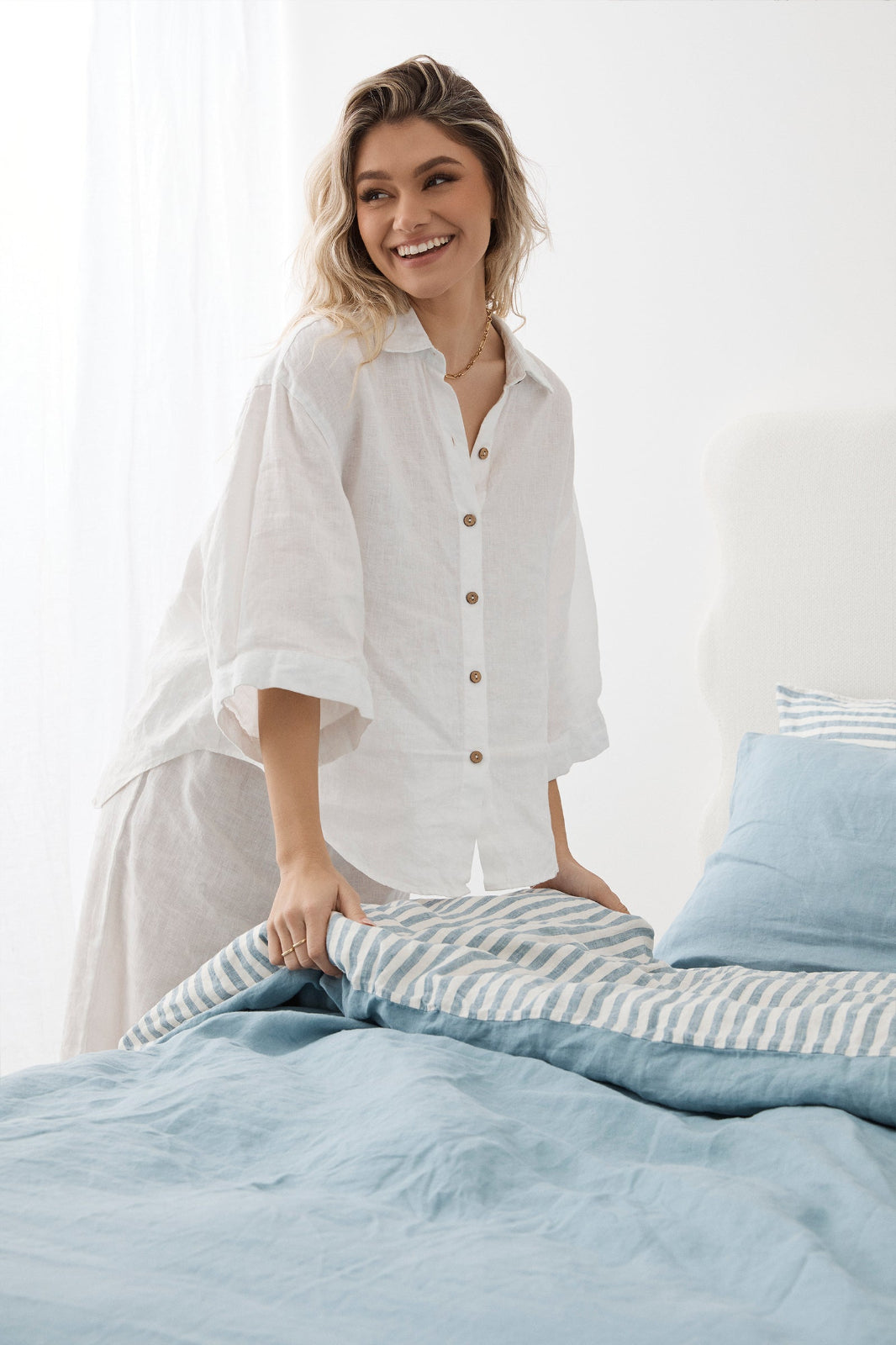 How to wash linen sheets and linen Quilt Covers
Like all fabrics, linen comes with a few care instructions that can help you get the most out of your linen bedding for years to come. With ten years of working with linen behind us, here at I Love Linen, we have a few tricks for caring for your linen goods. So, look at our top tips below for keeping your linen bedding in perfect condition.
Have more than one set of French Flax Linen sheets 
Linen sheets are a durable bedding option designed for you to use for years. However, just like your favourite clothing items, the more you use your linen bedding, the more the fabric will wear down. So we suggest having several sets, swapping them over when they are due for a wash (and a bonus soften). Or just continue having extra fitted sheets in your bedding rotation.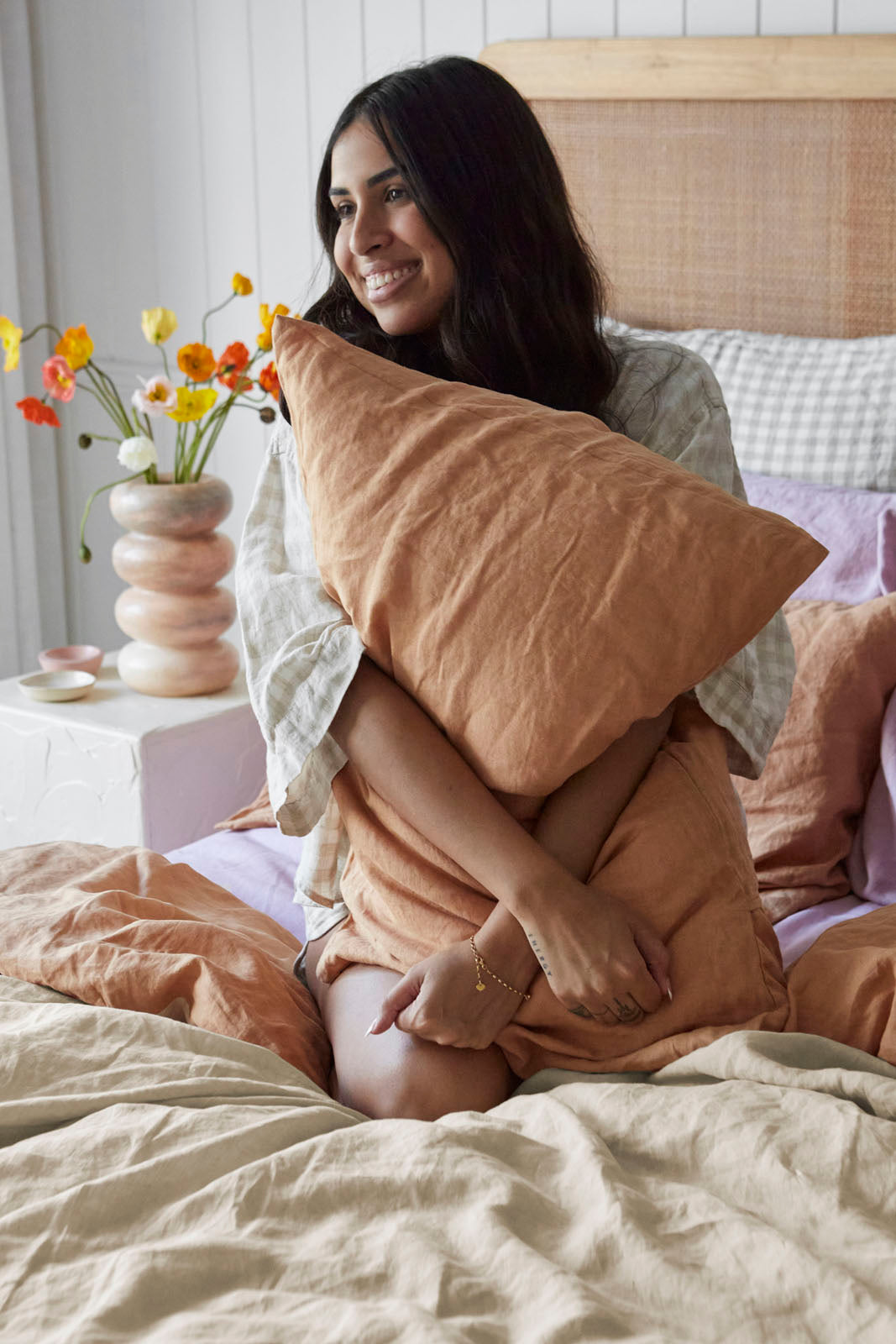 Avoid using fabric softeners
We don't recommend using fabric softeners when washing your linen. Fabric softener often leaves a coating on fabrics, reducing breathability and absorbency in the case of linen. Linen is known for its moisture-wicking abilities so dulling this natural talent is counterintuitive. On top of this, the coating left by fabric softener can reduce your linen's lifespan by breaking down the fabric over time. All in all, linen naturally gets softer with every wash, so there's no reason to potentially damage your fabric's natural abilities by adding a fabric softener.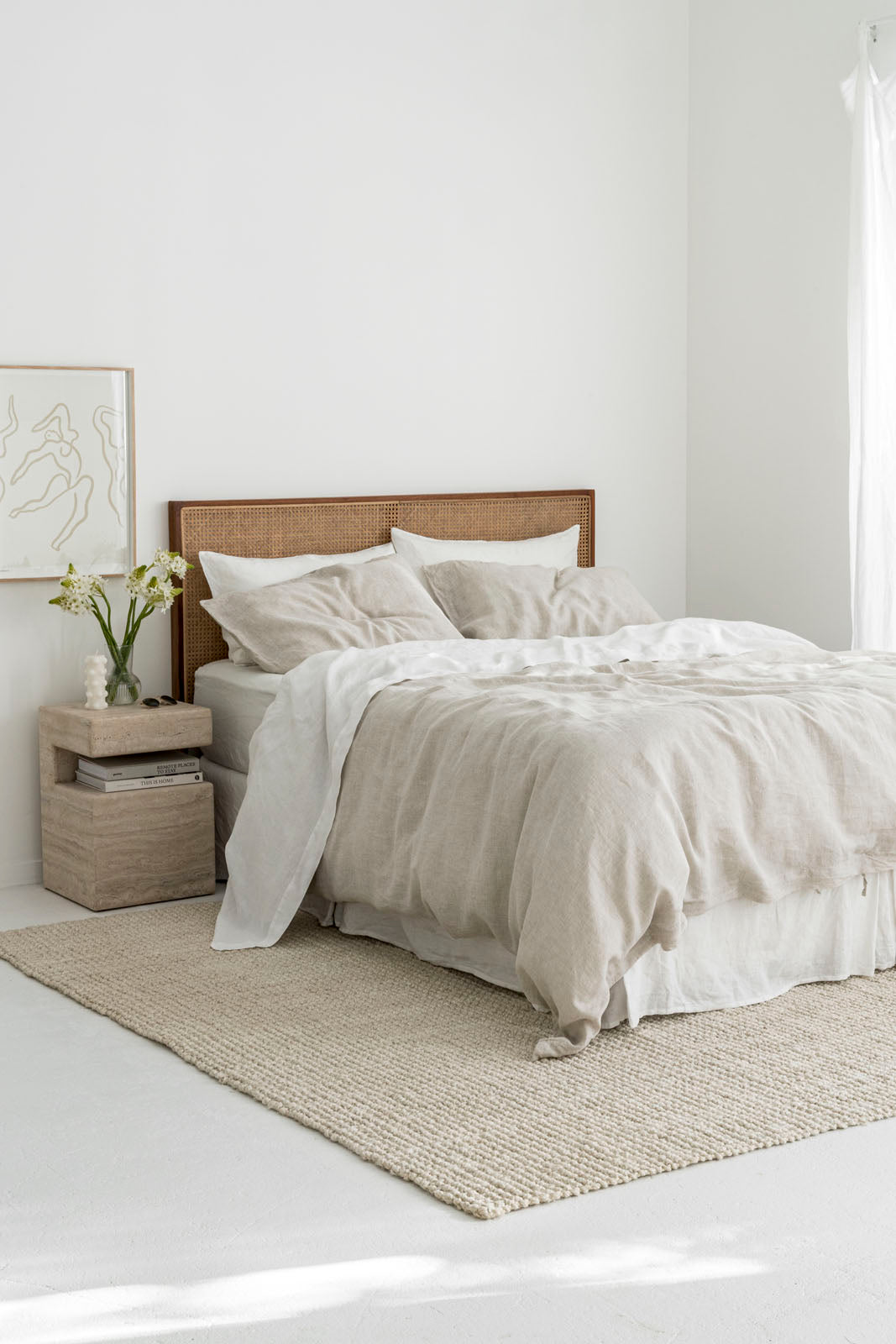 Avoid bleaching agents or wearing face skincare containing bleaching agents to bed
Due to linens' natural composition, linen fabric is prone to fading and discolouration as a result of chemical exposure. Bleaching agents can be the cause of this chemical reaction, including the bleaching agents that can be found in face creams and ointments. As with fabric softeners, bleaching agents can weaken linen's natural strength, breaking down the fabric. So it's best to keep your fresh French Flax linen away from bleaching agents.
Avoid sunlight exposure
Linen fabric can fade when it's left in direct sunlight. Some people love the look of faded linen, and all power to them. However, if this is you don't ignore this point altogether just yet, there are a few other considerations. Sunlight can also cause linen fibres to become brittle, weakening the fabric's overall strength. Finally, leaving your linen in the sun can often cause linen to turn yellow, sometimes leaving an irreversible discolouration. It's best to dry your linen in the shade and to avoid prolonged sunlight exposure.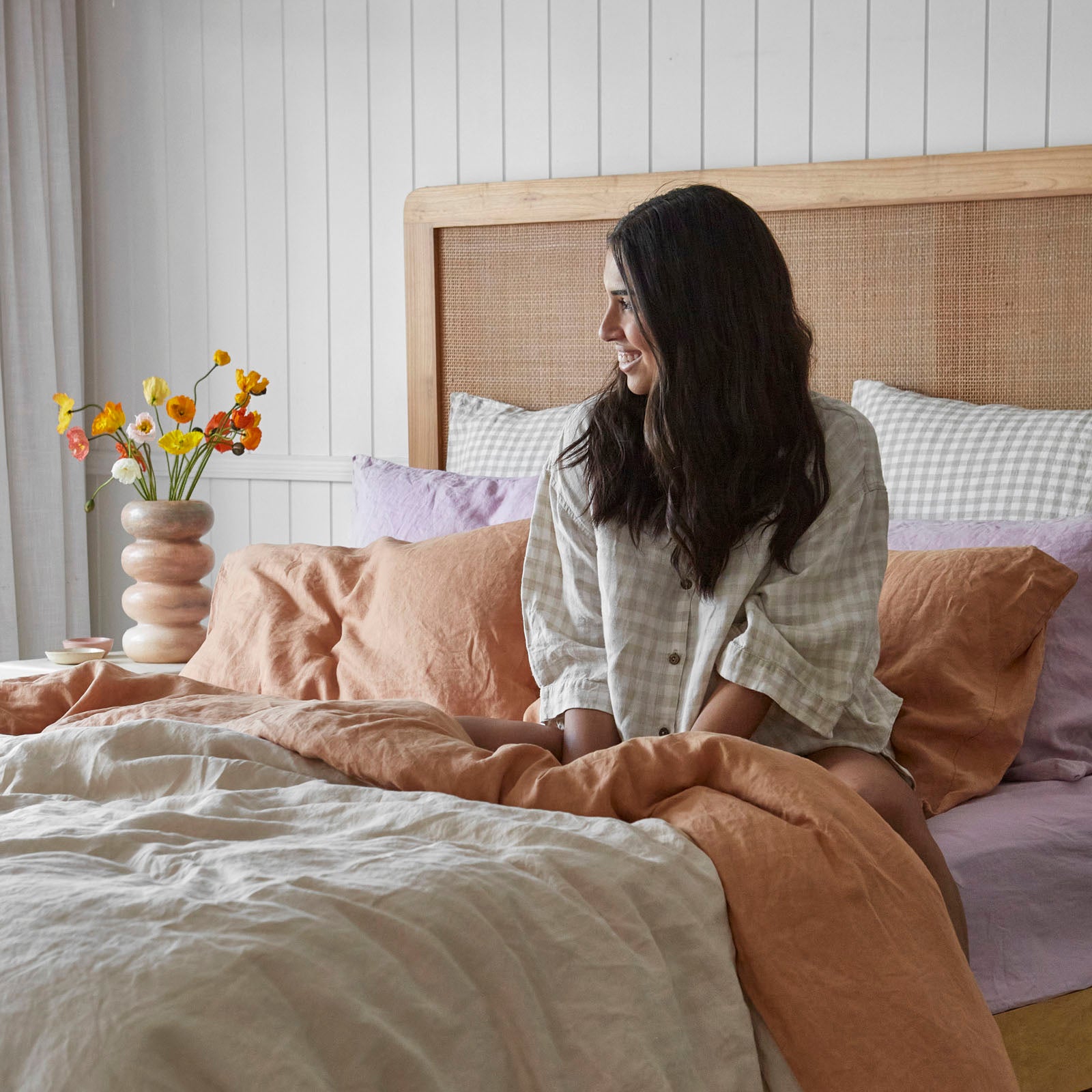 Avoid washing your linen with sharp objects
Linen is a naturally strong and durable fabric; however, it can still be damaged by sharp objects, particularly metal, if washed together. Avoid washing your linen with sharp objects such as zippers, buttons and other metal finishings to avoid snagging or ripping the fabric.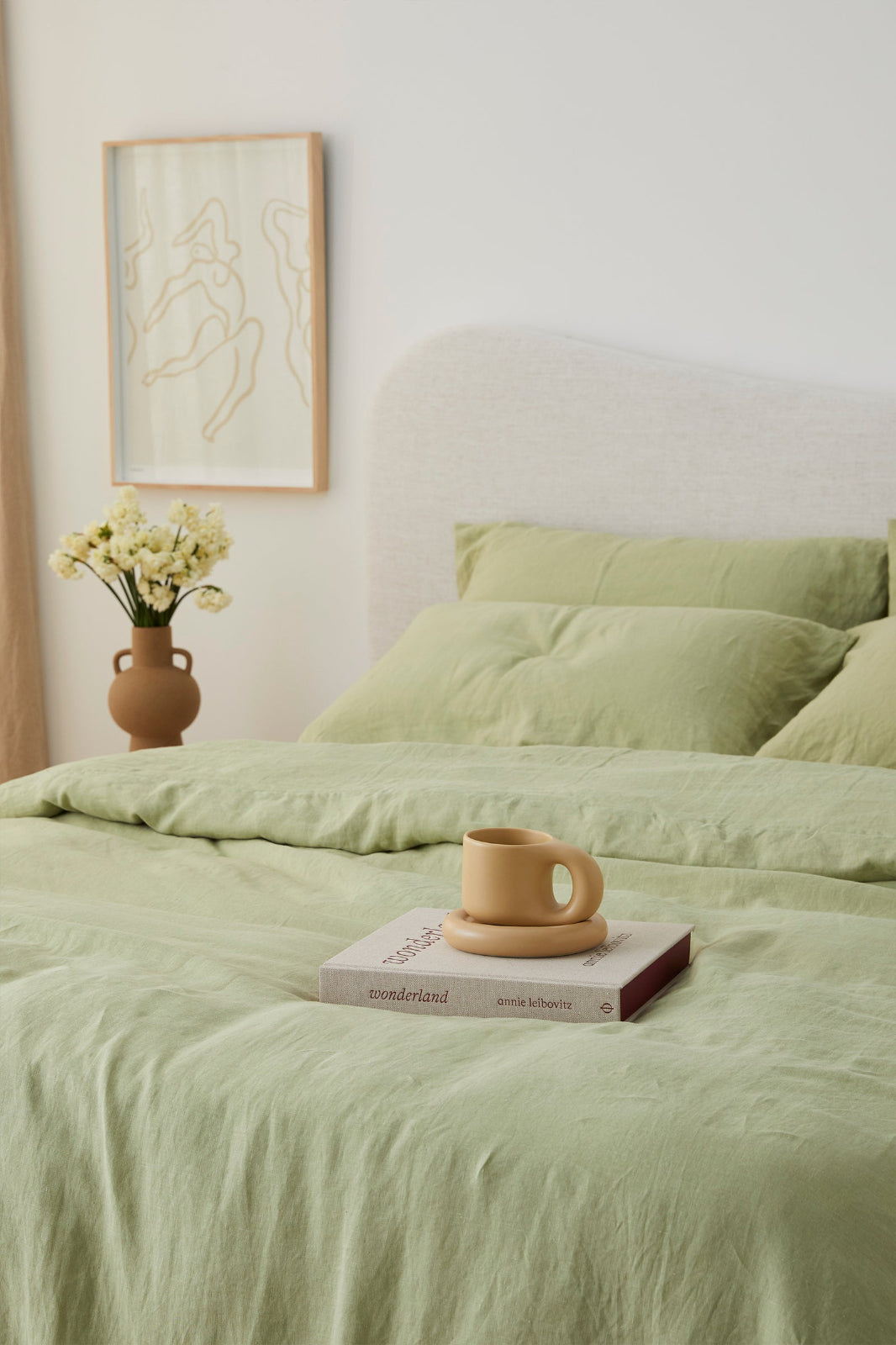 Use a cool, gentle cycle
Linen is best cared for by selecting a cold water gentle cycle on your washing machine and opting for a mild detergent. A cold water cycle is gentler on your bed linen than a warm water wash, helping to preserve the colour of your fabric and avoid shrinkage. In addition, selecting a gentle or delicate for your washing machine will protect against rough handling, which can weaken your fabric. Finally, a mild detergent is best for washing linen as it helps to preserve the material. Using harsh detergents can damage linen fabric by stripping the fabric fibres of their natural oils; in turn, your linen fabric can become stiff and lose its soft touch.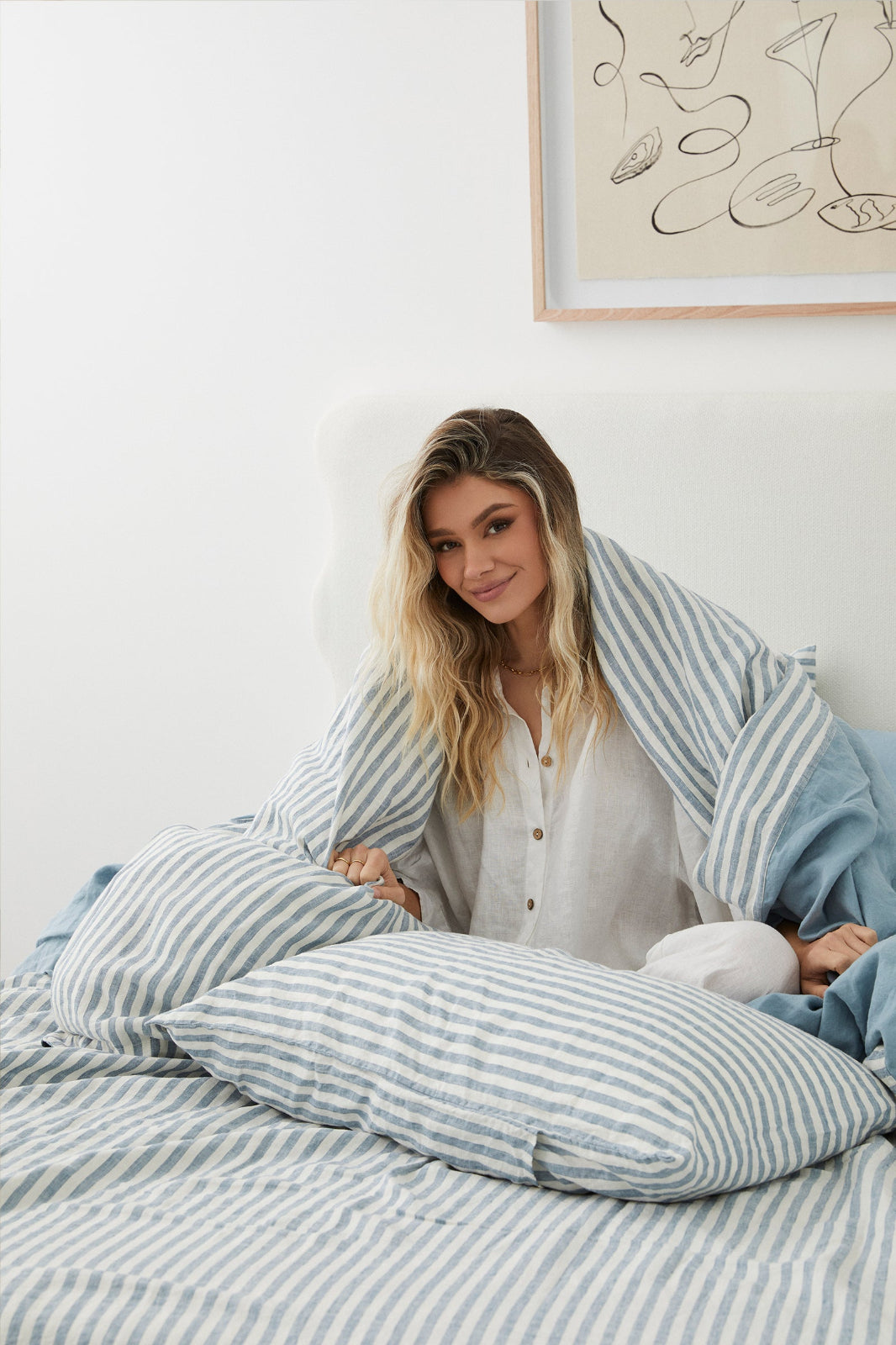 Line dry in shade 
Linen fabric prefers to be dried naturally. It's best to avoid using a tumble dryer as the heat and motion can create wrinkling in your fabric and may, over time, also weaken the fabric.

Of course, there are times when your busy schedule means you have to quickly put your linen fabric in the dryer to get it on a bed that needs use, pronto. If this is the case, use a low heat setting and remove the sheets from the tumble dryer as soon as they are dry, this will help to avoid any set-in wrinkling that could otherwise occur.
Where to buy the best linen bedding?
Are you ready to treat yourself to the perfect night's sleep in the most luxurious linen Sheet Sets and linen Quilt Covers? Linen offers a smooth, breathable and comfortable night's sleep, and the best part? Linen bedding gets softer with each wash and are highly durable, so you can expect years of luscious enjoyment to come.


Here at I Love Linen, we have ten years of industry-leading experience to support our claims that we stock the best linen. As an established linen brand, we have spent years working with trusted makers and have an eye for premium linen. We pride ourselves in only working with long stapled yarns, ensuring a longer-lasting fabric and long-term customer satisfaction. Shop our range to find an array of high-end linen products, or if you have any questions regarding all things linen, please don't hesitate to contact our friendly team at help@ilovelinen.com.au 

We hope you love your new French Flax Linen Sheets and Quilt Covers!

For further clarification on I Love Linen's advice for washing linen, check out our Linen Care Guide.
Add these dreamy linen designs to your collection