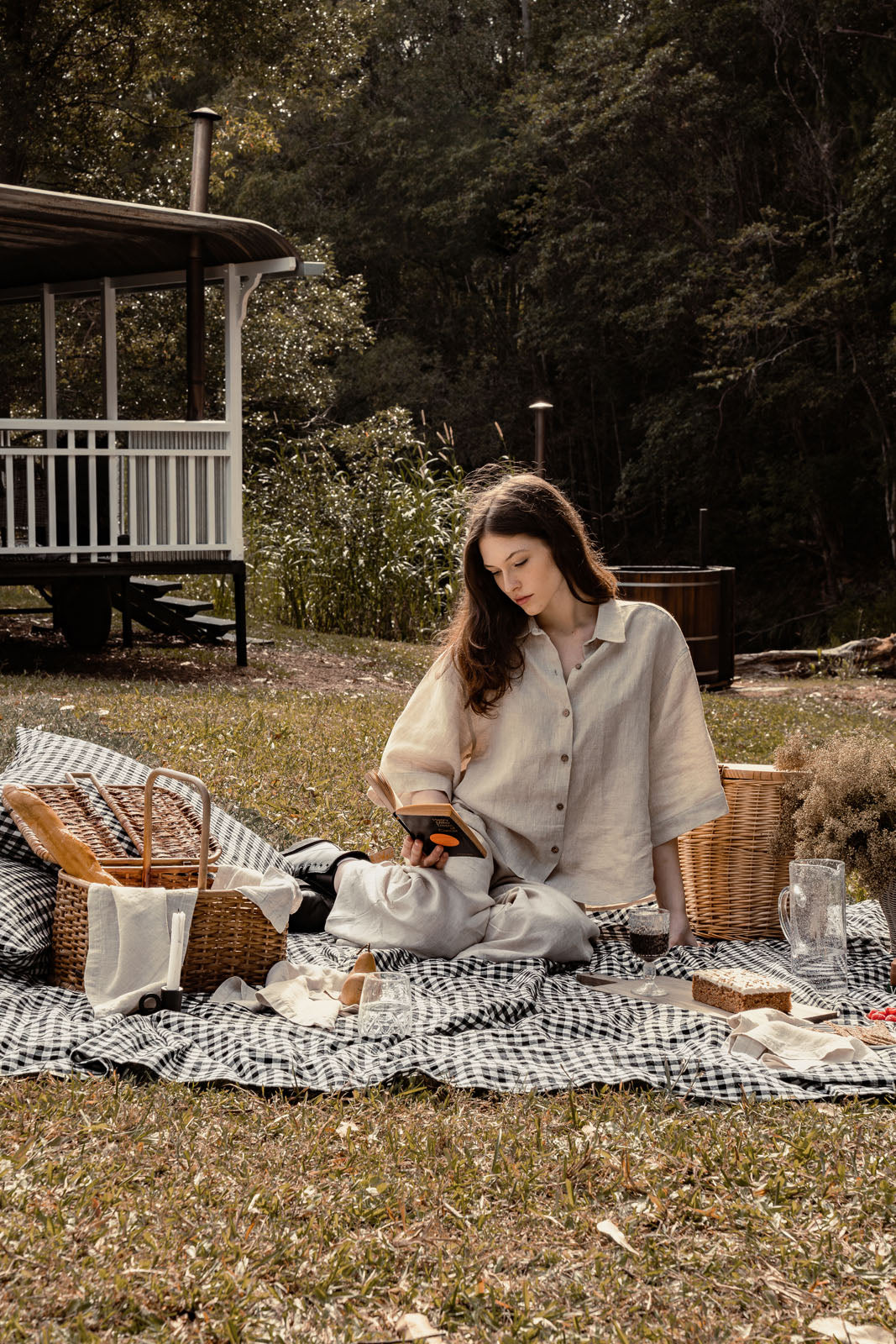 How to bring #cottagecore into your own home
Posted: 10 July 2023
Looking for a way to make your home a cosy haven this winter? The #cottagecore trend brings you just what you need. Cottagecore romanticises a simpler, more rural lifestyle and it blends the aesthetic of nostalgia and traditional rural life, appreciation of nature, and a longing for a slower pace of life. In the last year search volumes grew by 188% and this cosy design trend is still giving this winter and our newest shade Charcoal Gingham brings all the cosy vibes.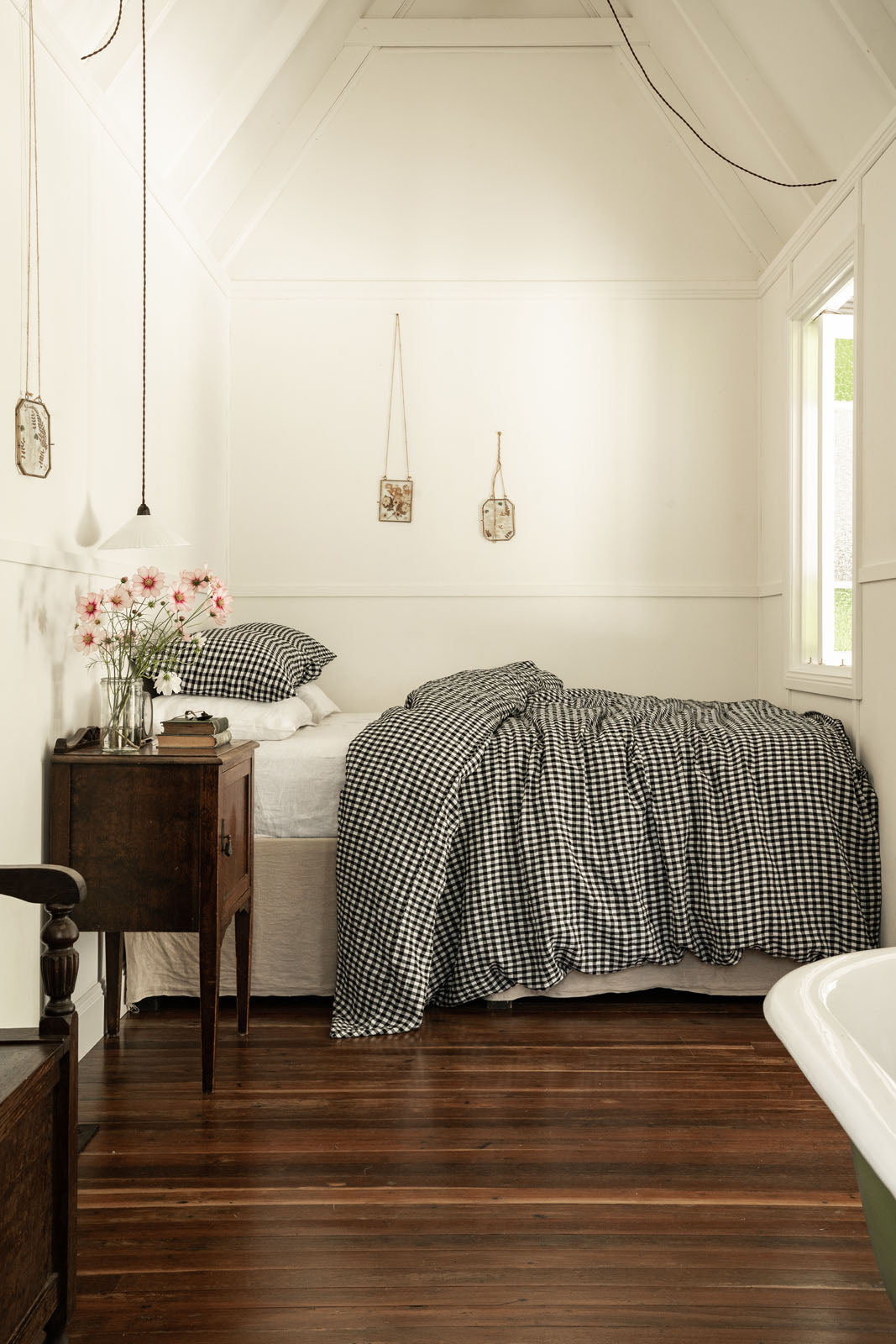 1. Embrace natural materials
Feature natural, organic materials like wood, linen, and cotton. Our new Charcoal Gingham in 100% French Flax linen has you imagining your dream provincial cottage style as soon as you put it on the bed. For your furniture, lean into warming wooden tones and accents. 
2. Incorporate Florals
A floral aesthetic is a staple of the cottagecore styling element.  Having a bunch of fresh blooms by your bedside table will always elevate your space. Style them in a vintage looking vase for extra cottagecore points.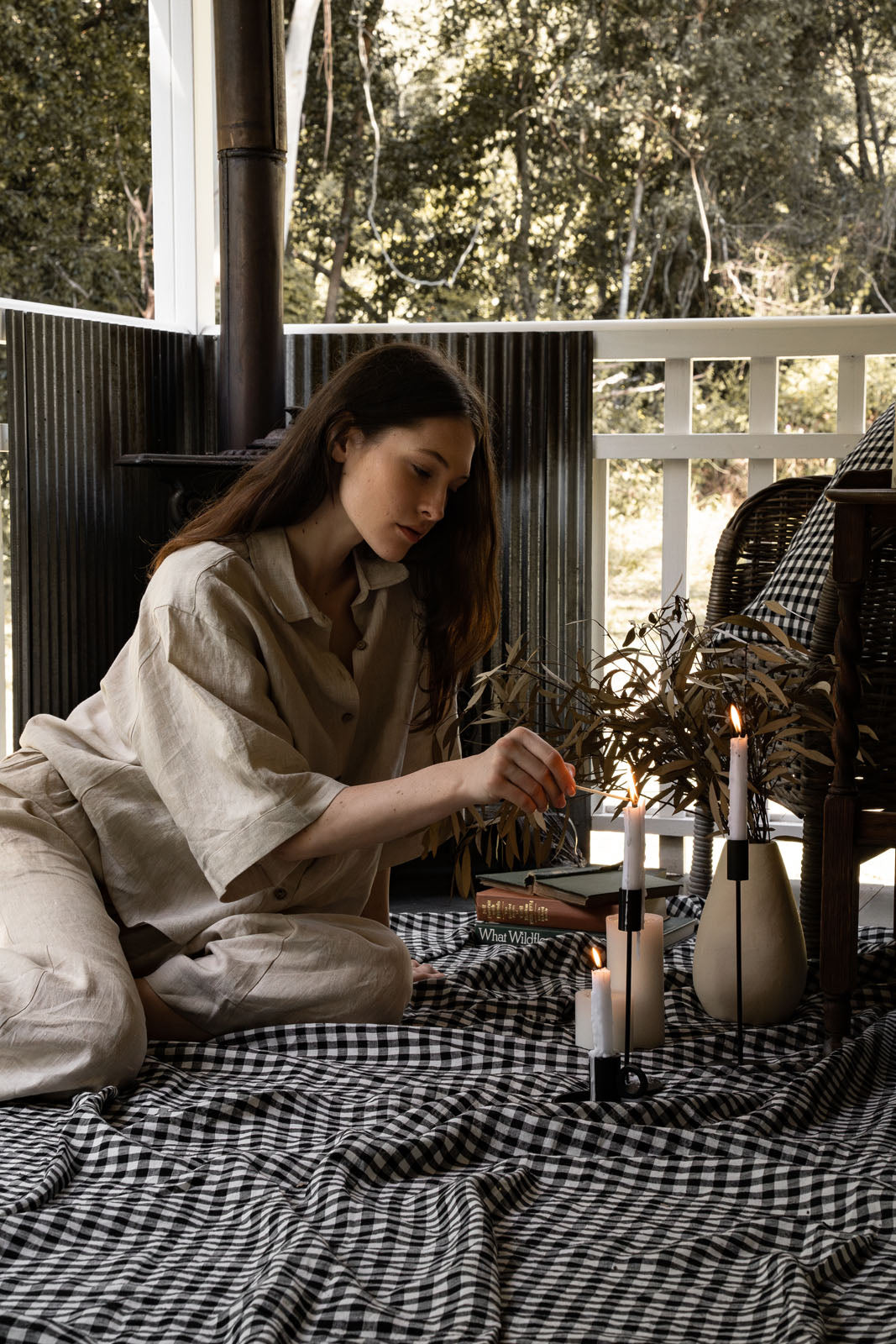 3. Create cosy nooks
Consider your home, perhaps there is a corner that is just  waiting for a little makeover, making it perfect for curling up with a good book? Turn the cottagecore charm on with soft lighting, candles, and layers of fabric to create an  inviting atmosphere. If you have access to a fireplace, use it to its maximum cosy potential as you bask in its golden glow.

Felicity wears the Ruby Lounge Set in Natural
4. Add vintage touches
Vintage items like antique mirrors, old books, and vintage  fabrics can add charm to your cottagecore home. Look for vintage, antique or hit up your local Op Shop for some vintage gems.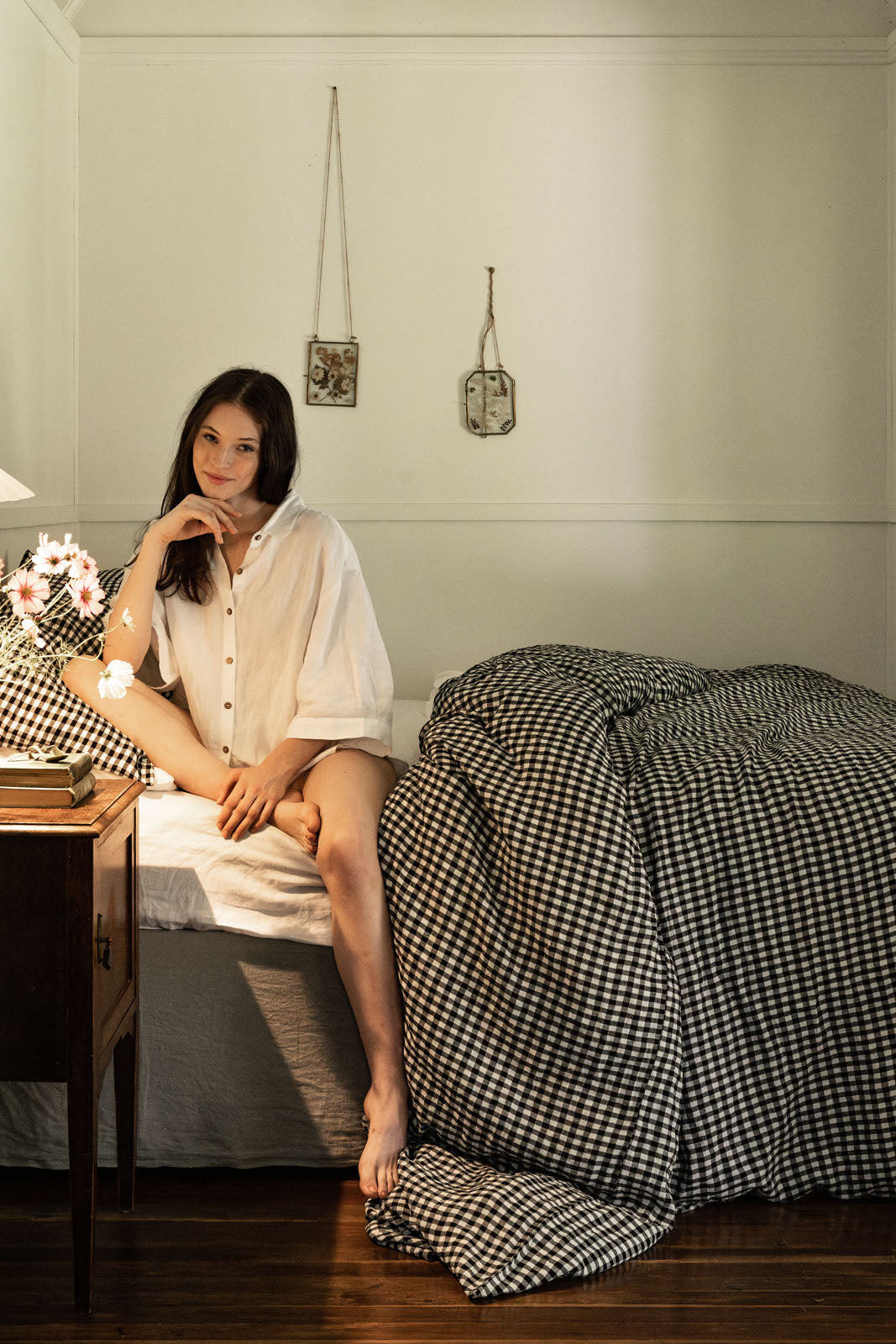 5. Favour classic bed linen patterns
To achieve a calming and classic bedroom  scene you need to favour country checks and calming tones to mix and match. Our new  Charcoal Gingham in 100% French Flax linen is the perfect classic check that looks  beautiful when mixed and matched with classic white, soothing sage, soft pinks and  delicate natural shades. 


Felicity wears the Ruby Set in White with the French Flax Linen Quilt Cover Set in Charcoal Gingham
Our beautiful Charcoal Gingham Campaign was shot at the utterly charming Palmer & Gunn and we sat down with Fiona, the owner to learn a little more about the space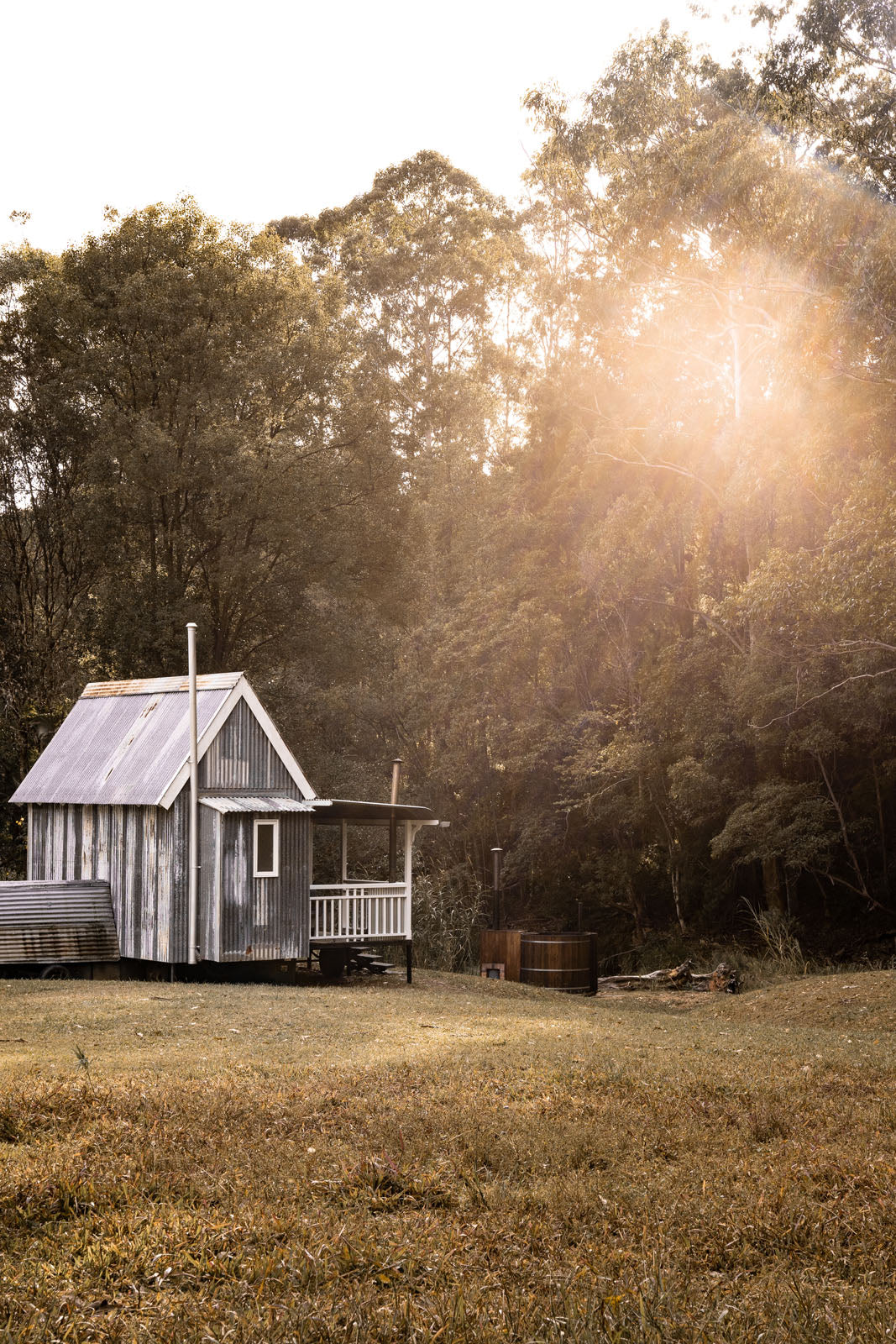 Q: How would you describe the interior style of Palmer & Gunn?

A: Palmer & Gunn is what we call a 'Wee Tiny' - as it's a very bijou sized space! It has a mix of vintage, cottagecore design elements going on. When designing our Wee Tiny we decided to create a space that we loved first and foremost, so we are absolutely thrilled that guests love it too.

We drew inspiration from the past but also wanted the small space to feel roomy so that's why we designed the high pitched ceilings and kept the walls and ceiling antique white. We add pops of colour and personality with a mix of I lLove Linen bedding pieces.
We love all things old, so when we designed and built the Wee Tiny, a one-of-a-kind tiny house for slow stays we used reclaimed materials, vintage fittings, antique doors and windows, not to mention a beautifully curated collection of antique furniture and beautiful linen bedding to create the most enchanting space.
- Fiona, Owner of Palmer & Gunn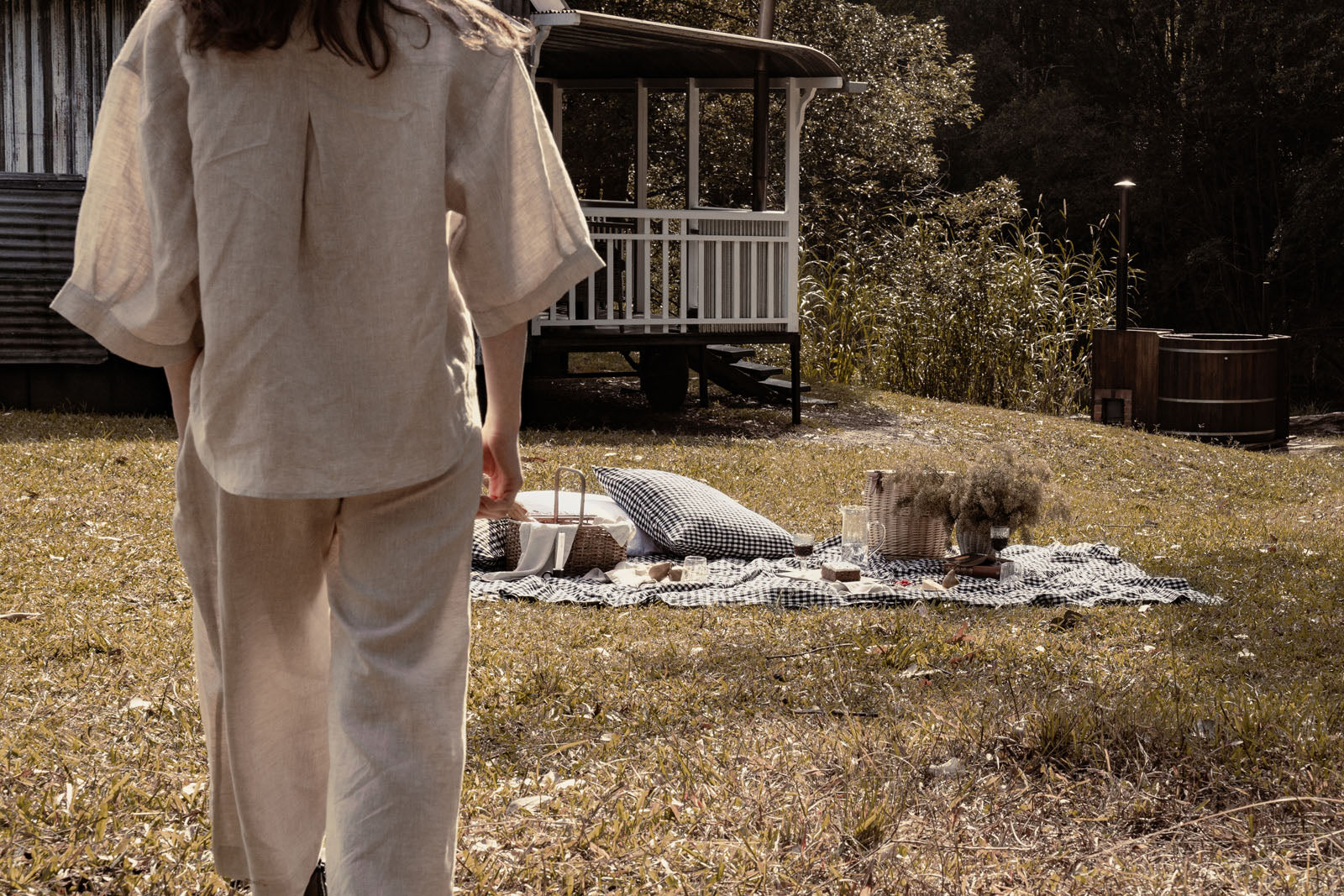 Q: What does the perfect stay look like at your Wee Tiny?

A: Nights spent relaxing in the wood fired hot tub and dinner by the fire. Slow mornings on the veranda listening to the bird's song, cuppa in hand. Followed by picnics by the creek and afternoon baths in the clawfoot tub with a good book. We designed and built our Wee Tiny with slow stays in mind. Somewhere people can disconnect from the constant pressure and just unwind with no interruptions. It's a one of a kind, Bespoke experience and that is what makes it so special. 

Almost all of the pieces used to furnish and style the space are antique and we curated this collection specifically for the space which means it's really unique, you won't see anything like it elsewhere.
Q: There is so much to do in the Gold Coast Hinterland, so share with us your local knowledge please! Where would you go for:
A: Our guests usually check in and then don't leave till they check out!
We let them know all the good spots on the way to stock up on tasty treats for their stay such as Barbosa Deli at The Kitchens Robina, where guests can get everything they need for the best Charcuterie board going.
Drinks & Restaurant - Oh, I wouldn't be a local without recommending guests grab dinner at Panchos Mexican Restaurant restaurant just 5 minutes away- margaritas and a chimichangas yes please!
And if you're inclined to go hiking then we love the Purling Brook falls walk Springbrook National Park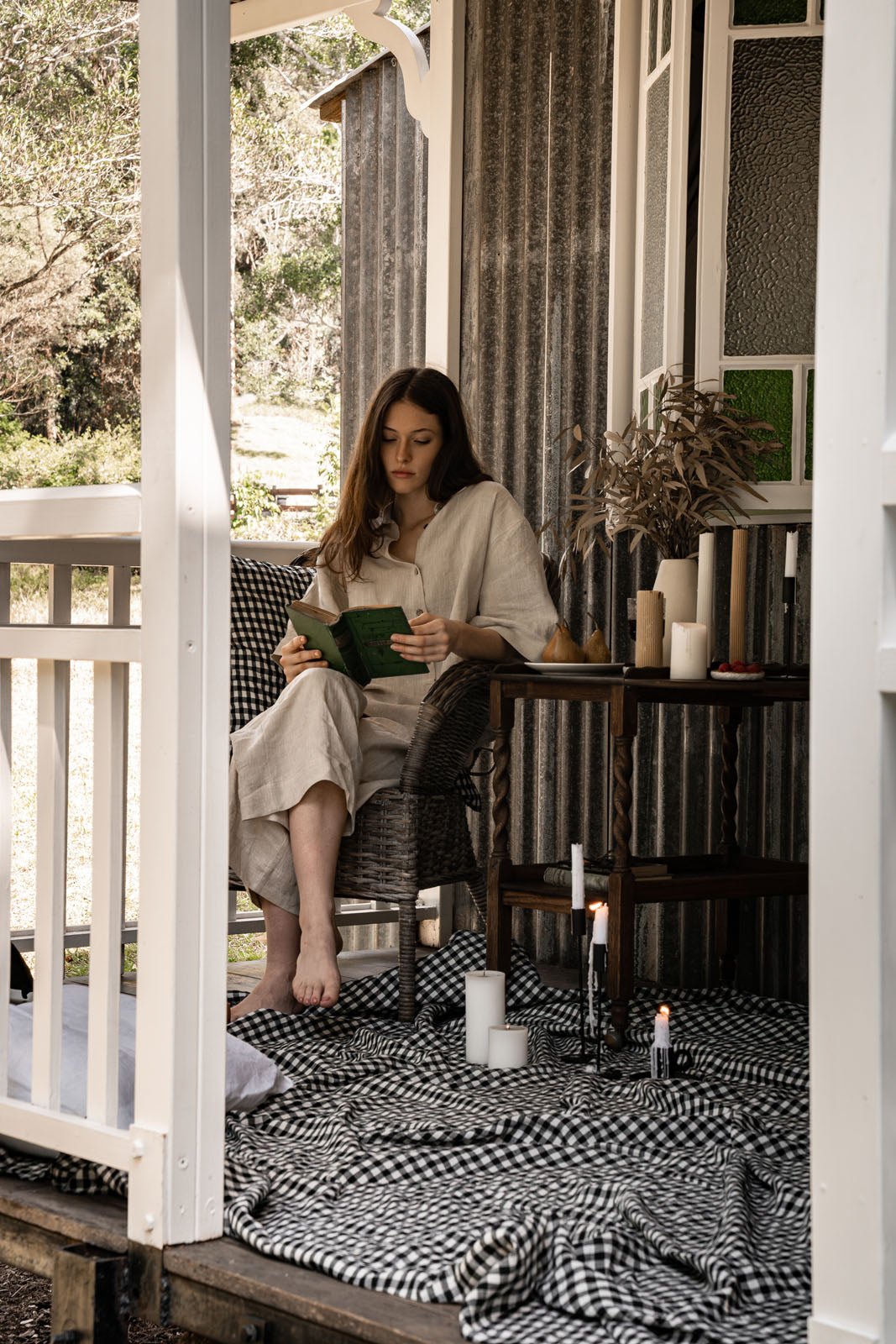 Q: What are three amazing ways to pass the time during your stay?
A: Our top three favourite ways to spend time at Palmer & Gunn would be:
- soaking under the stars in the wood fired hot tub
- sitting by the fire on the veranda overlooking the creek with a good cheese board
- enjoying something to sip on with a good book bath in the clawfoot bathtub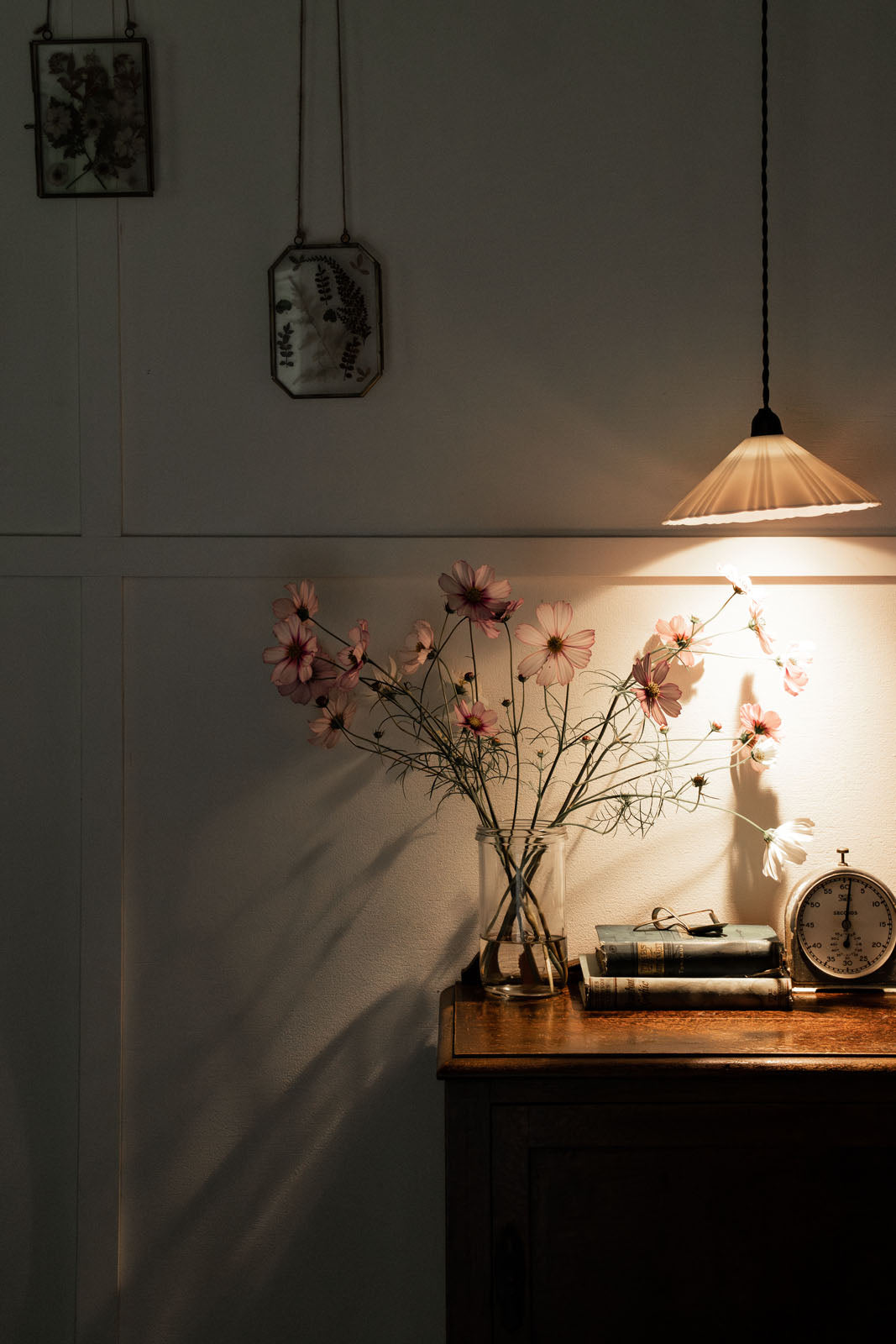 Q: We believe that if you sleep well, you live well. What does your sleep wind down routine look like?
A: We are big believers in disconnecting from technology every now and again but particularly before bed. Our nighttime sleep routine consists of switching our phones off about an hour before bed, a warm bath, followed by heading to bed with a book. We like to read for about thirty minutes but that always depends on how good the book is!