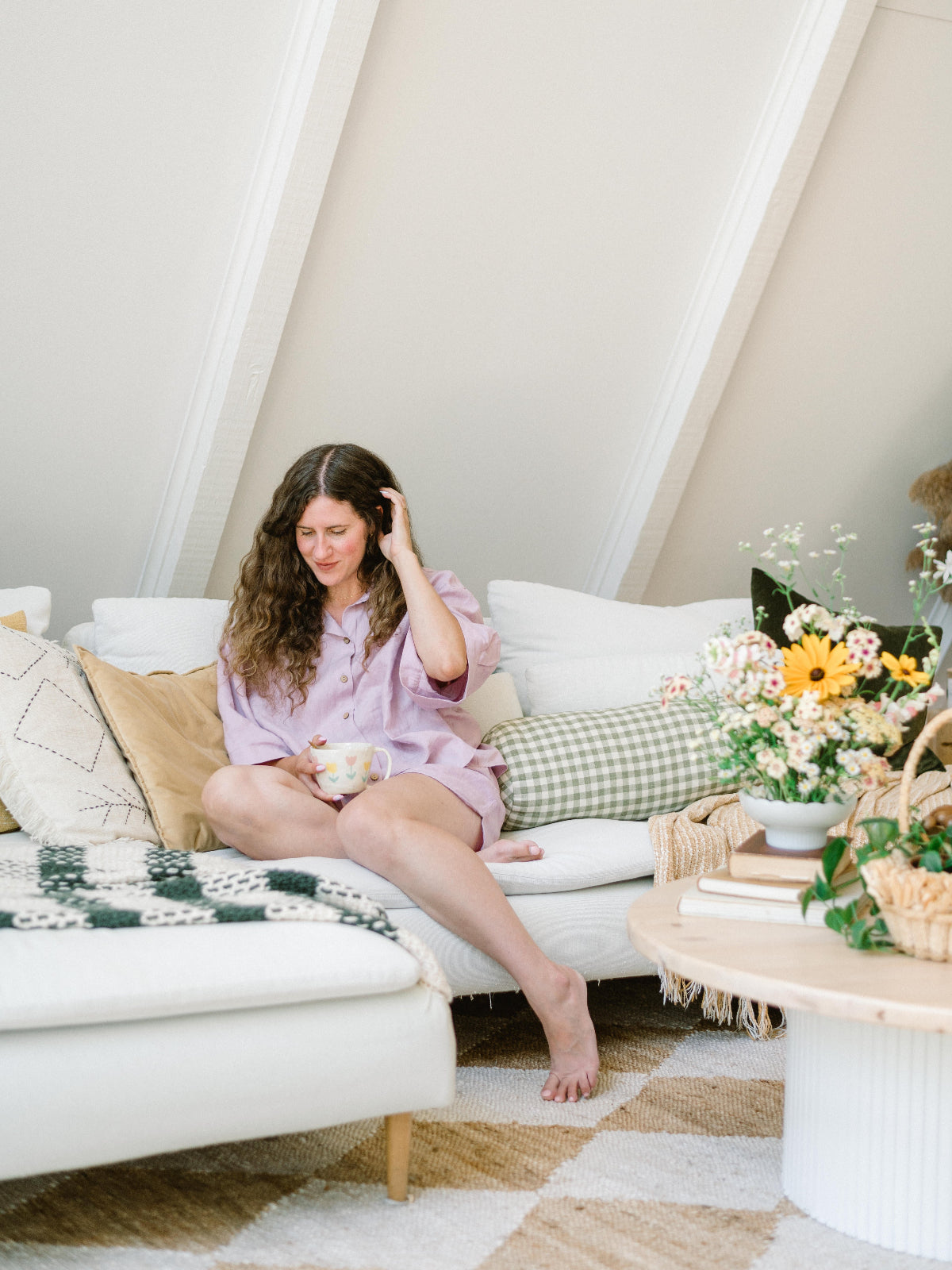 A-frame on Fletcher Home Tour
Posted: 07 November 2023
Come with us on a magical and botanical journey to the East Coast of Canada where talented artist Katelyn Morse shows us around her home and styles our fresh and bright linens beautifully in her airy, bright and fresh home.
When an artist and a carpenter acquired a charming yet outdated A-frame house on Canada's eastern coast, we knew that it would prove to be an interesting and rewarding journey. The couple embarked on a six month renovation journey to unveil its hidden potential as an enchanting retreat in the woods. Inspired by her deep connection with nature, Katelyn crafted a home that exudes an airy, tranquil, and whimsical atmosphere. This haven not only serves as her creative sanctuary for painting but also as a cherished space for quality time with her husband, Jerry, and their two feline companions.
Q: How do you describe your interior style?


A: My desire for our space is to evoke feelings of comfort, cosiness, and peace. For me this comes through style wise as light, warm and earthy tones, with hints of soft, happy colours throughout. I'm in a bit of a transitional period where I really went for the bohemian, organic modern style a few years ago, but now I'm leaning towards a more French country, kind of a more cottagecore feel. So I think I'm a bit in between the two for now!

Katelyn's kitchen bench is styled with our Beige Gingham Table Cloth and Clay Napkins Set.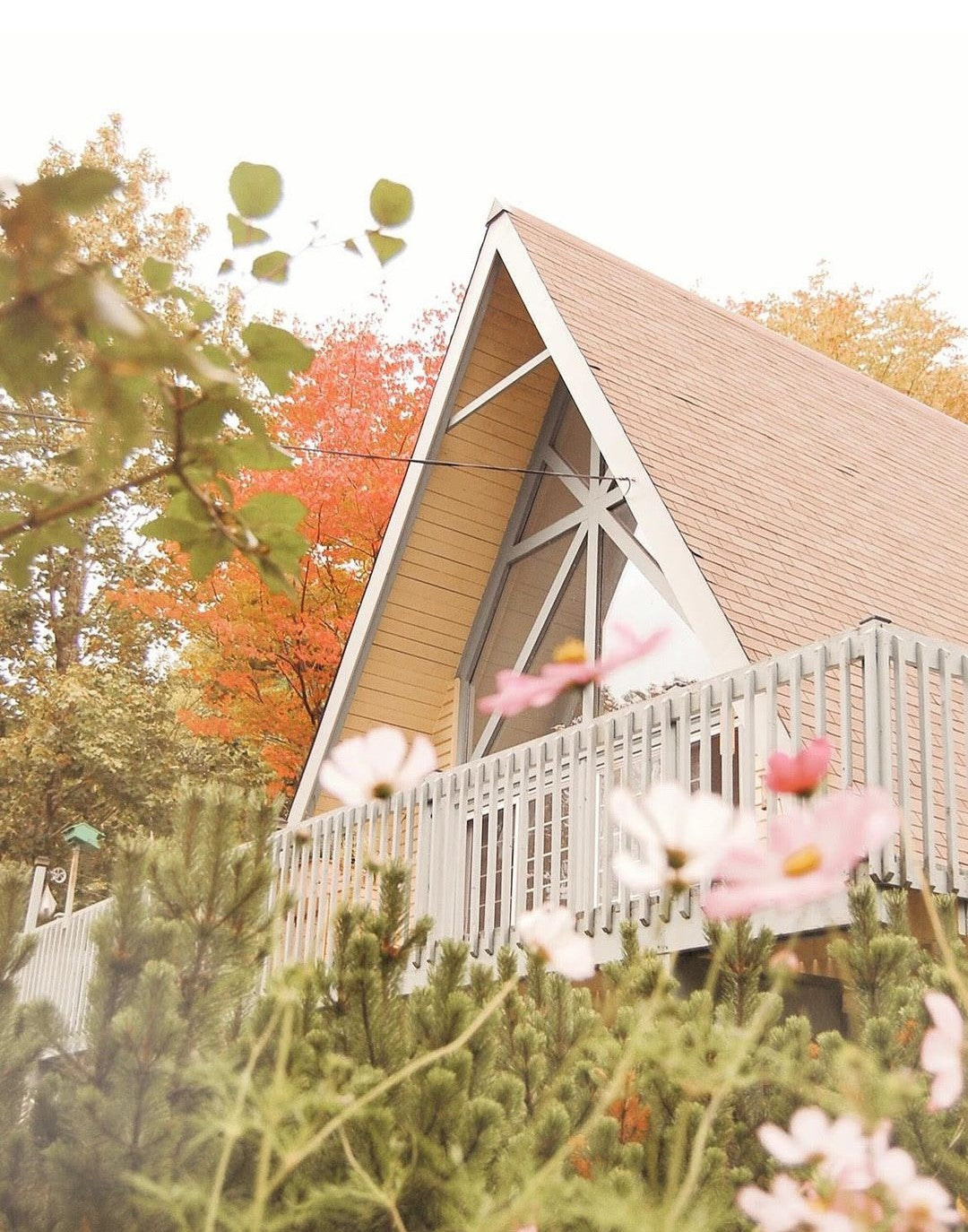 Q: What are some tips you'd give others when it comes to renovating such a unique and funky space?


A: It truly is a challenge to design around all slanted walls! Since it's hard to hang art on a slant, I think lots of shelves with pegs to hang things on, works really well. We've also opted for open shelving to showcase our style (on the ONE flat wall we do have in our living space). Pinterest and #aframe on Instagram is your best friend when it comes to finding inspiration on what has worked well for others.  I've also liked embracing the style of home we have. An Aframe always reminds me of a cabin or cottage, so things like choosing a lovely wide plank pine floor and lots of wood accents I think goes well with the space! Staying true to the home in your finishes, and then expressing yourself with your decor feels really good. I'm a big fan of opening things up for more space and natural light when you can, adding skylights and windows wherever possible is huge for me!

Q: What are your top 3 tips or tricks you've learned while styling your home? E.g: what are some practical ways you make your space feel more cosy, organised, or visually appealing?


A: I think thrifting is my number one tip! I think you can find the most unique, beautiful and special pieces when you're out and about the second hand shops. You need some patience, a good iced coffee and maybe a pal, but my most favourite pieces have come from someone else's story and given a new life. Plus it's easier on the environment, and your wallet! There are so many treasures to be found. Second, designing with more storage in mind than you think you need. Choosing furniture pieces with storage, adding an extra cabinet where there is room. For someone who is constantly collecting, this is key! Everything needs a home in order to not start to feel too cluttered. Third is to stick to a certain colour scheme. Now this is personal for me, I know others can make multiple colours look really nice - but for me I find it helpful to have a small palette of colours I know I enjoy. More on that in the next question!

Below: The light-filled greenhouse is adorned with our Ivy Gingham Table Cloth to create an enchanting garden dining setting.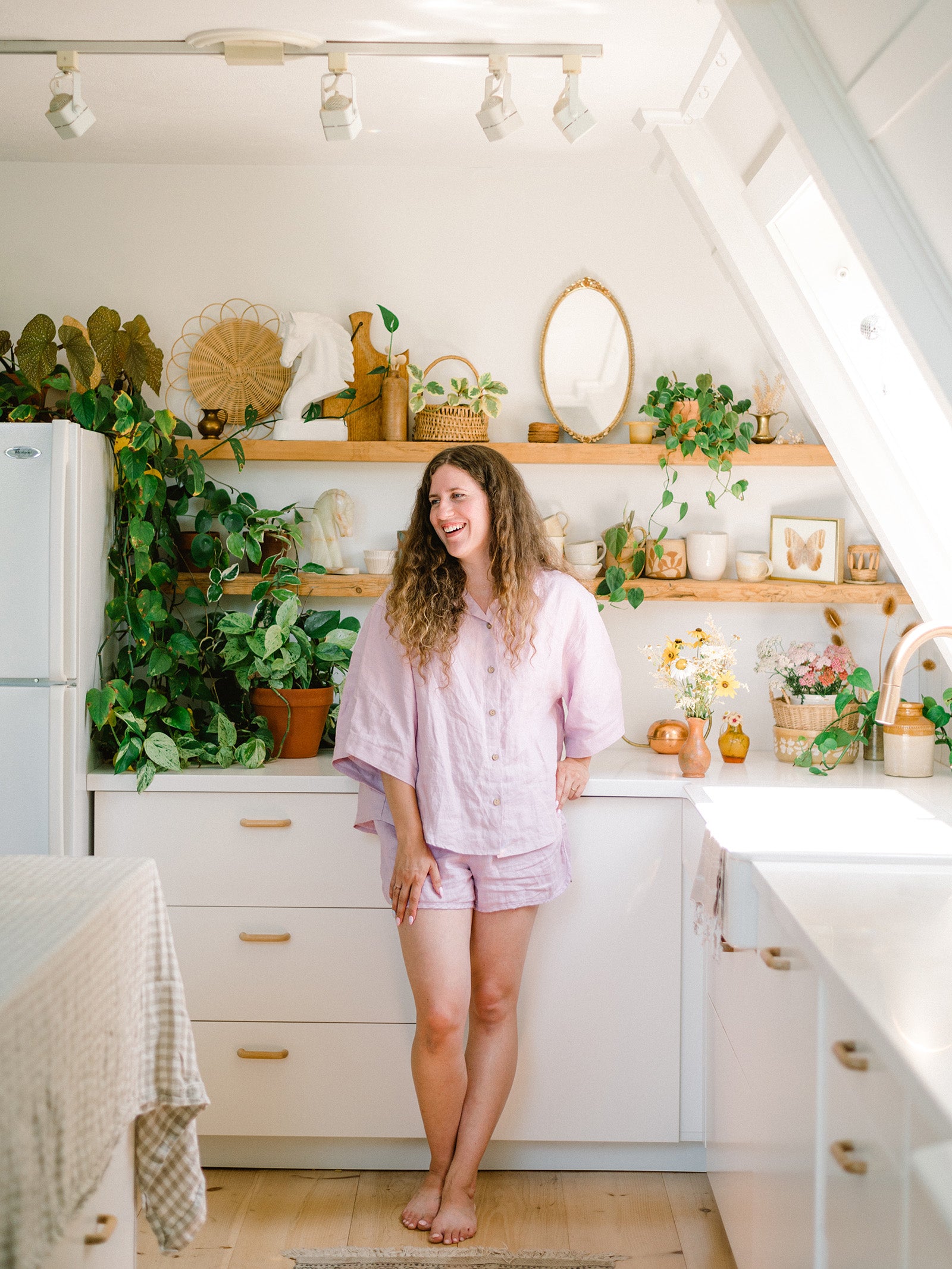 Q: What are your preferred colour schemes or palettes for home styling? Are you drawn towards bold and vibrant colours, or do you prefer more neutral and soothing tones?


A: I always gravitate towards lighter, warmer tones. When we first started decorating, I went with all neutrals. White, cream, beige, and light browns. I added in warm tones like terracotta and peach, a little pink here and there, and of course green. I love nature and plants so much, so green is kind of like a neutral to me! I've started to add in a little more colour but usually stick to more muted, pastel tones. I love soft yellow, peach and pink tones to go with a neutral backdrop!
Q: We believe that if you sleep well, you live well. What does your sleep wind down routine look like (or one you aim to try and commit to when you can!)


A: Oh, I truly love a wind down routine that involves time spent sitting on the deck with a cup of decaf tea, enjoying the sunset. Listening to the birds sing. A slow walk around the gardens to see what blooms have opened up throughout the day. Being present and mindful, and spending time doing things I enjoy is such an important part of my evening. Practicing gratitude for everything we have. Climbing into buttery soft linen sheets and cuddling with our kitties is an absolute dream to polish off the day.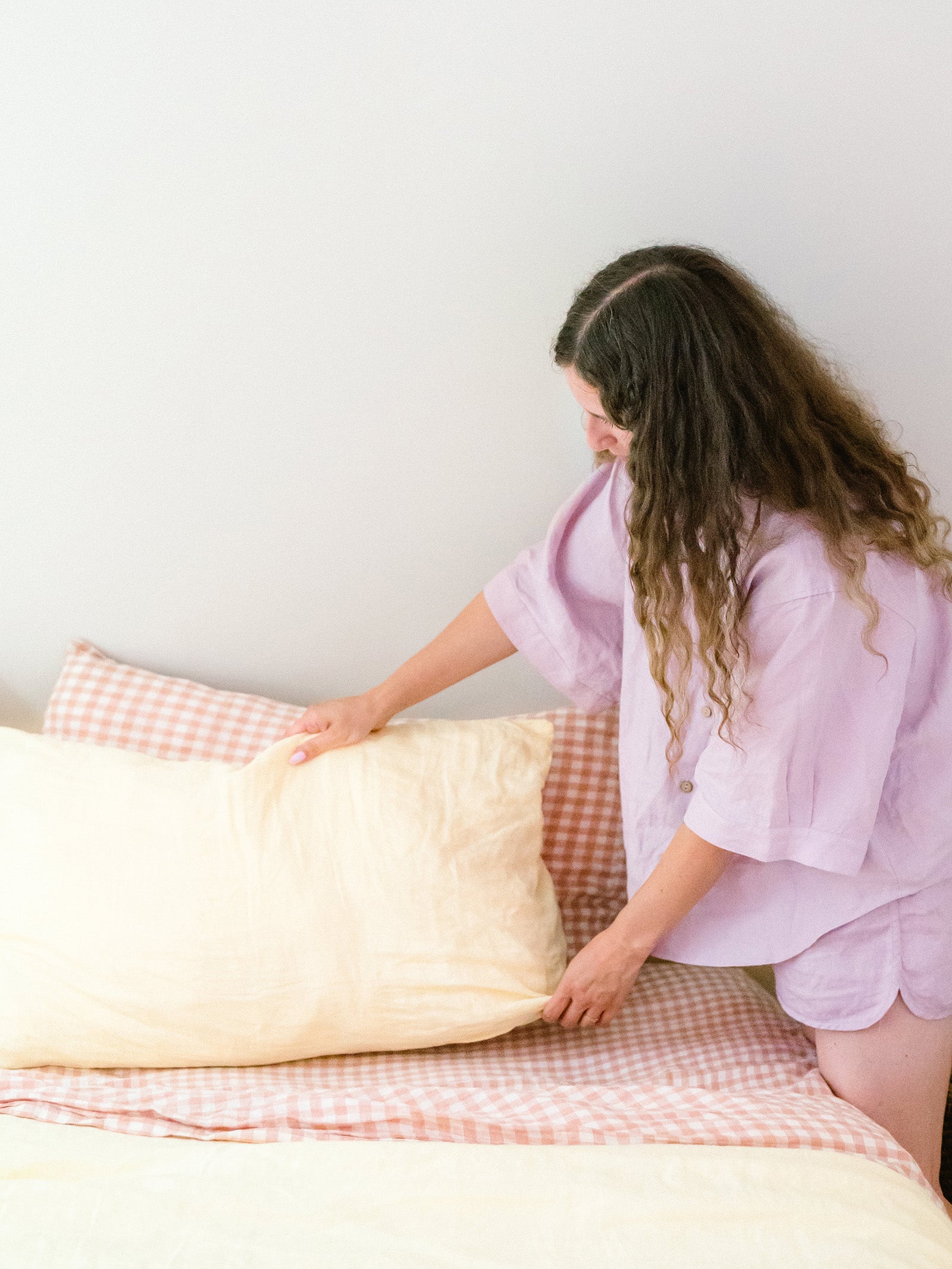 Q: How does sleeping in your I Love Linen bedding make you feel?


A: Like I'm a little flower fairy resting on the softest petals of the most beautiful, extravagant bloom you've ever seen. Like a kitten who has floated up into the absolute softest cloud in the sky. This bedding is the best I've ever had. I do not understand how it can be so soft and perfect. The colours are an instant mood boost. I love our bedding SO much! 

Katelyn wears the Ruby Set in Lilac as she styles her bed with a Clay Gingham Sheet Set and Daisy Quilt Cover Set.