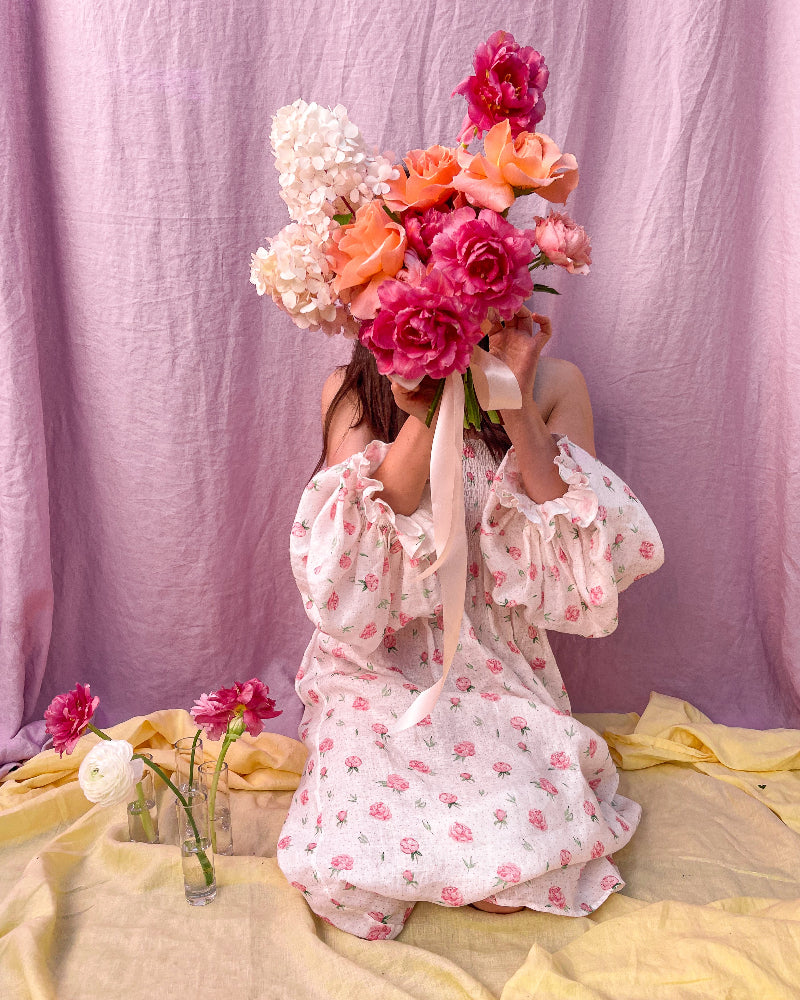 Embark on a magical journey of flowers with Anastasia
Posted: 18 July 2023
With her vibrant blooms, thoughtful and unique arrangements, dreamy weddings, and an array of pretty dresses and exquisite interiors, Anastasia Botica of Urban Antidote brightens our Instagram feed. But, it just couldn't be kept to ourselves. So, we invite you to Anastasia's magical world of flowers in this interview.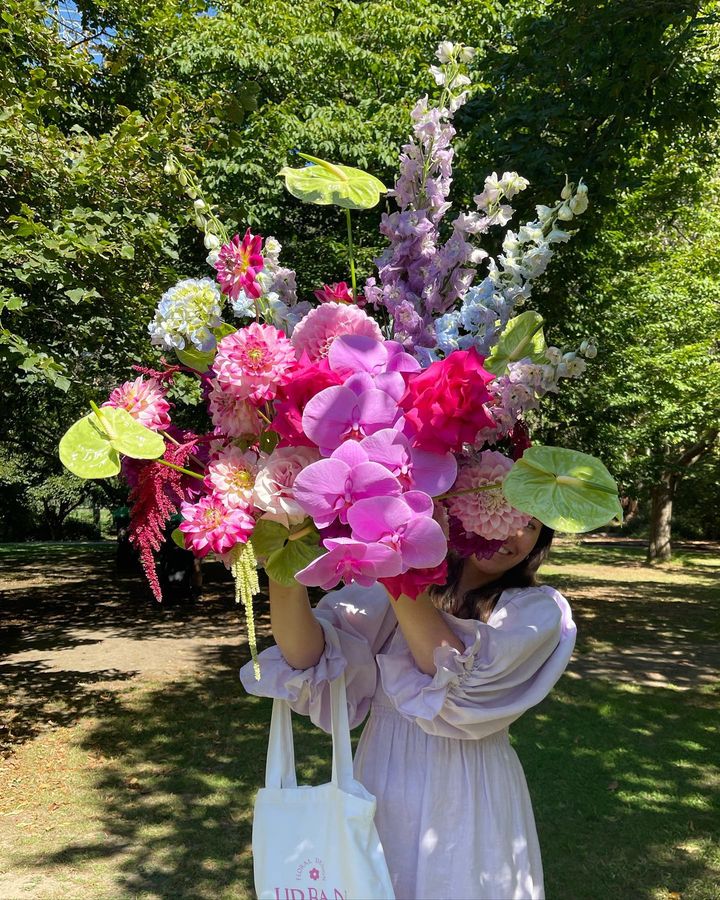 A Floral Affair
Since leaving a career in law behind, Anastasia has devoted herself to her passion. From picking flowers in her garden to quickly realising her passion was more than a hobby, leading to Urban Antidote being born. Founded in Melbourne in 2020, Urban Antidote provides a modern and playful take on flowers. Inviting vibrant colours and whimsical arrangements of shapes, Anastasia hopes her work will bring joy to her customers.
Outside of work, Anastasia still finds time for herself and enjoys life's simple pleasures. In this interview, we ask Anastasia what flowers mean to her, how she takes time to slow down, where she seeks inspiration and more.


Q: Tell us what attracted you to flowers from a creative perspective (we wish to know what makes flowers so magical)?


A: From a creative perspective, floral design gives me a medium to create and express myself using colour, texture, and shape. I love creating quirky-shaped designs using unique colour combinations that, if done correctly, exaggerate the shape and colour of the flower.


In a broader sense, floral design also enables me to engage with other design elements. I love editorial, opulent, maximalist images and styling, which incorporate clothing, interior, lots of colour, flowers, and people (think Rodarte Spring 2020 collection and the Gucci Bloom campaign).


Floral design has opened me up to living a very creative life, and this feels like just the beginning of my creative journey, which is very exciting!
Whenever I am creating a design, even if it's just for a little dinner party, I am thinking about what the guests might be wearing, the design of the cake the florals will be paired with, the tablecloth and how the florals can enhance all these elements and vice versa. 
- Anastasia, Founder of Urban Antidote
Q: Slowing down, being mindful and wasting time in the pursuit of pleasure are so important. What do you do to take time out?


A: I am pretty good at this one. I am a big believer that no amount of success is worthwhile if you don't feel well and rested. These are some of the things I do to take time out for myself; as you can see, the list is quite long.


1. Long walks in nature.
2. A candle-lit super bubbly bath.
3. Massages and acupuncture. I would do these every day if I could.
4. Organising a section of my house with colour coordinating my wardrobe being at the top of my relaxation/ self-soothing list.
5. Guided meditations – I am a big fan of Jo Dispenza & Lacy Phillips - To Be Magnetic.
6. Allowing my mind to wander and daydream about anything and everything. You never know when inspiration will strike.
7. Going out for dinner and letting my boyfriend order, he has a knack for picking the best dish on the menu, and I end up trying something I usually wouldn't.
8. Being around my Scottish fold cats, Moses and Minnie. They are literal teddy bears and extremely calming.
9. Learning something creative just for the enjoyment of it. I have just joined a patchwork club and am making my first quilt.
10. Sleeping in and having breakfast/ coffee in bed (when I can!)
Q: Where do you look for inspiration?  

Fashion: Vintage Fendi baguette bags, Rodarte dresses
Places: Copenhagen,Copenhagen& Saint Jean Cap Ferrat
Books: The Woman I Wanted to Be - DVF
People: Victoria Saceanu, Carrie Bradshaw (Fictional) & Sharon Tate.
Artist: Helle Mardahl  
Food: Cake decorating – Gigis Little Kitchen New York
Movie: Marie Antoinette – Costume & Set Design
Music: Lana Del Rey (Aesthetic, use of flowers/ clothing etc.)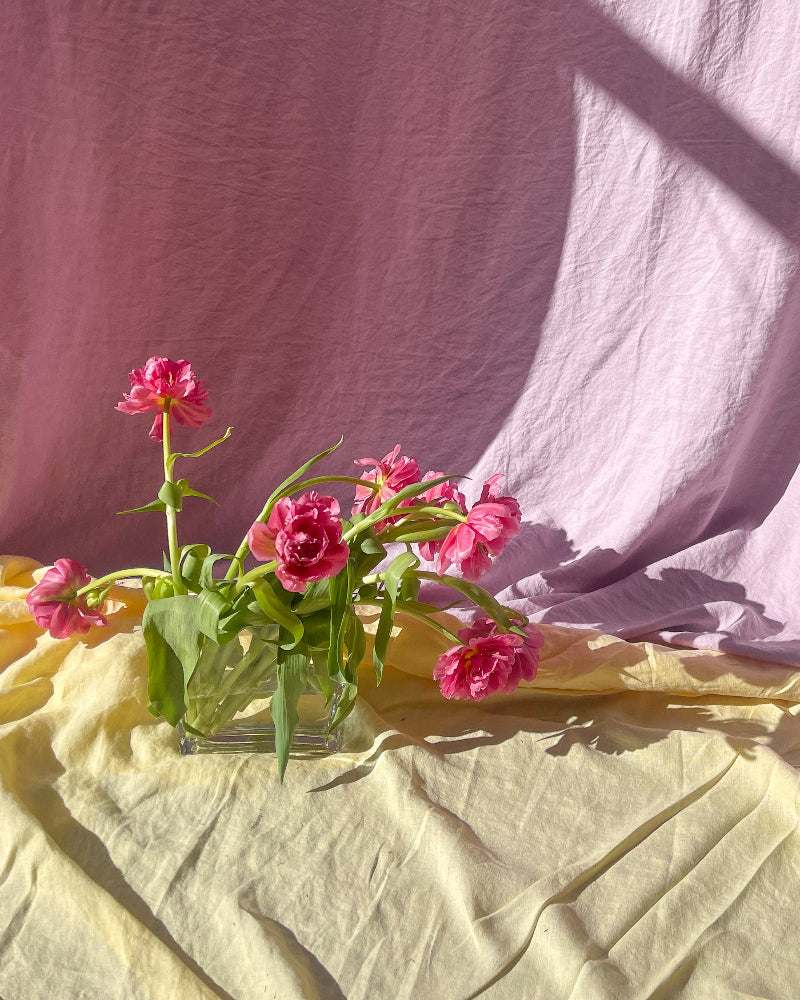 Q: What are 3 brands you're coveting right now and that you would like to add to your home?


I was lucky enough to visit her studio in Copenhagen recently and picked up the bon bon cocktail glasses and a bonbonniere. I am desperate to get my hands on a bon bon cake stand.
From the eye mask to the red-light bulbs, I am obsessed and think these products are life-changing.
- Rodarte
Pretty much all of their dresses from every season are on my wish list. 
- Can I say it… If so, I Love Linen!
The daisy quilt cover & set!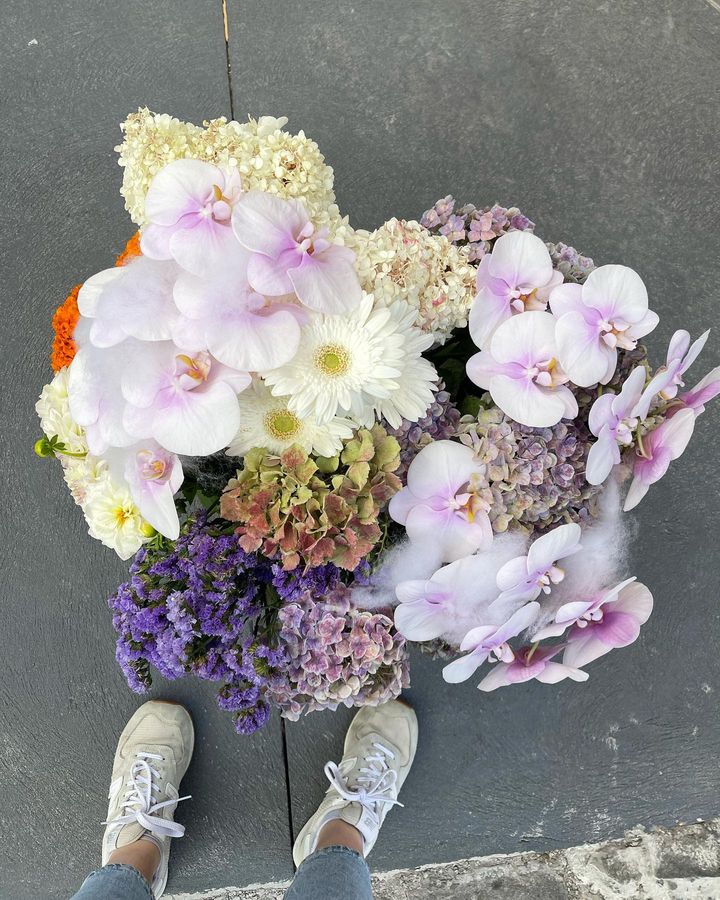 Q: What colours do you gravitate towards in your home?


A: White walls to create the feeling of space and to make the house as light as possible. Gold details by way of antique mirrors and frames contrasted with pastel colours to create a fun/modern look. I like to mix antique with modern– think a gold French antique mirror with a cotton candy pink velvet couch.

Q: What are your top 5 flowers you love working with? 

1. Allium Giganteum,
2. Water Lilies/ Lotus Pods
3. Giant Cosmos
4. Lady Slipper Orchids (when I can get my hands on them, which is pretty rare!)
5. Hydrangea – specifically popcorn at the moment.
Q: You live in Melbourne, which has so many amazing options. What is your favourite restaurant, wine bar, beach and a spot to watch the sunset?

Restaurant: Tipo00 for the tagliolini al nero.
Wine Bar: Bar Liberty
A spot to watch the sunset: Wills St Lookout, Yarra Bend Park.
Beach: Black Rock beach and all the neighbouring bays. I am more of a walks-on-the-beach kind of girl, rain or shine, so this one ticks all the boxes: good scenery, cafes and people-watching.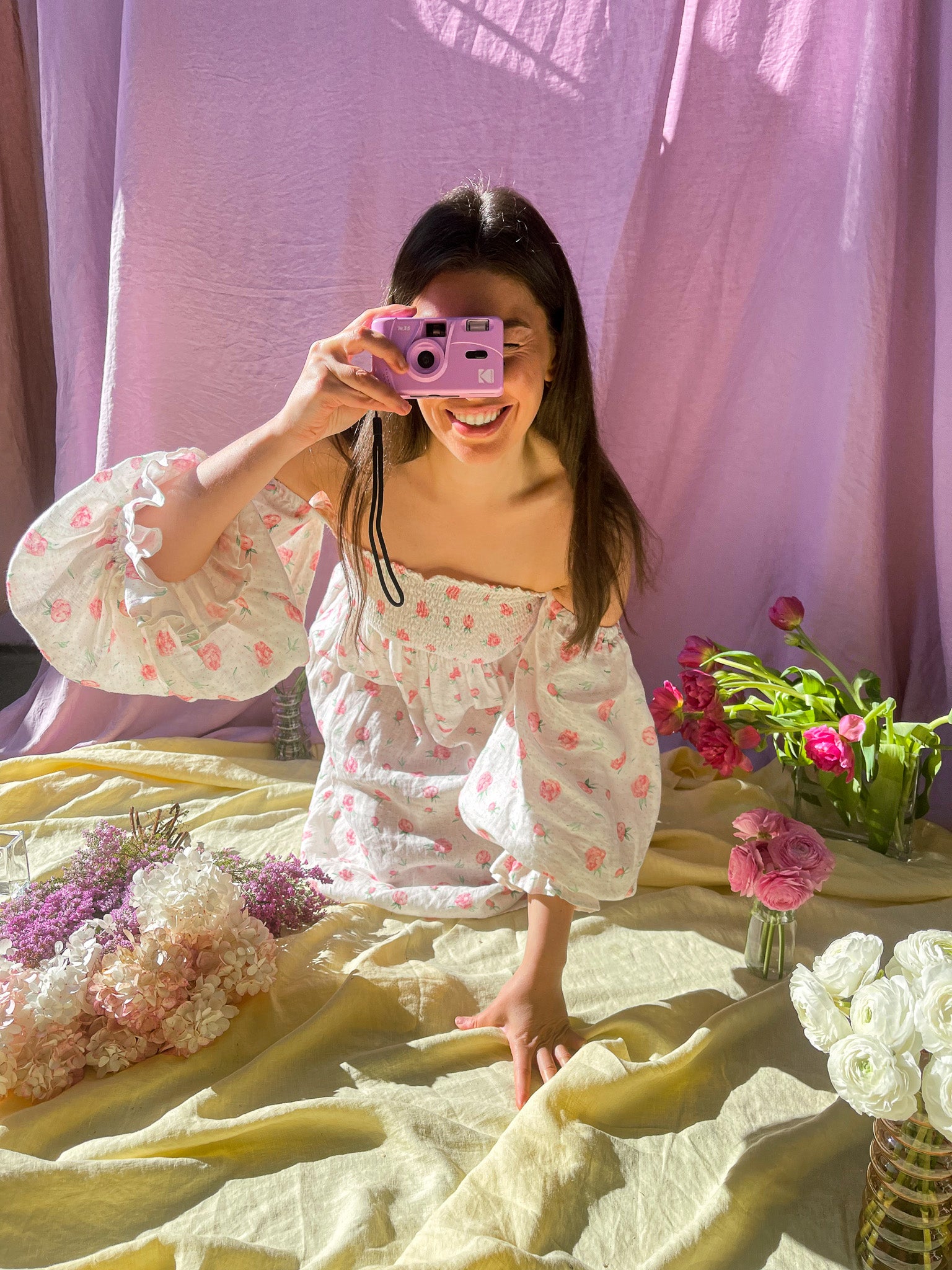 Q: What advice would you give to someone wanting to leave their full-time role and create a career aligned with their passion?


A: You need to get really clear on what you want to create and how starting this business or new career is going to help you create your own personal, authentic dream life.


What works for me is writing down how my ideal day would look if I could do anything. This is always my roadmap and helps me make important decisions, personal and professional, as the two are intrinsically intertwined when you work for yourself. From there, just take one small step every day towards your dream life. It is amazing how quickly time goes and how these small steps add up.
Then for the practical advice, do as much as you can while you are working to prepare yourself to transition to working for yourself, e.g. website, branding, product design etc. All these things take a lot of time, and the more organised you are, the better and the less daunting it will be when you suddenly find yourself… working for yourself! 


Start building up an emergency fund so that you have enough money to support yourself realistically for the first 6-12 months. There are a lot of hidden costs involved in starting up and running a business that no one sees, so this will make your transition much smoother and enjoyable.
Q: We believe that if you sleep well, you live well. What does your sleep wind-down routine look like?


A: I couldn't agree more. I am someone who needs really good sleep to function and aim for about 9 hours each night without compromise. Before my wind down begins, I like to make sure my room is tidy and organised. The next essential preparation step is making sure my bed is extremely comfortable. I love high-quality linen and silk bedding. In winter, I have also incorporated a weighted blanket into my routine, which I find helps me sleep even deeper.