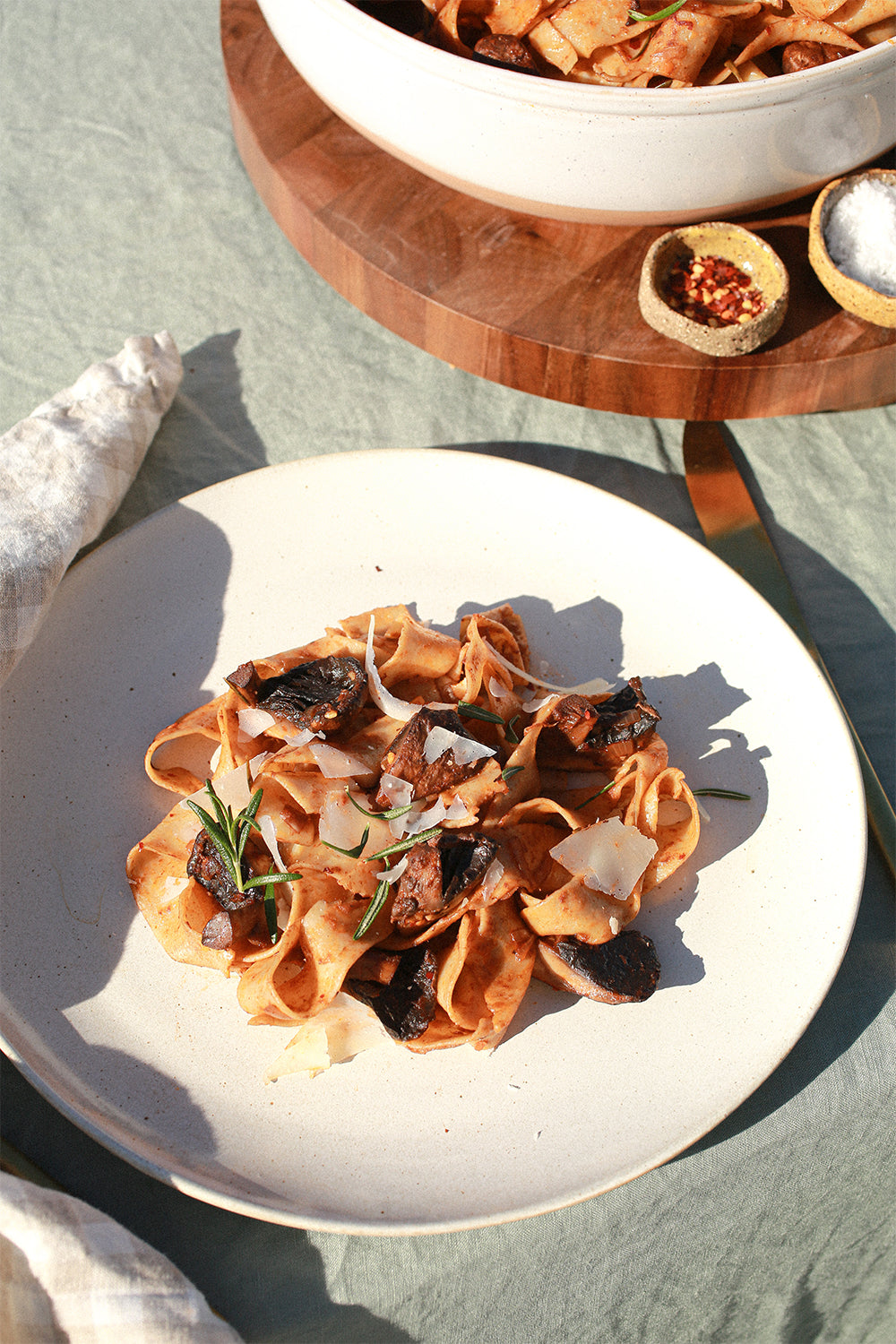 Warm Up Your Winter with this Nourishing Pappardelle Pasta Recipe
Posted: 17 July 2023
A simple and flavourful recipe by The Longevity Nutritionist, Erin Hall with Pappardelle Pasta and Portobello Mushrooms. The combination of tender portobello mushrooms, aromatic herbs, and perfectly cooked pappardelle pasta creates a dish that will satisfy your taste buds and impress your dinner guests. With just a handful of ingredients and easy-to-follow steps, you'll have a delightful meal ready in no time.
As the Winter days grow colder and shorter, we find solace and comfort in hearty meals that warm us from the inside out. And what better way to embrace the Winter season than with a delightful dish that combines the goodness of Pappardelle Pasta with the earthy flavours of Portobello Mushrooms rich olive oil, shallots and garlic. All of these create a flavourful but simple dish that warms us from the first bite. Join us as we indulge in flavours that bring warmth to our souls, and try this pasta recipe for yourself.
The Longevity Nutritionist's Touch:
Our recipe comes to life through the expertise of Erin Hall, also known as the Longevity Nutritionist. Erin's passion for promoting health and well-being through nutrition is evident in this dish. By using fresh, organic ingredients and incorporating her knowledge of longevity-boosting nutrients, Erin has created a recipe that serves up Winter wellness on your plate.
Pappardelle Pasta with Portobello Mushrooms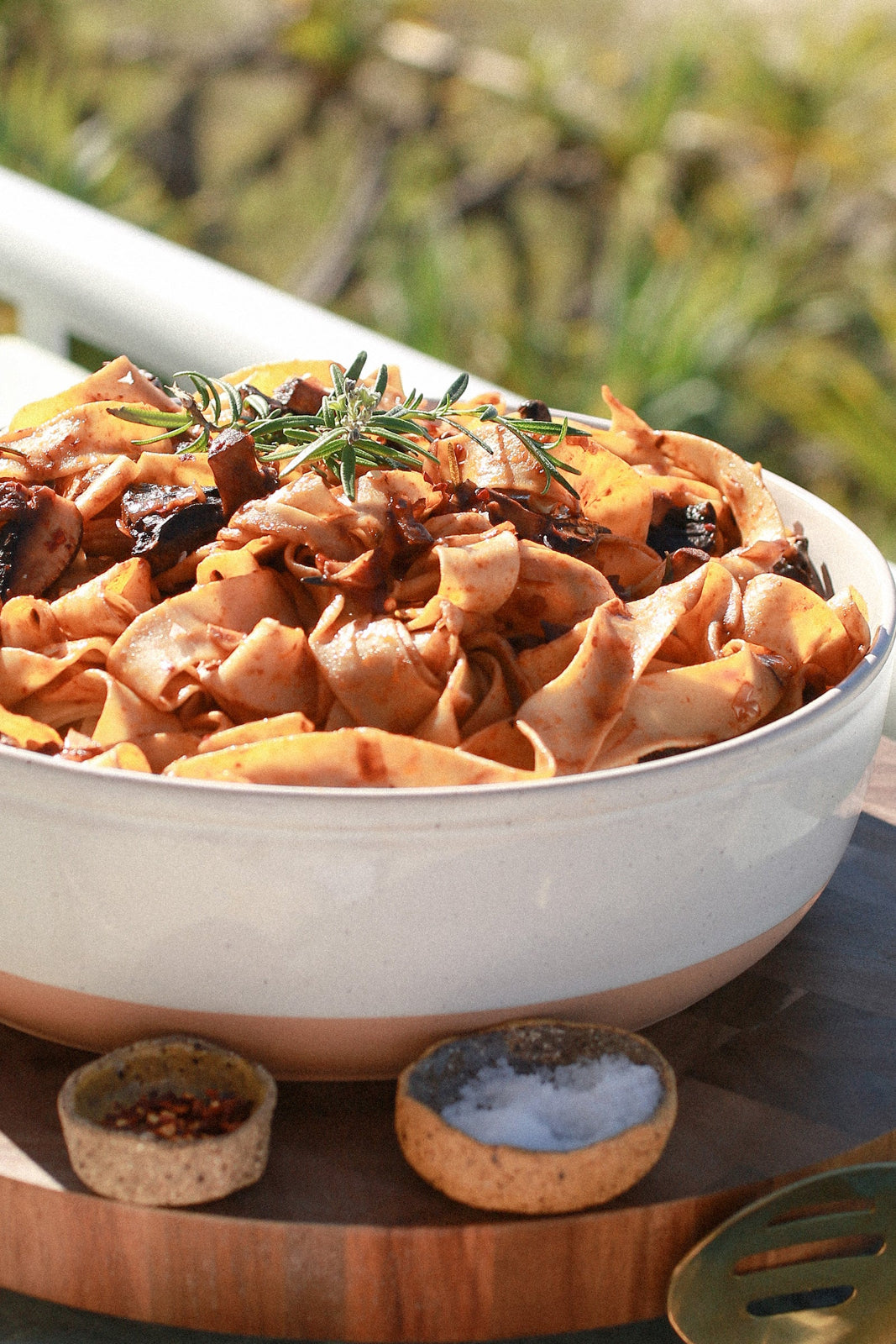 The Ingredients
Serves 4  


- 2 tablespoons extra virgin olive oil 
- 2 shallots, finely sliced 
- 5-6 portobello mushrooms, cut in sixths 
- 220g fresh pappardelle pasta 
- 2 tablespoons unsalted tomato paste 
- 1 teaspoon balsamic vinegar 
- 1/2 teaspoon chilli flakes 
- 2 garlic cloves, minced 
- 2 tablespoons organic unsalted butter 
- 1 tablespoon rosemary leaves 
- Sea salt  
- Parmesan, to garnish  
The Method
1. Heat olive oil on medium heat in a large skillet. Add shallots and one teaspoon of sea salt. Stir frequently until shallots are slightly translucent.


2. Add in mushrooms and cook until they become tender and their liquid evaporates. Meanwhile, bring a large saucepan of water to the boil with one teaspoon of sea salt.

3. Cook fresh pappardelle pasta until al dente (roughly 3-5 minutes). Scoop 1/2 cup of the pasta water and set aside. Drain the remaining liquid and set pasta aside.


4. Add tomato paste, balsamic vinegar, chilli flakes, garlic cloves, butter and rosemary to the mushroom mixture. Add the pasta water and combine all ingredients.


5. Add pasta to the mixture and gently toss to combine.


6. Divide pasta between four plates. Garnish with fresh rosemary leaves and shavings of parmesan cheese.

Not only does this recipe satisfy our cravings for comfort food, but it also provides a nourishing boost to support our health during this chilly time of year. Join us as we indulge in flavours that bring warmth to our souls, and try this pasta recipe for yourself.
Love Erin's Dining Setting?