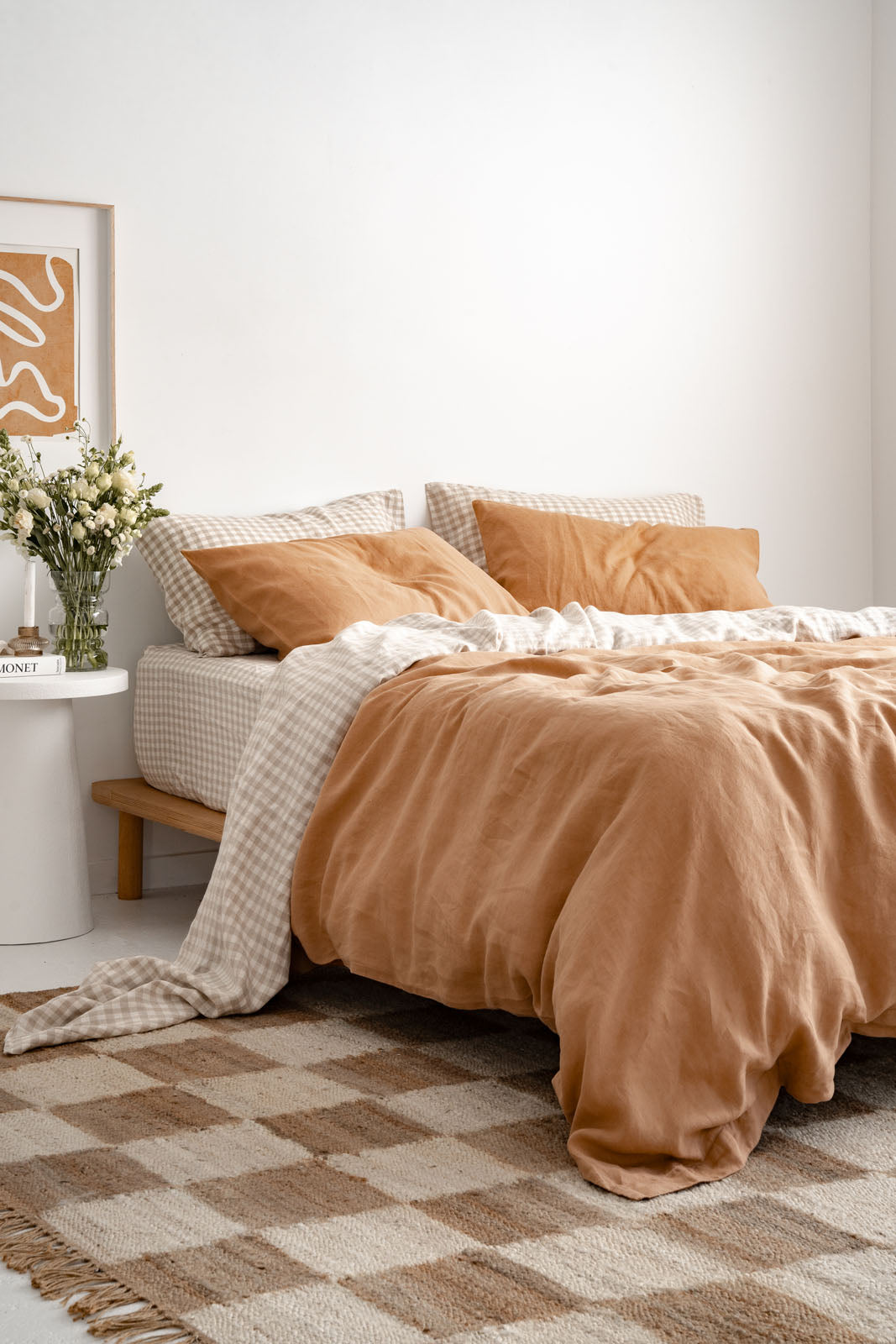 We've Taken the Effort Out of Styling Your New Bedroom
Posted: 01 August 2023
Our beloved Bundle Curator is back and to launch we've curated two new bundles so you no longer need to debate with yourself about which colours to pick. These two looks are perfect for those wanting to bring warmth to their space.
Choosing the right colours can make a significant difference in creating the desired ambiance of your bedroom, and with the help of the Bundle Curator you can now visualise your chosen colour combinations in real time.
The possibilities are endless when it comes to mixing and matching colours within a bundle, allowing you to create a personalised and unique space that reflects your individual style and preferences.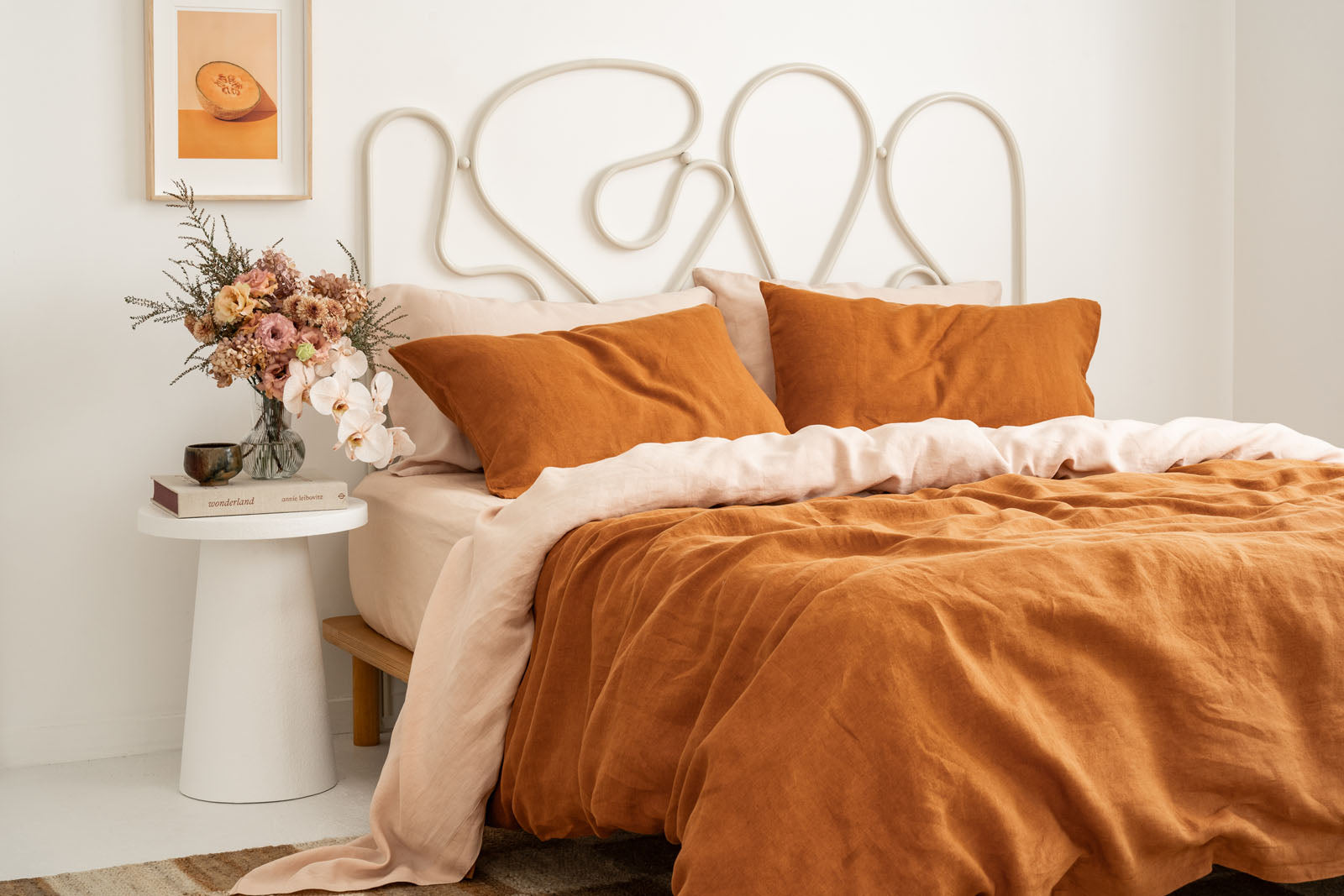 What can you customise?
You can choose the colour of each item within a bundle, that means you can have a different Fitted Sheet than your Flat Sheet, making the possibilities endless. Though, if you don't know what colours to put together you can choose from our Stylist Bundles. When it comes to decorating with warm colours, balance is key. We've put together a harmonious blend of hues that make any bedroom space inviting without overwhelming it.

The earthy warmth of Ochre pairs effortlessly with the soft and soothing tones of Blush, making this pairing the ultimate choice for a dreamy bedroom that evokes a sense of tranquillity, romance, and pure comfort. Or for something a little more playful our in-house Stylists have paired warm Sandalwood with the rustic charm of Beige Gingham for a cosy and elegant linen look.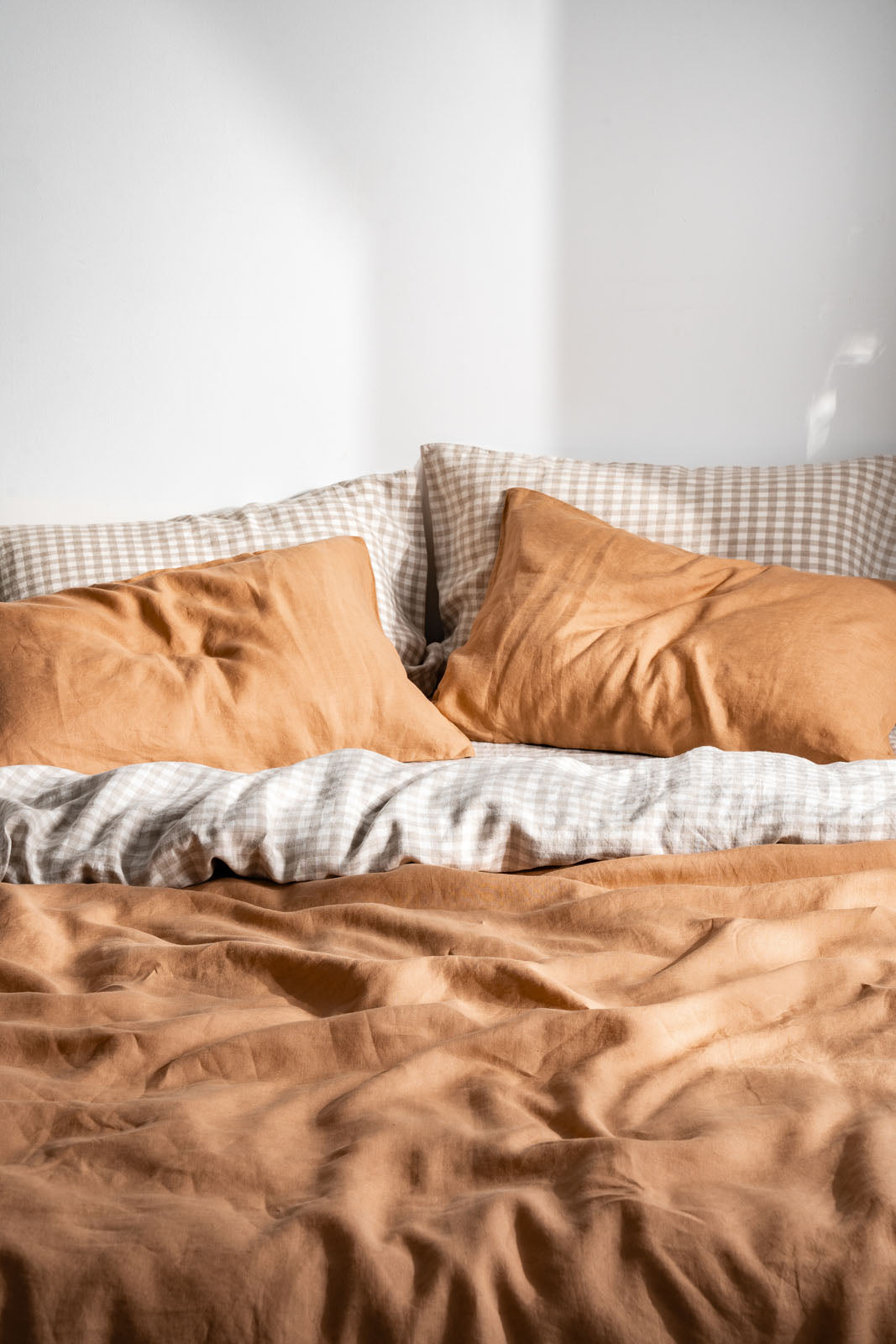 What do you get?
The Complete Bundle
Fitted Sheet, Flat Sheet, Quilt Cover, 1x Pillowcase Sets

The Essential Bundle
Fitted Sheet, Quilt Cover, 1x Pillowcase Set

The Staple Bundle
Fitted Sheet, Flat Sheet, 1x Pillowcase Set
Some tips for pairing colours:
There are so many ways you can go about selecting colours for your custom bed bundle, so to make things easier we've listed them all with a few suggestions on colours we would pick.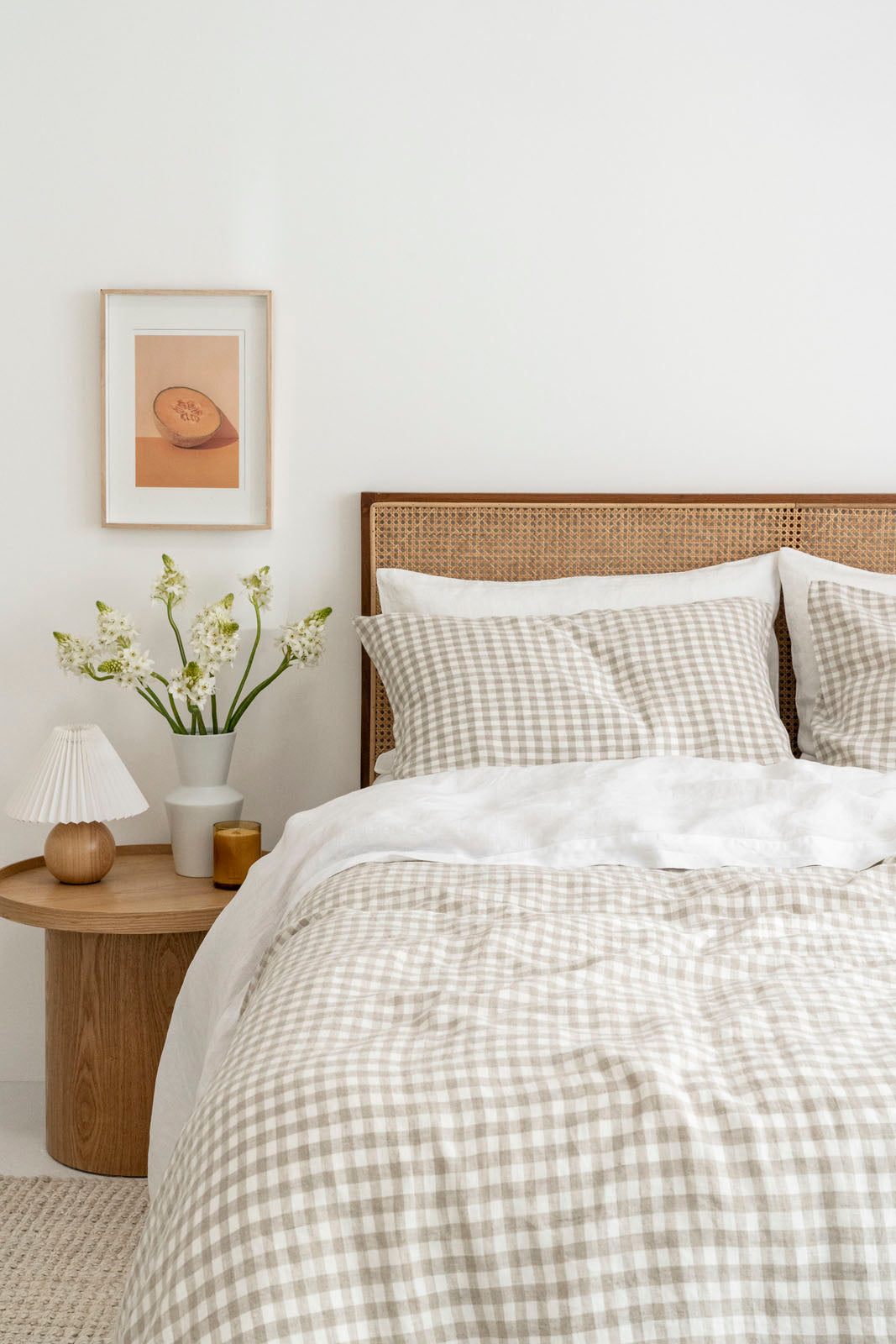 Monochromatic Harmony: Select different shades of the same colour for a harmonious and sophisticated look. For example, if you choose a warm Beige Gingham as the Quilt Cover, you can have a Flat Sheet sheet in a slightly lighter shade like White and a Fitted Sheet in the Natural colour.
Analogous Colours: Choose colours that are adjacent to each other on the colour wheel. This creates a soothing and coordinated palette. For instance, you could combine warm yellows like our Daisy and with a touch of soft Blush.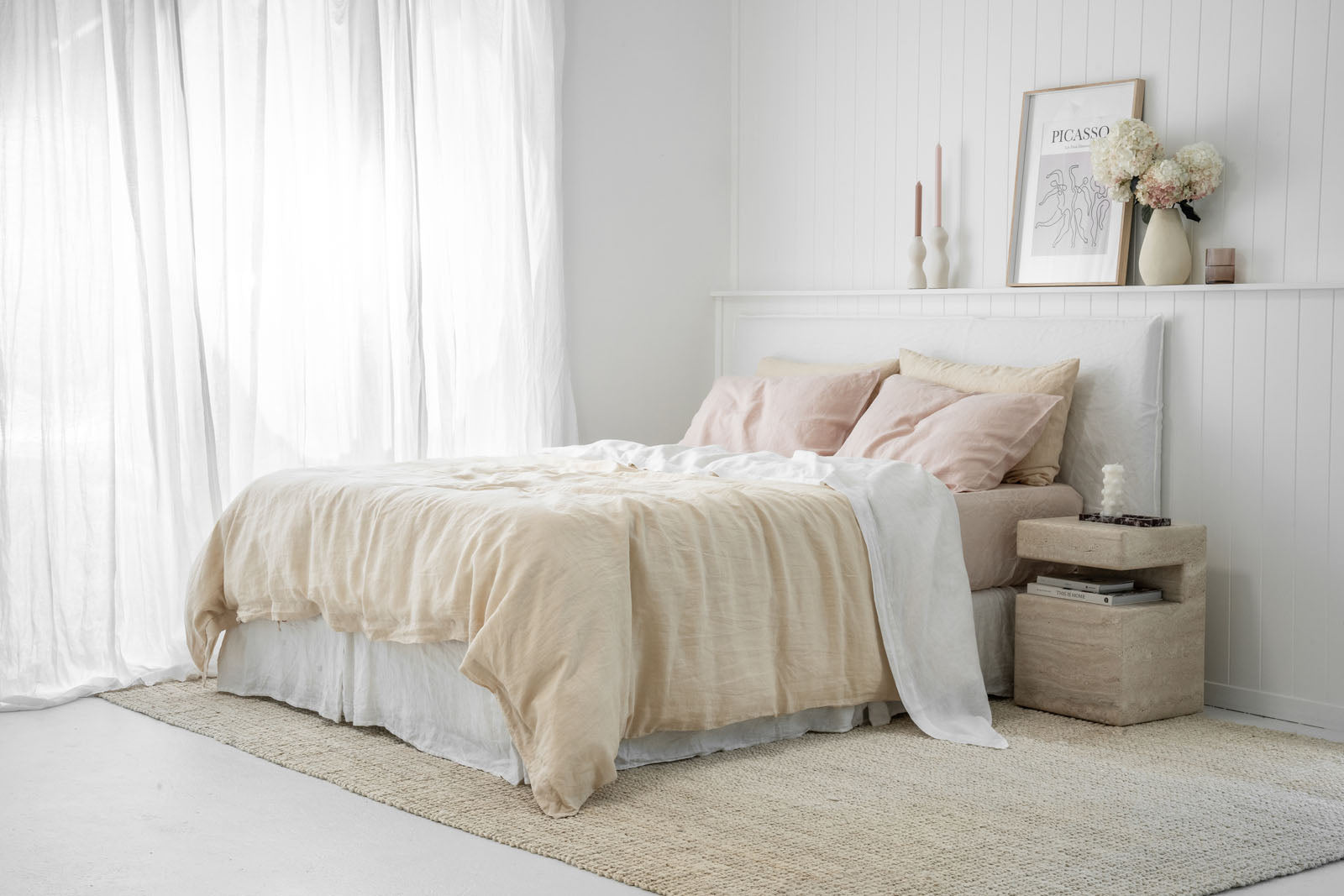 Complementary Contrasts: Pick colours that are opposite each other on the colour wheel for a striking and balanced combination. Warm earthy tones can be paired with a pop of cool Marine Blue or Sage green.


Triadic Blend: Select three colours that are evenly spaced on the colour wheel. This creates a vibrant and dynamic palette. For example, you could combine warm Blush, Matcha, and the more muted Natural.


Neutral Base with Accent: Begin with a neutral base, like Natural or soft Creme, and add one or two bold accent colours, such as a rich Ochre or earthy Clay.


Seasonal Themes: Consider seasonal colour palettes for different times of the year. Warm, cosy colours, such as Ochre, Sandalwood and Creme, work well for Autumn and Winter, while brighter and more fun hues, like Daisy, Clay or Lilac are great for Spring and Summer.
Explore the new Bundle Curator now and start designing your dream bed