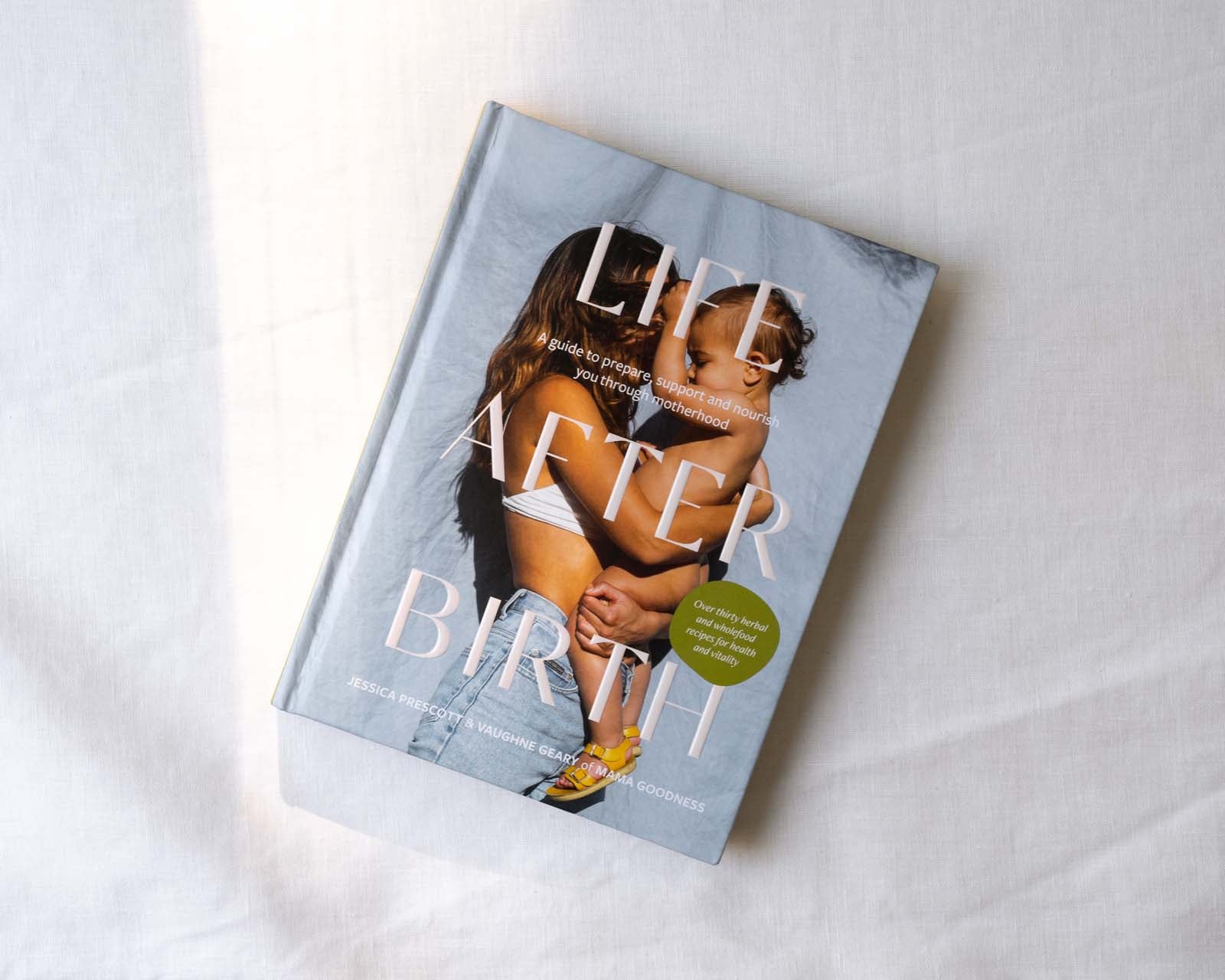 Life After Birth: A Book Every New Parent Needs to Read
Posted: 01 June 2023
If you are looking for your next read, Life After Birth: A Guide to Prepare, Support and Nourish You Through Motherhood by Jessica Prescott and Vaughne Geary could be just what you're looking for. This book feels like a hug for new and expecting mothers, gently guiding them on their journey.
Life After Birth is easy to read, yet packed with information, delving into often-ignored topics, including how mothers can nourish and care for themselves post-birth.
The co-authors Jessica and Vaughne also co-own Mama Goodness, a business that started as a postpartum meal delivery service in Melbourne three years ago and has since grown to stock snacks, skincare and other wellness products for mums and their little ones. Both women have experience working as postpartum doulas and are passionate about nutrient-dense and nourishing food.

We were fortunate to chat with Jessica, who took the time to share the inspiration for the book that features our Marine Blue Linen on the cover.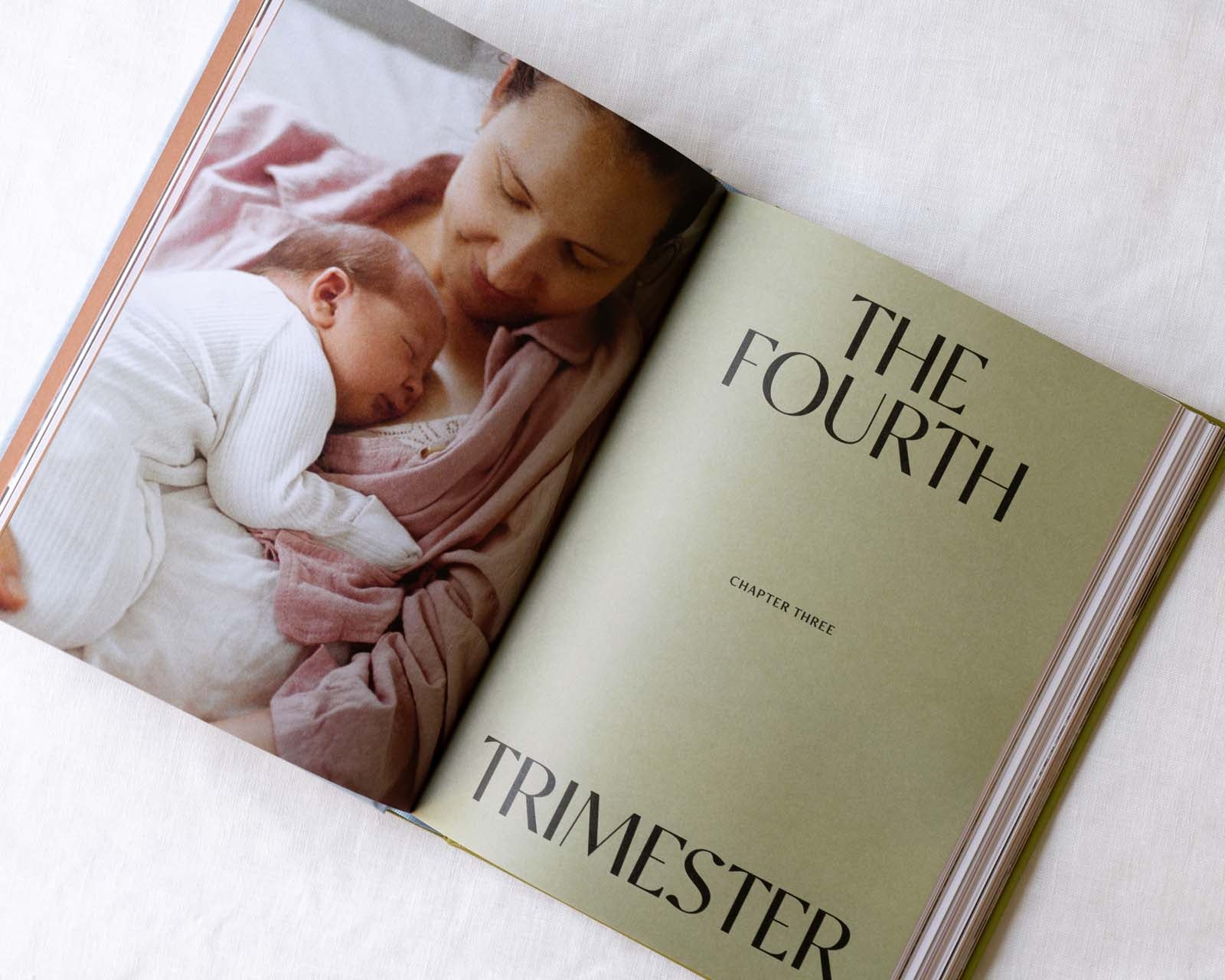 Q: Why did you create this book in the first place?
A: When you look at the way mums are cared for, there is a huge disparity between pregnancy and postpartum. During pregnancy, we are seen dozens of times by various care providers to prepare for labour and birth, and then once your baby arrives, you are seen only a handful of times in the early weeks and then left to fend for yourself with zero to little guidance. 
As postpartum doulas, we have seen a wide and diverse spectrum of postpartum experiences - from those who have gone in completely blind to those who have done all the preparation under the sun and everything in between. No matter how prepared you are, there are still hurdles, but our hope with this book is that we can prepare people for what to expect so that it's not so much of a shock. Knowledge is power, and we want people to feel empowered during this time of immeasurable and immense change.

And then there's the societal expectation that we will slide back into our pre-pregnancy jeans and glide into a cafe with our baby sleeping in their pram. For most, that couldn't be further from reality. We want to say a big f*ck you to bounce-back culture and shift the narrative about how society should care for mothers.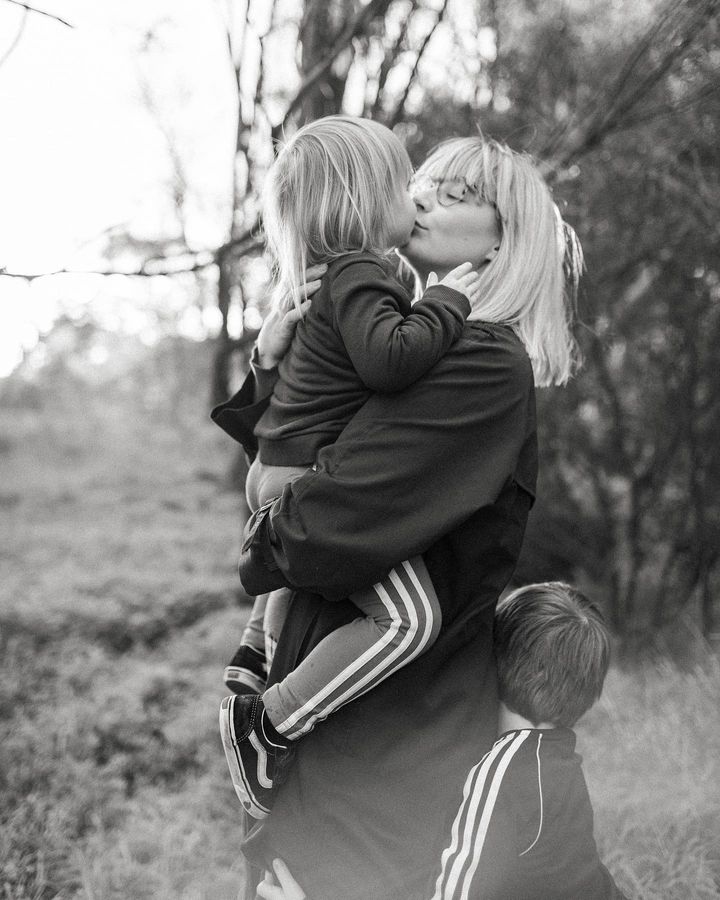 Q: What areas do you find mothers or caregivers wish they learnt more about?
A: We have supported so many different mums from so many different countries, cultures and demographics, and breastfeeding is the number one thing that people say they wish they learnt more about. When we asked our social media communities what their most important piece of advice for a new mum is, it was to book a lactation consultant for when you get home with your baby. 
"We see so many mums coming home with their babies, bewildered and confused by all the conflicting information they have been given in the hospital. Lactation consultants are experts in their field - they are up to date with the most current breastfeeding information and are able to look at your situation holistically and give advice that works for you and not something they are regurgitating that they read in a textbook 30 years ago."
Q: Can you tell us a little more about what's important post-birth for a mother or caregiver to focus on as they also nurture themselves?
A: Eating nutrient-dense snacks and meals!!! The foundation of a nourishing, healing, anti-inflammatory diet in the early weeks of the postpartum should contain plenty of lean proteins, healthy fats, fibrous fruit and vegetables and complex carbohydrates to fuel your body and brain through the long days and nights, as well as improve the nutritional value of your breastmilk. We grow entire humans in our womb with a single drop of sperm, birth them, and feed them, and if we aren't looking after ourselves, we inevitably end up depleted. In our book, we encourage people to fill their freezers while they are pregnant, have someone set up a meal train, or both. 

Before you have a baby, it can be difficult to imagine how time-consuming our tiny humans can be - especially when they sleep so much. But in those first few weeks, babies often want to be as close to you as possible, so they can hear the familiar sounds of their first home, smell you, and feel your warmth.

There is also so much change - both for the birthing parent and the non-birthing parent. Having someone to hold space for you while you unravel is so important, and we highly encourage this, not just to be your partner. We are also huge believers in the importance of community, and we encourage all new parents to reach outside of their four walls and forge friendships over the shared experience of motherhood.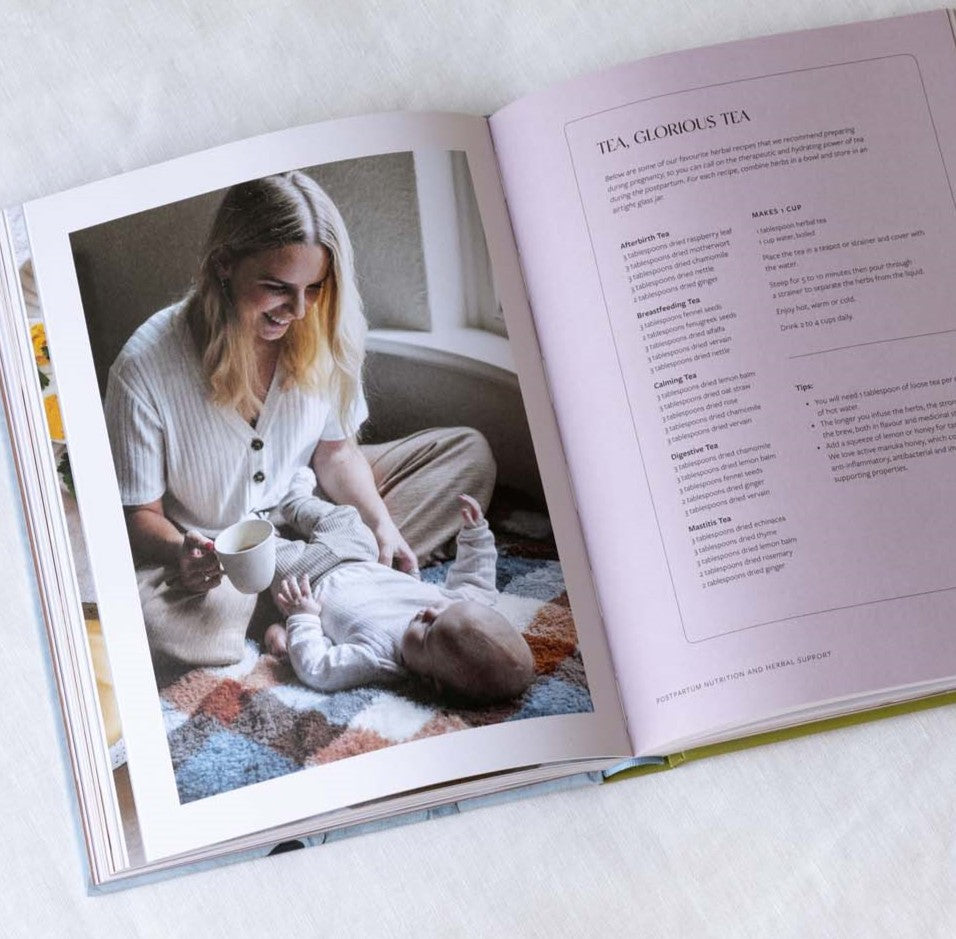 Q: What is the unique conversation you hope to have with mothers and caregivers to be?
A: This book is all about bringing the focus back to the mother. There are so many parenting books out there, and barely any for mothers to reflect on their own physical and emotional experiences. Even the baby expos we attend don't have a 'postpartum' category, and at the end of the day, the well-being of the entire family is reliant on the well-being of the mother. The less depleted we are, the better parents we can be. This is the missing piece of modern family life.
Q: We believe that if you sleep well, you live well. So what does your sleep wind-down routine look like?
A: I love the feeling of getting into bed when you've got clean linen sheets, clean PJs, a clean face and teeth, and it's been a hot day, but you've got a window open and a cool breeze coming through your room. That, accompanied by a good book, is the perfect recipe for good sleep.

Unfortunately, most of my nights don't look like this. Like many, I usually either fall asleep scrolling and writing lists or fall asleep putting my children to sleep and transporting myself to bed in a zombie-like fashion when my husband rouses me. I have big stacks of neglected books on my bookshelf and bedside table, and one of my goals for 2023 was to get heavily back into reading - previously one of my greatest obsessions and joys - after books took a backseat to my phone for the last 10-or-so years. So far, I'm not doing the best at that, so let's see if stating it here gives me some accountability.
Recipe: Golden Daal
There's nothing like a bowl of warming daal to make you feel nurtured and embraced.
In our opinion, daal is one of the fundamental meals for postpartum. It's like a warm hug from an old friend, and the combination of gentle mung beans and therapeutic spices make it super supportive for even the most sensitive digestive system.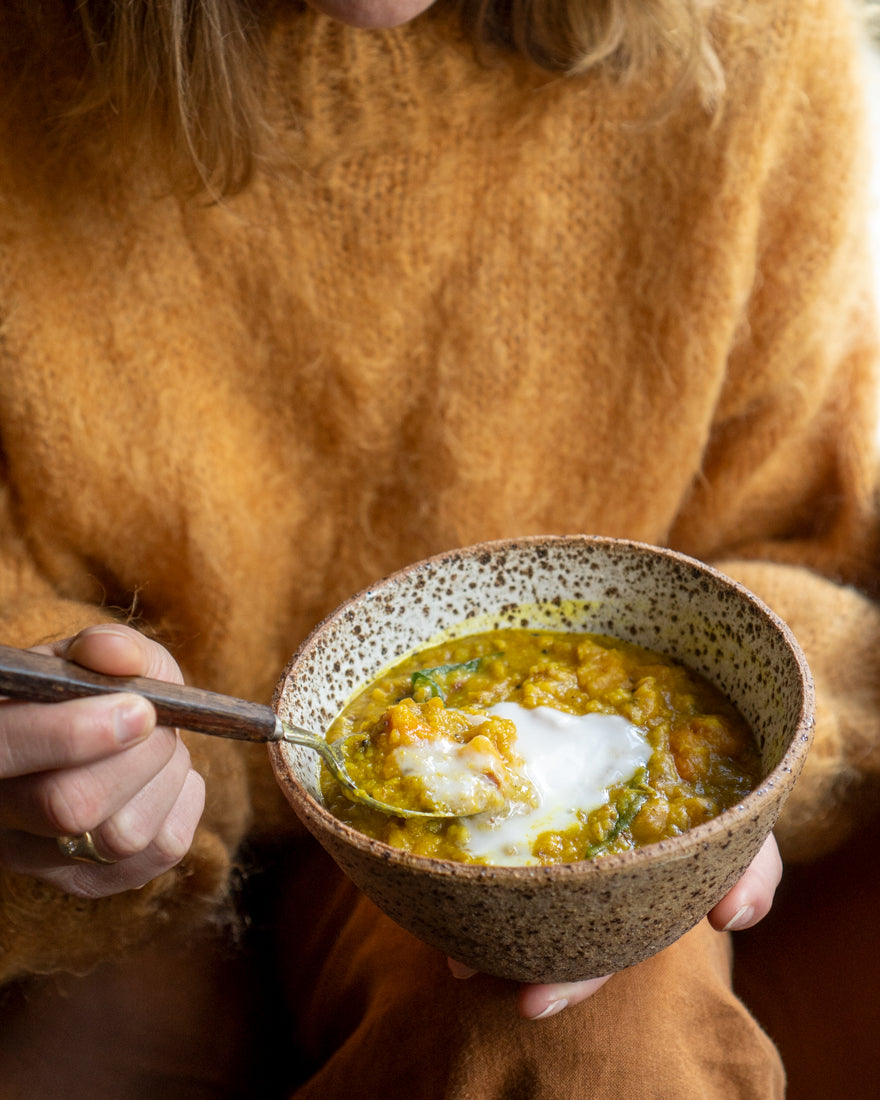 Ingredients: 

For the spice mix:
1 heaped tablespoon cumin seeds
1 heaped tablespoon ground coriander
1 heaped tablespoon ground turmeric
1 heaped tablespoon fennel seeds
1 teaspoon yellow mustard seeds
1 teaspoon ground fenugreek
½ teaspoon freshly ground black
pepper
½ teaspoon asafoetida (hing
powder)
½ teaspoon ground cinnamon
1 sprig curry leaves
For the daal:
4 tablespoons coconut oil or ghee
1 onion, diced
30 g (1 02) fresh ginger, peeled,
minced
3 garlic cloves, minced
2 teaspoons sea salt
200 g (7 oz) dried mung daal, rinsed or soaked overnight and drained
550 g (1 lb 3 oz) sweet potato, diced into 1 cm (½ in) cubes
To serve:
steamed basmati rice, or
Indian flatbread, unsweetened natural or
coconut yoghurt (optional)
Indian chutney (optional)
Method:
1. Combine the spices in a small bowl.
2. Warm 2 tablespoons of the coconut oil in a large saucepan over a medium-high heat.
3. Add the onion and ginger and cook for about 5 minutes, until the onion is starting to brown, then add the garlic and salt and cook for a minute before adding the drained daal, then fry for another minute.
4. Add the sweet potato and 1 litre (34 fl oz/4 cups) water, stir, cover and bring to the boil. Reduce the heat to low and simmer for 30 minutes, stirring every so often.
5. Add an additional cup of water at the end of cooking time, if necessary, to achieve your desired consistency.
6. Heat the remaining oil in a large frying pan. Add the curry leaves and spices and cook for about a minute, stirring frequently, until leaves are fragrant and crispy, and the spices are starting to pop.
7. Pour the spice mix over the daal and stir to combine.
8. Ladle the daal into bowls and serve with basmati rice or Indian flatbread. Top with yoghurt and a spoonful of Indian chutney, if using.
9. Any leftovers will keep well in the fridge for a couple of days and it freezes beautifully. You may need to add water when reheating as it will thicken significantly when it cools.
Tip: You can soak uncooked basmati rice with the mung daal and add in at the same time, along with an extra teaspoon of salt and an extra litre of water. Voila, you've made kitchari, a warming Ayurvedic dish that is a popular postpartum meal.