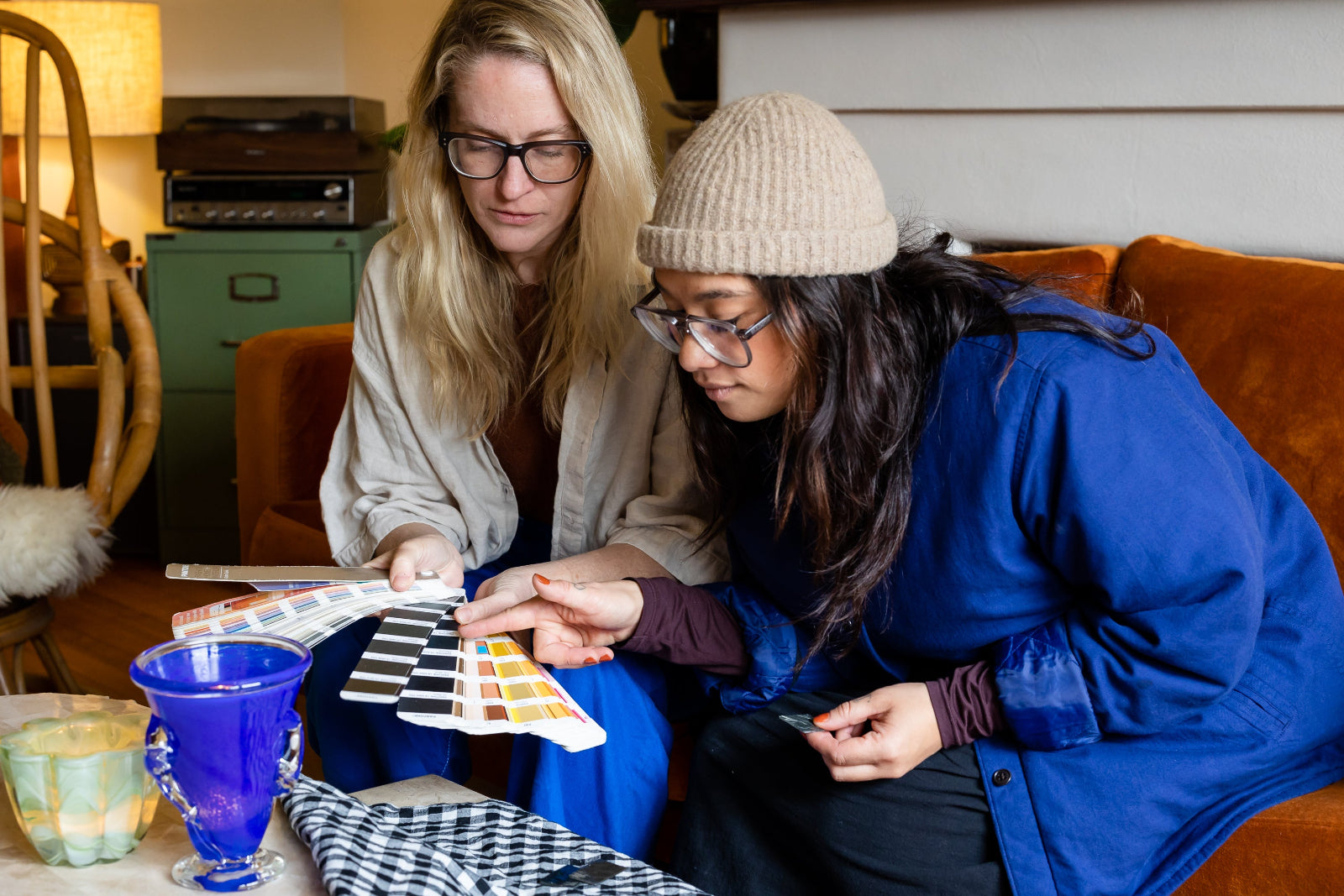 Behind the Design: Tantri Mustika x I Love Linen
Posted: 10 July 2023
We are so excited to support the launch of our Charcoal Gingham by collaborating with local artist & I Love Linen muse, Tantri Mustika. Delicately handcrafted ceramics complete with an iconic charcoal check pattern, created as a perfect dish and incense burner.
Tantri Mustika is a Melbourne based ceramicist who makes a range of unique handbuilt ceramics. Her current collections of work incorporate the use of meticulously hand stained and marbled clays that mimic the characteristics of natural stones. This technique combined with age-old handbuilding methods and her unexpected use of colour come together to create a collection of sophisticated, yet exciting forms that can be used and admired in everyday life. Working in small batches with each release and completely made by hand, no one piece is exactly the same. 


We sat down with our Founder and Designer Lauren, and our much loved creative friend Tantri to learn more about this beautiful collaboration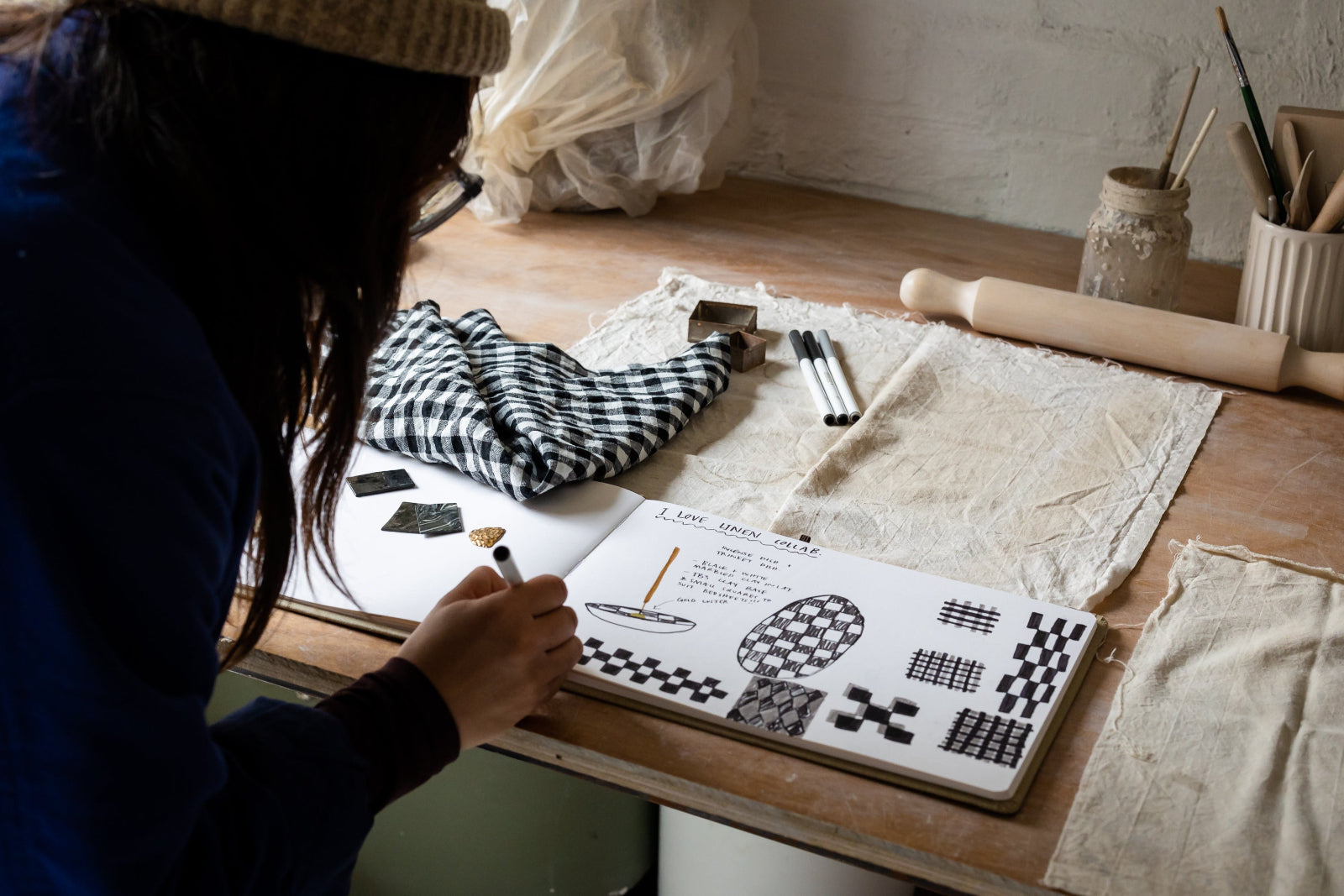 How did this project come about and has it taken a long time?
Lauren: In 2020, I had the pleasure of meeting Tantri when I interviewed her and I just thought she was such an amazing person from the get go; she exuded a beautiful and welcoming energy. Throughout our interactions, I always had a lingering thought in the back of my mind that it would be wonderful to collaborate with her in some capacity.
When the time came for me to design our new Charcoal Gingham fabric, I was determined to incorporate ceramics inspired by the design. That's when I remembered the beautiful black and white check work that Tantri had previously done. Taking a leap of faith, I sent her a casual email with an organic pitch, explaining my idea. To my delight, Tantri responded with genuine enthusiasm and a resounding yes, and thus began our collaboration. From that point onwards, our journey together spanned approximately six months, from the initial idea to the final realisation of our project.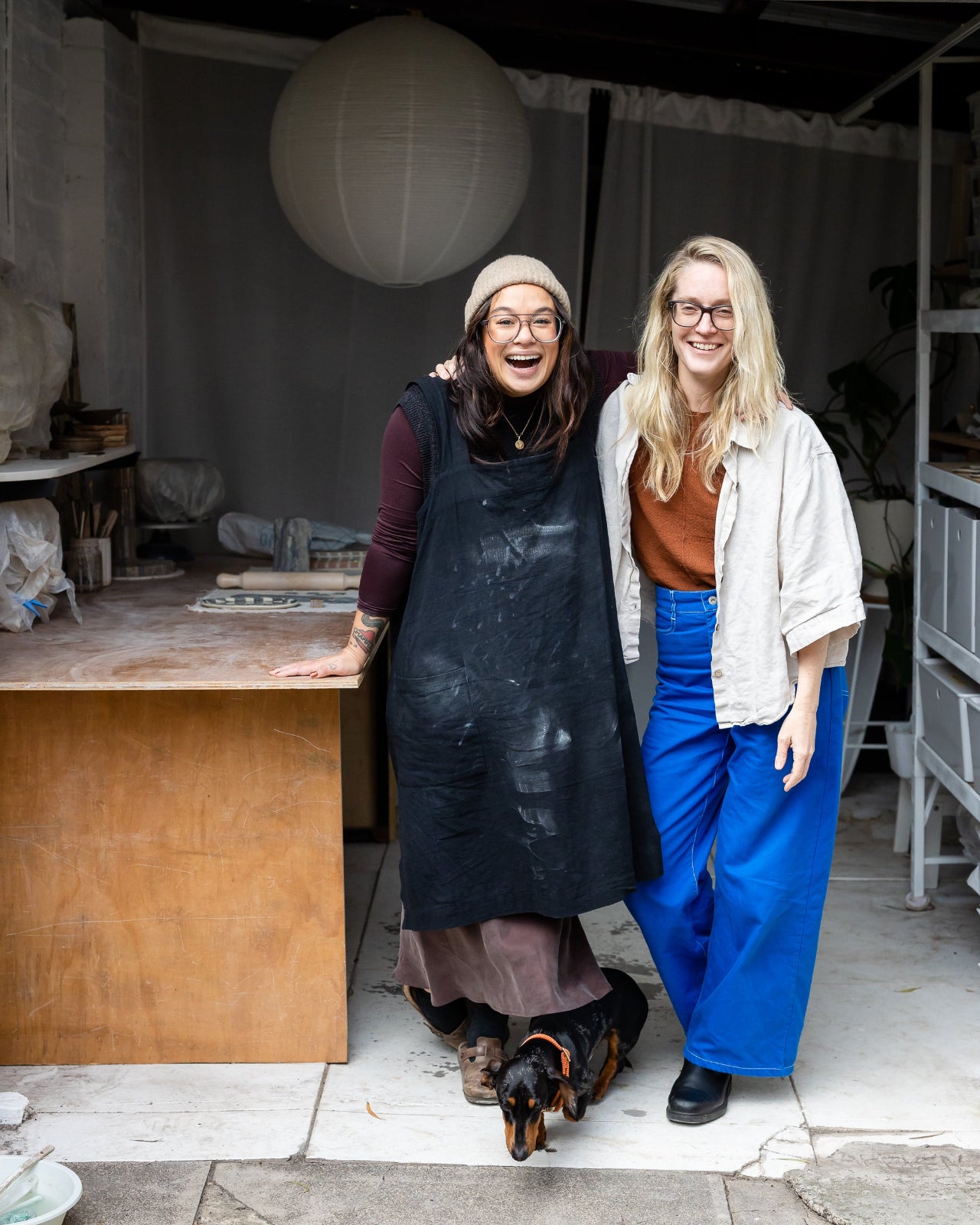 What has it been like working with each other?
Tantri: I have loved working alongside Lauren to dream up these pieces that converse with and complement her new gingham range. Not only have I enjoyed the process of designing and making these pieces, but much more I have loved connecting with a fellow small business owner. Through our zoom calls and back and forth emails, Lauren and I have connected in so many ways over the immense joys and the equal struggles of running a small creative business. I felt her encouragement and support through some big changes in my own practice and it's just been really lovely to bounce ideas between the both of us, have some good laughs and come up with something really special. When you run a business full time it can be difficult to carve out time for innovation and creativity so I love the process of collaborating with another creative as it never fails to unlock new ideas and creative energy. 
Lauren: It's truly effortless. There are those rare occasions when you effortlessly click with another creative individual, thriving on the sheer joy of brainstorming ideas together. I vividly remember when Tantri presented four samples, and remarkably, we both gravitated towards the same one. Working with her creatively has always been a seamless experience. Tantri exudes immense passion and talent, and I consider myself privileged to have embarked on this unique venture with her. Collaborating with fellow creatives, like Tantri, fills me with a deep sense of fulfilment. It's a beautiful opportunity to connect and share stories with other business owners who understand the delicate balance between creativity and managing a business. Such collaborations truly make me appreciate the journey of owning my own business.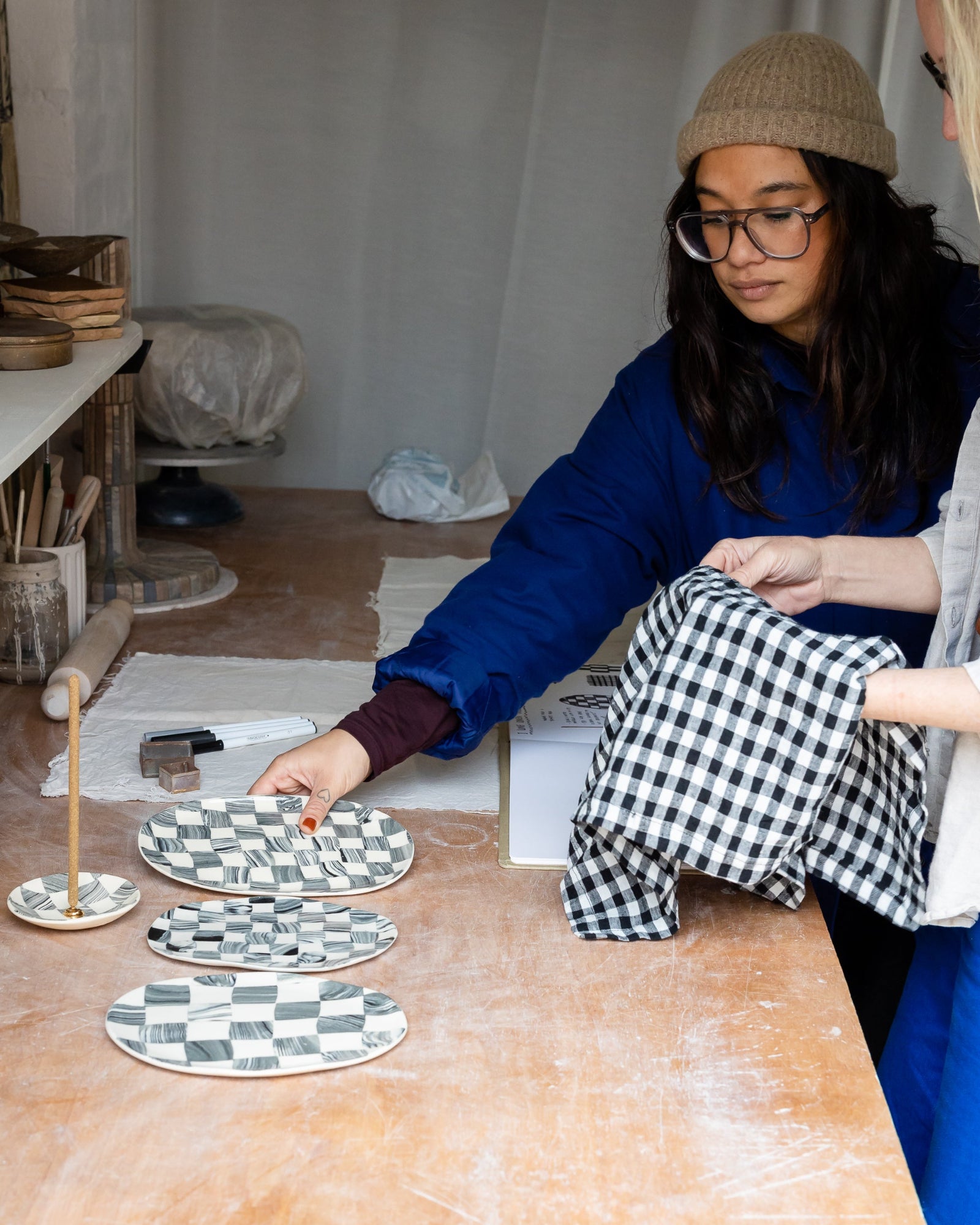 Why did you choose the dish and the incense burner for this collaboration?
Lauren: We have crafted two thoughtful and practical pieces, with a super cuteplate and an elegant incense burner—and I find my preference depends on the mood I'm in. When I crave relaxation and introspection, lighting incense creates a truly enchanting atmosphere. On the other hand, I have also utilised the plate as a versatile dining companion and even as a delightful dish on my bedside table.
Our intention was to create designs with a distinct purpose, serving as integral elements for both wellness rituals and joyous dining occasions.
- Lauren, Founder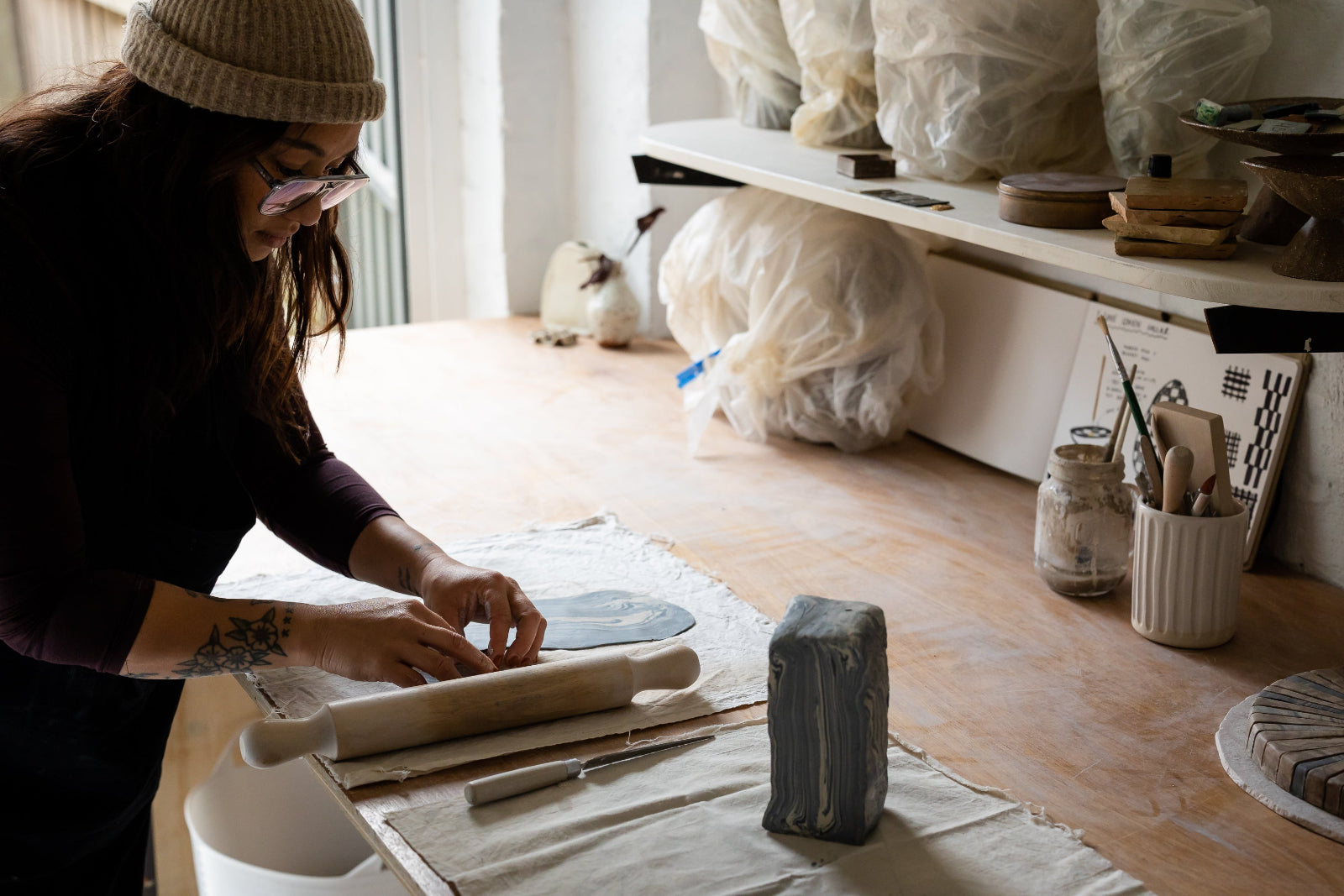 Tantri: The design of the ceramic pieces echo and embrace their take on the timeless gingham pattern that we all know and love with the use of marbled black and white clay. Each piece has been meticulously patterned using the marbled clay and hand shaped resulting in a collection of individual pieces that each bear their own distinct character and embrace the delicate organic beauty of the handmade.
What is it about linen and ceramics that works so well?
Lauren: The fusion of the "soft" and "hard" elements in this combination is truly captivating, isn't it? As designers, we have a profound appreciation for textures, prints, and colours, and the opportunity to work with both mediums is incredibly enjoyable. Moreover, there's a certain rawness inherent in linen fabric that harmonises exquisitely with a thoughtfully crafted ceramic piece, creating a seamless synergy between the two.
If you're loving the Charcoal Gingham pattern then shop our range of linen