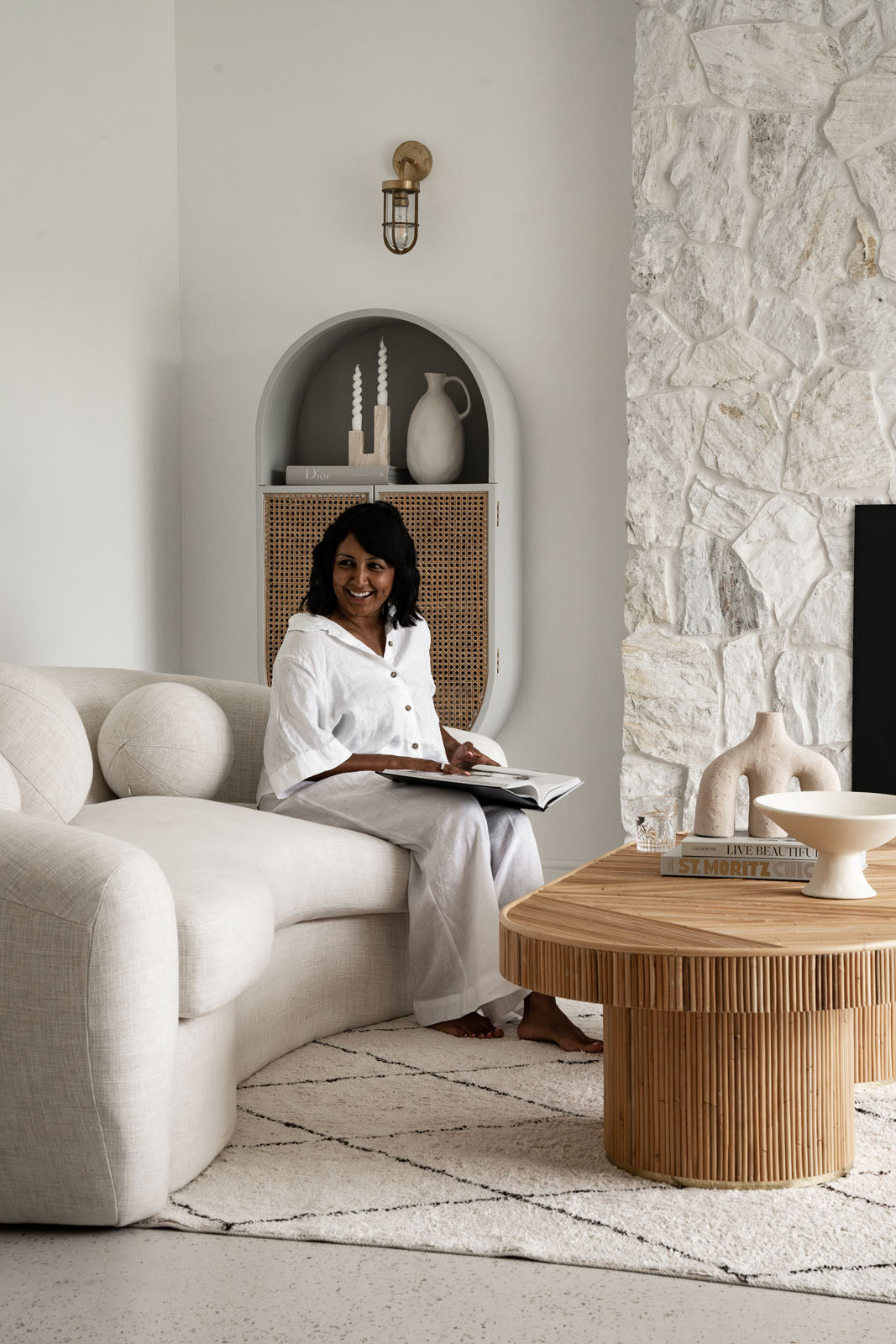 At Home with Bianca Mulligan in her Mediterranean Family Oasis
Posted: 18 September 2023
A home that's stunning from every angle, Casa Blanca located in Brookwater, Queensland is a modern Mediterranean dream home. Arches, curved walls, and a neutral colour palette bring a sense of softness and relaxation to a space that has been attentively designed to cater for the practical needs of a young family.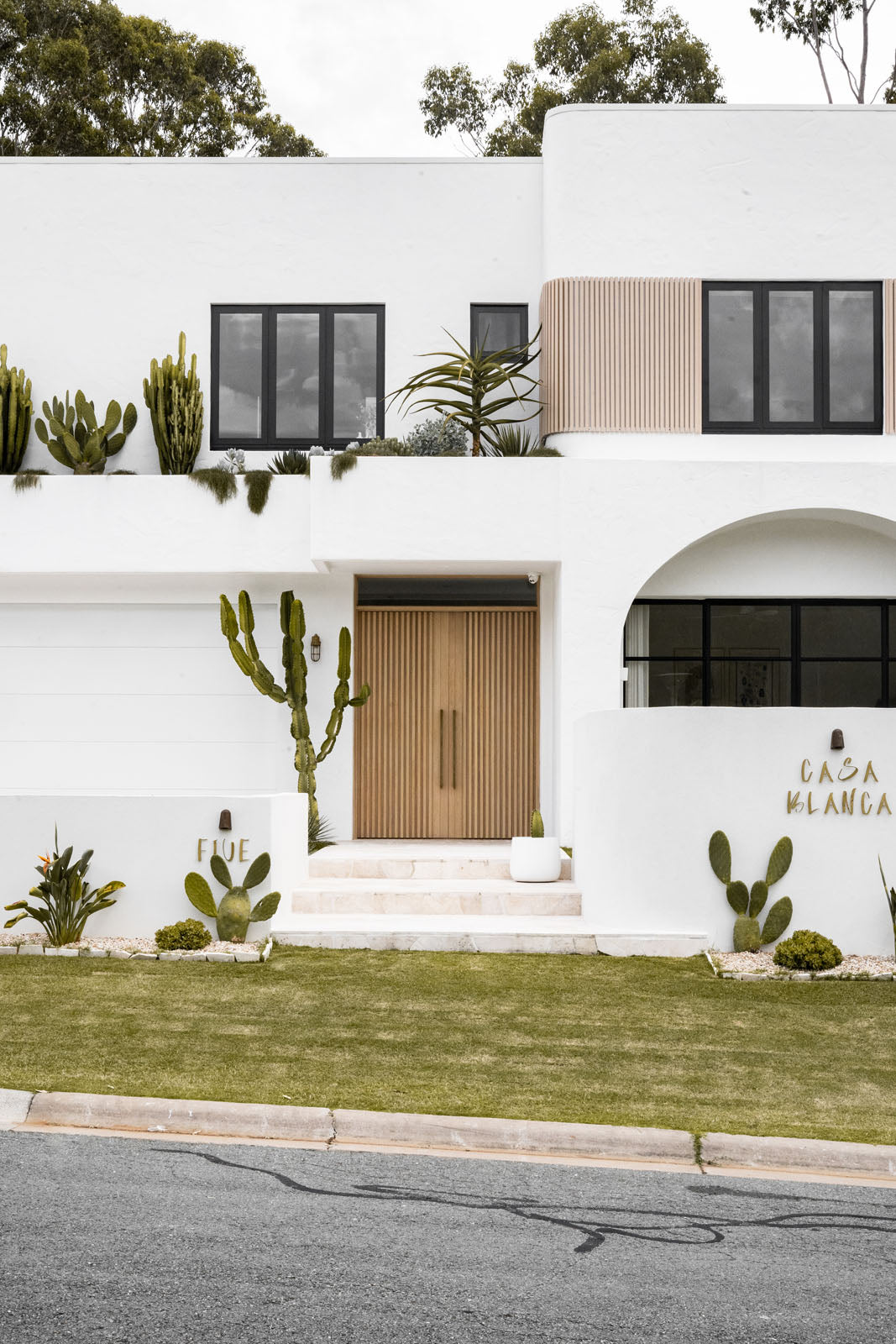 Casa Blanca isn't just a house; it's a haven of serenity and a reflection of the harmonious balance between architectural brilliance and practical living. 
Whether you are a family crafting a forever home or someone captivated by the allure of a Mediterranean-inspired escape, get ready to fall in love with every detail, and let Bianca's tips inspire you to make your dreams of the perfect abode a reality. 
In discussion with Bianca...
Q: Casa Blanca has mastered the 'resort style living' aesthetic. For homeowners looking to transform their space with this ambiance in mind, where is the best place to start and set the foundation for a resort-inspired transformation?

A: Pinterest is a great platform for finding design inspiration and ideas for your home or projects. The platform is essentially a visual search engine, where users can discover and curate images, videos, and content that they like. You can search for specific keywords related to your design vision, such as "modern farmhouse," "coastal living room," or "vintage kitchen decor." Pinterest also provides a helpful feature called "Related Pins" that helps you find more ideas that are similar to what you're looking for. Additionally, you can save the images that you like to boards that you create on your account. This way, you can easily refer back to your favourite designs later on, when you're ready to start your project. It's a great way to discover new styles, save ideas to come back to later, and even connect with other people who have similar tastes.

Once you have created a board for each space you can then create a vision board for the overall style of your home and then for each individual space you are looking to transform.
Referring back to your vision board throughout your renovation, build or space refresh is key to creating the transformation.
- Bianca's tip for curating a cohesive space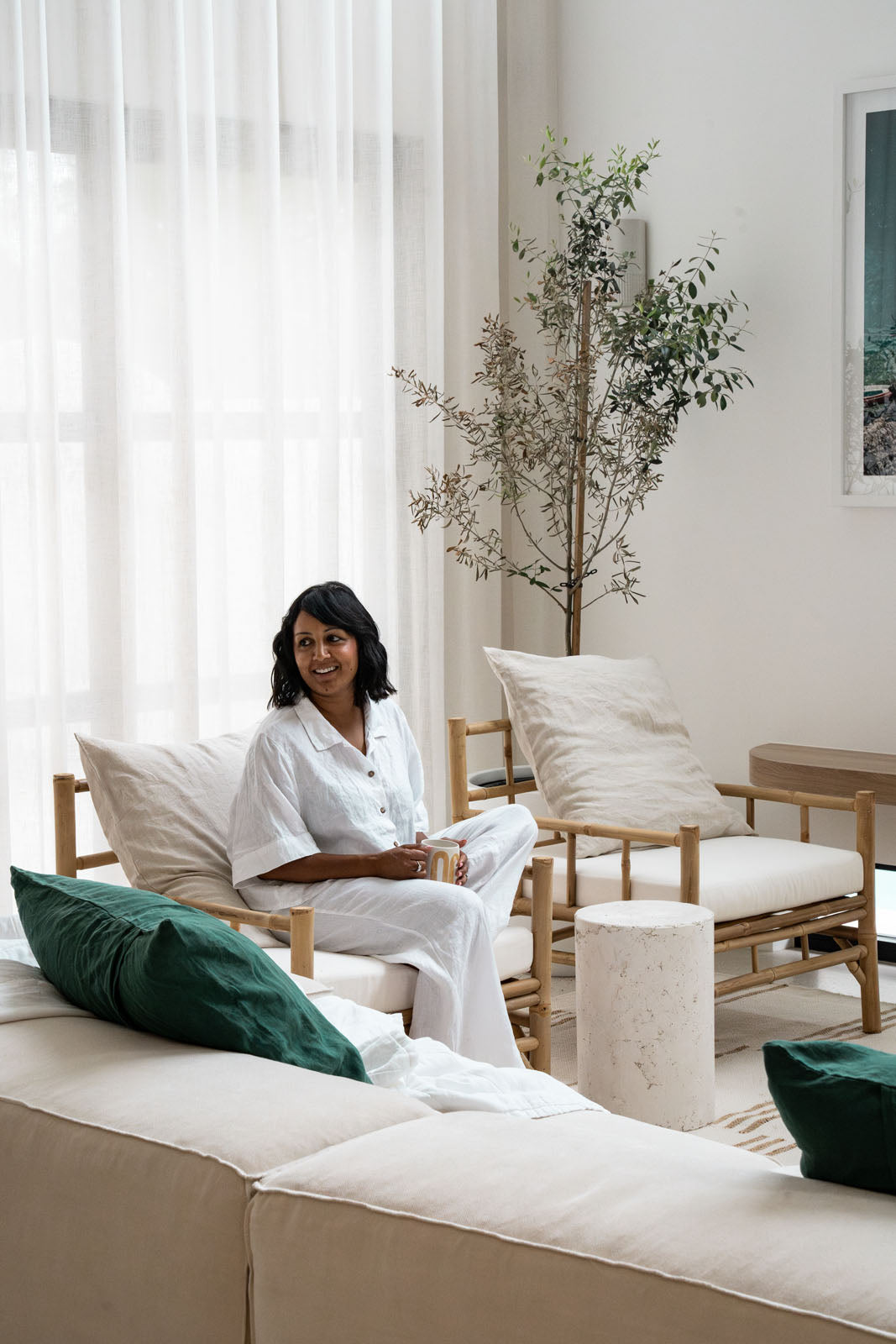 Q: Reflecting on your remarkable home transformation, what are your top 3 'must-haves' that homeowners should consider to achieve a resort-style ambiance in their living spaces?

A: Firstly, natural light is essential for creating a relaxed and inviting atmosphere in a resort-style home. Large windows and skylights allow natural light to filter into living spaces, creating a warm and inviting ambiance. This also helps bring in the outdoors, blurring the lines between inside and outside, and creating a seamless flow throughout the home. 

Bianca wears our Ruby Lounge Set in White with her lounge styled with our French Flax Linen Pillowcases in a European size.
Secondly, open spaces are also key to achieving a resort-style living experience. Open floor plans allow for easy movement and socialising, which is perfect for hosting guests or simply relaxing with the family. They also allow for natural light to penetrate every corner of the home, making it feel spacious and open.

A neutral palette with pops of colour is a classic resort-style design choice. Neutral colours such as white, beige, and grey create a calming and serene environment that promotes relaxation and tranquillity. Pops of colour in accent pieces such as pillows, artwork, and rugs add personality and vibrancy to space. This can be anything from a bright blue to a warm sunshine yellow, to evoke a playful or peaceful mood.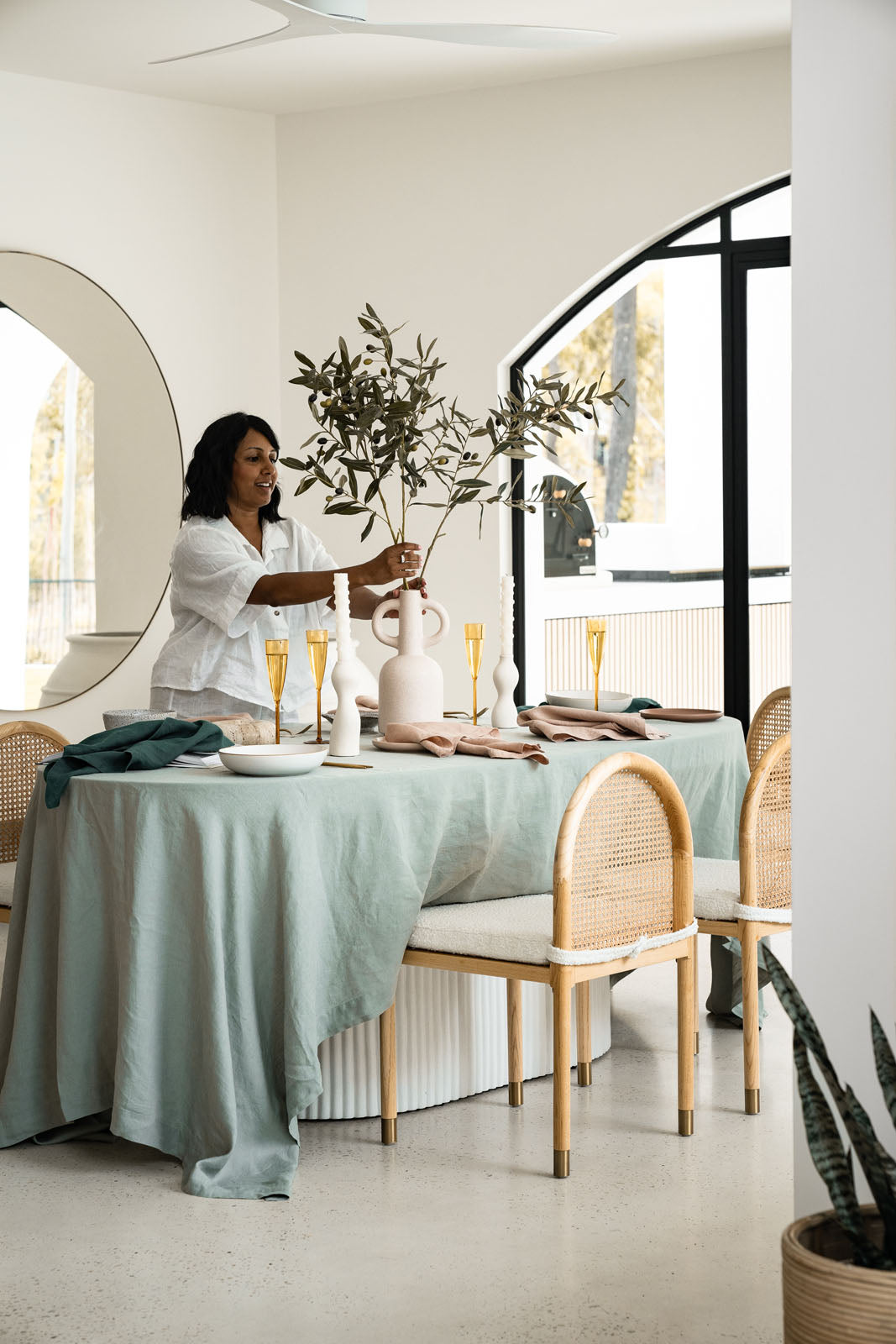 Q: Based on your experience in transforming Casa Blanca, can you share some interior design tricks that homeowners can use to infuse their space with a resort-style ambiance, evoking relaxation and luxury?

A: Embrace natural materials: Incorporating natural materials into your home is a great way to create a resort-style ambiance. Think about adding wooden accents, bamboo or wicker furniture, and natural fibre rugs and throws. These materials create a warm and inviting atmosphere, giving your space a relaxed, beachy vibe.

Incorporate plant life: Adding greenery into your home through plants and flowers creates a connection to nature, which is a key element of the resort-style. Filling empty corners with plants and adding them to shelves and tables can enhance the tropical atmosphere of any room, while also adding colour and texture.

The large oval dining table is draped with our French Flax Linen Table Cloth in Sage and Napkins in both Clay and Jade.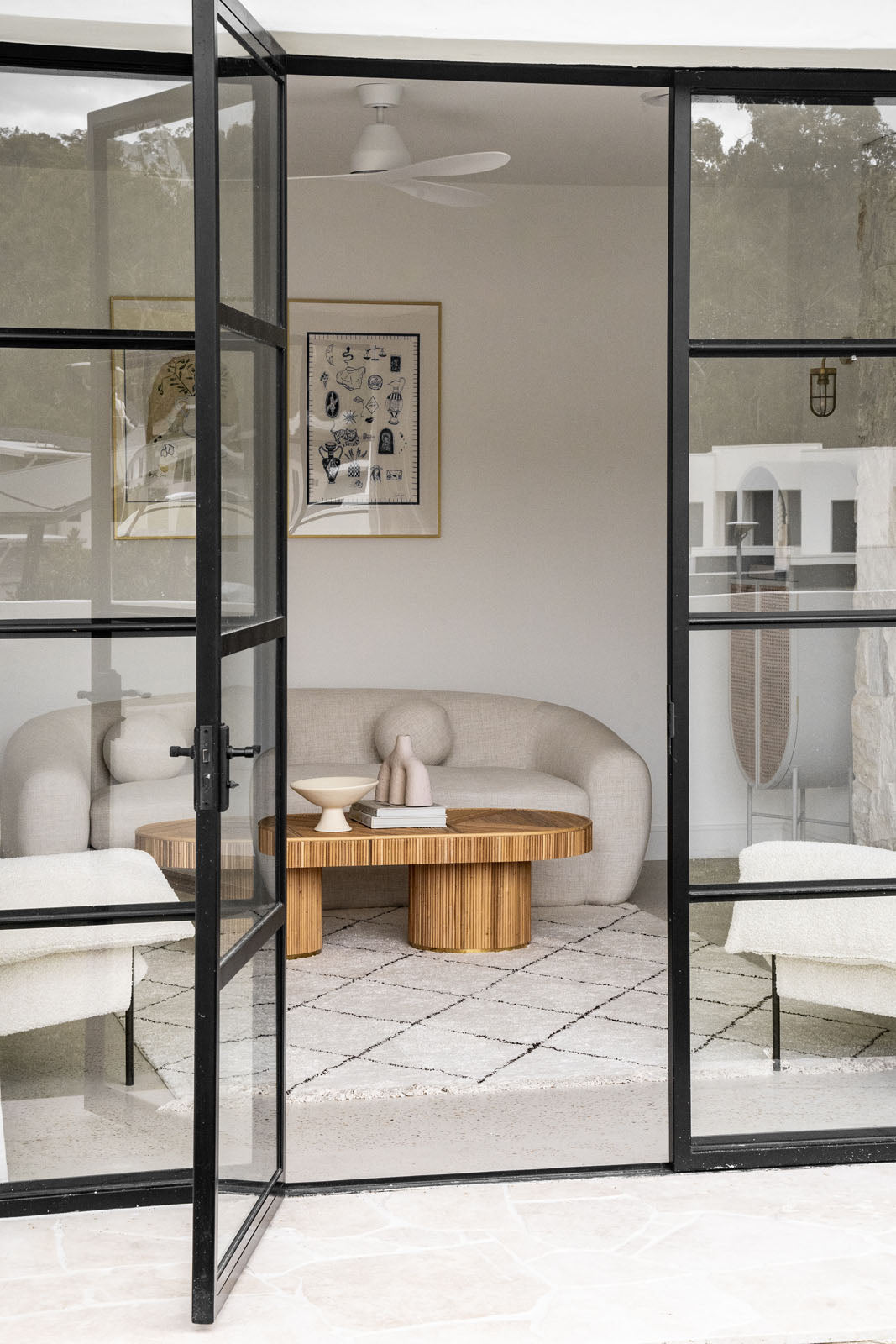 Use natural light sources: Maximising natural light sources will create an airy feel in your space and evoke the resort-like ambiance. Replace heavy drapes that block natural light and switch them out for lighter options like sheers that enhance the look and beauty of the space.

Work with scent: The sense of smell can enhance the resort atmosphere of your space. Opt for candles with beachy scents and fresh linens to create a clean, refreshing aroma.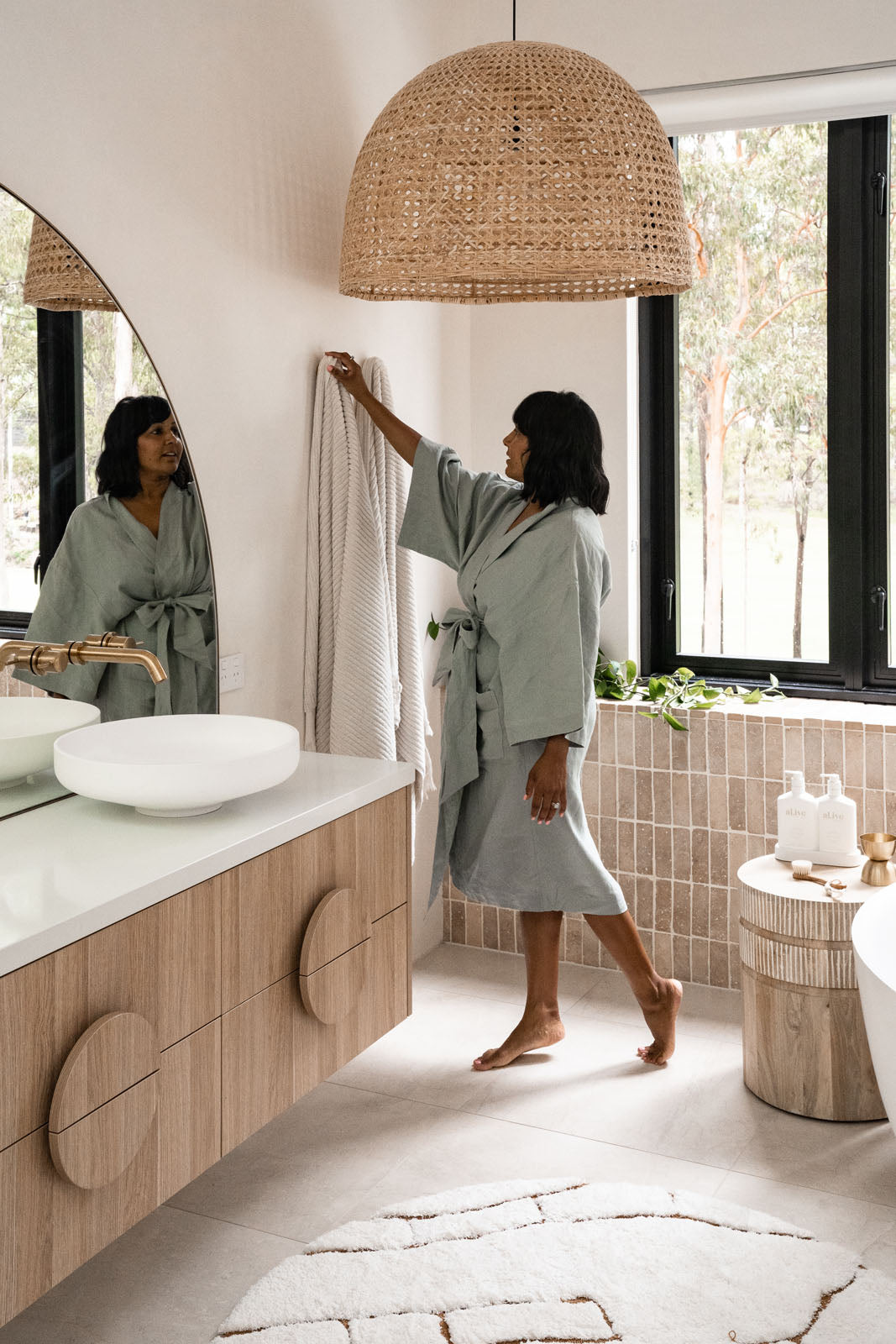 Q: For those aspiring to achieve resort-style aesthetics without major renovations, we'd love to hear your decor hacks that can instantly elevate a room's elegance and bring in that coveted resort-style flair.

A: Incorporate Statement Lighting: Lighting is essential for setting the mood and giving a space a refined touch. Add in pendant or chandelier light fixtures that complement the room and make a statement. Hanging a large pendant light above the dining area table or a stylish chandelier above the entryway is an instant way to bring in elegance and sophistication. Sometimes adding a pendant that isn't actually functional is also a great way to elevate elegance and style without the extra cost of electricity. Table and floor lamps are alternative options.

In her luxurious master bathroom, Bianca wears our Robe in Sage.
Accessorise with Unique Pieces: Add some personality by incorporating accessories that represent your style. From sculptures to paintings to vases and candle holders, unique pieces add unique flair to any space. Go for understated accessories with fine details that are subtle yet impactful.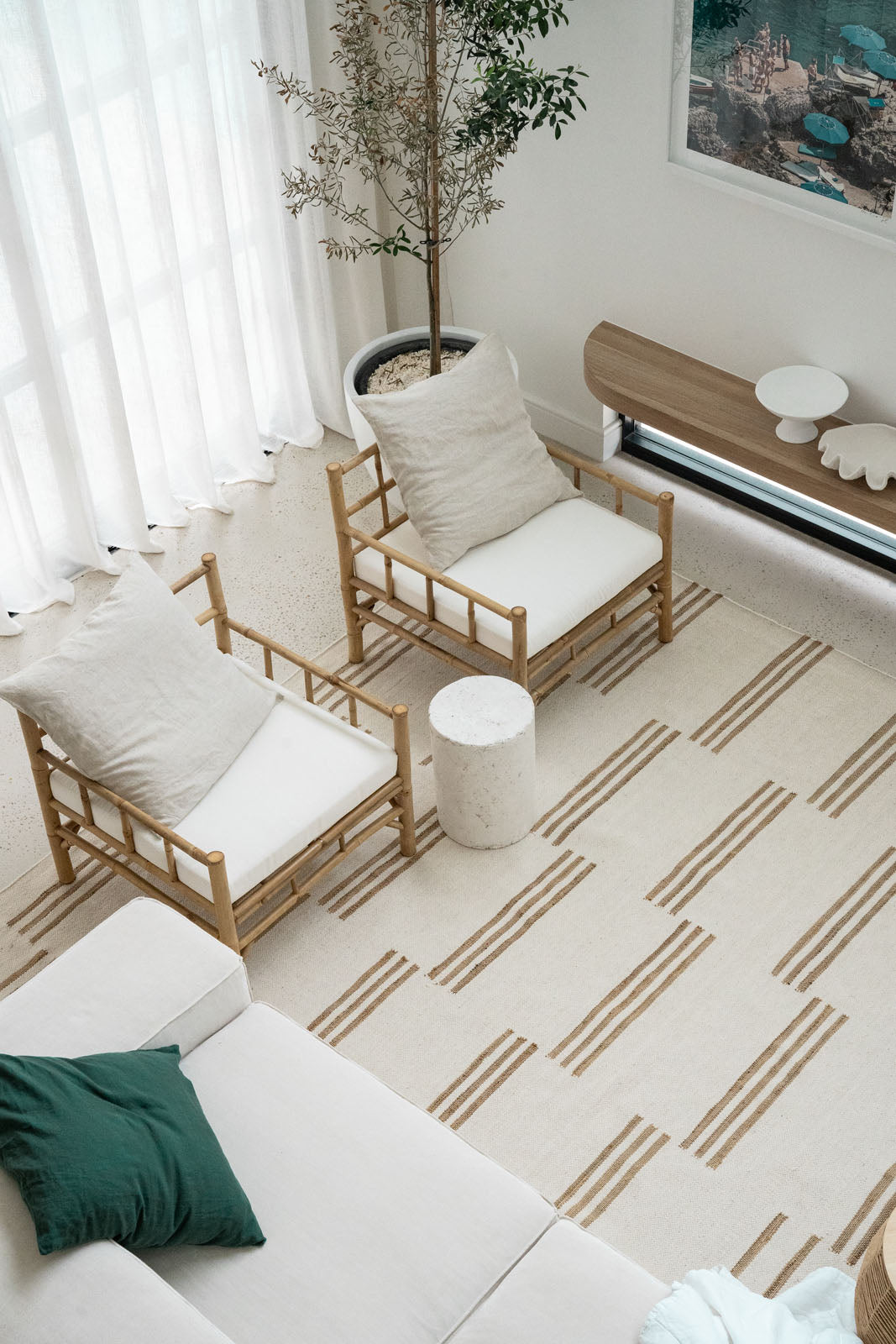 Use Mirrors to Enhance a Sense of Space: Mirrors are a great way to create spacious interiors while adding a touch of class. When positioned strategically, the light is reflected, making the space feel larger, airier, and more elegant. For instance, you can enhance the appearance of your entryway by using an oversized mirror that doubles as a statement piece.

Layer Textured fabrics: Textured fabrics like linen, wool, and cotton enhance the luxurious feel of a space. Choose a theme and mix and match these materials to create a layered look that will in
stantly elevate any room. Whether it's through throws, area rugs, curtains, or accent chairs, complete your space with a unique arrangement of textured fabrics. 

Incorporate Natural Elements: Enhance a resort-style ambiance by incorporating natural elements such as wood, rattan, jute, and clay. Combining these elements with natural green plants or fresh flowers elevates the sophistication of the space. Incorporating a unique wood or rattan side table, or using rattan stools and chairs for additional seating for guests is an excellent way to add character to any room.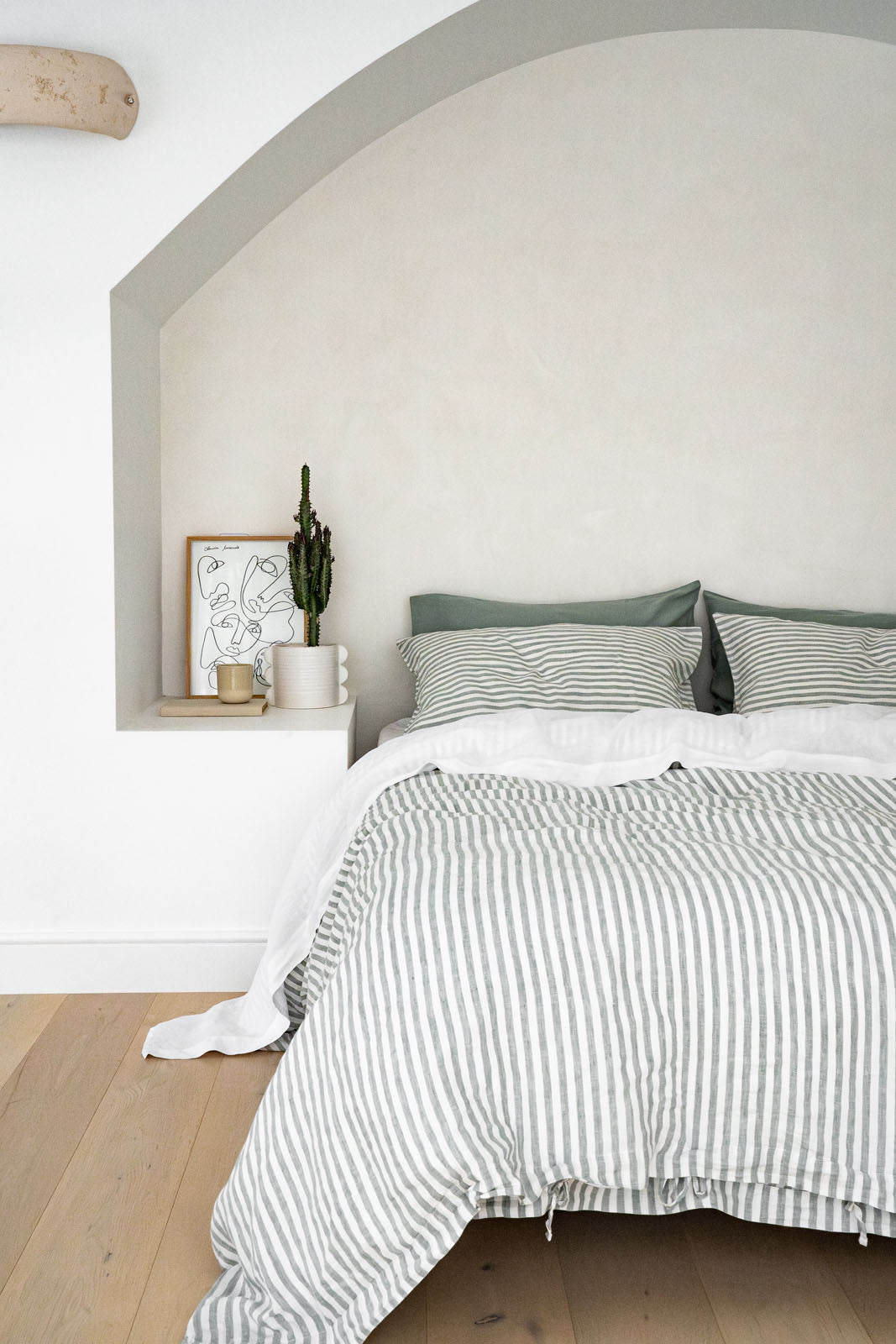 Q: Colours play a significant role in design. Could you suggest specific colours that homeowners can incorporate into their decor to effortlessly create a cozy and inviting resort-like atmosphere, all without requiring a major overhaul?

1. Blues and Turquoise: Various shades of blue and turquoise are staple colours in resort-style decor. They evoke a sense of calm and tranquillity and are perfect for creating a beach-like vibe, even if you don't live near the ocean.

2. Earthy Tones: Earthy tones such as sandy beige, warm browns, soothing greens, and soft yellows can create an instant cosy and inviting feel. These colours are natural and calming, reminding us of the beauty of nature and the peacefulness of the outdoors.

3. White: White is another signature colour of the resort-style. It provides a clean, fresh feel, instantly brightening up any room, giving it an airy and tranquil ambiance. Pair it with natural materials like rattan or teak wood for a truly timeless look.

The first master bedroom look features the perfect combination of white and blues and turquoise with our Sage Stripe Quilt Cover Set and White Sheet Set with additional Sage Pillowcases.
4. Black: Believe it or not, black can work wonders for adding depth to a resort-style decor. Use it to create a focal point in the room, like a black wall for wall art or a black accent wall. Contrasting the black with natural materials, such as beige or white furniture, creates a dynamic environment that is both modern and timeless.

5. Blush Pink: Soft blush pink can bring in a subtle touch of femininity to a room. It creates a calming effect and can work well when contrasted with dark woods and metals, giving it that extra dose of sophistication.

The second master bedroom look incorporates blush pinks with our Clay Quilt Cover Set, White Sheet Set and Blush Pillowcases.
Kitchen and Butler's Pantry
Shop everything featured in this Home Tour