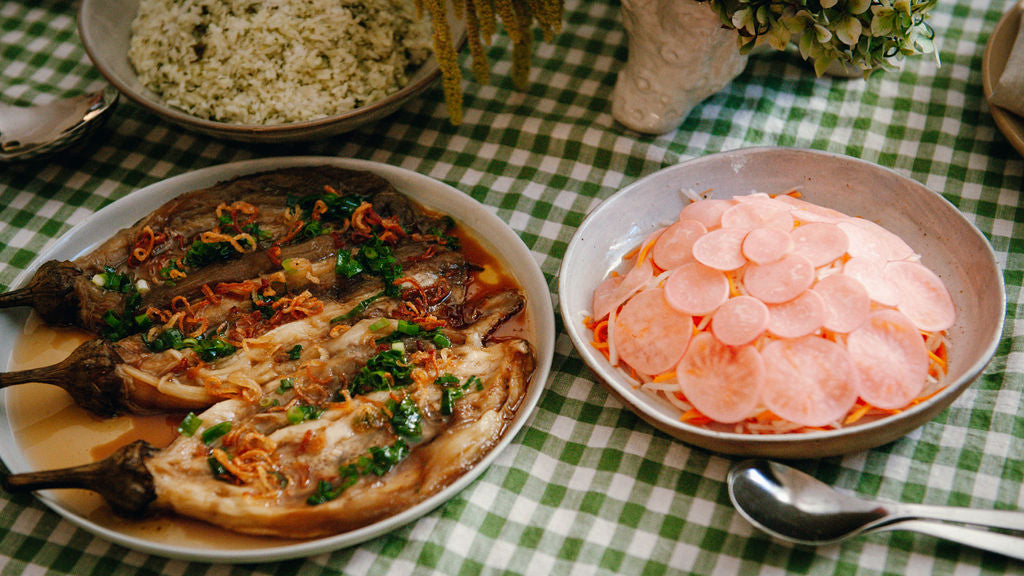 Aromatic Vietnamese Grilled Eggplant with Soy and Spring Onion Oil
Posted: 12 October 2023
Roaming kitchen, Boma, created by Lynh Nguyen and her mother, Ngoc Ho, celebrates their cultural roots through legitimate traditional Vietnamese cooking inspired by Saigon. And we now have the pleasure of bringing her food to you with an exclusive recipe.
Boma (@boma.cooking), a nomadic culinary venture, specialises in providing catering for parties, events, and pop-ups. Founded by Lynh Nguyen and her mother, Ngoc Ho, this dynamic mother-daughter team passionately showcases their cultural heritage through their cuisine. Drawing inspiration from their beloved hometown of Saigon, they offer authentic traditional Vietnamese dishes just like this smoky grilled eggplant dish. Our founder, Lauren, recently had the opportunity to travel to Melbourne and experience Lynh's humble and home-style Vietnamese cooking and brought home with her this incredible and exclusive recipe. 
Recipe: Smoky grilled eggplant with soy and spring onion oil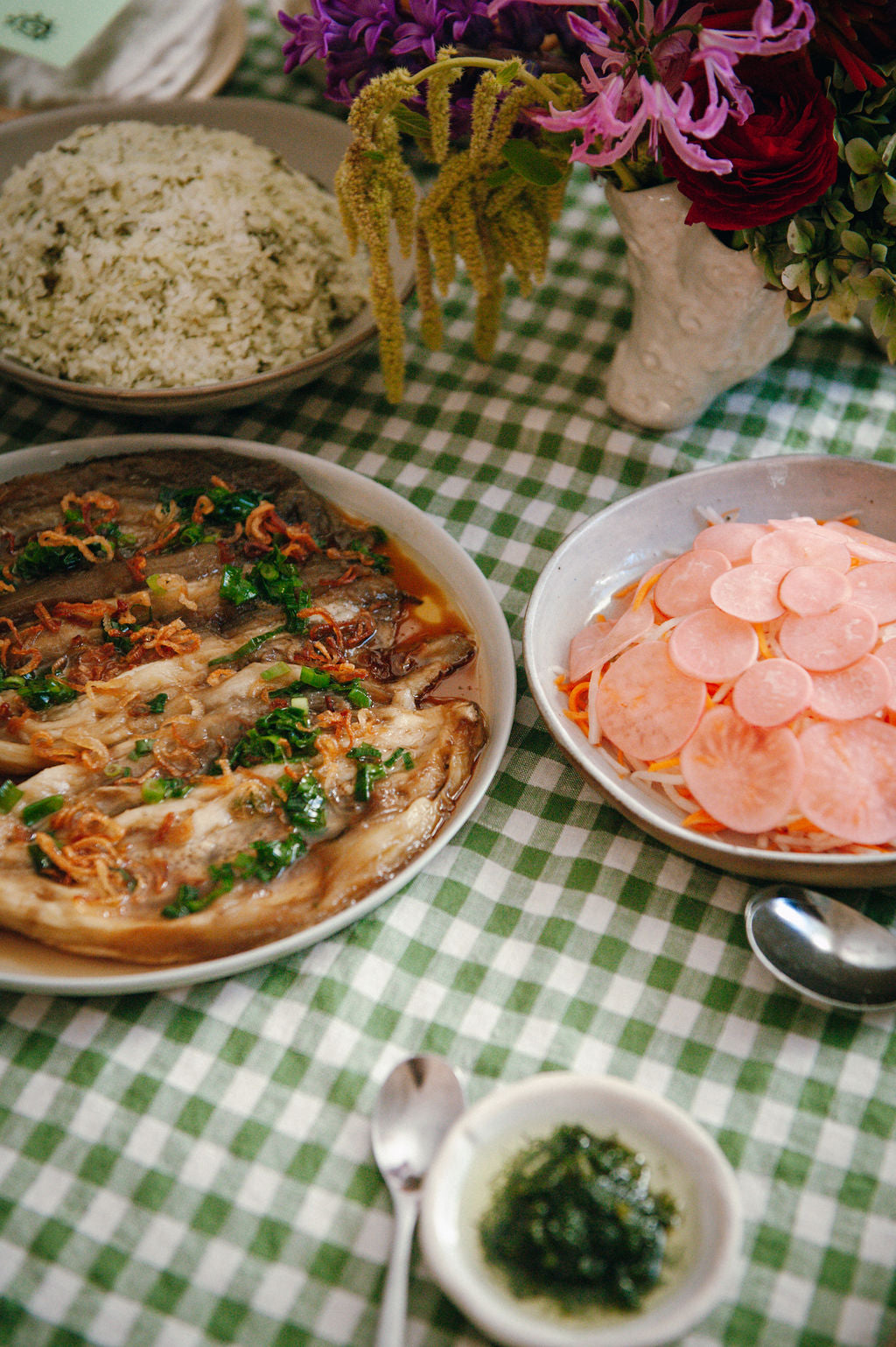 The Ingredients
Serves 2 as a main with steamed rice or 4 as a side dish


- 3 small eggplants


For the spring onion oil
- 2-3 spring onion stalks, finely sliced
- 2 tablespoon neutral oil (vegetable or canola oil) 
- Pinch of salt 


For the sauce
- 1 teaspoon soy sauce
- 1 teaspoon fish sauce or vegan fish sauce 
- 1 teaspoon water
- 1 teaspoon sugar or maple
- 1 clove of minced garlic
- Squeeze lemon juice
- Chilli oil (optional) 
The Method
1. Rinse and thoroughly dry the eggplants. Prick holes all over, about 8-10 depending on size of the eggplant, to allow steam to escape whilst the eggplant is cooking. 

2. Prepare your gas stove or bbq grill to medium heat - either works great, but it's important to allow the eggplant to have direct contact to fire. 

3. Place the eggplant directly on the flame (or on a grilling basket or bbq grill over the flame). If you can cook all 3 at the same time this will quicken the process and ensure they are cooked evenly. 

4. Watch and turn the eggplant on the fire so it's evenly charred - it should take about 15-20 minutes. You'll know it's ready once the eggplant skin is charred, flakey, and if you poke the eggplant at any point the flesh feels soft and tender. 

5. Take eggplant off the heat and let them cool for at least 30 minutes to make it easier to peel off the skin. 

6. Meanwhile, prepare the spring onion oil and sauce. For the spring onion oil, heat the oil on low and once hot, add the spring onions and cook for 1 minute. Add salt and let it sit aside. 

7. For the sauce, whisk all the ingredients in a small bowl.

8. Once the eggplants have cooled down, peel the skin (leave the stem) and place the eggplant on a plate or shallow bowl. It doesn't matter if there is still some charred skin left, but try to remove most of the skin. Using a fork, slightly smash the eggplant so that it spreads across the plate and drizzle the sauce, then the spring onion oil. 

This can be eaten at room temperature!