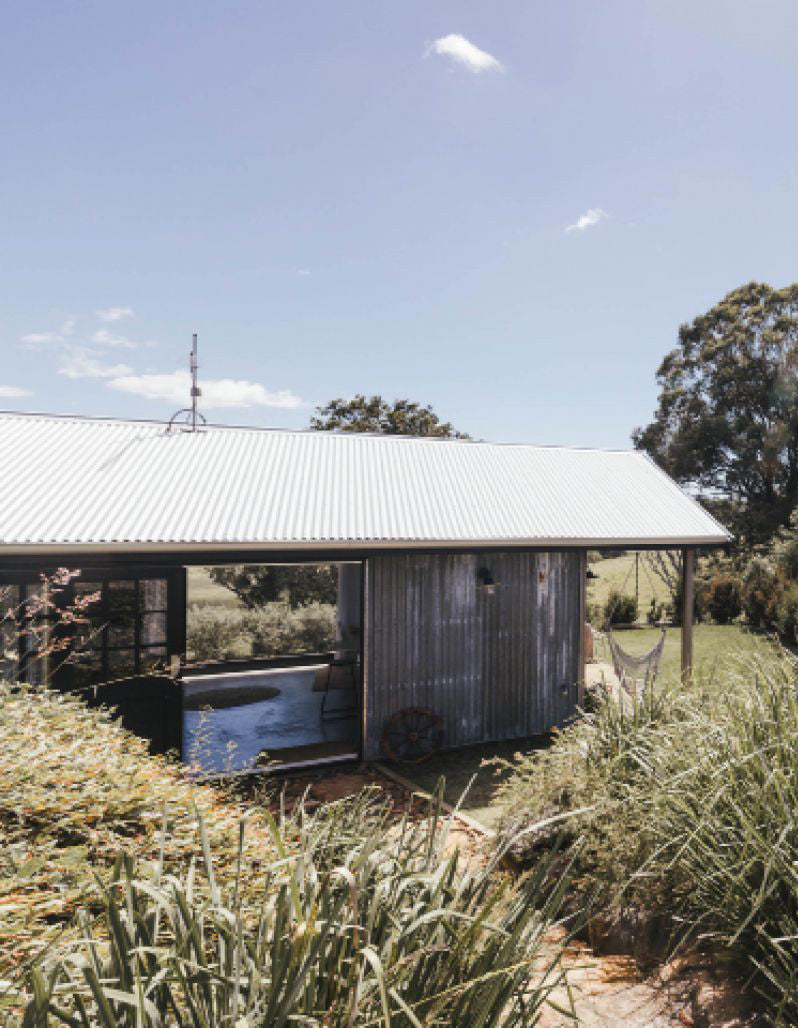 Places We Stay
Two Winds Cabin
Two Winds Cabin was built on a family property amongst the green rolling hills of Crabbes Creek in the Tweed Hinterland. The bespoke Eco cabin was built using locally sourced reclaimed materials, designed by husband and wife, Nerissa And Sam. Guests can expect picturesque views of sugar cane, glimpses of ocean and waterways, alongside the grounding nature sounds of cows and birdlife.
Q: What does the perfect stay at Two Winds Cabin look like?

An ideal stay might start with a slow wake-up, Brookfarm Muesli breakfast and Fallen Leaf herbal teas and coffee. Guests can choose a day trip to one of the surrounding towns, venturing out to authentic country townships of Murwillumbah, Burringbar, Uki or Coastal towns like Pottsville. Back at the cabin, visitors can watch the afternoon skies roll in, as we provide a Graze with Sal Indian Fusion cheese platter. Finish off the day with dinner by the fire pit, lazing in the crochet swings and a glass of red or a warm hot chocolate.
Q: What are the special accents that make staying at Two Winds Cabin unique?

The Cabin is a modern version of a rustic tin shed, handcrafted using original locally-sourced corrugated iron. We built this cabin to give our guests a place to stay that is a unique, rural retreat, close to beautiful beaches, with an open plan Eco design. Both front and rear doors can be left open to allow seamless indoor-outdoor living, with fresh air flowing through the cabin and views out past the sugar cane fields into the rolling countryside. The polished concrete floors allow the cabin to keep cool in the Summer months and warm in Winter. We finished the look with I Love Linen products, alongside other locally sourced and eco-friendly products.
Q: What are the must-see places for visitors to experience the region like a local?

There are so many things for visitors to see and do close-by. A few we recommend are the Tweed Regional Gallery, Hastings River or the lovely towns of Pottsville and Murwillumbah. Some of our favourite beaches are Burringbar, Brunswick Heads or Byron Bay.
Q: For travellers wanting to support the Northern NSW area after a tough year - who are 3 local businesses we can support from near and far?

We are so lucky to be surrounded by a variety of amazing local businesses. A few of our go to's are Byron Bay Skincare, Crabbes Creek Store (although not online it's worth a visit for its wine selection) and The Daily Bar.
I Love Linen products featured at the Two Winds Cabin

Style your home with the same French linen as seen in the Two Winds Cabin to recreate this rustic, farmhouse dream in your home. To bring the Two Winds Cabin charm into your home, style your bed with our Sage linen Quilt Cover & Pillowcases & our White linen Sheet Set. Finish the look off with our Sage Waffle Towel Range.

Credit line:

Cabin designed and construction by S J Reynolds Constructions

Photography by @kateholmesphotographer