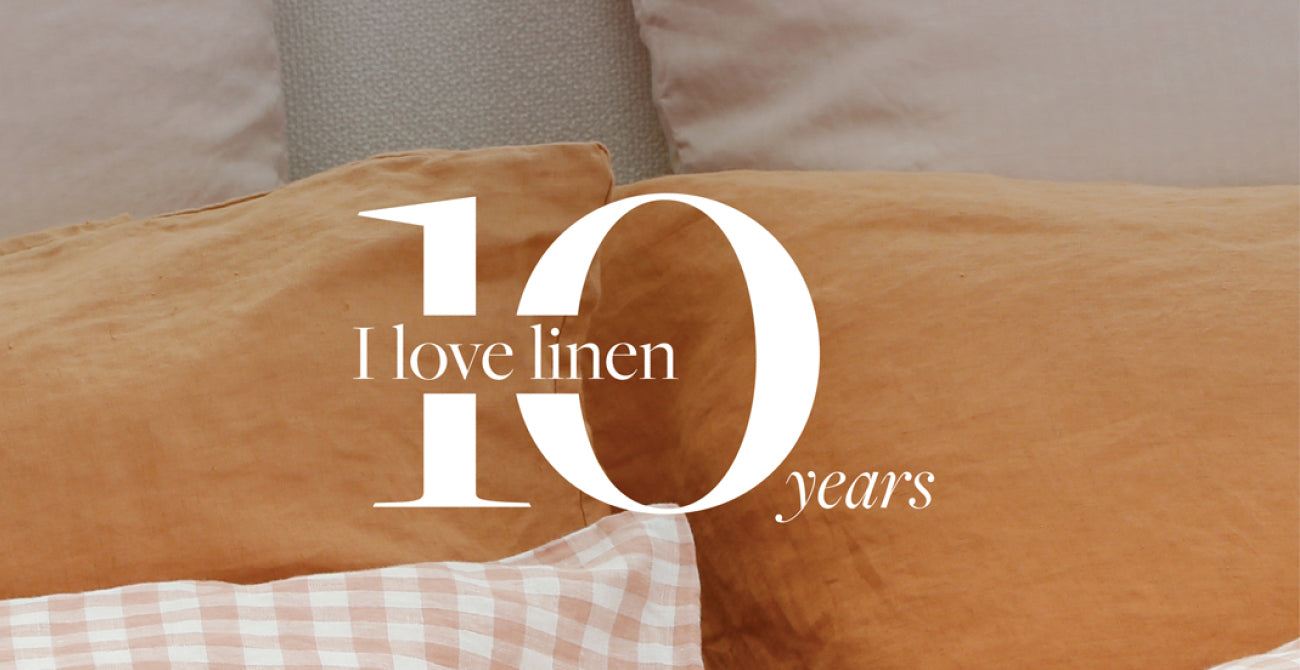 Find a Golden Ticket in Every Order
Posted: 26 July 2022
To thank our community for all the support over the last 10 years we want to give you the chance to win your share of $10,000 worth of Linen.
Don't Miss Out...Get Your Golden Ticket Today.
Can you believe we're turning 10 years old this month? What started as a dining table, maternity leave project has grown into an international business offering thousands of designs. In celebration of a decade of better sleep, we've organised a few surprises so the community that got us this far can celebrate with us...all month long.
A Golden Ticket in Every Order
To thank our community for all the support over the last 10 years we want to give you the chance to win your share of $10,000 worth of Linen. The month is almost over but you haven't missed your chance to enter! Simply place an order before the 31st of July 2022 to get a golden ticket.

You don't need to do a thing, our warehouse team will slip a ticket into your order.Simply scratch your golden ticket to see if you've won a share of the prizes. Are you feeling lucky?

Shop now for your chance to win
How To Redeem Your Prize
1. Place an order with us between Sunday 10th of July and 31st July. A ticket will be automatically added into your package by our lovely warehouse team members.

2. Scratch your golden ticket to reveal if you have won.

3.Head online and add the items your golden ticket states you have won to your cart on www.ilovelinen.com.au

4. Enter your unique code at checkout to redeem your prize for free!

If you have any issues redeeming your golden ticket prize, please reach out to help@ilovelinen.com.au before completing your order.
WIN The Ultimate Bedroom Makeover
Not only are we celebrating 10 years of better sleep, but we're giving our community the chance to win a bedroom makeover, valued at $10,000. We have partnered with our long time friends McMullin & Co. and Pampa to give one lucky person the chance to win the ultimate bedroom makeover.

Enter now

*Competition ends 31st July 2022. Open to Australian residents over 18 years only. See website for full terms and conditions.
Terms & Conditions
Golden Ticket

This competition is being run by I Love Linen Pty Ltd, ABN 59 154 522 979 of 11/14 Rothcote Court, Burleigh Heads, Qld 4220.
Permit Numbers; NSW TP/01962, TP 22/01155 (ACT), T22/907 (SA).
Entry is open from 09:00 AM AEST Friday 8th July until 11:59pm AEST Sunday 31st July 2022.
Entrance to the competition is open to all Australian customers, who make a purchase between 8th July and 30th July 2022.
Every order during the time period above will receive a golden ticket, instant scratchie with a chance to win. The winners are random and based on scratching the scratch panel on the golden ticket.
To enter, place an order on www.ilovelinen.com.au during the competition period and your order will automatically include a golden ticket with the chance to win. Scratch the silver love hear panel on your golden ticket to see if you're a winner and reveal your prize.
A Golden Ticket gives all customers the chance to win an array of prizes up to the value of $974.70, with the total prize pool valued at $10,000. Prizes available are as per below;
19 x French Linen Apron, valued at $55
11 x French Linen Robe, valued at $119
11 x French Linen Napkin Set, valued at $34.95
18 x French Linen Pillowcase Set, valued at $79.90
6 x French Linen Market Bag, valued at $35
3 x French Linen Ruby Clothing Set, valued at $175
3 x Quilt Cover & Pillowcases, valued at $410
2 x Complete Bundle Curator Bedding Set, valued at $974.70
2 x Complete Hotel Bedding Collection Set, valued at $954.95
The prize is not transferable, not redeemable for cash, not for resale and will be awarded instantly to winners only.
To redeem your instant prize, add the item/s revealed on your golden ticket to cart at www.ilovelinen.com.au and enter your unique code (found on your golden ticket) at the checkout to claim the item free of charge.
Unique codes are single use and can only be redeemed on the items stated on your golden ticket. Treat you Golden Ticket like cash, as it's the only place the unique prize redemption code will appear.
The prize must be redeemed on www.ilovelinen.com.au before the date the website coupon code expires, Monday 23rd August 2022.
Any prizes not claimed will be collated and winners drawn at random using a third party competition random draw picker from the existing pool of entrants on August 31st, 2022.
I Love Linen will publish a list of the winners, based on the order delivery information from the unique coupon code used to redeem the prize. The winner will be announced from both the original end date and redraw date on www.ilovelinen.com.au
Your data will be collected in accordance with the privacy policies of I Love Linen (see here).
Only French Linen products are included in the prizes available unless otherwise stated on your Golden Ticket.
I Love Linen reserves the right to make substitutions to the prize, if the items are unavailable at the time of fulfillment, ensuring the prize equates to the same value.
By entering the competition, entrants agree to these terms & conditions.
If for any reason any aspect of this Promotion is not capable of running as planned, including by reason of computer virus, communications network failure, bugs, tampering, unauthorised intervention, fraud, technical failure or any cause beyond the control of the Promoter, the Promoter may in its sole discretion cancel, terminate, modify or suspend the Promotion and invalidate any affected entries, or suspend or modify a prize, subject to State or Territory regulation.