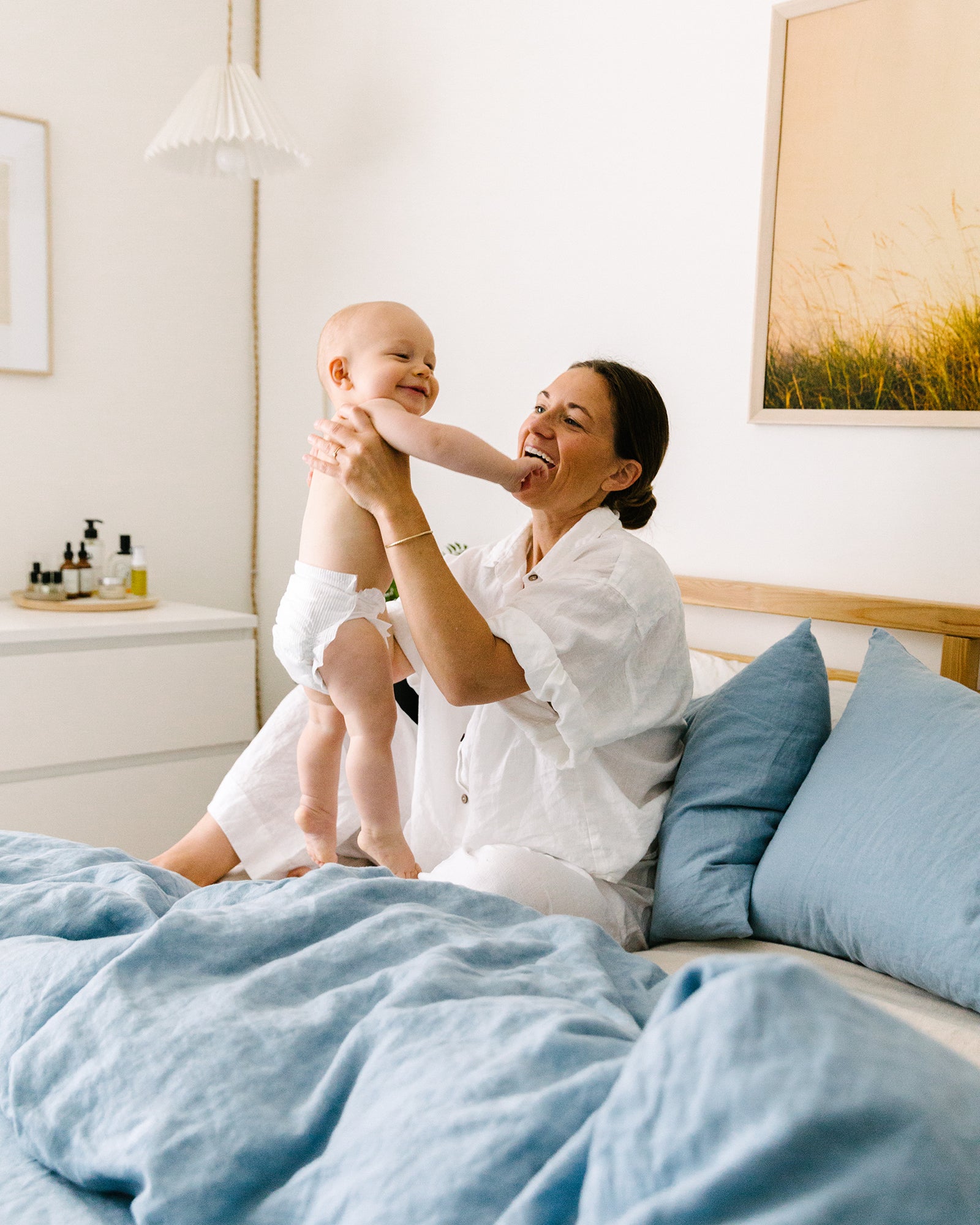 A relaxed Californian abode to soothe your soul
Posted: 03 June 2023
When we first came across the delightful, and delightfully talented Julie Pointer Adams we were smitten. Julie is a thinker and a doer who creates and champions everyday, accessible beauty. She is a big-picture visionary with an acute sensitivity to detail. Julie has written, photographed, and art directed two books: Al Fresco: Inspired Ideas for Outdoor Living and Wabi-Sabi Welcome: Learning to embrace the imperfect and entertain with thoughtfulness and ease.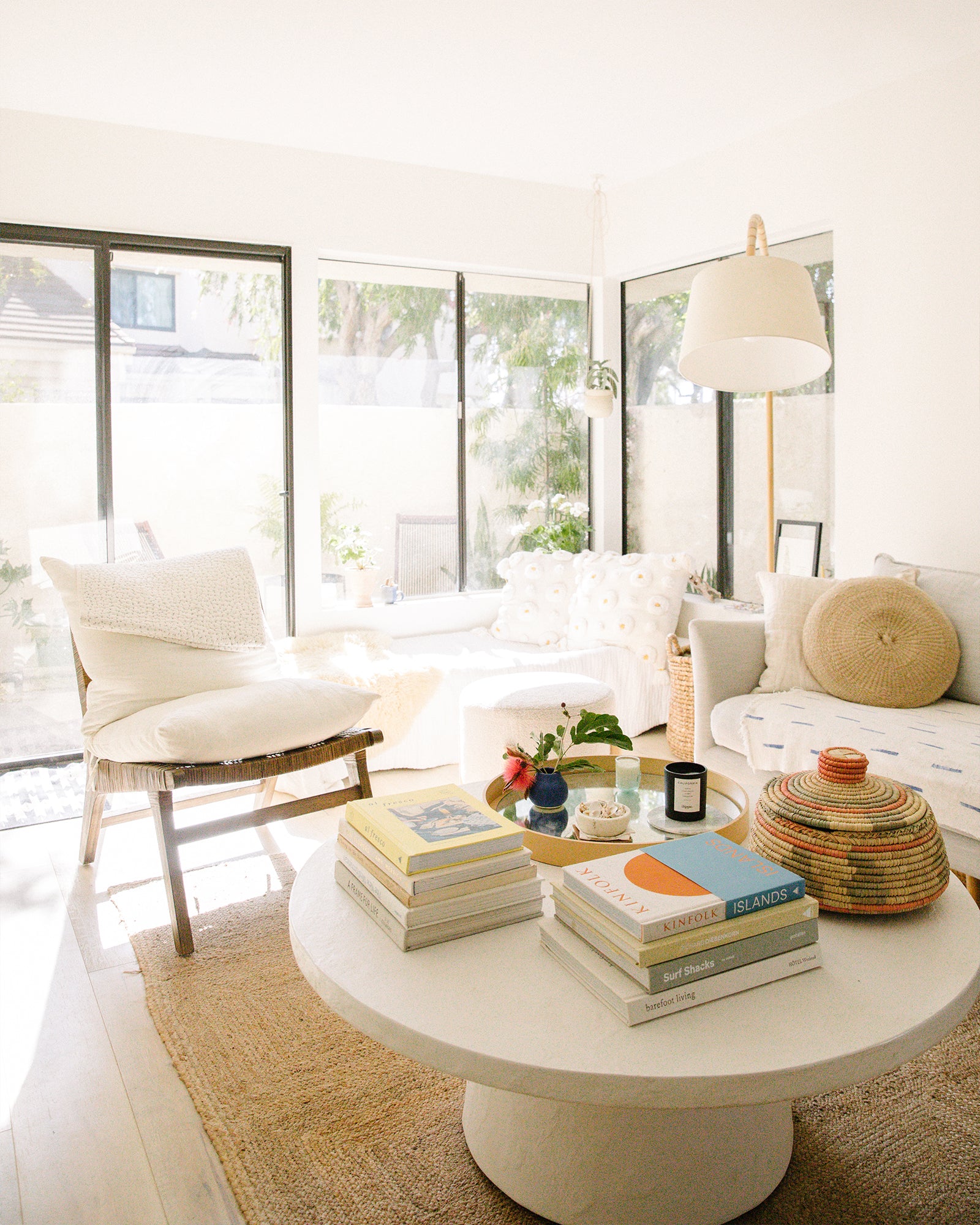 We invite you to step into Julie's cosy and understated home
Two words that people often use to describe her are observant and calm and today we invite you to explore her very calm and wabi sabi home on the coast of California.


Julie's eye for understated beauty comes through in her home. Her background is in the visual arts and literature, with an MFA in Applied Craft & Design. She studied environment design, specifically exploring how spaces (both permanent and transitory) shape human interaction, feeling and behaviour. It was only fitting that she chose some of our most popular and calming linen tones to showcase in her home.
In discussion with Julie…
Q: How do you describe your interior style?


A: The most important elements for me when creating a space are making it feel warm and personal. As far as design influences go, you might say my approach is a California coastal-meets-Scandinavia-meets-French countryside kind of look. Perfectly clear, right?! Ha! For me that looks like a lot of natural fibres and textures, tons of wood, interesting textiles, special knickknacks and pottery, playful art, and allll the comfy linens. Our home is still a serious work in progress with tons of unfinished bits (because, money!), but being forced to take it very slowly has given me a lot of time to consider exactly how I want it to look and feel…which maybe someday I can actually make a reality. A good practice in patience–but also frequently excruciating!
When people walk into my home, I always want it to feel like a welcoming embrace–a place full of light, soft edges, good smells, and inviting corners to really settle into. A place you can actually live! And somewhere that feels uniquely like me.
- Julie on how she would describe her interior style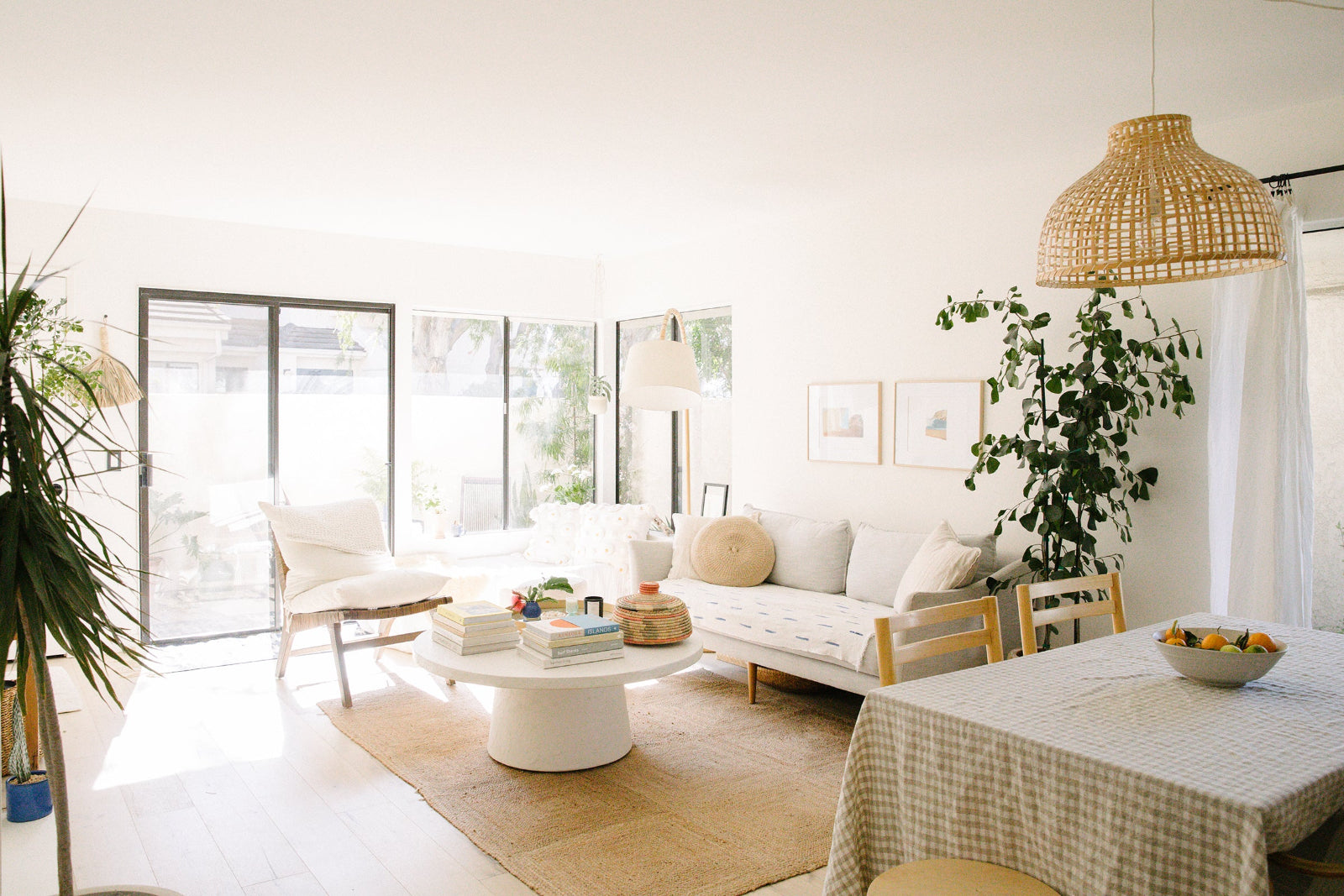 Julie decorates her timber dining table with our French Flax Linen Table Cloth Beige Gingham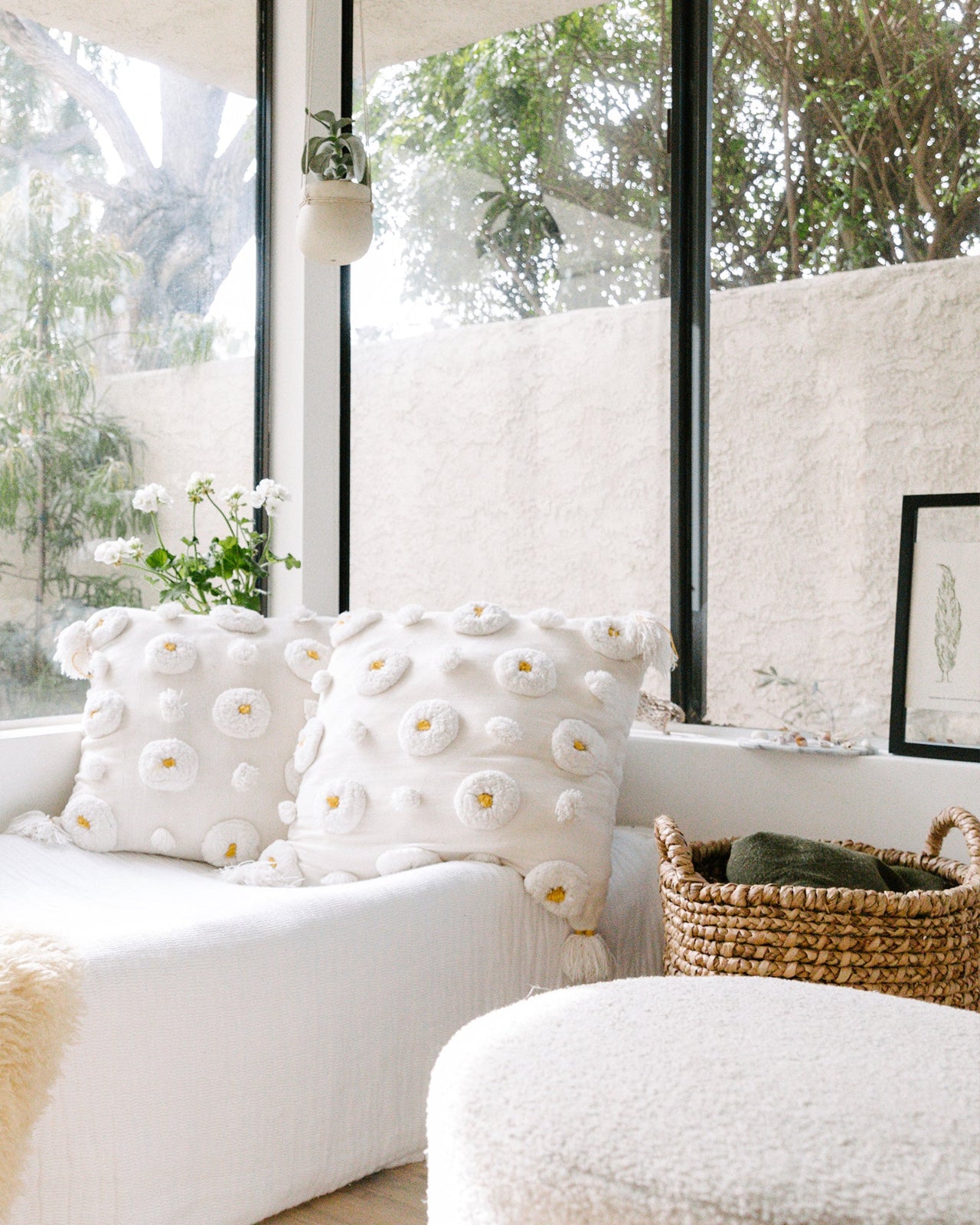 Q: What is your favourite nook in your home and why?


A: I think my answer to this might change seasonally but right now, I have an old army cot in a corner (during the summer months the cot lives on our patio) where two big windows meet, and therefore it's the brightest spot in the house. While I don't actually have time to lounge there regularly, when I do take a moment to sit or lie or play there with my baby, it's just heaven. I feel like a cat, soaking up the warmest rays for as long as I can.  
Q: What are some of your favourite furniture pieces in your home and why? 


A: I love our coffee table as it's such a centering piece in our home, and it's really the only big piece we bought when we moved into this place about a year and a half ago. It's my favourite spot to display my beloved books and treasured objects, and it regularly becomes a spot for playing games, doing puzzles, drawing, and doing special activities together as a family. 


My other favourite pieces are all things acquired for either very little money, or free altogether! The little table in our entryway was found at a thrift store and I couldn't love it more. It's the perfect, unfussy piece to hold everything we need for all our comings and goings. The tall wardrobe in my son Ollie's room, which I painted green (the colour is called A Summer's Day–which I adore) was found by my mom on the side of the road, and it holds all his books, legos and other toys I don't want to see all the time! Lastly, I have a bunch of pieces of furniture scattered around the house that I'll probably lug around with me until I die–they are a series of wooden benches I built while in graduate school. They are funny and wonky with goofy proportions, but they will always remind me of such a unique and wonderful time in my life. I desperately miss making functional things with my own two hands! 
Q: You live in Santa Barbara, California which is a beautiful part of the world. Can you share with our readers your favourite spots;


Day trip — My in-laws live about 90 minutes north of us in a more rural area famous for wine, and the drive up that way is the perfect day escape. It's especially ideal in springtime when everything feels green and lush and the yellow mustard is blooming. You drive along the coast for half the time, and then the road goes inland and you drive through these classic rolling California hills that are dotted with big oak trees, cows, and vineyards. It's very idyllic! And it marries all my favourite things about this part of the world–the beauty of the Pacific ocean, the ruggedness of the mountains around us, and the calming openness of the surrounding rural and agricultural land. 
There's a little town on the way called Los Alamos which has one of our most-loved restaurants, so we frequently stop there along the way for pizza and salad and wine. They catered the food at our wedding, so eating there always feels nourishing and nostalgic.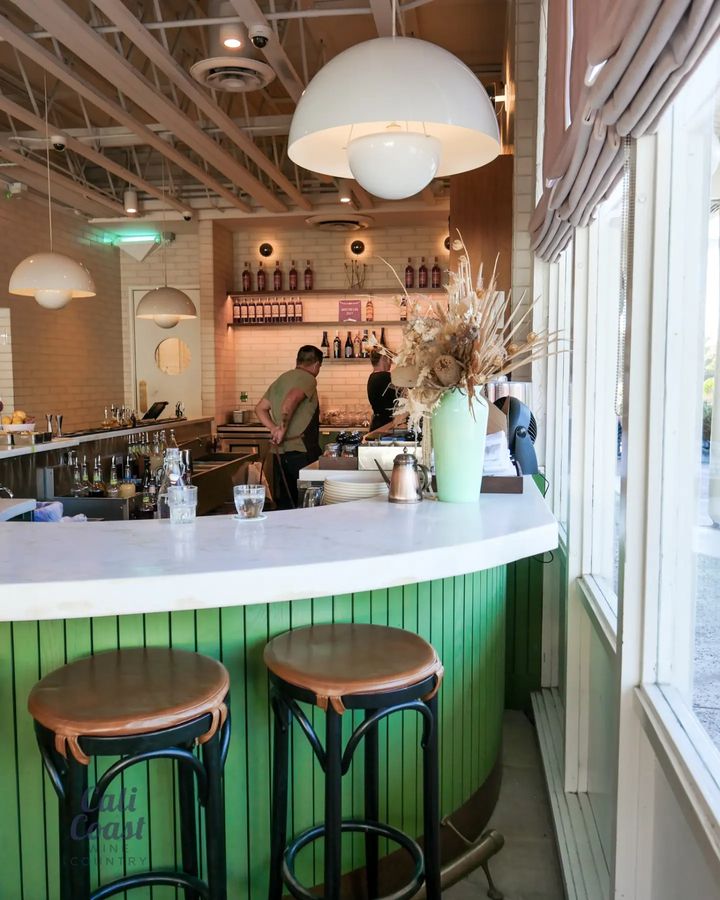 Wine bar/restaurant —  I absolutely love a little corner restaurant called Bettina Pizzeria. Once again, very delicious pizza, salad, and wine! It always feels like a special occasion to be able to eat there because the food is just so phenomenal…even the simplest salad or veggie dish blows me away. Though I grew up and lived in Santa Barbara for most of my life, we now live in the town just adjacent to Santa Barbara called Carpinteria (just 10 minutes down the road) and we are thrilled to learn that they are opening up a Bettina outpost about a 5 minute walk from our home. Lucky us!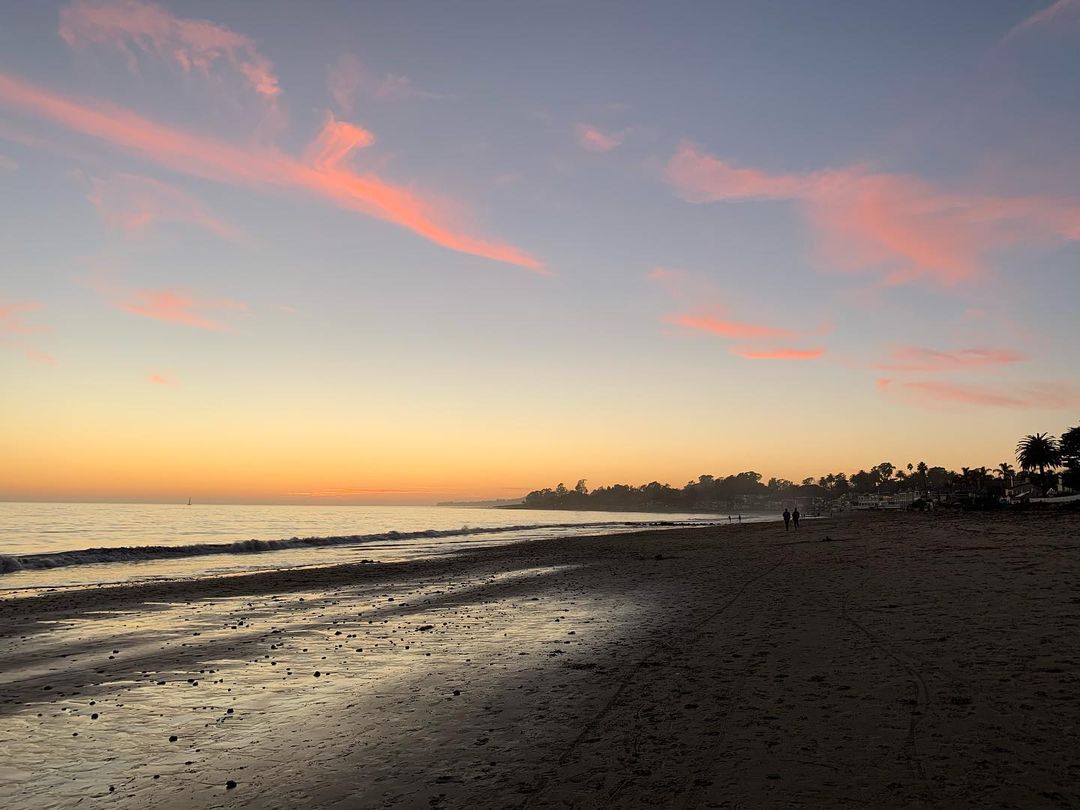 Place to see the sunset — I think the place we will always return to again and again and again for perfect winter sunsets (the only time of year the sun actually sets over the water here) is Butterfly Beach. It's the beach I grew up going to all the time with my friends and family, and it's just the dreamiest spot to look out on the water, see the coastline stretching north, and to feel the sun beaming against your face. There's an ideal sitting wall perched above the sand that's the absolute best location for sunset picnics. On days when the sky is really epic, you always know that the Butterfly wall is going to be packed–it's sort of a communal gathering place for everyone who loves that time of day. 
Q: From a design perspective, if you could go back in time what era would it be and why?


A: There is a very specific time and place in American art history that I've been fascinated with for a long time, and that is the short-lived existence of an experimental school in the hills of North Carolina called Black Mountain College. The college was only in operation from the 1930s to the late 1950s, but it's sort of unbelievable that so many artists, dancers, writers, etc. who either taught or attended there later went on to become extremely influential in the arts. For instance, Buckminster Fuller, Josef and Anni Albers (Anni was a great weaver!!), Robert Rauschenberg, Jasper Johns, Franz Kline, Robert Motherwell…the list goes on. All of these people were instrumental in my own explorations as a young artist, and I would love to be fly on the wall to observe all the conversations, artistic experiments, and exchanges of ideas that were going on during that time.

Below shop our French Flax Linen Table Cloth in Beige Gingham and Quilt Cover Set in Marine Blue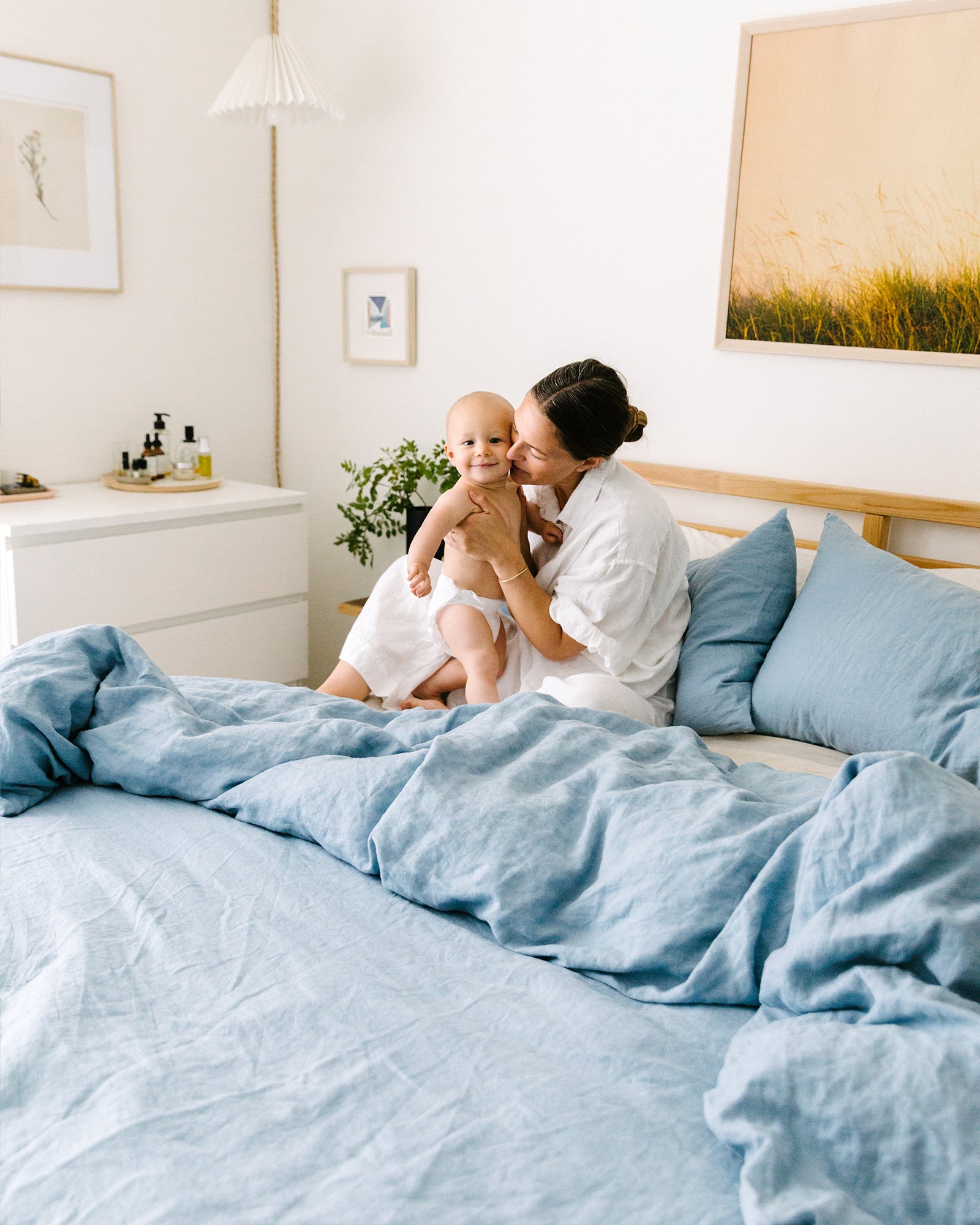 Q: We believe that if you sleep well, you live well. What does your sleep wind down routine look like (or one you aim to try and commit to when you can!)

A: Lately with two busy kiddos at bedtime (a four-year-old and an 8-month-old), my nightly routine is not quite as zen as I'd love for it to be, but in an ideal world my evening looks as follows. Getting babies to bed, spending some quality time with my husband, Ryan (actually having an uninterrupted conversation and looking each other in the eyes!), giving myself some much-needed self-care rituals (washing my face and lathering all the lotions and potions on), and climbing into bed with my journal and a good book. Goals worth aiming for! No matter what the evening holds, though, getting into bed with my cosy linens and a great sleep mask always feels like a divine luxury.

Julie wears the French Flax Linen Ruby Lounge Set in White