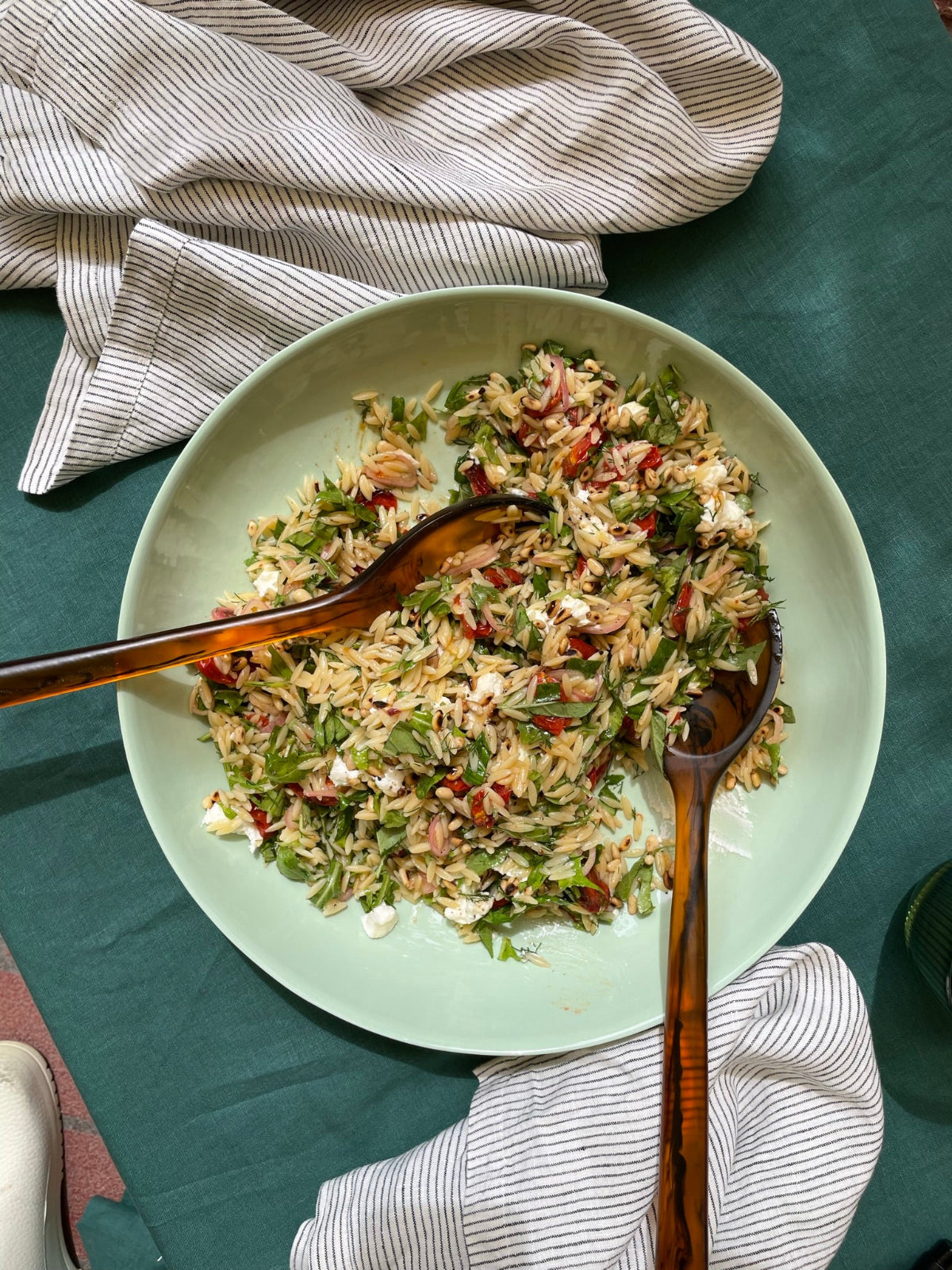 A Must-Try Roasted Tomato Orzo Salad for Your Next Party
Posted: 11 August 2023
Be the MVP at your next lunch, dinner or pot luck party with this tangy, salty, herb packed dazzling salad that could be a main in its own right. Created by our talented friend Jess Presscott, we can't wait for you to try it yourself. One serving is not enough!
The Ultimate Fresh and Versatile Salad
Having cooked this alongside our dear friend and I Love Linen collaborator Jess Presscott, and then cooking it at home we can 100% attest that this dish is a winner. It's equal parts herby, creamy and salty with the goats cheese that contrasts with the crunch of the toasted pinenuts. The Orzo carries all of these flavours perfectly. You could eat it as a stand alone light meal or would work with a range of other vegetarian sides, grilled chicken and fish.

keep scrolling for the full recipe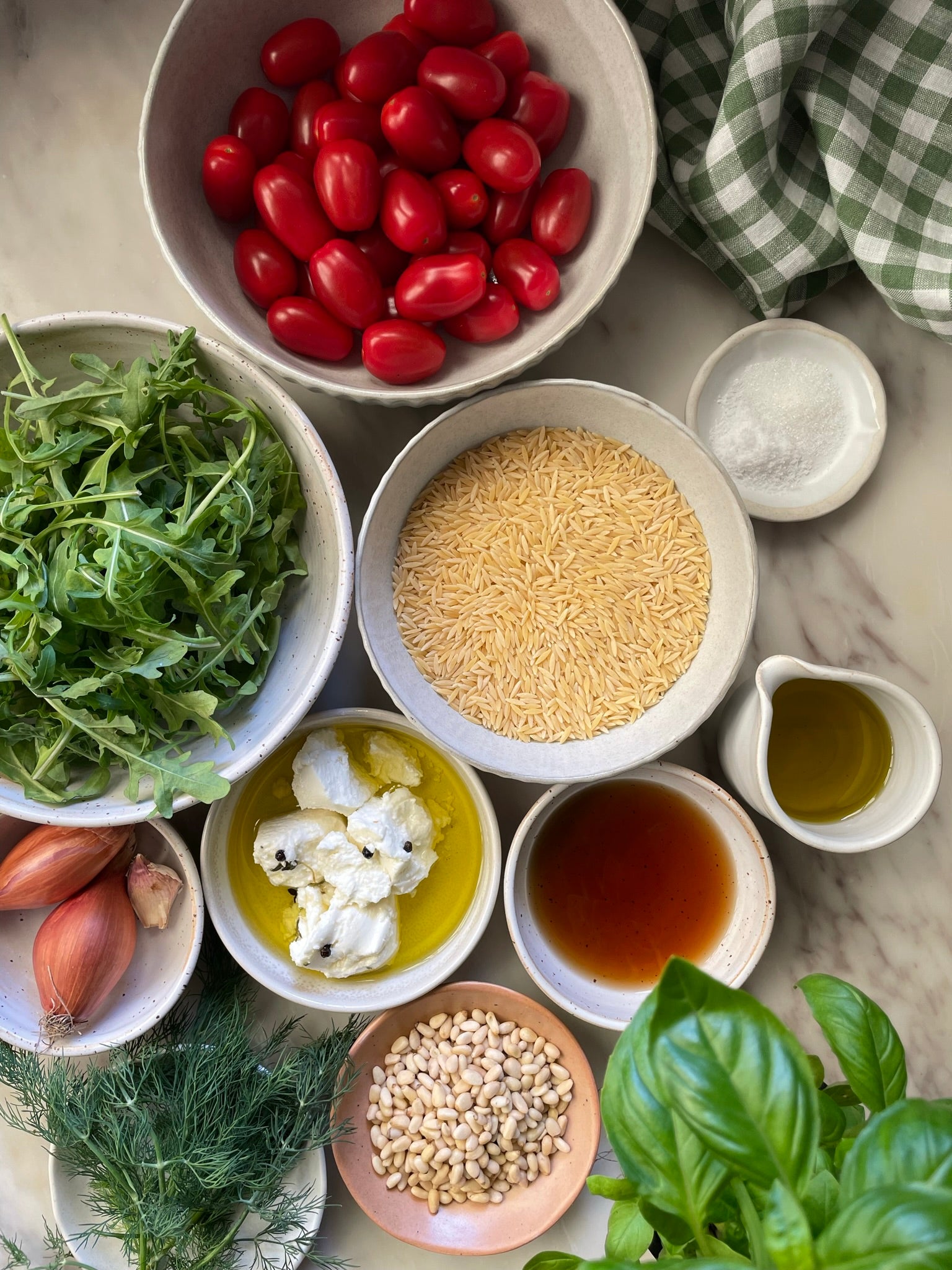 The Recipe
Ingredients:

- 400g (3 cups) cherry tomatoes - preferably grape
- 4 tablespoons olive oil, divided
- 1/2 teaspoon sugar
- 1/2 teaspoon salt
- 200g (1 cup) orzo/risoni
- A clove garlic, microplaned
- 2 tablespoons sherry vinegar
- 2 shallots, very finely sliced
- 2 cups (30g) basil leaves
- 1/4 cup (10g) dill
- Couple of handfuls of rocket
- 1/4 cup toasted pine nuts
- 200g Goats cheese
- Freshy ground black pepper to serve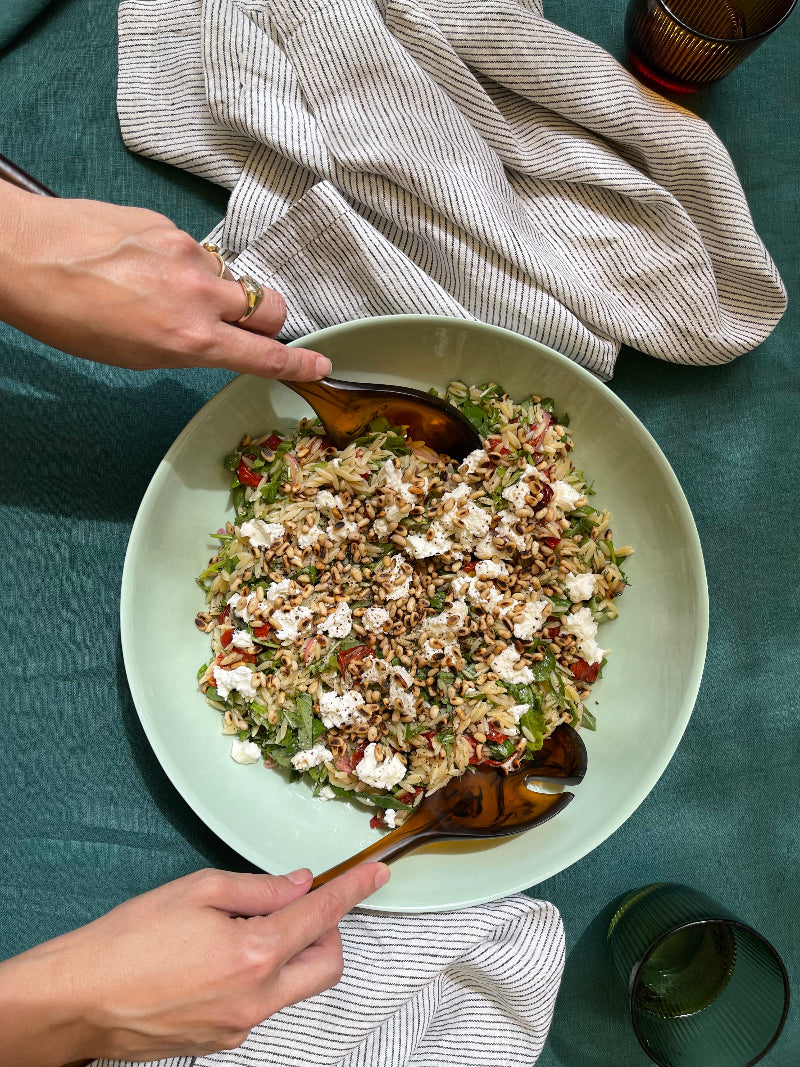 Method:

1. Preheat oven to 200°c fan forced/220°c convection


2. Cut cherry tomatoes in half, lengthwise, placing in a bowl as you go. Add 1 tablespoon of olive oil. 1/2 teaspoon salt and half a teaspoon sugar. Stir to combine, then place on a baking sheet and top with black pepper. Bake for 20-25 minutes then set aside once cooked.


3. Whilst the tomatoes are in the oven, bring a large pot of salted water to a boil, then add the orzo and cook for 10 minutes.

4. Place garlic, sherry vinegar and olive oil in a small bowl. Whisk in olive oil, then add the shallot and set aside.

5. Once the orzo is cooked through, drain and rinse in lots of cold water until cool. Allow to drain while tomatoes cool. Place orzo in a large mixing bowl. Add dressing, tomatoes, herbs and rocket, and stir to combine, topping with pine nuts and goat's feta.

6. Serve warm, room temperature, or coldLeftovers store well.