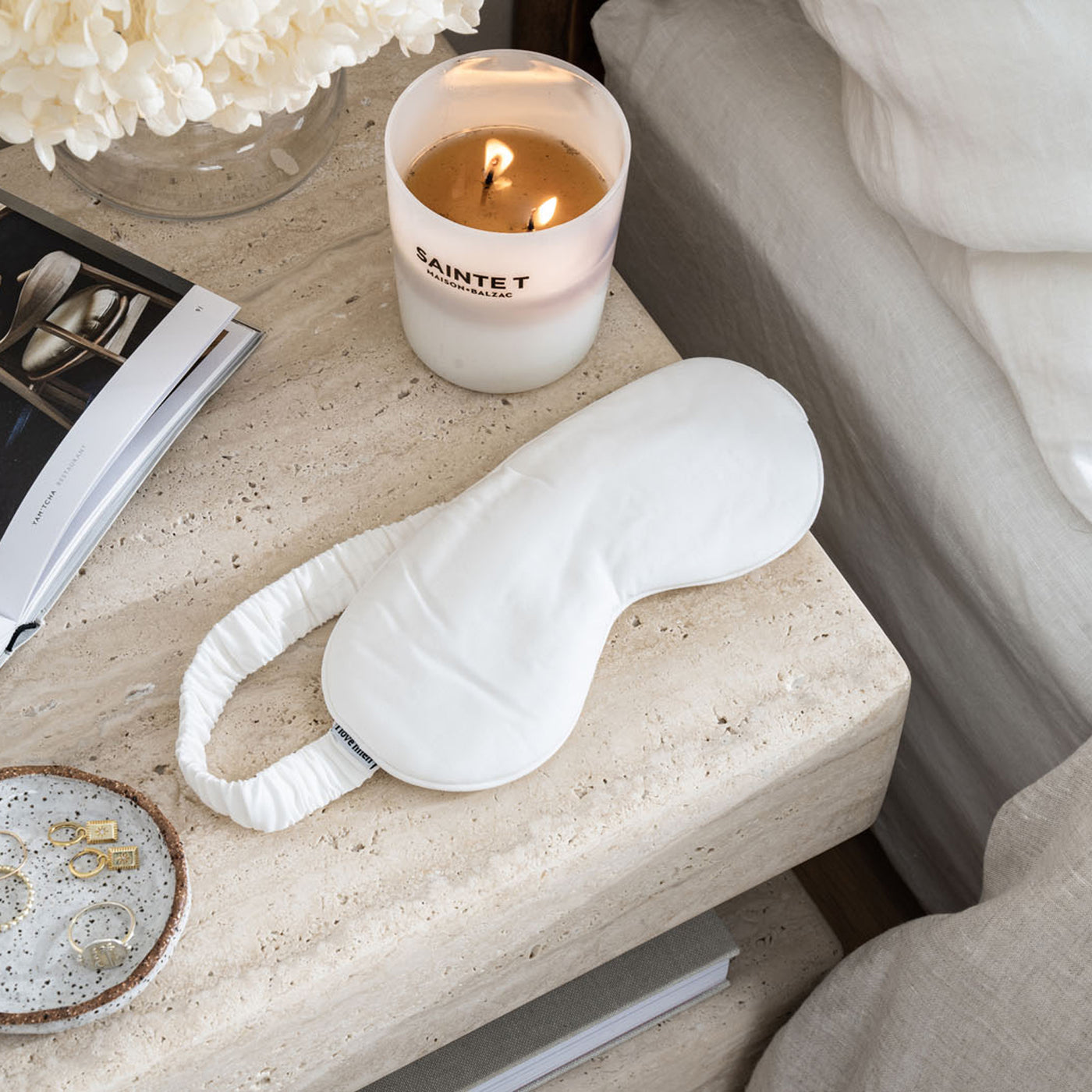 Please select product options below
Own it now, pay later:
Features
Cooling Effect
Super Soft
Natural Fibres
Hypoallergenic
Durable Twill
Elevate your self-care rituals
Bamboo Eye Mask in White offers comfort and relaxation; it's the perfect way to reduce stress, improve sleep, and unwind. Crafted with our silky soft and luxurious Bamboo, the mask...
Bamboo 
Eye Mask
in White offers comfort and relaxation; it's the perfect way to reduce stress, improve sleep, and unwind. Crafted with our silky soft and luxurious Bamboo, the mask is gentle to the touch and helps block out light, creating a cozy place to shut off and wind down. Let its calm colour and mindful design help you rest peacefully.
365-night "Great quality guarantee"
Unsure of colour? Request a Swatch
The quality of your bamboo eye mask is determined by the quality of the bamboo and the way it's woven. By choosing our unique twill weave you will enjoy an indulgently soft Bamboo finish, without sacrificing durability.
We spent almost one year testing and researching multiple bamboo fabrics until we were satisfied with what you're adding to cart. Woven from sustainably grown natural fibres into our unique and durable silken OEKO-TEX® certified twill weave this bamboo bedding is not just visually inviting, and feels even better than it looks. The smooth and silky texture is something you'll look forward to sinking into night after night.
We understand your bedding is a treat to yourself, so to enjoy it for as long as you can please follow all the care steps in our care guide here to ensure the fibres are maintained for the longest time possible.
Get your beautiful designs delivered free to anywhere in Australia.

Delivery time after your order is dispatched is 2 to 5 business days for NSW/QLD/ACT/VIC/SA. Please allow up to 10 business days to ship your beautiful parcels to NT/WA/TAS and remote locations.

We understand you may change your mind and want to swap your colours – we're here to help! You have 30 days from receiving your goods to return for exchange or refund, provided the items are still in their original packaging and unused.

We also ship internationally with DHL Express and shipping is calculated at checkout (depends on size and weight and country we're shipping to).

Read the full shipping policy here
365-night "Great quality guarantee"
Unsure of colour? Request a Swatch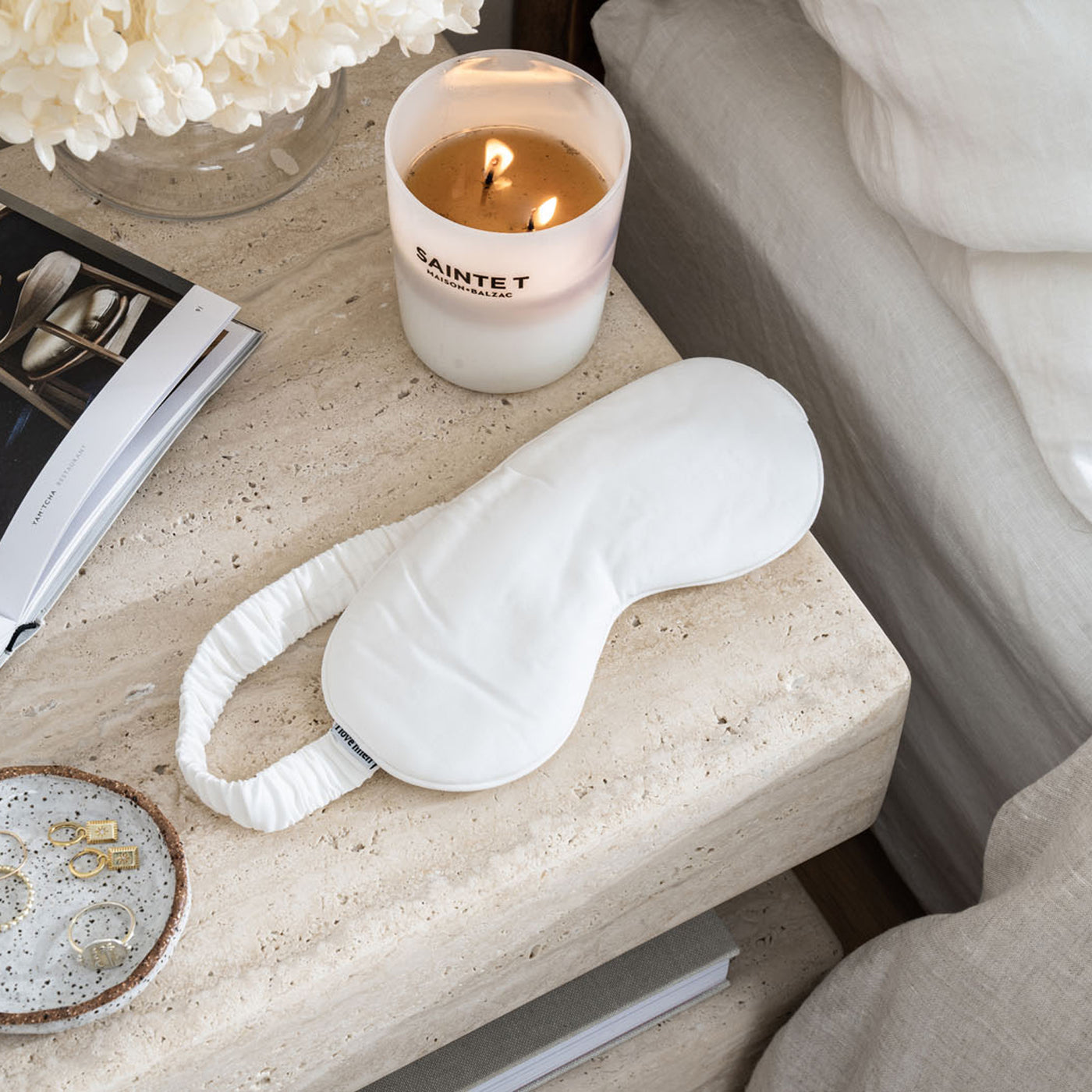 Bamboo really has the wow factor. You'll be impressed
Our unique bamboo bedding has a smooth finish that feels extremely soft and comfortable on your skin. And did you know that bamboo is naturally antibacterial and hypoallergenic? We especially love it for anyone with skin allergies or sensitive skin, leaving you with your best and healthiest sleep ever.
Durable Twill Weave
Soft and long lasting.
Hypoallergenic
Gentle as you sleep.
Regulates your Temperature
Optimum sleep conditions.
Customer Approved
Read our reviews - customers can feel the difference.
Eco-friendly
OEKO-TEX® fabrics and non-toxic dyes.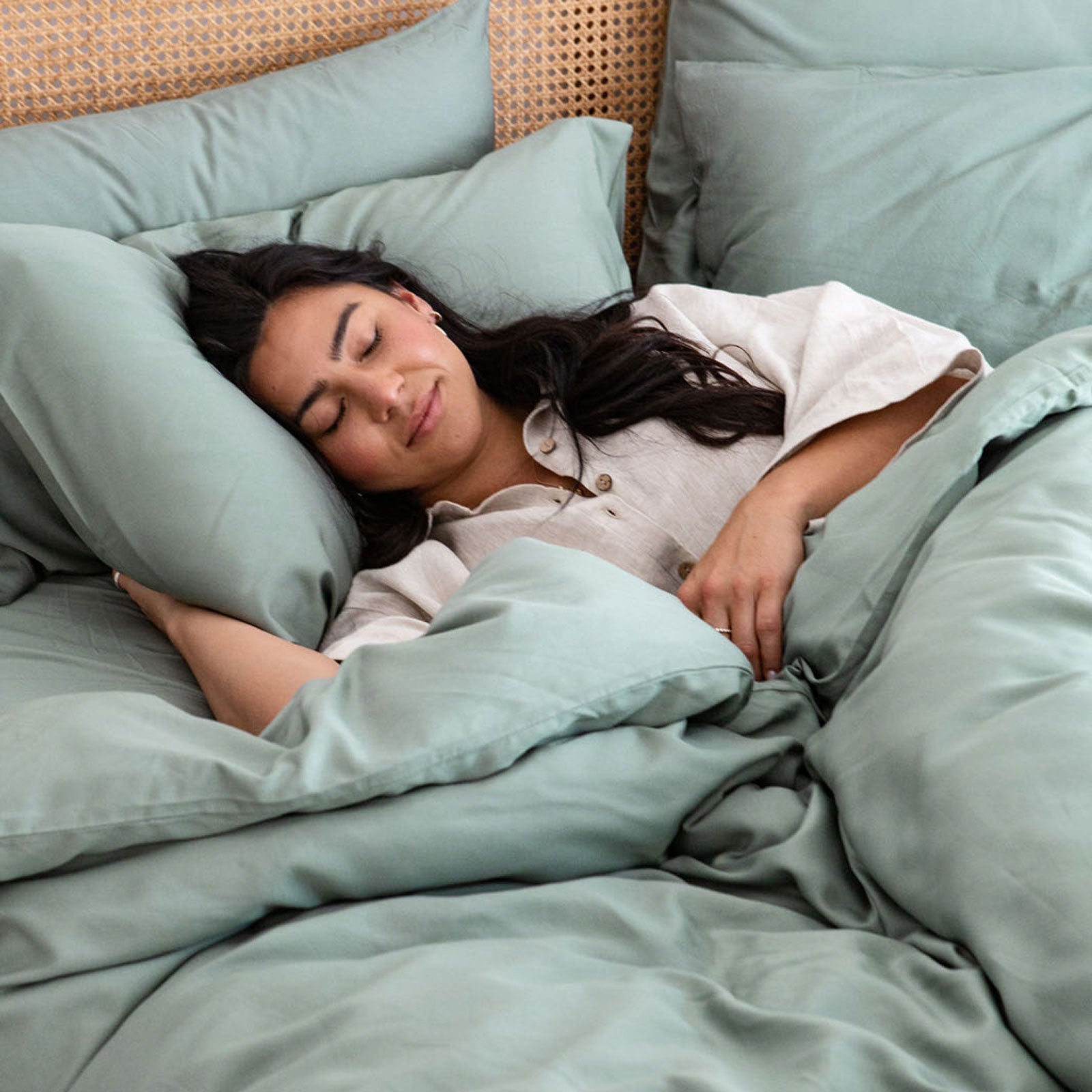 For a peaceful sleep, choose bamboo
With a decade of experience in all things bedding, and an entire year of product testing and development, we are proud to present what we believe is a cut above the rest. The Bamboo fibres used in our bedding are strong and long, ensuring they retain their colour, shape and softness after every wash.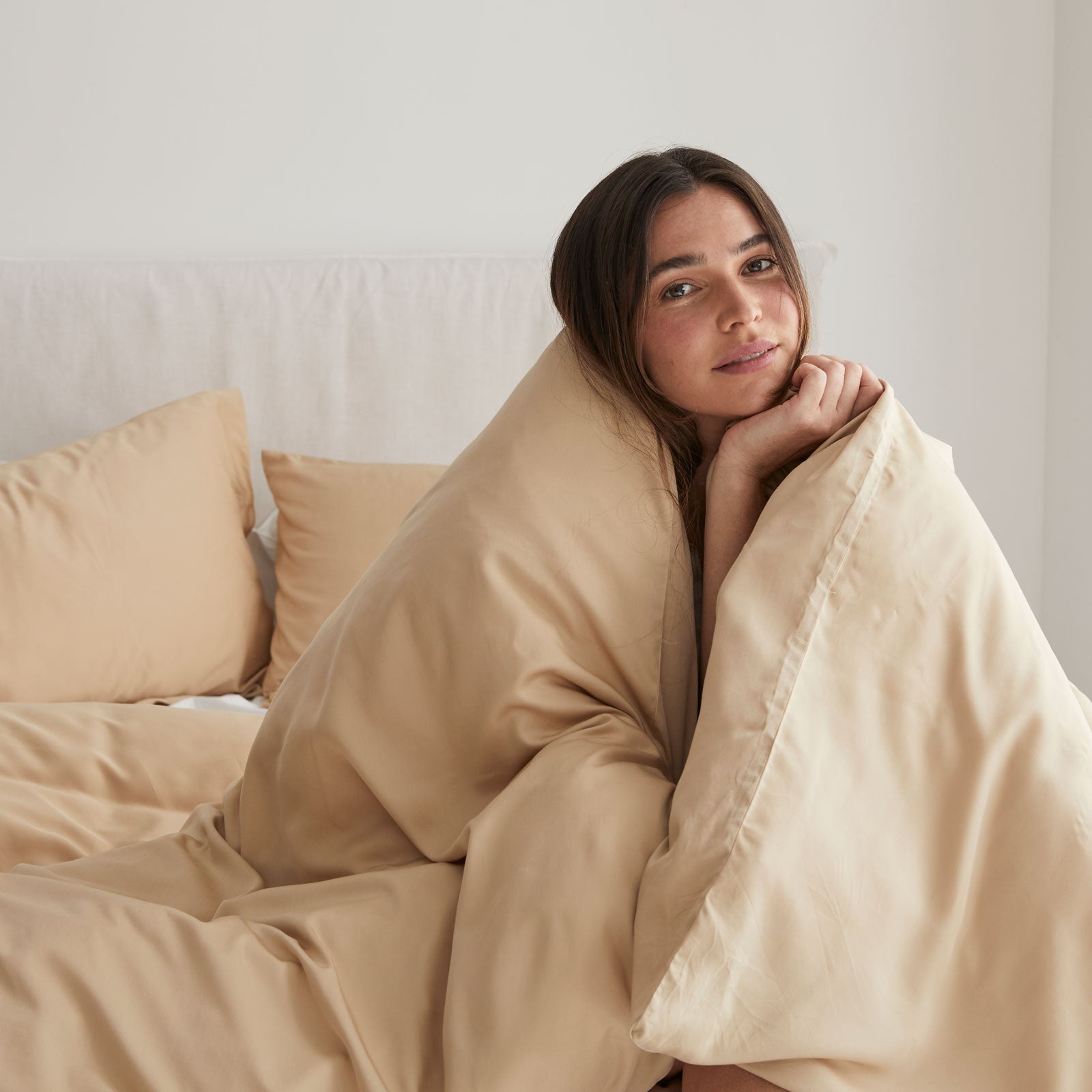 100% of sleep testers love our bamboo
We reached out to some existing I Love Linen customers to trial sleeping in our new Bamboo Bedding and an overwhelming 100% said they'd happily add our premium bamboo bedding to their rotation.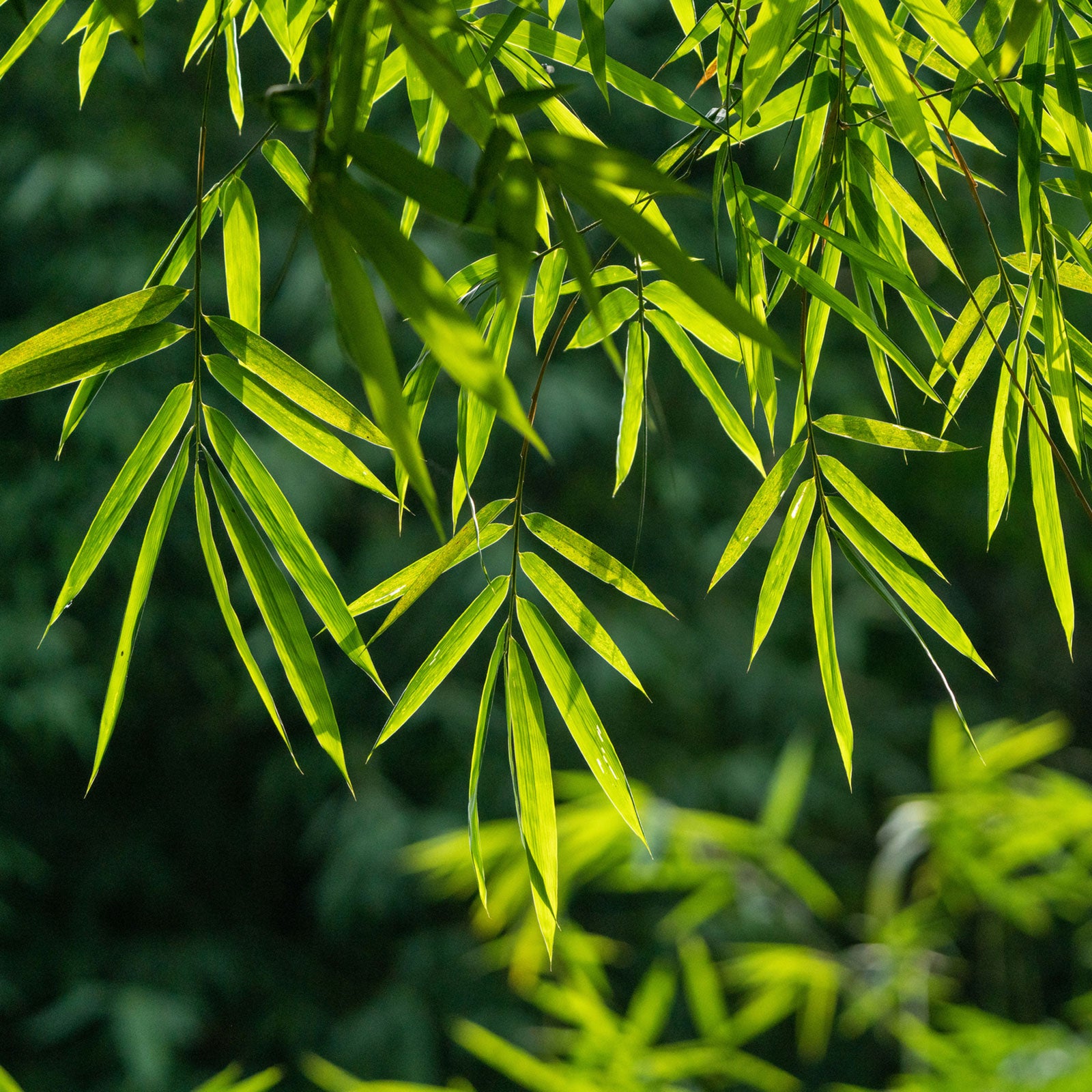 Good for the planet and great for your sleep
The fastest growing plant on the planet, Bamboo is as good for you as it is gentle on the Earth. Using sustainably grown, natural fibres, means you can feel good about treating yourself. And clever bamboo also has natural heat regulating properties, ventilating exceptionally through summer and locking in the warmth during winter. What's not to love?
"I still cannot get over how soft this bedding is every time I slip into bed. As a linen lover I have found the softness as magical contrast to the linen. The bamboo fabric drapes so beautifully that making my bed is no longer a chore."
Cassandra
"This bamboo is so incredibly soft and comfortable I will be purchasing more in the future."
Casey
"I bought bamboo for my daughter who has very sensitive skin and she absolutely loves them"
Bolien
"Absolutely love how soft and cosy this bedding is! It's such a perfect combination of textures to pair with my French Linen but also perfect on its own - especially in Summer as it's so lightweight and silky smooth on my skin. Makes me never want to get out of bed. Highly Recommended!"
Amy
"These Bamboo sheets are absolutely incredible. They are so silky soft it's like being enveloped by clouds while you sleep. I absolutely adore them."
Kirsty
"This is my first time sleeping on bamboo and oh boy it is amazing! Ever night we hop into bed it feels like we're sleeping on a cloud! The feeling is snuggly and soft on my skin. Currently deciding on the second colour to purchase."
Anna