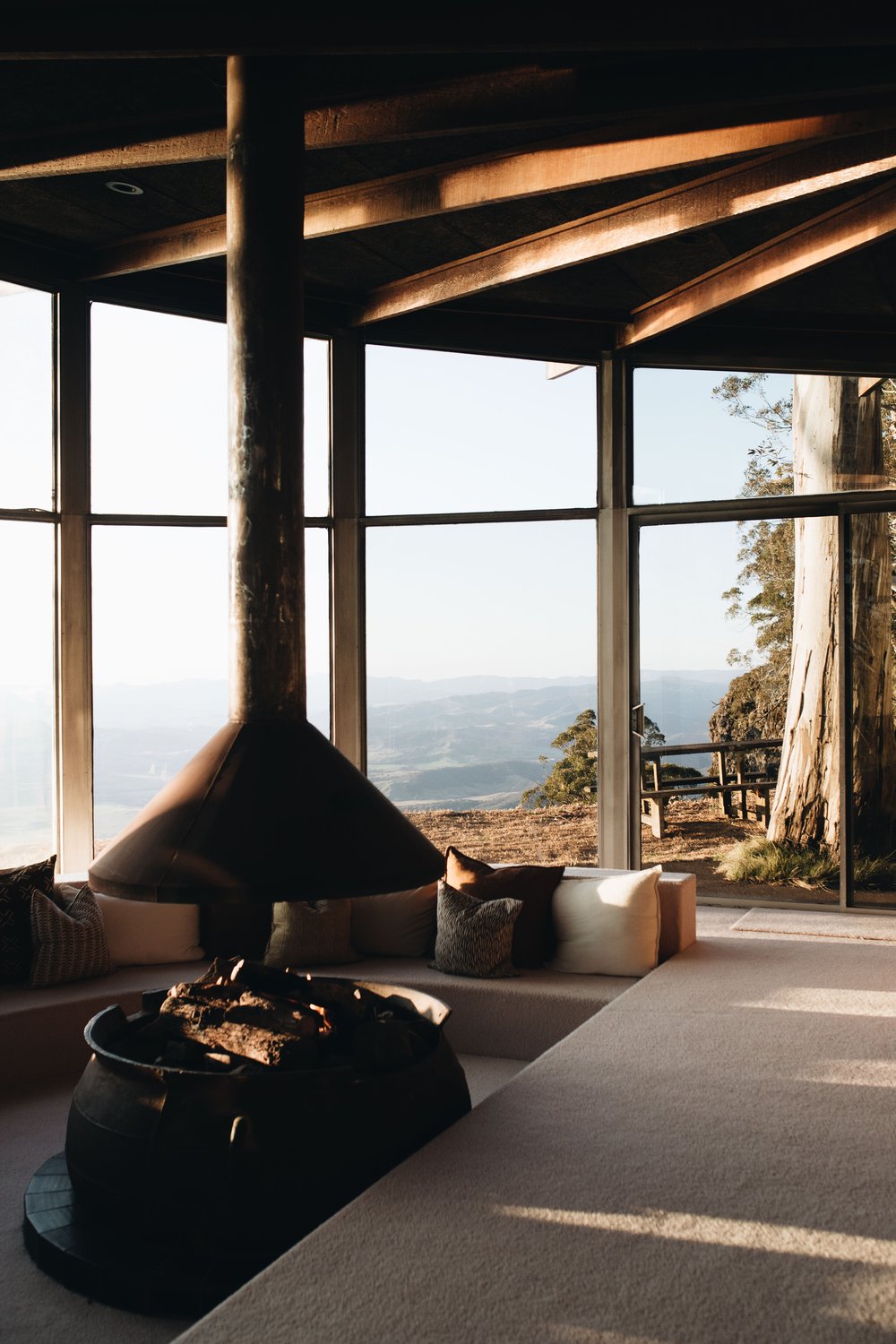 Places We Stay: Woolooma Glasshouse
Posted: 24 February 2023
Have you been thinking about your next Australian getaway? Let us take you to a very special place in the Hunter Valley, where nature and timeless luxury blend seamlessly.
The spectacular Woolooma Glass House has everything you need for your next slow-cation. This heavenly home can accommodate up to 4 people, so it can be a romantic getaway with your spouse or a fun weekend getaway with friends.
How would you describe the interior style of Woolooma Glass House?
The interior style of Woolooma Glass House is natural, simple and warm, with a strong sense of 70's character. The property was designed by acclaimed architect John Suttor who designed a number of prominent homes in and around Sydney in the 1960's and 1970's. When you explore the property you'll notice the generous use of natural light and honest materials. Brick, stone and timber are all used harmoniously to create a sense of simplicity, warmth and iconic Australian bush modernism.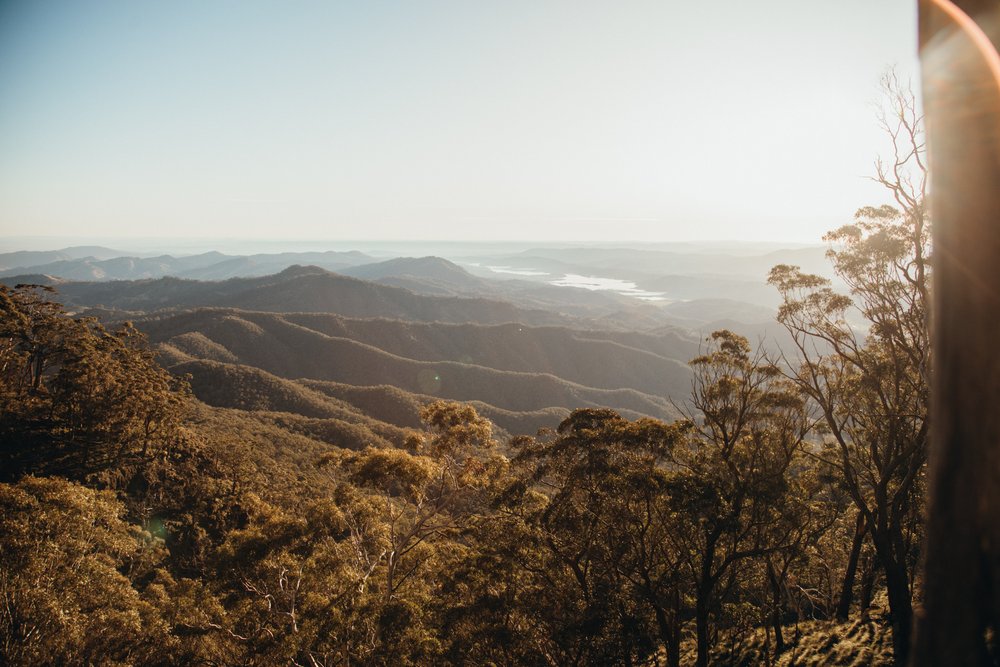 What does the perfect stay look like at Woolooma Glass House?
The perfect stay is a 3 night stay, allowing a variety of weather patterns to move through the mountains below, better exposure to local wildlife, and ultimately the perfect amount of time to totally disconnect with the world and reconnect with yourself. Time and solitude are the ultimate gifts at Woolooma Glass House.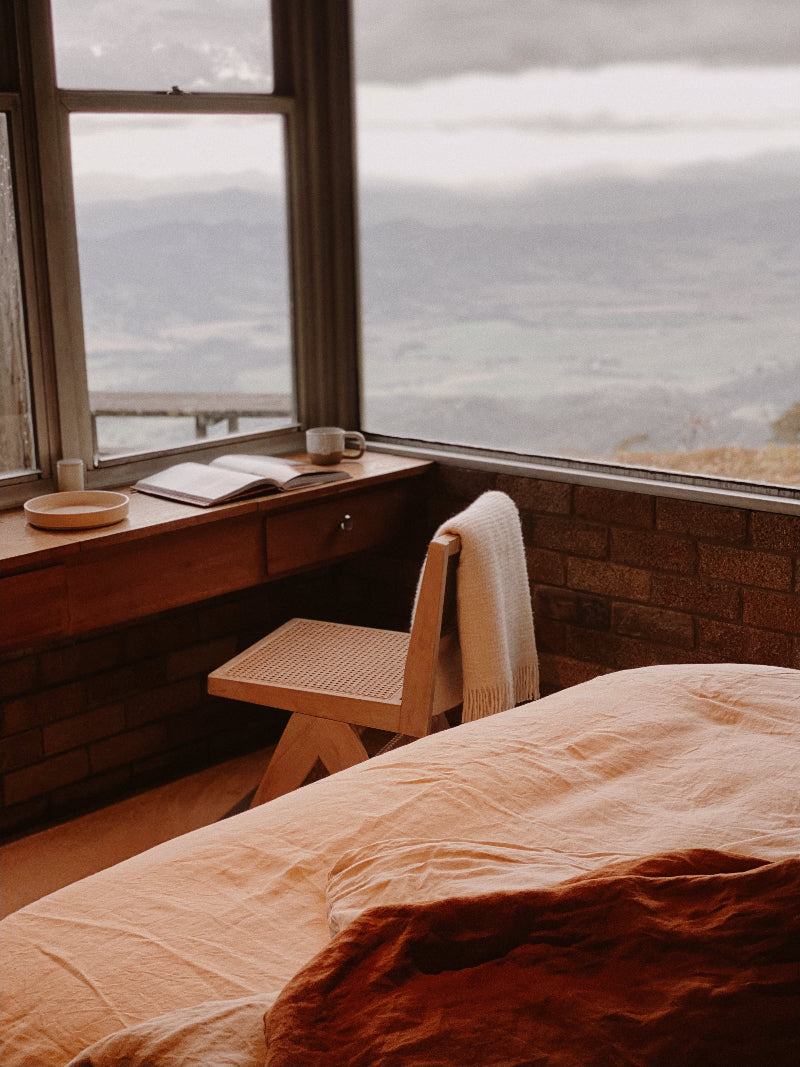 What makes staying at Woolooma Glass House so unique?
There are not too many places in the world that offer you the experience of total remote luxury at 4,500ft quite like Woolooma Glass House. You are staying atop a mountain, not burdened by the interaction or disruption of everyday life.
Can you share a little about how this incredible location came to be / the history of Woolooma Glass House?
The purchase of Mt. Woolooma came to be from my Grandfather Michael White's love of preservation and conservation. He discovered a colony of lyrebirds inhabiting the mountain and an incredible source of valuable native flora that he wished never to be susceptible to deforestation. At the purchase of the property, he and my grandmother Dr. Judy White wanted to create a sanctuary to escape and overlook the daily life (their family farm) below them. A place for both their own escape, and hopefully a place for the creative types to come and seek inspiration from what is real and natural. 
As a way of keeping the house well cared for, we have renovated and opened the house up, now known as 'Woolooma Glass House' accepting guests from all over the world to experience.
Can you give guests a sense of what is in the area?
Our suggested arrival time is suggested for 3pm, which gives our guests the perfect opportunity to stop and enjoy a local lunch at The Linga Longa Inn. Part of a country or rural experience is enjoying the local community and their lifestyle, The Linga Longa is a great country pub experience, and gets you in the mood for your next stop, Woolooma Glass House.

During your stay, you are treated to the entire mountain and house to yourself, we suggest long hikes around the mountain and stopping to take in the breathtaking views along the way. At certain times of the year (Autumn and Spring) the Scone and Ellerston polo is a great way to bundle up a completely unique experience in the area, enjoy the thrilling sidelines of the sport of polo, followed by a totally remote stay and experience at Woolooma Glass House.
We believe that if you sleep well, you live well. What does your sleep wind down routine look like?
Wind down for us at Woolooma Glass House typically involves dimmed house lights, and sitting outside taking in the last orange and red sun bleeding across the horizon, with music playing through our vintage speakers. There is nothing quite like taking that last view to bed with you, enjoying fresh white 100% linen sheets, by the best, I Love Linen.