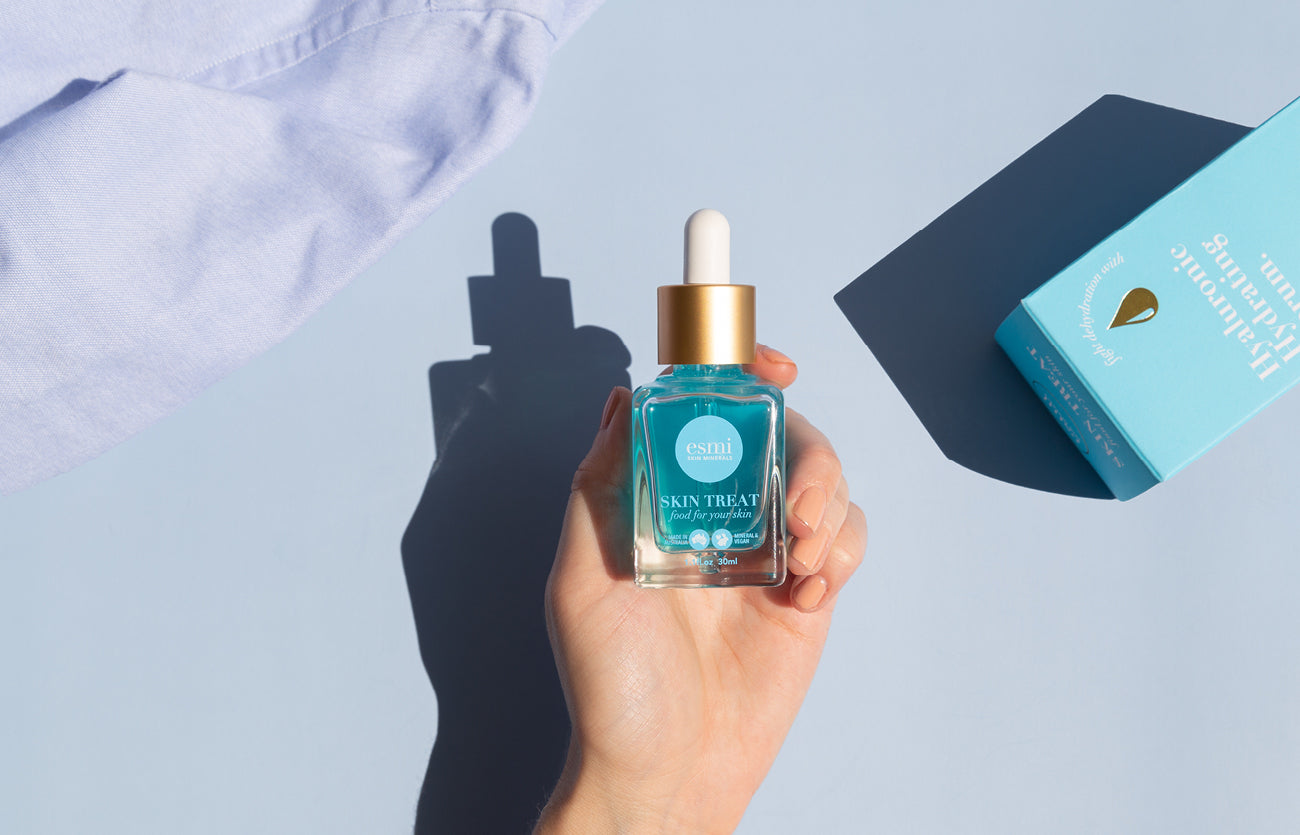 The Hydrating Serum That Will Save You This Season
Posted: 21 January 2021
Fight dehydration, dullness and fine lines with Esmi Skin Mineral's Hyaluronic Hydrating Serum.
In our every day lives, no matter the weather or season, it's important we take the time to look after our skin and the many effects the environment may have on it. Fight dehydration, dullness and fine lines with Esmi Skin Mineral's Hyaluronic Hydrating Serum.
The magic of hyaluronic acid
Because hyaluronic acid is naturally found in our bodies, it is easy for our skin to recognise and absorb it, making hyaluronic acid serum to be effective and free from any irritation to the skin. Hyaluronic acid attracts and holds onto moisture in skin cells, which allows the skin to feel more hydrated and plump. This not only helps with dehydration but can plump fine lines, regulate oil flow and can repair one's skin barrier.
Hydration
Hyaluronic acid has the ability to attract water and can hold a thousand times its weight, allowing it to penetrate through the skin and draw water into skin cells.
Less Fine Lines
Hyaluronic acid helps to create a plumping effect on the skin by reducing the visibility of fine lines and wrinkles as it retains moisture to the skin. When our skin is hydrated, increased skin cell production takes place, leading to smoother, plumper skin cells.
Greater Clarity
When oily skin is lacking in hydration, it overcompensates to hydrate the skin by producing a greater amount of oil. Oilier skin can lead to acne. Much of the time, we tend to think that oily and acne-prone don't need more hydration, but in-fact, hyaluronic acid can aid in the face becoming clearer and less oily.
A free gift, just for you
The first 100 orders placed from 10:00 AM AEST Thursday 21st January to 11:59 PM AEST Sunday the 24th of January will receive a free Esmi Skin Minerals Mini Hyaluronic Acid Hydrating Serum. The offer is available while stocks last and will be automatically added to your cart. Customers must meet the minimum spend of $200 to qualify for this offer. Customers are only able to receive 1 free gift. If any items are returned, the gift must be returned also. If the gift is not returned in its new condition, customers will be charged the retail value of the gift. This gift cannot be exchanged or redeemed for cash. This gift is unable to be claimed in conjunction with any other offer.