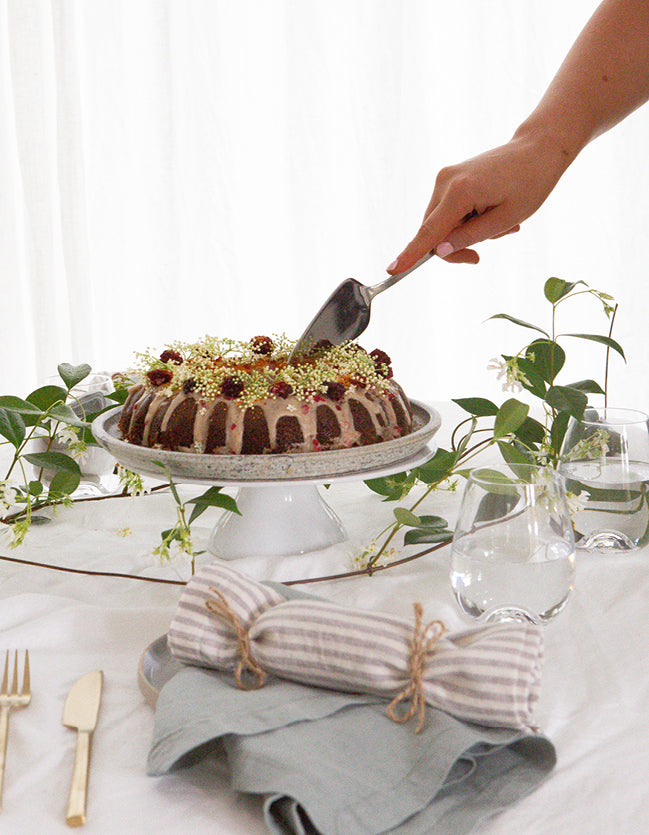 The Festive Season With Our Favourite Dining Muse @maddytrueman
Posted: 03 December 2020
Recipe developer and our good friend, Maddy Trueman created a beautiful cake for our recent Christmas Dining Shoot.
Recipe developer and our good friend, Maddy Trueman created a beautiful cake for our recent Christmas Dining Shoot. Maddy has provided our community with numerous beautiful recipes throughout the year and we were so lucky to have her create a new recipe for the holiday season (you can check it out here). With the help of Maddy, we were able to style a beautiful dining moment with our tablecloths and napkins.

We asked Maddy a few questions find out a bit more about her, her work and how she's spending the season.
1. What are your go-to recipes for the holiday season?

I have so many Christmas go-to's that I make year after year. A recipe combination I love is a large salad made with rocket, grilled peaches, prosciutto and buffalo mozzarella. Another crowd-pleaser that makes you look very fancy are fresh oysters served on ice with a finger lime vinaigrette. Of course for dessert, I can't move past a messy pavlova topped with marscapone, lemon curd and fresh cherries and raspberries. I think the key to a successful lunch is incorporating light, fresh salad dishes with your heavier, more indulgent dishes.

2. What are you looking forward to for this festive season at home?

December is my absolute favourite time of the year! I am really looking forward to soaking up some time with my loved ones, cooking delicious food, drinking nice cocktails and long post-lunch naps. I have collected many Christmas magazines over the years and love planning all of the food I will cook for the festive season. This year's menu revolves around lots of fresh seafood and stone fruit.

3. What makes you feel most at home?

I feel most at home when I am in the kitchen with my fiancé Joe. We love to catch up on our day while cooking a nourishing meal with a glass of red wine in hand. It's my favourite ritual and something I really look forward to.
4. What are some of the self-care rituals you love to practice?

I absolutely love taking an hour to myself very early each morning to take my dog for a hike. I put my headphones in with a good podcast or meditation and we make our way up into the forest behind my home. This is my thinking time and always starts my day off in a good headspace. Other ways I love to practice self-care are long magnesium baths, stretching out on a foam roller and practising yin yoga. I also really value time off screens reading a book or playing a board game. Anything that prioritises my mental health I consider as self-care.

5. Describe your ideal dining setting/experience.

I absolutely love table settings with a quintessential Australian vibe. I would layer an olive linen tablecloth with natural and blush napkins. I would then top the table with vases full of native flowering pink gum and eucalyptus. Food would be share style with beautiful large salads, barbecued whole fish and a fresh mango dessert. I am a huge fan of really relaxing spaces so generally like my table settings to be flowing and inviting. Add a few homemade Christmas crackers and it is the perfect dining setting.

6. What do you love most about cooking and creating recipes?

I love the creative element to developing recipes. I find it so relaxing to play with different flavours in my kitchen while listening to some good music. Cooking is meditative to me and an easy way for me to switch my mind off and focus on the task at hand.