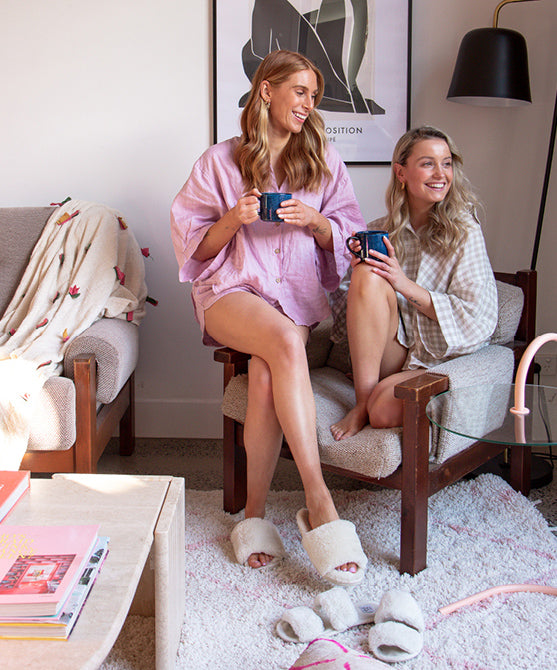 Places We Live: The Roomies
Posted: 10 September 2021
Welcome to the home of the wonderfully cool roomies Whitney & Ashlyn. These two beauties live in a chic Melbourne apartment adorned with bright, exciting artifacts.
Meet The Roomies | @whitneymayfosh & @ashlynlincoln
Welcome to the home of the wonderfully cool roomies Whitney & Ashlyn. These two beauties live in a chic Melbourne apartment adorned with bright, exciting artifacts. Throughout the home, modern furnishings are humbly complemented by the old-school bones of an original Victorian building. Best friends, roommates, one sweet cat and one lust-worthy apartment - welcome to our latest Places We Live Series.
Interior Style | Unique Vintage
Whitney: Gravitating more towards unique vintage pieces rather than styles that are newly trending gives our home a timeless feel - I love our little pops of colour amidst the warm, feminine tones. Our beautiful Victorian Terrace is filled with an eclectic collection of treasures - some vintage pieces that were passed down from generations, others new from our favourite brands & designers and a few little sentimental gifts from our nearest and dearest along the way.
Interior Style | Uplifiting & Meaningful
Ashlyn: Interior styling is integral to my self-expression, and it's all about evoking feelings of expansiveness and wonder. I find so much joy in creating spaces that feel uplifting, meaningful, and unique to me. My style is a bit of a mixed bag, inspired by all my greatest loves: food, music, art, nature, colour, writing, and exploring faraway corners of the world. I love playing with different textures, patterns, time periods, fun palettes, and bold accents. It's important to me to strike that balance between being immersed in visual gratification, but also feeling like your bones can settle into a cosy, grounded homeliness.
Favourite Nook| Mid-Century Armchair
Whitney & Ashlyn: This was a no-brainer for both of us: the mid-century armchair in our living room is our prime perch! This little nook gets drenched in the most divine afternoon sunlight and is the perfect spot to curl up on slower days with a cuppa and a good poetry book. It's Queen Minx's favourite spot too, so it can be a mission to score between the four of us. You can see us happily sharing it in the image, but don't be fooled by the pose - we're usually fighting over it!
Linen Lover | Lilac
Ashlyn: I've been dressing my bed in I Love Linen for years now, and the quality and feel are honestly second to none. The linen itself is pure luxury - it's got that perfect French linen crispness to it, but also a dreamy skin-friendly softness. I've got several designs and colourways, but I'm a sucker for the Lilac.
Linen Lover | Ruby Set
Whitney: Although nothing speaks comfort quite like wearing my Ruby Set at home with some fluffy socks and slippers, this dynamic duo goes far beyond the realms of just loungewear. The Ruby Shirt really is the gift that keeps on giving; wearing gorgeous pastel colours like this beautiful Lilac makes me feel like I'm slipping into a little piece of summer. I love wearing the shirt with a pair of classic blue jeans to head to the market on a Sunday, or thrown over a pair of bikinis to head to the beach.
Home | Familiarities
Whitney: Nothing smells more like home than waking up to Ash's freshly brewed coffee in the morning and nothing feels more like home than nestling into my Clay Gingham Sheets just before bedtime. My evening ritual is such an integral part of my daily routine and I love to spend the last few hours of an evening feeling cosy and warm with a hot cup of tea and diving into my journal.

Ashlyn: Lounging in sun-drenched rooms, the smell of coffee on slow mornings, filling the house with hand-picked blooms, playing in the kitchen with local market produce, and creating special moments around the dining table.
Giving Back | Indigenous Literacy Foundation
Whitney & Ashlyn have chosen to support the Indigenous Literacy Foundation as their charity in focus. The roomies are steadfast in acknowledging that so many of the privileges they share have been gained on stolen land. Whitney & Ashlyn chose this foundation as they believe that equal access to education and literacy is a basic human right and together feel strongly about closing this gap for our First Nation's children.

Learn more about the foundation at indigenousliteracyfoundation.org.au or @indigenousliteracyfoundation

More on our Giving Back initiative here.

Whitney and Ashlyn would like to acknowledge the original custodians of the land on which they live, the Naar & Wurundjeri People.