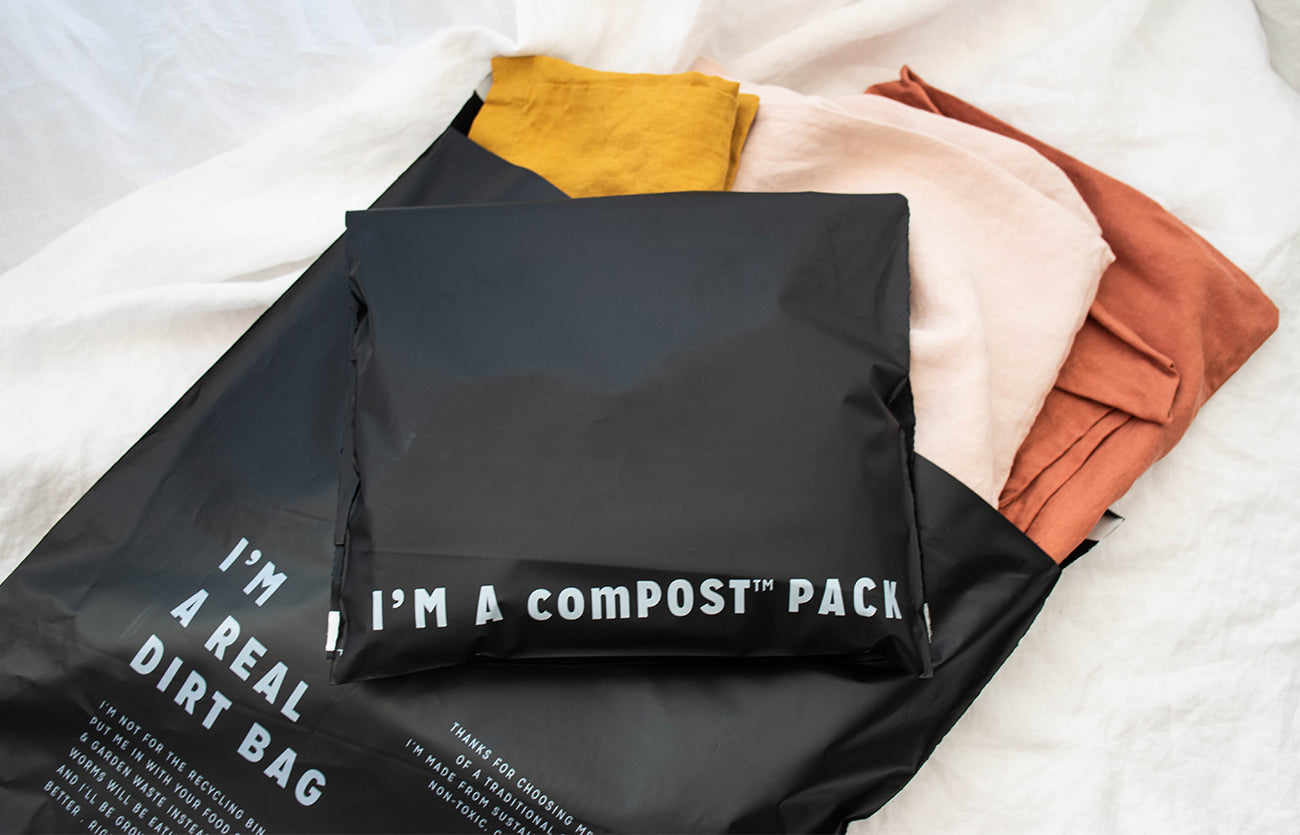 Our Interview with Better Packaging Co
Posted: 16 July 2019
If you have purchased something recently from I Love Linen, chances are that it will be either packaged up in our 100% recycled cardboard boxes or shipped to you in a Better Packaging Co comPOST bag.
Better Packaging, for us, you and the planet
If you have purchased something recently from I Love Linen, chances are that it will be either packaged up in our 100% recycled cardboard boxes or shipped to you in a Better Packaging Co comPOST bag.

We wanted to know more about the brand behind our better packaging and so recently sat down and had a chat.

Read more below
What does sustainability mean to The Better Packaging Co?
It's about preserving what we have and ensuring we leave things as we found them and hopefully better for the next generation. Sustainability is about doing things in a way where the world is protected and as are the needs of the people who live on this planet.

There is an incredible opportunity to change the way we operate for the betterment of everyone. If we look and learn from nature it is the true original circular model. Nothing in nature gets wasted all waste is re-generated back into the eco-system. We believe packaging should be the same and ours is.

At the end of its life, it breaks back down into organic particles that end up back in the earth helping to create new life. It is why we are creating the Better Collective a collection of drop off points so that we can ensure our products will become compost at the end of their life.

We know our products aren't perfect but we believe they are the best option at this point in time. We are on a journey, one we want to take our customers on and we have lots of new and exciting developments in the pipeline to make our products even better.
What was the fuel behind starting the brand?
Kate and I are both passionate about the environment and have always been people who challenge the status quo. In this current climate crisis, we see an incredible opportunity to change the way we do things for the better.

While working in the eCommerce industry for many years we saw first hand how quickly this industry was growing and become horrified by the amount of additional single-use packaging this growth is creating. We knew there must be a better way. With eCommerce volumes growing 50% every 2 years we saw an incredible opportunity to drastically reduce the amount of single-use packaging sent to landfill or ending up in nature. So we decided to investigate a sustainable courier satchel.

After many months of research, design and testing we have developed a range of Zero waste alternatives including certified home compostable courier satchels, poly bags, bubble bags, labels and ziplock bags that break down in a home compost after 90 days compared to plastic alternatives which last 100's of years.
What are some steps your team makes to be more sustainable in the office?
Where possible we try to source second-hand items for our office including our tables, chairs, filing cabinets, conference system - not only does it keep our costs down but it also means we are not contributing to more "stuff" being created. We have eep cups and also re-usable takeaways containers on hand for the team to use for lunch and coffee on the go.

We collect all our organic waste and what can goes to the team goat (Nicole's neighbors have a goat we feed!) and the rest I take home to my compost. We recycle soft plastics and of course, recycle everything. We re-use everything!

At our daily stand-ups, we share sustainability hacks and we encourage our team to work from home one day a week to reduce the environmental impact of transport.
What is one of the main goals for The Better Packaging Co to achieve in its efforts to combat environmental sustainability?
We are on a mission to replace every single-use plastic bag with a home compostable Better Packaging alternative and ensure these get comPOST'ed. To ensure they all get composted we are creating a network of drop off locations where receivers of our packaging (who don't have access to a compost) can drop off Better Packaging and it will get composted. The goal will be to not only make this available for our packaging but other certified compostable products. Drop off locations will include cafes. gyms, malls, retail shops and businesses.

Shop any of our below products to receive your item in our Better Packaging!