How to Style Our New Pattern, Ivy Stripe
Stripes became a core pattern in our collection with the launch of our best-selling Marine Blue Stripe in 2019. Our range continues to expand with the introduction of Ivy Stripe. Be inspired by the beautiful and different ways you can style this elegant stripe. We're excited to share three aesthetic looks you can try for yourself.
A Focus on Ivy Stripe | The Power of Green
Our vision for this look was to highlight the striped pattern and contrast with deep shades in our styling accents. Our inspiration was the luxe moments you might come across travelling in Italy. You can achieve this look by layering our Ivy Stripe Sheet Set with our Ivy Stripe/Ivy Double-Sided Quilt Cover.


To complete your bedroom look, we suggest being bold with contrasting tones. This beautiful bed side table from our friends at McMullin & Co is the perfect size and colour, with a big enough table base to hold a gorgeous lamp, some of your favourite books and a candle for creating a cosy mood in the evening. With every glance, you're transported to the sun-soaked terraces and rolling hills of Italy, where the art of relaxation is perfected.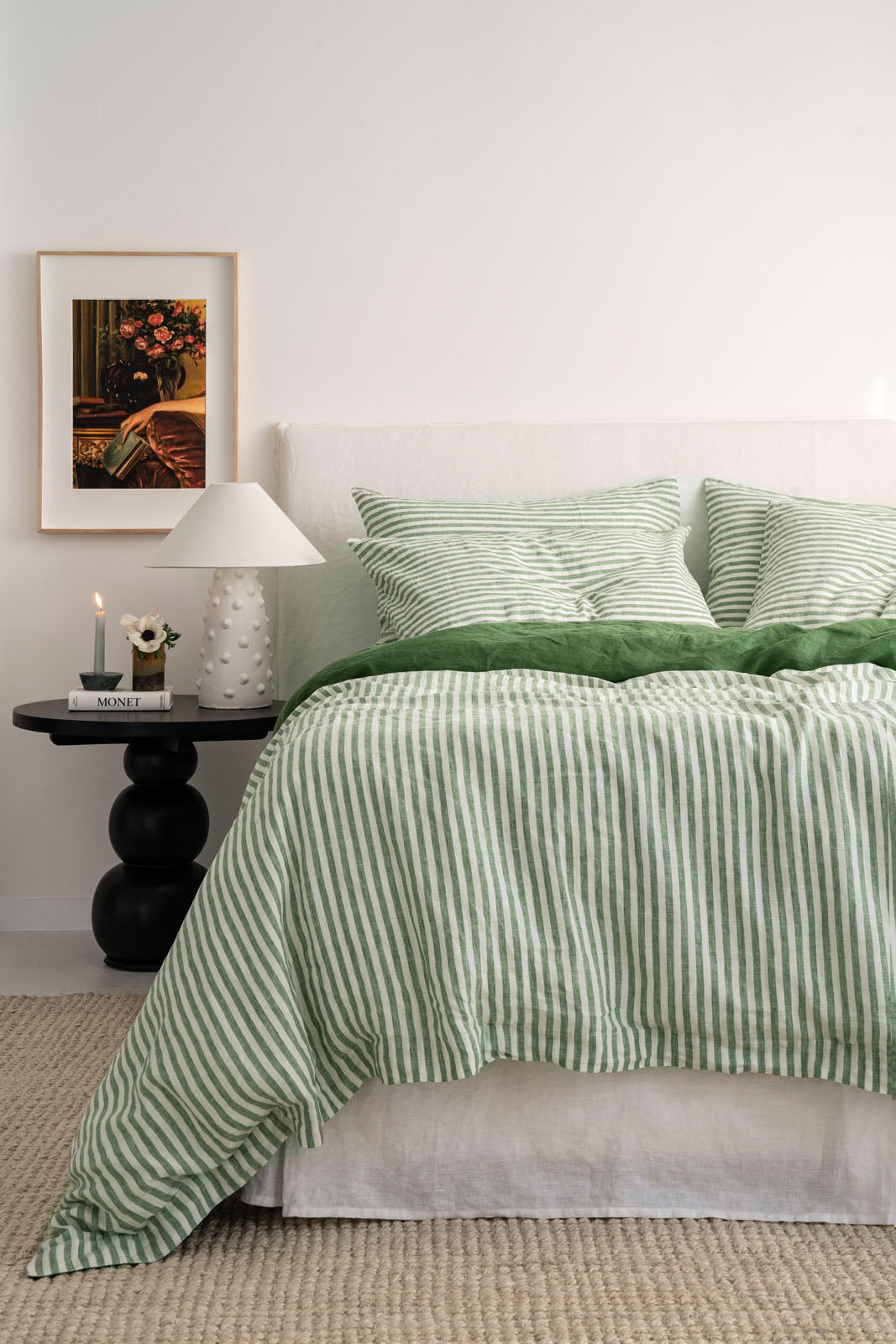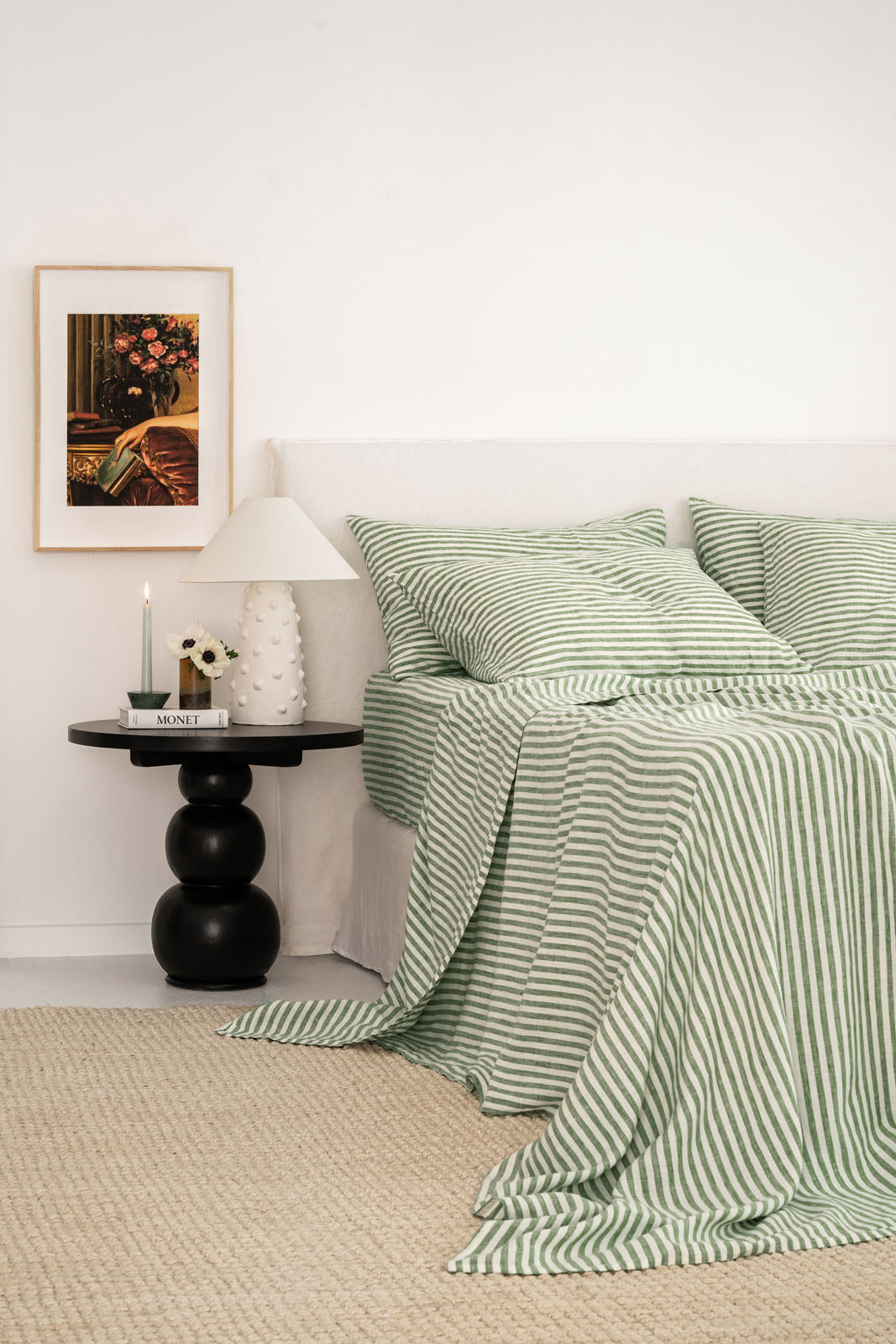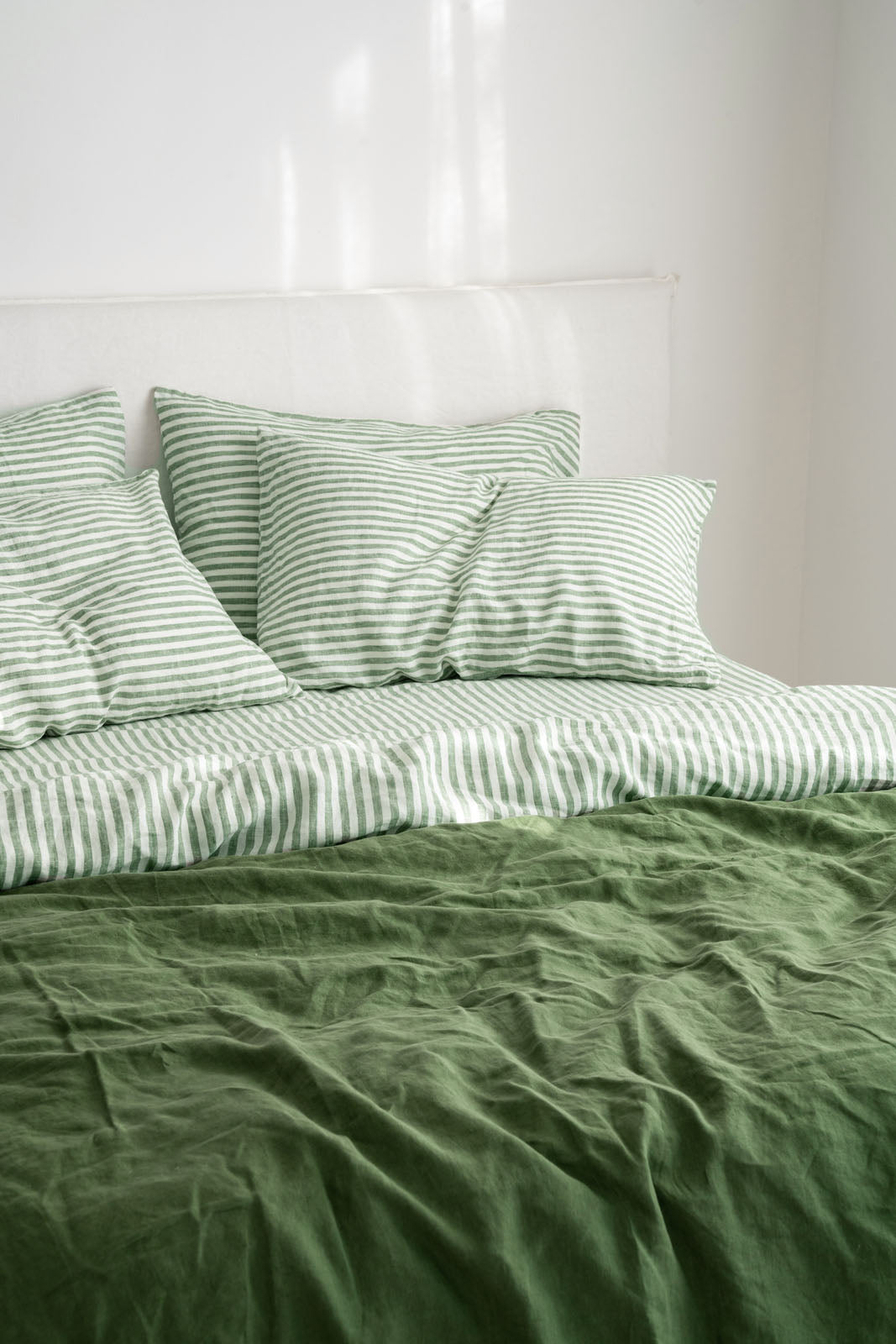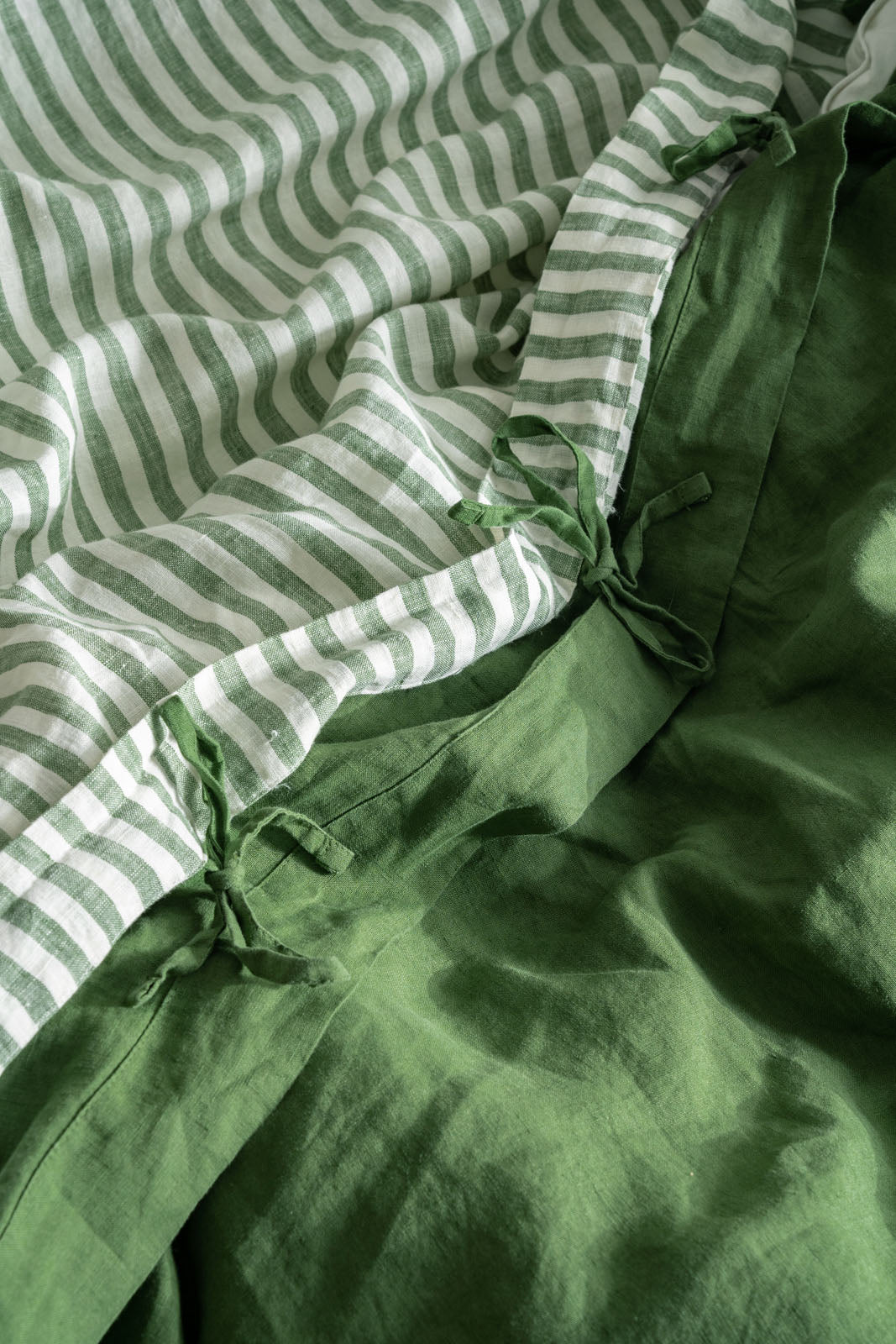 "I feel transported away to a beautiful holiday in Sicily, which was part of the inspiration behind this design. It's elegant, calming and with the Double-Sided Quilt Cover you get the best of both worlds and I absolutely love it"
- Lauren, Founder
Ivy Stripe, Ochre & Sandalwood | Mid-Century Magic 
A much-loved interior aesthetic at I Love Linen, we absolutely love the Mid-Century look. Often focusing on the use of natural tones, it's like Ivy Stripe was made for this era. This look allows the soothing and earthy Ochre Quilt Cover to take center stage, balanced by the structured lines of the Ivy Stripe Sheet Set. We also opted to finish the look with a set of Sandalwood French Flax Linen Pillowcases.


From a styling perspective, it's a great design scheme to work with. We loved working with warmer wooden tones, including a beautiful side table from McMullin & Co and rattan bedhead, as well as a beautiful hand made lamp from our friends at Saunter Studios. A bold and geometric art print completes the look.
‌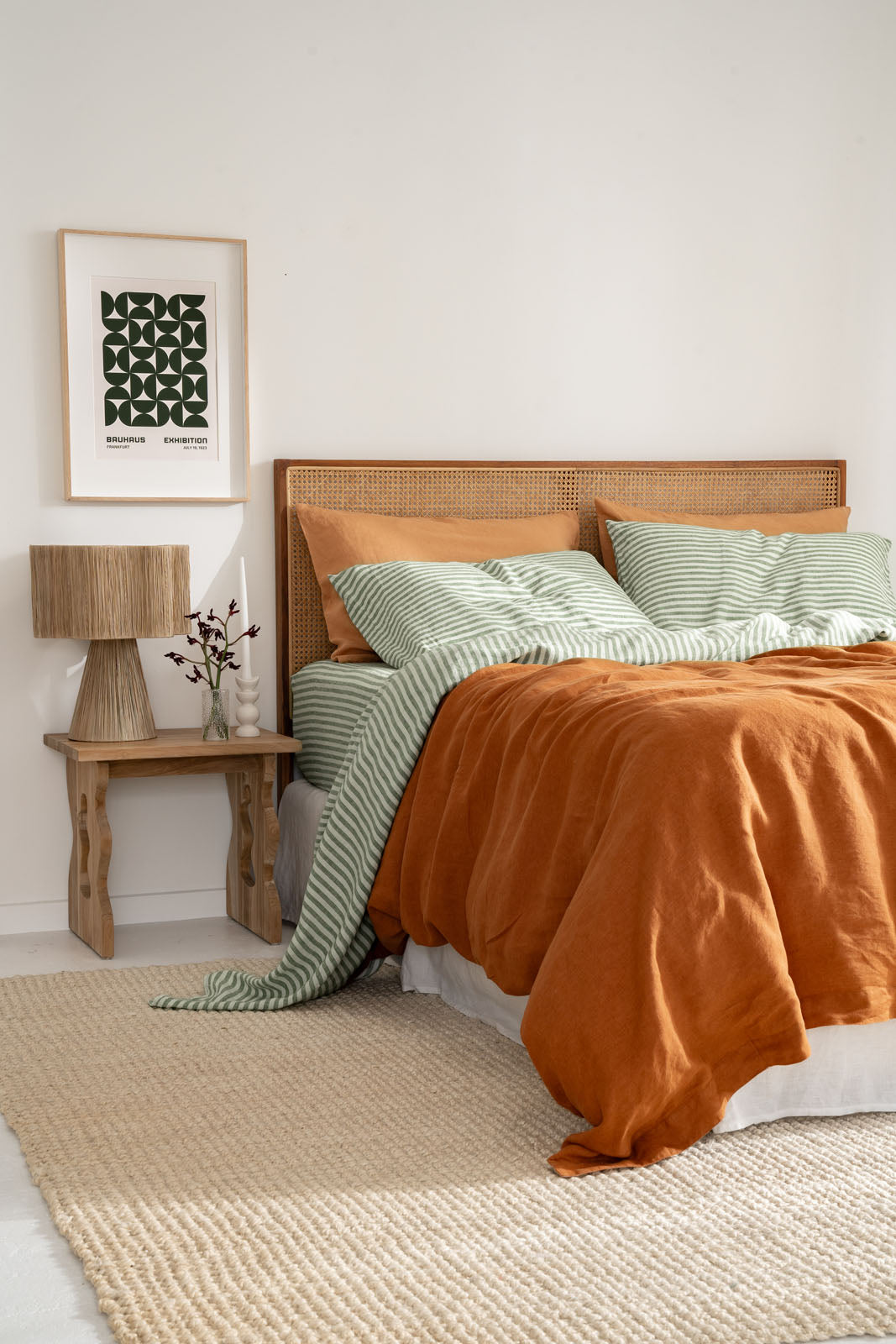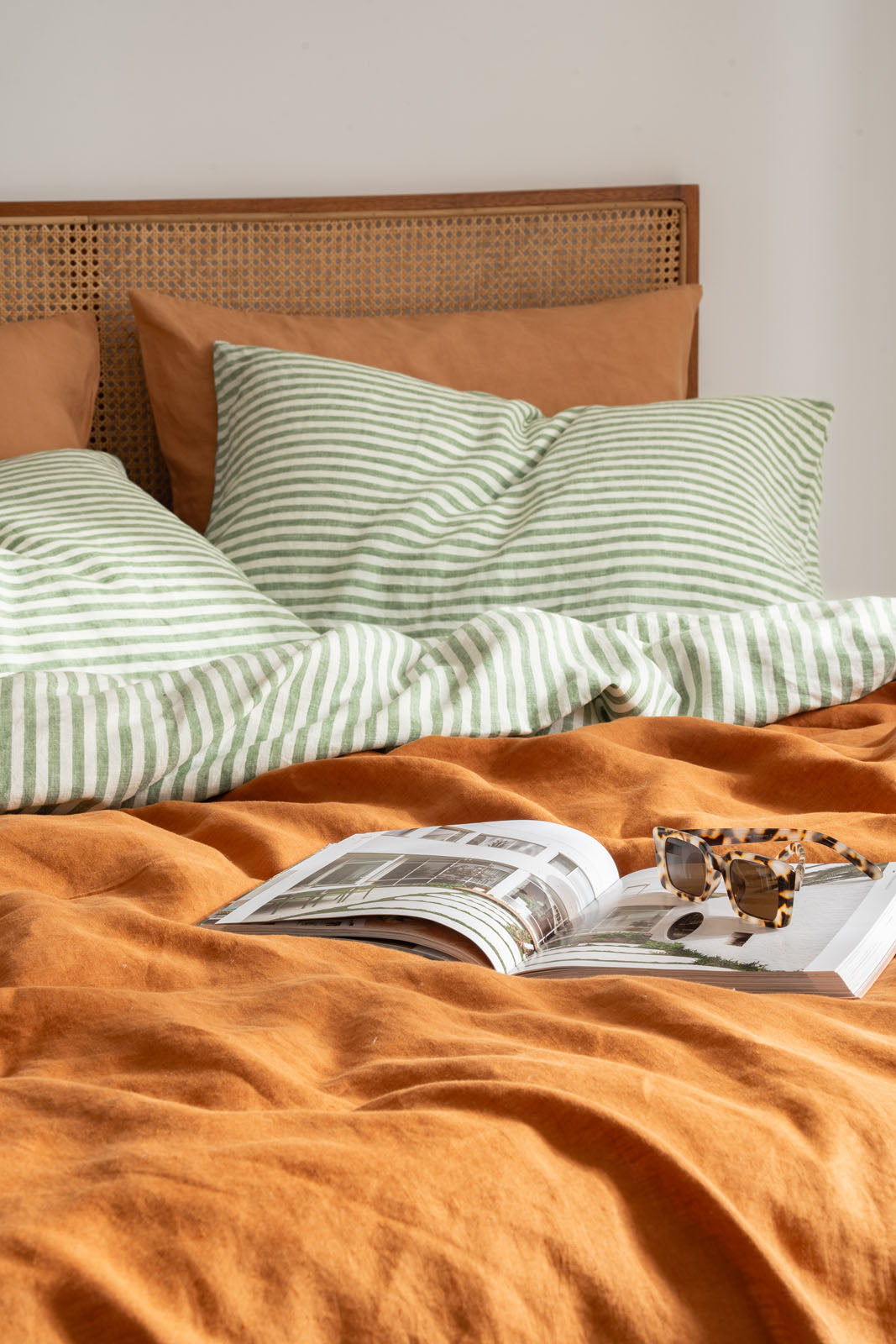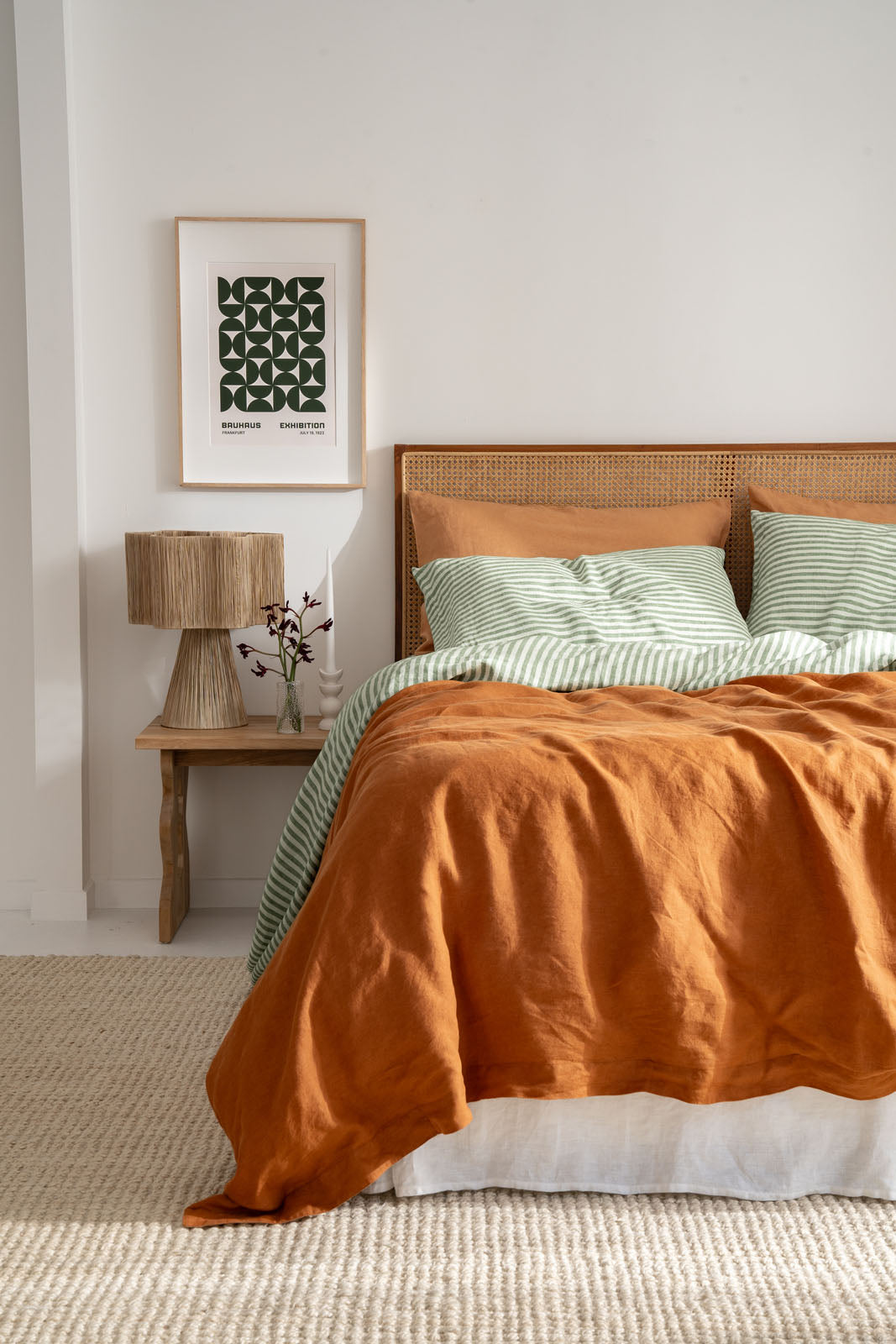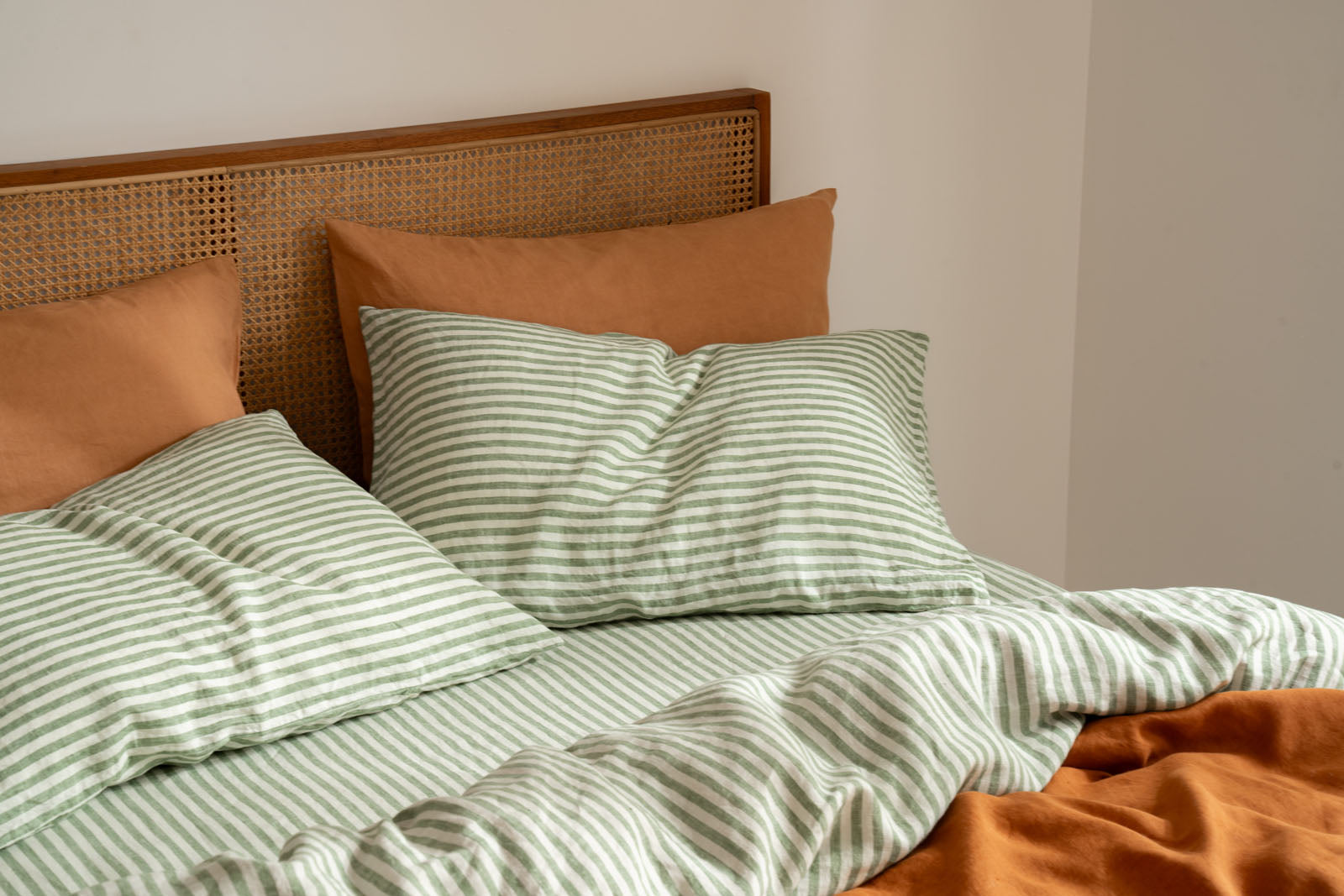 "I would suggest this exact look if you lean towards natural tones, and want to bring in warm wooden styling elements for a cosy look that has a hint of nostalgia"
- Lauren, Founder
Ivy Stripe, Ivy & Blush | Country Cottage Charm
Stripes, and green stripes in particular, work perfectly in a country cottage setting. Create a soft and delicate bedroom full of femininity, alongside the classic lines of the Ivy Stripe. Create your perfect cottage cosy vibe by pairing our versatile Ivy Stripe/Ivy Double-Sided Quilt Cover Set with the soft and subtle tones of our Blush Linen Sheet Set. We've included a pair of Ivy Stripe European Pillowcases to tie in with the Quilt Cover.


This look is soft and calming, and we'd suggest opting for cosy wooden tones and the use of rustic rattan with a beautiful hand made vase by Saunter Studios. A big and inviting bunch of flowers is mirrored by a delicate painting. The overall effect is incredibly inviting and takes you to a place of rest and relaxation.