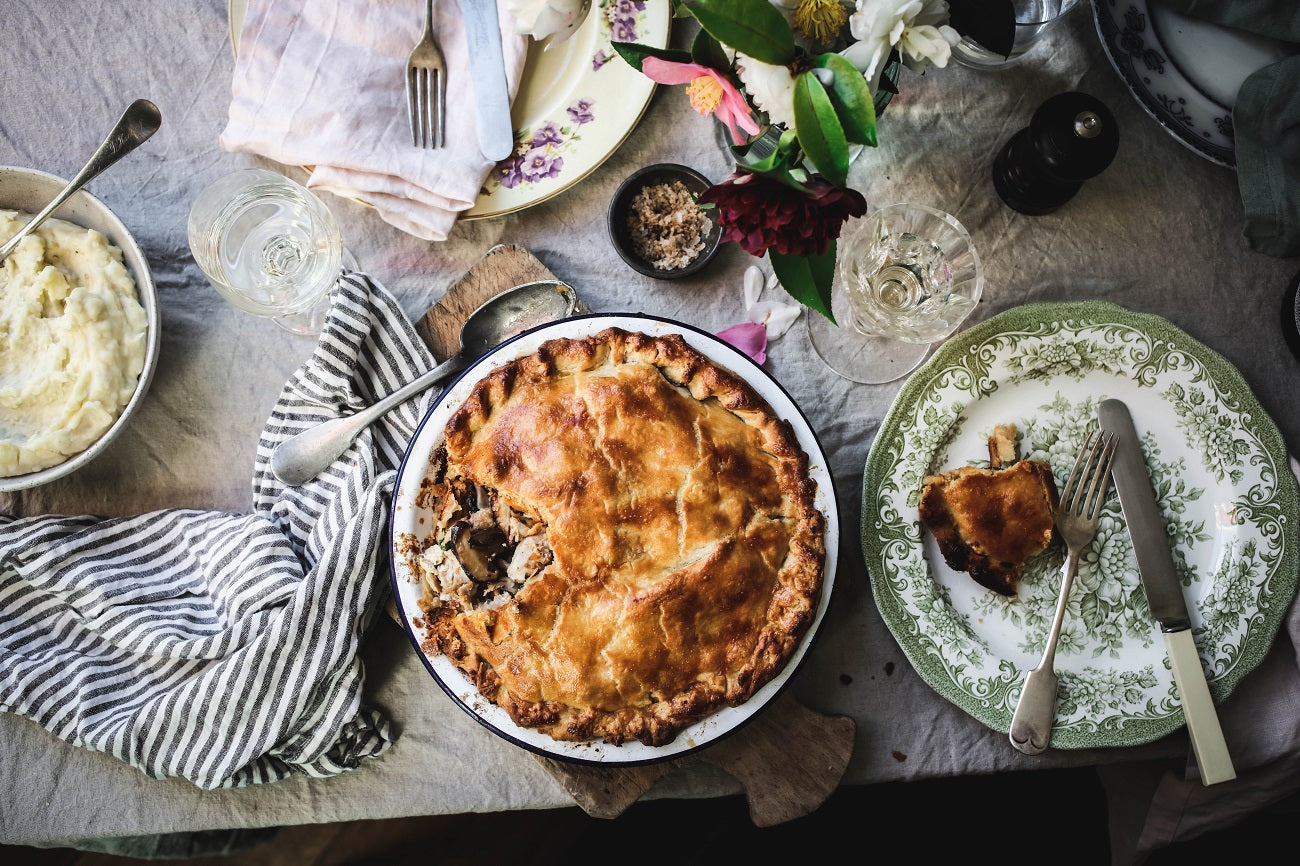 Harvest + Gather with Michelle Crawford
Posted: 13 June 2018
Michelle Crawford relocated from Sydney to beautiful Tasmania many years ago and has been busy with all things food ever since.
Michelle Crawford relocated from Sydney to beautiful Tasmania many years ago and has been busy with all things food ever since. We asked the talented stylist and writer three quick questions which you can find below. Keep scrolling for the recipe to that lovely mushroom chicken pie.
How did you find your way into food writing and styling?
I started writing recipes for my blog Hugo and Elsa, many moons ago, I had two small children and writing about food and taking photos was my much needed creative outlet! From there I actually started work as a cook on photoshoots, and that quickly developed into styling, and recipe writing as well. I now get to work almost full time from home and on location cooking, styling and writing recipes for some truly great brands. I love it!
You're based in Tasmania now, what inspired your move?
I was living with my husband Leo and baby daughter Elsa in Sydney's inner west, but we were seeking a slower paced country lifestyle, after spending weekends visiting regional NSW and Victoria looking for somewhere to settle, old friends invited us to Tasmania for the weekend and it was love at first sight! The snow-capped Mount Wellington, the delicious produce and stunning scenery had us hooked. We went back to Sydney, quit our jobs, packed up the house and moved here six weeks later.
What's your staple winter meal that your family loves?
Probably a good old fashioned roast, maybe a leg of lamb from our friend's farm, with lots of rosemary and garlic, then you can add lots of roasted winter vegetables as well. But it's all about dessert in our house really, and I think an apple crumble with a buttery, walnut topping would always be the winter favourite, I might go make one now!
The Recipe
When the cooler weather hits Tasmania, I like to gather indoors with friends for cosy weekend lunches. It may be grey outside but I set the table with pink and green linens, (a reminder of the coming spring), a cheery vase of winter blooms like camellias, vintage crockery and mismatched cutlery, which seems to keep the chills at bay.

On the menu, it's all about comfort food like this chicken pie. It may seem like a long recipe, but this classic French-inspired filling is so impressive and full of flavour I don't mind spending the time in a warm kitchen to make it. Look out for interesting varieties of mushrooms you'll find at Farmers Markets and speciality grocers. Serve the pie with some creamy mashed potatoes, a fresh salad of bitter leaves and a Tassie chardonnay.

If a pie seems too much of a stretch, you could just serve the chicken and mushrooms as they are, just finish the sauce as instructed below, then place the chicken pieces on a warmed serving platter, pour over creamy sauce and serve.