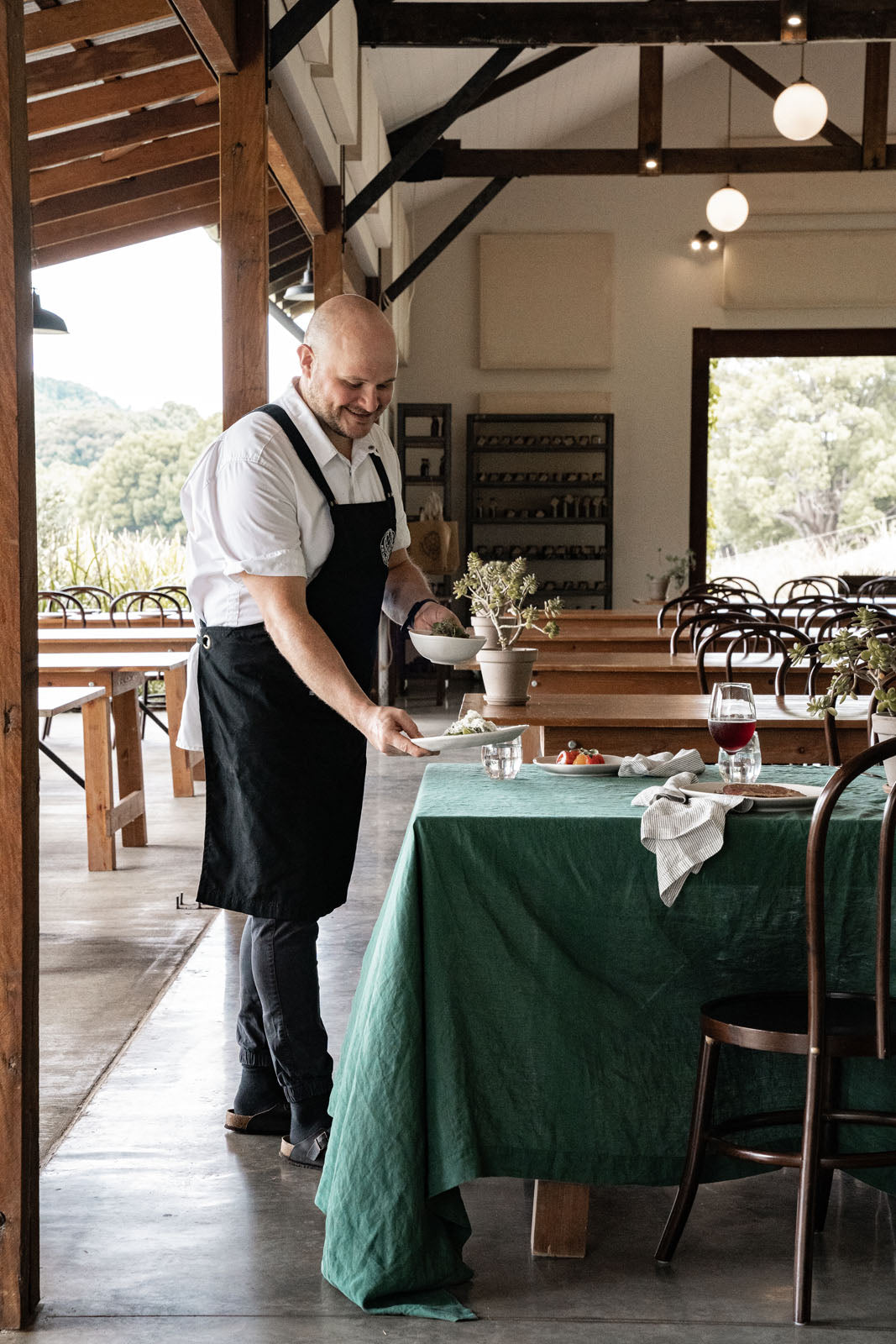 In Conversation with Alastair Waddell from Frida's Field
Posted: 20 April 2023
Join us on a day trip to the breathtaking Nashua area of the Byron Bay Shire. This is the perfect backdrop for our brand new Jade dining range, if we say so ourselves. At Frida's Field in the Byron Bay Hinterland, just 10 minutes from Bangalow, a private eco-farm, restaurant, wedding venue, and event space awaits you.
It is no wonder Frida's draws people from everywhere. Aside from the incredible views, it is also a culinary delight. Much of this is thanks to multi-award-winning chef Alastair Waddell, whom we have the pleasure of talking to today.

Having lived in the Byron Bay region since 2017, Alastair has developed strong connections with many local growers and producers. His menus use seasonal crops grown on the farm or other local producers to create delicious, produce-driven dishes.

We can't say enough good things about Frida's Field. If you haven't been, we highly recommend trying it, but don't trust us — read on to hear what Alastair has to say and see how we styled our new Jade Table Cloth & Jade Napkin Set in their space.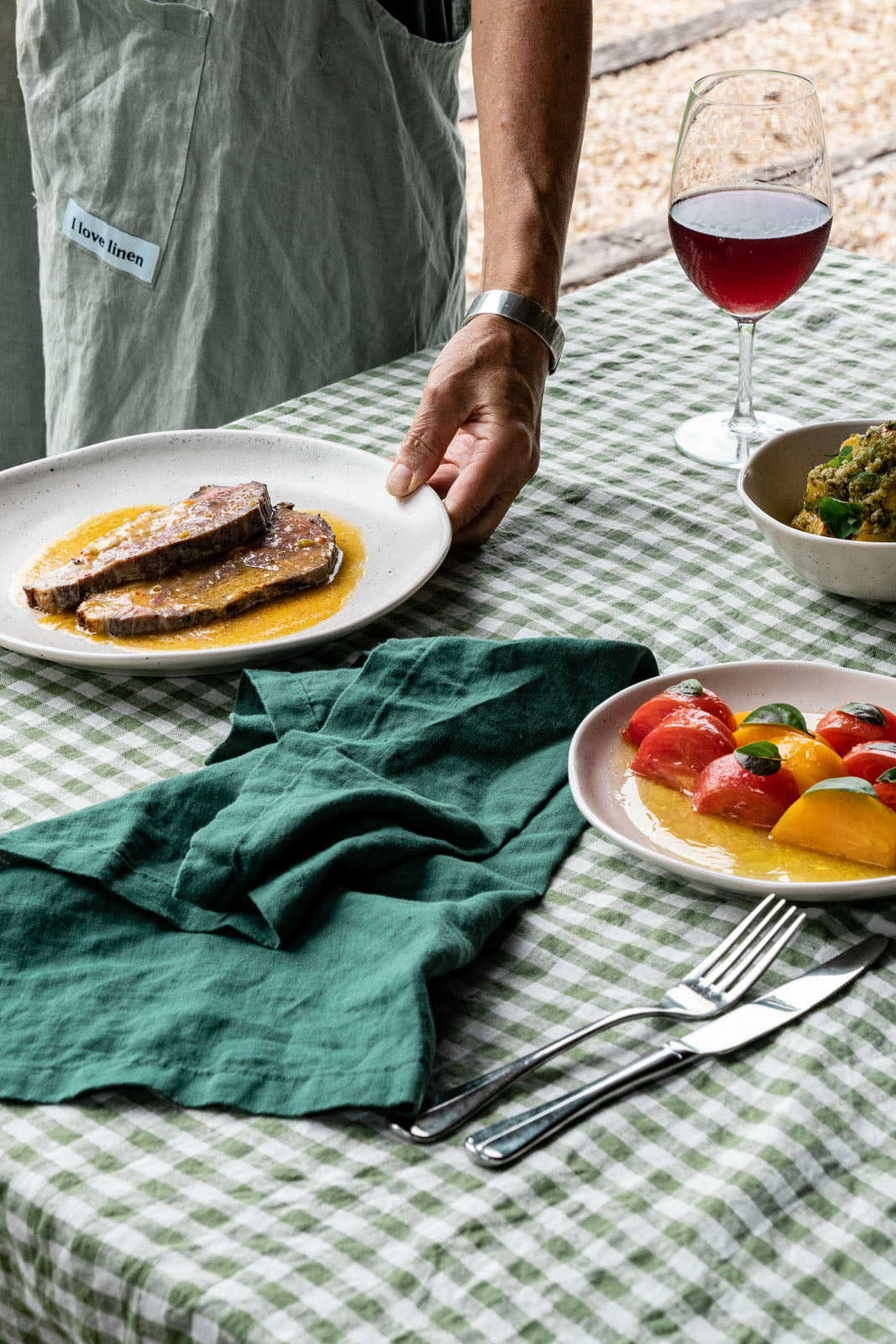 Q: Frida's is one of the most unique dining experiences in the Byron shire. With the location being so awe-inspiring, what did you want to bring to the menu when you first took on the role?


A: Ultimately, we want our guests to come and experience our hinterland paradise. Our menus are purely a reflection of that. From our farm-grown vegetables to our reared angusXwagyu beef, our guests will sample amazing ingredients at their absolute peak of quality.
Our Ivy Gingham Table Cloth is the perfect base for our new Jade French Flax Linen Napkin Set. Also featured is our French Flax Linen Apron in Sage.
Q: What is it about the sharing style of dining that works so well? 


A: Our long lunch is served as multiple Shared dishes over 3 hours. Sharing brings a sense of conviviality that helps create a fun and relaxed environment.


Q: The menu is seasonal, but are there any dishes you think will never leave the menu?


A: We create a new menu every six weeks. This is dictated by how much we can grow and how long we find ingredients at their peak. That gives us two menus each season which keeps our regular guests excited also. Using our own cattle ensures beef is a regular feature on our menus.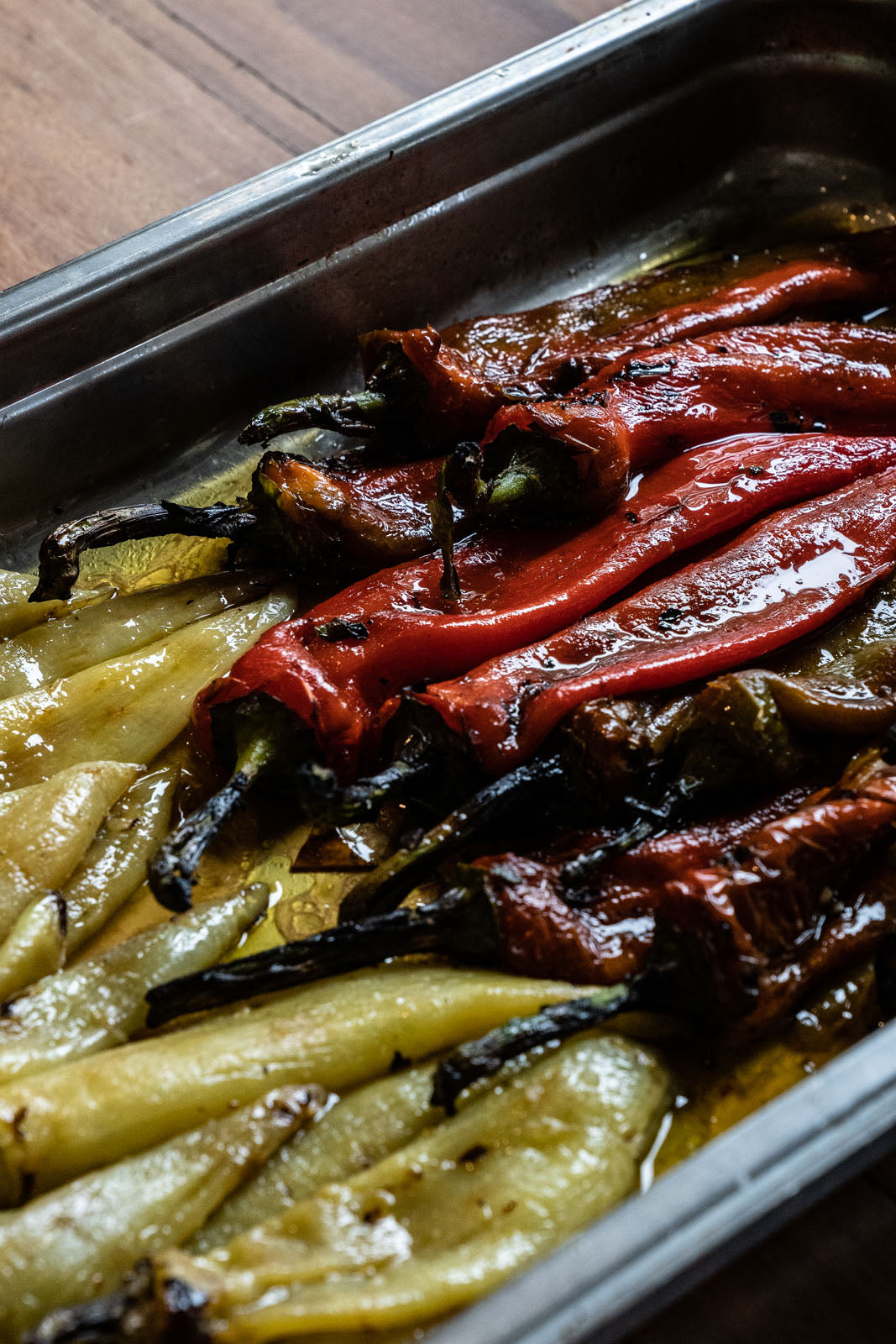 Q: I'm not going to underestimate the benefit of using ingredients grown directly on the farm - but what makes it a special benefit for you? 


A: Simply put, quality. We have the luxury of being able to harvest ingredients the same day a guest will eat them. How special is that! We have more control over what's growing also — for example, with the fennel Jeanie has grown, when the plant is young, we snip their delicious fronds for garnish before waiting to use their bulbs; with what's left, we leave to flower then collect the most incredible pollen to use as a seasoning on our summer menu. Finally, we collect the dry seeds for use in spice rubs later in the year.
Q: What's the best part of your job?


A: Working with a great crew of like-minded individuals who come together to create a beautiful experience in a very special part of the world.


Q: The interiors, with their soaring barn roof and open view of the land, really are quite jaw-dropping. Do you think this connection to the outdoors elevates people's feelings when eating your food?


A: Absolutely. As a guest, it's a real escape from the outside world. You immediately feel relaxed and connected to the nature around you. Then, as you unwind, your senses awaken as you begin to enjoy our cuisine.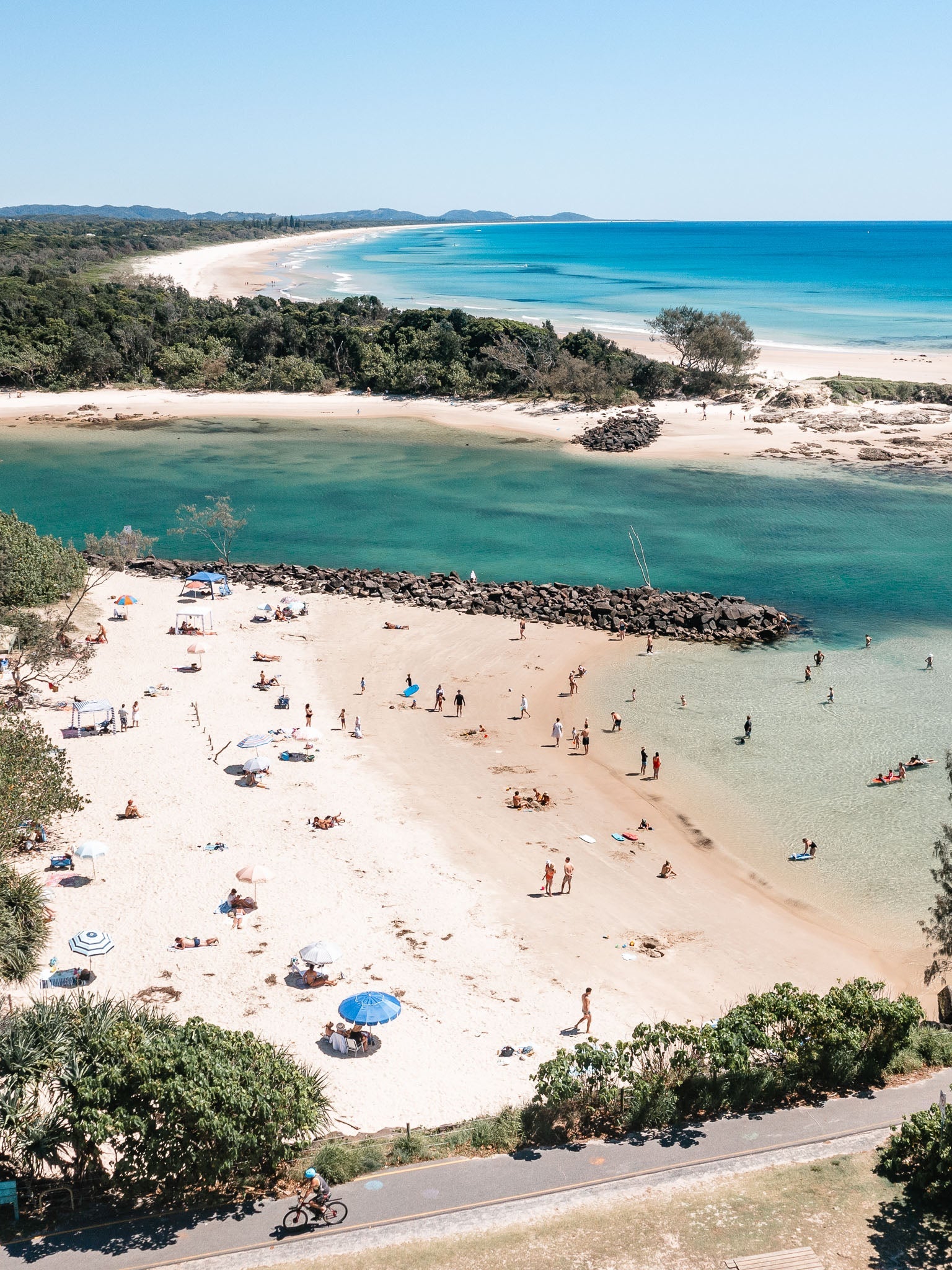 Q: When you're not at the helm, what does the perfect day trip out for you look like?


A: We are truly spoiled living in a beautiful region with much to offer. For me, a drive through the hinterland with my partner Moira and child Maysie, with a few fun stops along the way, is perfect! We usually drop in on one of our many local farmer's markets where we can source amazing natural food right at the source. We often will drive country to coast and end up in Brunswick's heads enjoying a treat from Wal at natural Ice cream Australia which is exceptional And healthy. Then perhaps an early bite and sundowner at restaurant Cadeau. Perfect.
Q: Slowing down, being mindful and wasting time in the pursuit of pleasure is so important. What do you do to take time out?


A: Honestly? Cooking. Cooking at home is a great way to bond with your family and have fun.


What's going on at the table for dinner is a great source of debate in our family throughout the day, followed by a trip to source ingredients and then finally preparing something delicious in the kitchen. For me a relaxing pastime away from the pressures of cooking professionally.
Here we've styled our newly launched French Flax Linen Table Cloth in Jade with our classic Pinstripe Napkin Set.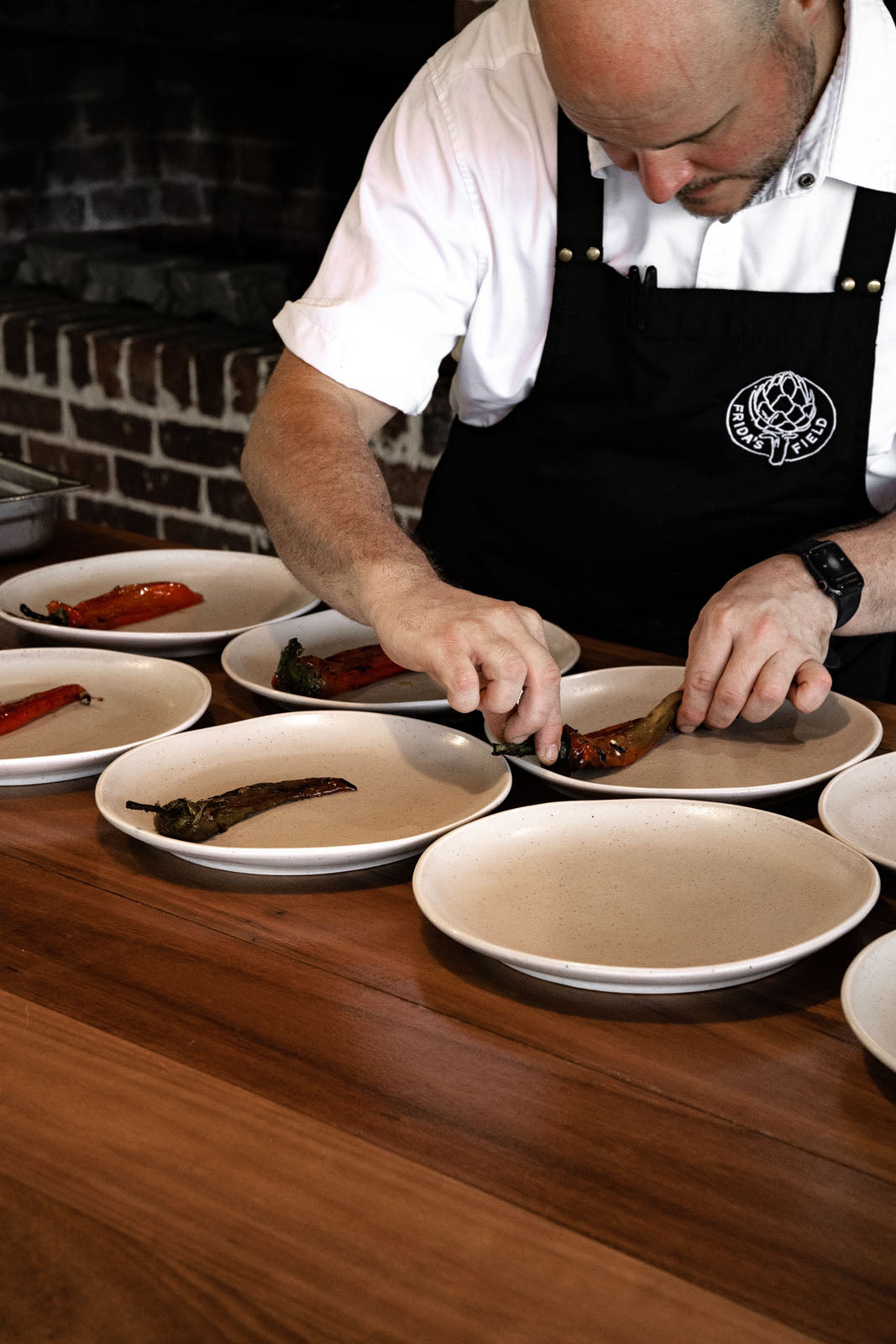 Q: We believe that if you sleep well, you live well. What does your sleep wind-down routine look like (or one you aim to try and commit to when you can!)?


A: Chefs often lead lifestyles not considered routine. Late nights, early mornings, stress.
These days my goal is to hit the hay early, ready for an early start the following day. If it's late, I try to avoid Netflix and opt for a few yoga stretches, deep breaths and a cookbook. Zzzz.