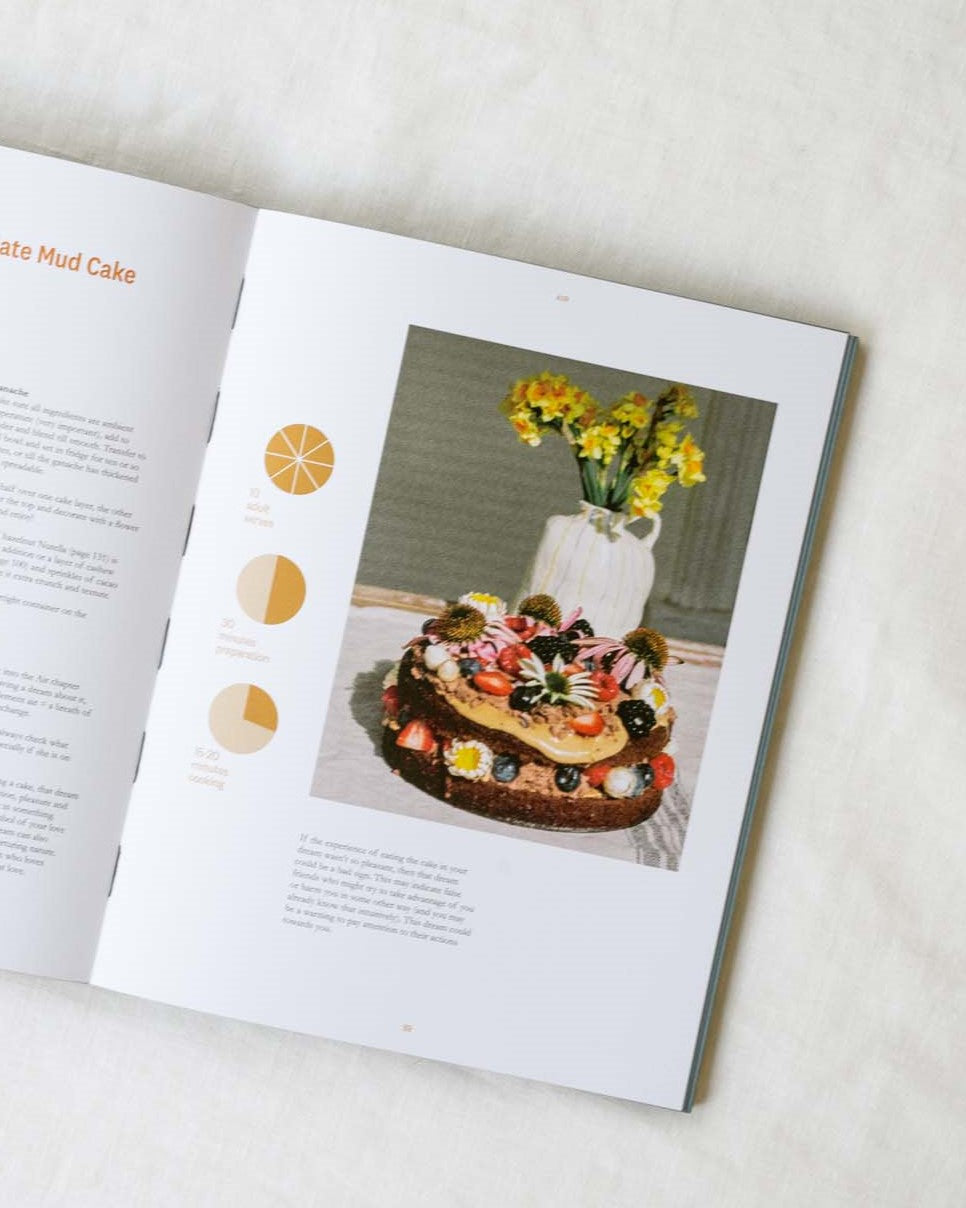 Finding your Kitchen Magic
Posted: 18 July 2023
Our friend Jana otherwise known as @thesecret_kitchen who brings over 14 years of experience as a naturopath, herbalist and passionate food advocate shares her kitchen secrets and a scrumptious earth cake recipe.
Affectionately calling herself a kitchen witch, Jana encourages you to embark on a magical journey into your very own fairy-tale realm, where you can craft an Earth-inspired cake or treat using the bountiful gifts of nature.
Jana, with a Bachelor's degree in Health Science and more than 14 years of collective experience in Naturopathy, is celebrated for her composed and dedicated approach. Her clients travel great distances to seek her wisdom and proficiency, recognizing her exceptional and personalized care. Having spent her childhood in Eastern Europe, Jana has nurtured a profound connection with herbs and their therapeutic properties from a young age. Having recently discovered her calling in the picturesque Byron Hinterland, she shares her gorgeous earth cakes and intuitive eating with the world through her Instagram and website.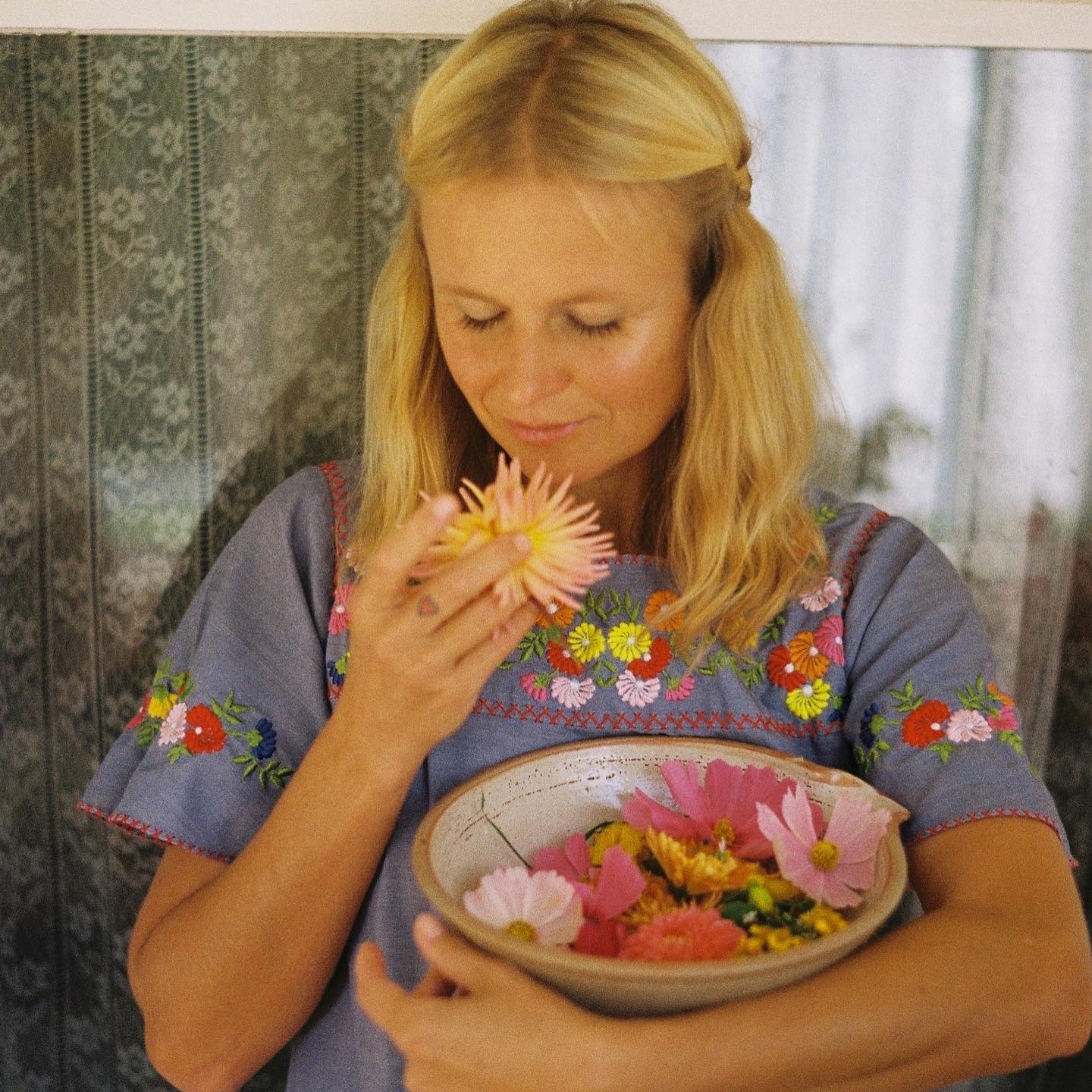 Q1: You might almost forgive someone for not seeing the connection between holistic health and baking, yet here we are reading your divine book. Tell us what draws you to aligning your health practice within the baking realm?


A: The book is designed to step away from commercial baking which uses bleached flours, processed dairy and refined sugars. And to inspire you to use nutrient dense ingredients as close to nature as possible. For example, we use almond flour instead of processed gluten flours, monk fruit sweetener or sweeteners which are rich in minerals and low glycemic index. And coconut cream instead of diary. All the ingredients are gentle on the gut in general. They will not affect your blood sugar as refined sugars will do. This is the connection to holistic health because our health starts with treating our food as medicine and with a low impact on our environment.


Q: What is one bit of ancient magic we can try and build into our daily lives?
Our souls yearn for magic. Kids love all stories about magic and fairy tales. Even as you get older magic and fantasy still have their place in your heart, but it gets easier and easier to forget the "spells" that bring it out. And that's when attracting magic into your life becomes a fundamental need.
Everything starts with a dream, a vision, or an idea.The difference between people who believe in themselves and people who don't is that the people who do believe they'll be able to take one more step than their strength allows them. And that's when the miracles appear and they end up reaching heights no one thought they ever could.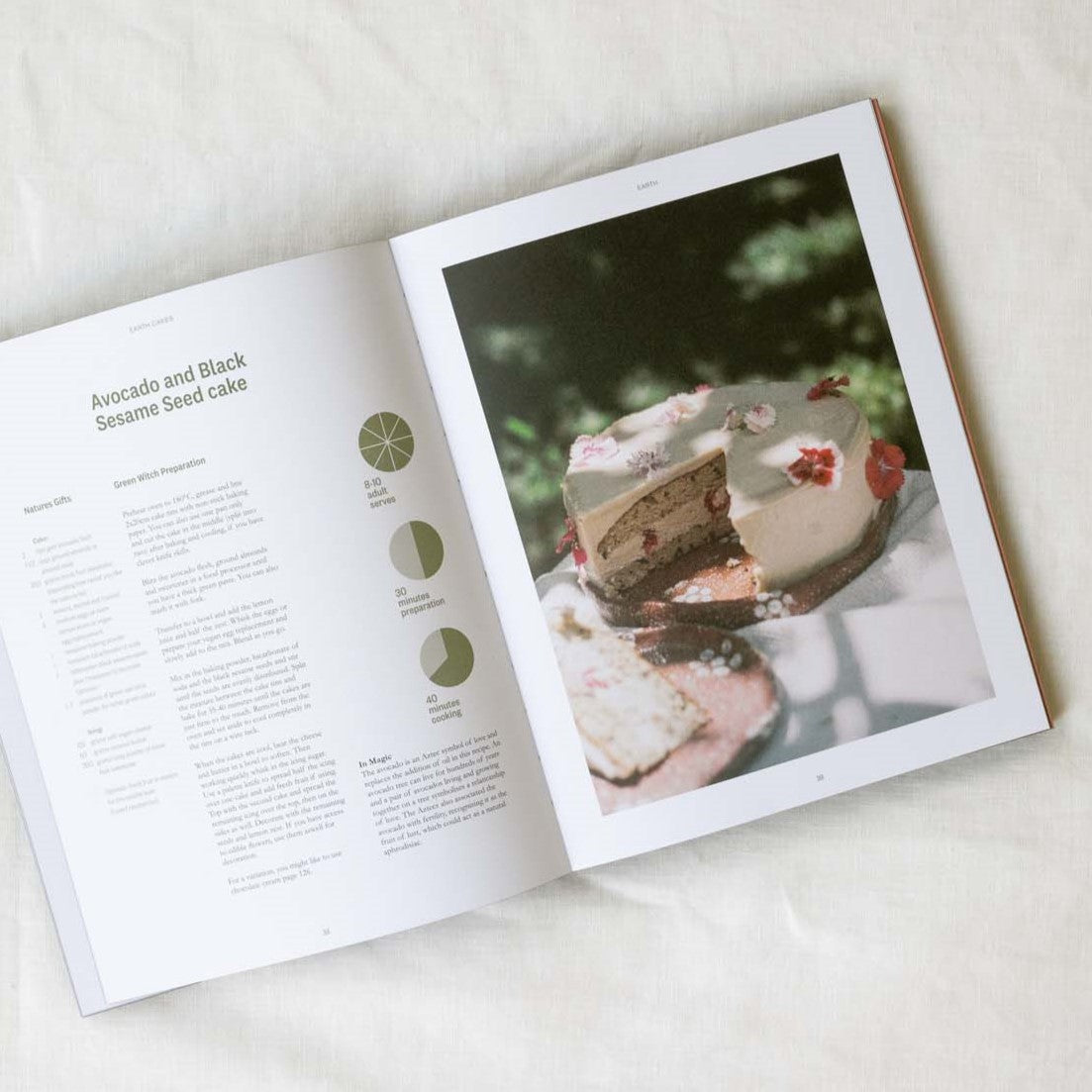 Q: If you could inspire someone just that little bit more to learn about botanical powers, where would you suggest they start when starting their own self practice to incorporate into daily life?

A: To start their own herbal garden or grow herbs at home, close to the window. Then learn how to use the herbs in cooking, herbal medicine and also in doing spells or rituals. The Earth Cake book contains information about easily accessible herbs to do so. You can learn how to grow the herbs, use them for medicinal purposes and also infuse them into your Cake creation if you wish. It emphasises the importance to be gentle to our environment and work alongside our mother earth.

Keep scrolling for the full Avocado and Black Sesame Cake recipe
Q: The Power of Flowers is undeniable, but where did your love of florals stem from?
A: I was born in the Mountains of the Czech republic, surrounded by fields of wild flowers which was my playground. My passion for flowers comes from my childhood. My grandma was my biggest inspiration to plant medicine and its magic. She was passing her wisdom from her generations from Eastern European witches/herbalists onto me since I was a little girl. The passion that comes from then has never left me since.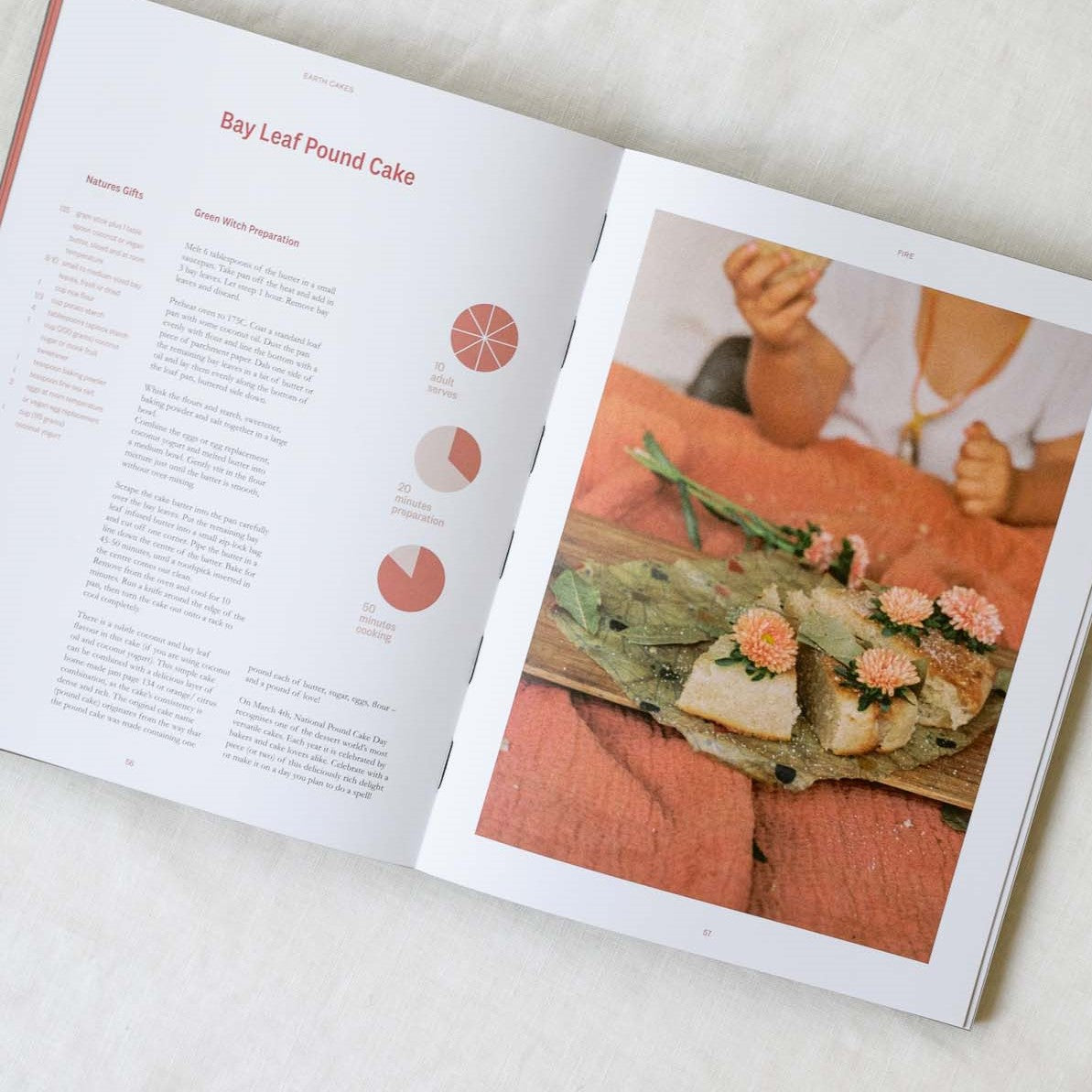 Q: The concept of Kitchen Witch is truly enthralling. Tell us how you want your readers to see themselves and they explore your recipes
A: I like the readers to use their own imagination. The recipes are just a base to create their own tale from baking and life. You will find very simple recipes for beginners and also some more complicated recipes for readers who like the challenge. I like the readers to awaken their inner green or kitchen witch by reading the in between chapters too.  
Q: We believe that if you sleep well, you live well. What does your sleep  wind down routine look like (or one you aim to try and commit to when  you can!) 
A: My sleep routine revolves around my 3 year old son. We do the routine for him, read a few books and then he goes to sleep with nice music. I would have some type of herbal tea I feel like on the day, generally a calming tea. I love tea blends with lavender in them. Then I would read a book myself, if I'm not too tired, then go to sleep not long after my son
Recipe: Avocado and Black Sesame Cake
Ingredients
For the cake:
- 2 ripe gem avocado flesh
- 1 ½ cups ground almonds or almond meal
- 250g monk fruit sweetener (depending on how sweet you like the cake to be)
- 2 lemons, zested and 1 juiced
- 4 medium eggs at room temperature or vegan egg replacement
- 1 teaspoon baking powder
- 1 teaspoon bicarbonate of soda
- - 1 teaspoon of black sesame seeds plus 1 teaspoon to decorate 
Optional - teaspoon of green spirulina powder for richer green colour


For the icing:
- 125g soft vegan cheese
- 50g coconut butter
- 300g icing powder of monk fruit sweetener


Optional - fresh fruit in season for the middle layer (like raspberries)
Method

1. Preheat oven to 180°C, grease and line 2x20cm cake tins with non-stick baking paper. You can also use one pan only and cut the cake in the middle (split into two) after baking and cooling, if you have clever knife skills.

2. Blitz the avocado flesh, ground almonds and sweetener in a food processor until you have a thick green paste. You can also mash it with a fork.

3. Transfer to a bowl and add the lemon juice and half the zest. Whisk the eggs or prepare your vegan egg replacement and slowly add to the mix. Blend as you go.

4. Mix in the baking powder, bicarbonate of soda and the black sesame seeds and stir until the seeds are evenly distributed. Split the mixture between the cake tins and bake for 35-40 minutes until the cakes are just firm to the touch. Remove from the oven and set aside to cool completely in the tins on a wire rack.

5. When the cakes are cool, beat the cheese and butter in a bowl to soften. Then working quickly whisk in the icing sugar.

6. Use a palette knife to spread half the icing over one cake and add fresh fruit if using.


7. Top with the second cake and spread the remaining icing over the top, then on the sides as well. Decorate with the remaining seeds and lemon zest. If you have access to edible flowers, use them as well for decoration.