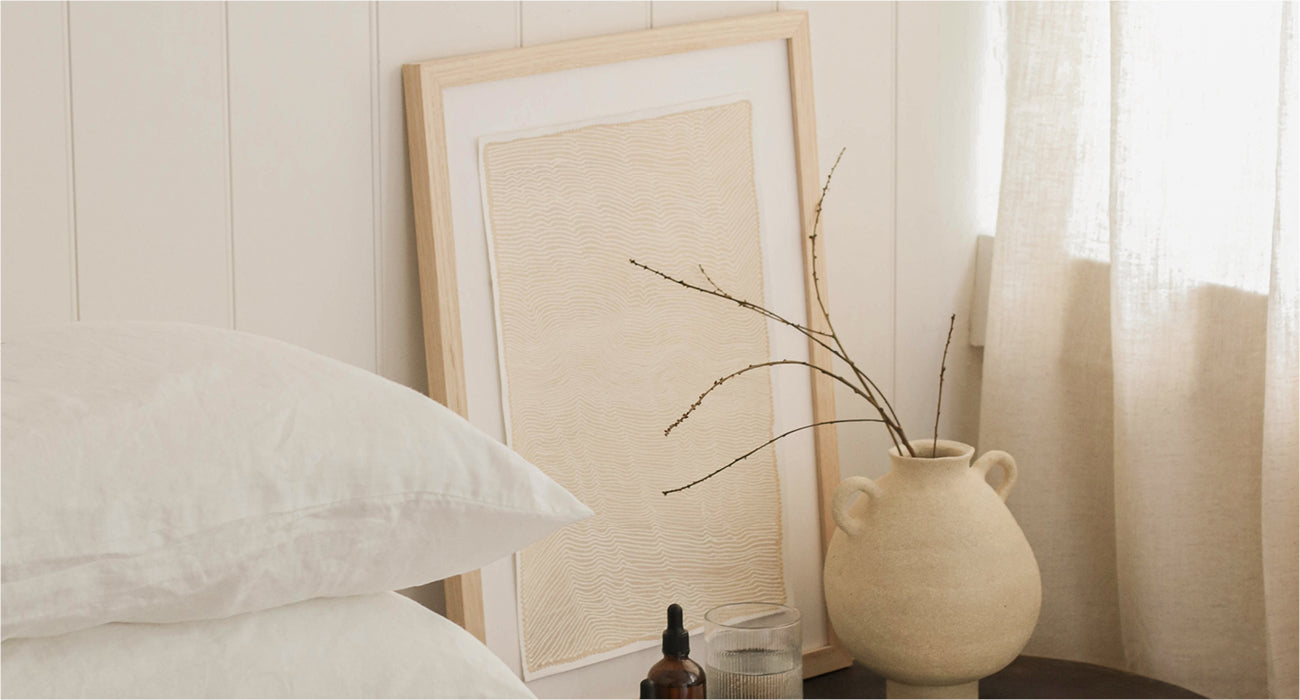 Favourite Brands for Bedside Styling
Posted: 23 June 2021
A few of our favourite brands at I Love Linen include Sunday Lane, Maison Balzac & Marloe Marloe.
A few of our favourite players in the bedside styling game
Avoid your bedside table becoming overcrowded with odd items that become long forgotten. By selecting a few staple styling pieces, you can really elevate the look of your bedroom and create calm around your sleeping space. A few of our favourite brands at I Love Linen include Sunday Lane, Maison Balzac & Marloe Marloe.
Sunday Lane
Dreamt up by author and illustrator, Caitlyn Everett, Sunday Lane is a store and studio founded on modern-day narratives and inspired gifting. The Sunday Lane store is committed to offering a unique collection of carefully considered, handmade and effortlessly beautiful pieces for the home, and more. Caitlyn sells various A4 sized prints that provide the perfect styling piece for a clean side table look. Style this piece alone for a paired back look, or upstyle with a unique ceramic vase.
Maison Balzac
Here at I Love Linen, we are lovers of quirky glassware as an essential styling piece for any side table series. If you follow us on Instagram, you will know that Maison Balzac often features alongside our French linen Bedding. Maison Balzac creates some of the most wonderful decorative objects that are equally beautiful as they are inventive. Some of our favourite pieces from this Australian owned company include J'ai Soif Carafe & Glass, set of Goblets, Volute Candles & Chandelles Candles.
Marloe Marloe
Marloe Marloe is a luxury ceramic and design studio creating timeless works that transcend trends and journey with their owners throughout a lifetime. Each object is skillfully handmade by artisans in small batches, resulting in one-of-a-kind pieces refined by simplicity and femininity. While Marloes website is full of dreamy styling pieces, the 'Stevie' is a unique ceramic piece, that our stylist adores as a side table hero. Best of all, the 'Stevie' works with equal impact as a stand-alone vessel or as a vase for your loved florals.
Styling Tip
A final tip from our stylist: Less is more when it comes to side table styling. Collect a few unique local pieces of varying heights, fill a vase with Fresh Flowers & source a quirky candle.