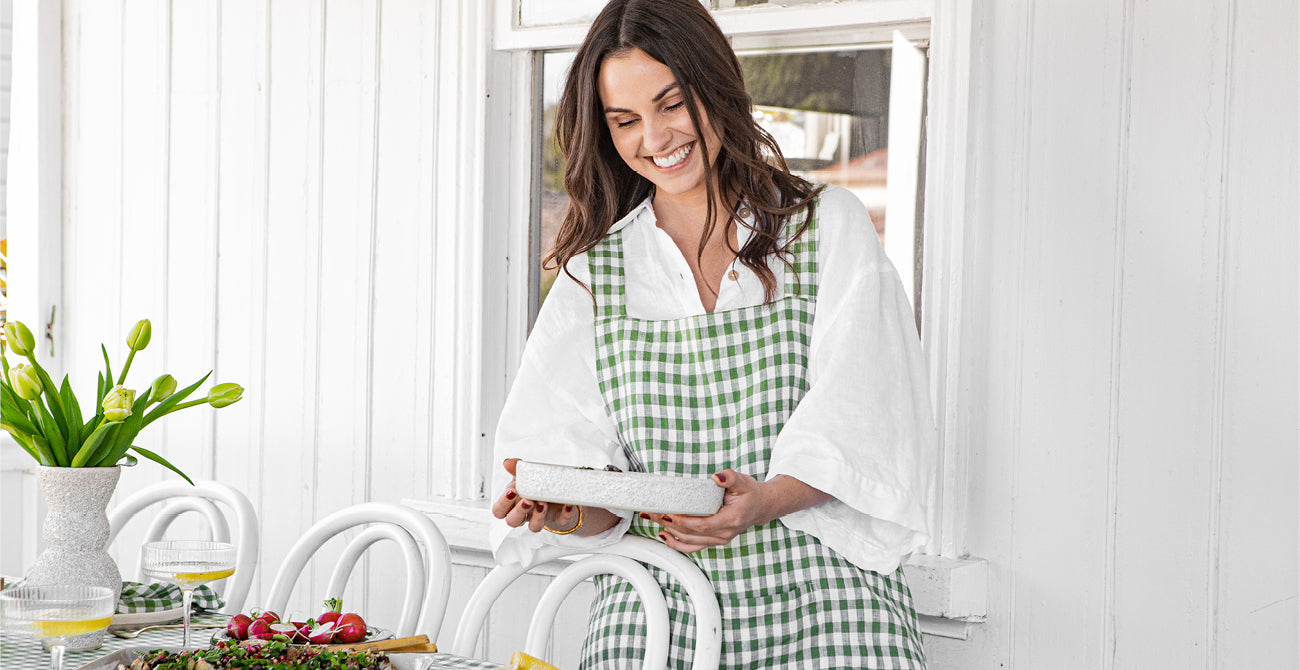 Elevate Your Self-Care Ritual With An Aromatherapy Eye Pillow
Posted: 24 July 2022
Nothing soothes the soul more than a quiet moment of self-care. Prioritising your physical and mental wellbeing can provide a special moment of calm amongst the chaos of our busy lives.
Harvest & Gather with Zoe Cuthberston | @undressed_byronbay
Born during the pandemic lockdowns, Undressed has transformed from a simple gesture of love between friends stuck at home into a beautiful business focusing on rejoicing and not restricting food. Owner and creator of Undressed, Zoe was kind enough to share her home, her passion and her recipes with us in the latest edition of the Harvest & Gather series. Join us as we step inside her timeless, Bangalow home and learn how to create one of her favourite crowd pleasing recipes, perfect for your next at home soirée.

Question: Have you always had a passion for cooking delicious recipes filled with nourishing whole foods and creating beautiful table-scapes? Or was this a new passion?

Answer: "Always! As a child I would pretend to host my own cooking show – measuring out every ingredient in individual bowls and talking to 'camera' as I cooked up a storm (and no doubt made a huge mess!) A few years - and many dishes - later, I moved to London where I worked in PR for restaurants, and being a part of the incredible food scene there ignited my passion even further."

"For me, there is no greater joy than friends and family coming together to share a home cooked meal, and I love to honour this. Even if your cutlery doesn't match and the flowers are plucked from your neighbour's garden – I believe it's always worth setting the table."
Question: Tell us a little about how @undressed_byronbay came about and your journey to get here?

Answer: "Undressed came to life during the first wave of the pandemic, when I created hampers filled with fresh produce and recipes for my friends to cook during lockdown. For each recipe I bottled my own sauces, 'undressed' of gluten, refined sugar and animal products to add the final flourish to their dishes. From there, Undressed has grown into an event styling and catering business – a way to combine my two great loves: the way food looks, and the way it tastes!"

"Undressed is about rejoicing, not restricting - our food is created with the intention that everyone is nourished, which is why menus are predominantly vegetarian, gluten and refined sugar-free. Everyone deserves a seat at the table, regardless of if they can't, or choose not to eat certain ingredients."
Question: Where is your go to spot for finding all your beautiful, in season produce?

Answer: "I absolutely love the Farmers Markets here in Bangalow. Every Saturday morning I'll wander down and fill my market bag with seasonal produce, flowers, fresh bread and pasta. I find that buying ingredients directly from the purveyors – not only does it taste better – it encourages me to use and appreciate every last morsel."
Question: The Charred Eggplant dip sounds amazing, how did you come up with this recipe?

Answer: "Thank you! As part of my catering offering I'm often asked to create grazing tables. My charred eggplant dip makes a regular appearance on those tables – and for those who haven't experienced one yet, I hope this recipe means you can enjoy a taste of Undressed at home. I also love using eggplants as part of my table settings, so this is a delicious way to use them up after a dinner party. I like to serve it with crusty baguette and crunchy radishes – fresh from the farmers market, of course!"
Charred Eggplant Dip
Serves 8-10

Ingredients

2 Medium eggplants
1 1/2 Cups of tahini
1/2 Cup of olive oil
2 Tablespoons of Yallateef spice mix (or 1 Tablespoon of dried coriander, 1 Teaspoons of dried parsley, 1 Teaspoon of chili flakes, 1 Teaspoon of garlic powder).
2 Teaspoons of sea salt
Juice of 1 large lemon

To serve: handful of chopped fresh parsley, dukkah, olive oil, crunchy baguette & quartered radishes.

Method

Using a gas stove, char the whole eggplant over an open flame at a high heat. Turn regularly using metal tongs until charred on all sides, and the eggplant is soft and starting to give way.
Once cooked through, place charred eggplant in a medium bowl and cover with foil. Allow to sit for at least 20 minutes.
Holding the eggplant by the stalk with one hand, glide the other hand downwards to remove the charred skin (I like to use gloves here, it can be a messy job!) retaining eggplant flesh and any liquid that has seeped from the vegetable.
Add eggplant flesh and liquid to a blender with the tahini, olive oil, Yallateef spice mix, sea salt and lemon juice. Blend on high until smooth and creamy. Season to taste.
To serve, swirl eggplant dip onto a large plate or platter, top with a sprinkly of dukkah, handful of fresh parsley and a drizzle of oilive oil. Serve alongside crunchy, warm baguette and fresh radishes.