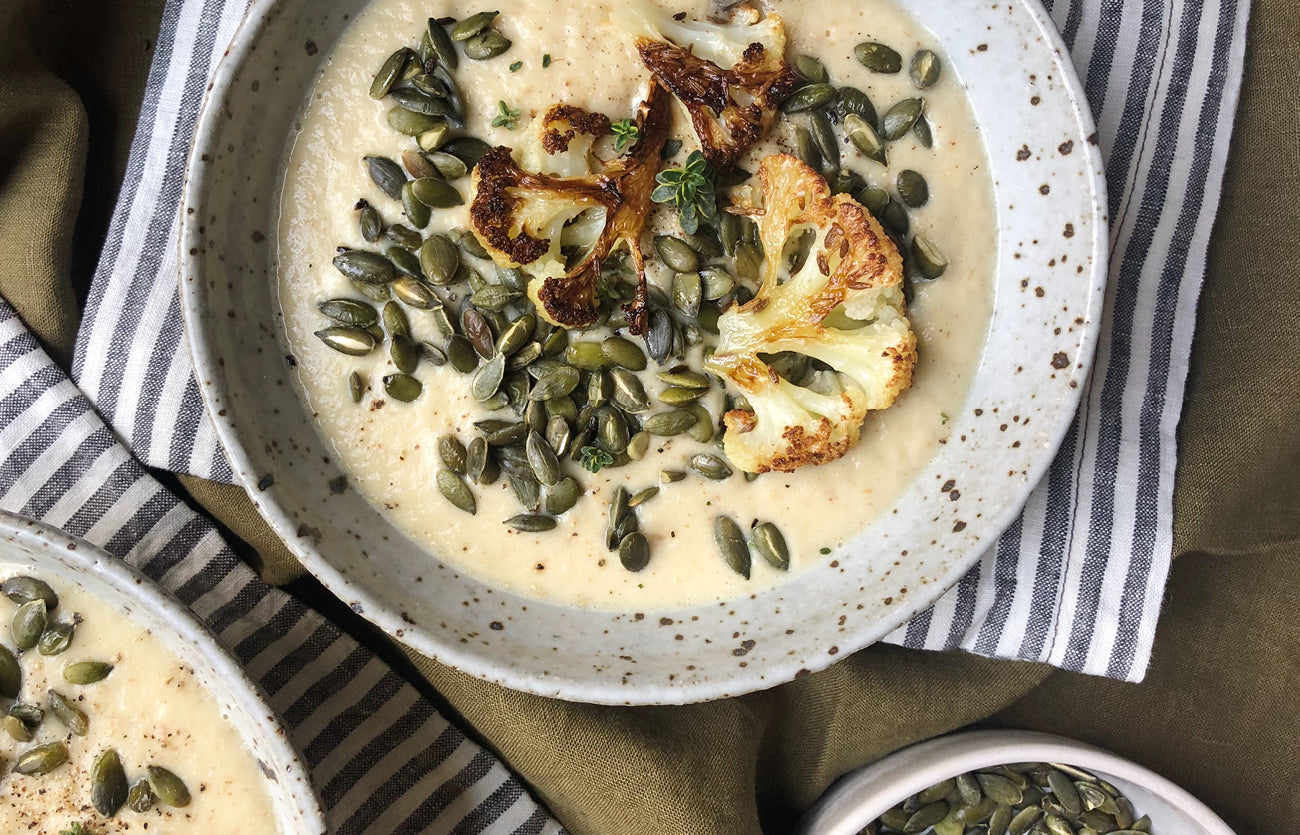 Dreamy, Creamy Soup by Jessica Prescott
Posted: 21 June 2020
This dreamy creamy soup is on high rotation in my home at the moment because my toddler and I are both utterly addicted to it.
This dreamy creamy soup is on high rotation in my home at the moment because my toddler and I are both utterly addicted to it. Cumin and cauliflower are a match made in heaven, and I've used lemon thyme as a garnish because it's my favourite herb and I have it growing in my garden. If you don't have access to it, coriander, parsley or standard French thyme will all work beautifully. And if you have a dinner-plate size worth of space in your garden or balcony, I highly recommend growing lemon thyme. It's so hardy and even when I pluck it to nothingness, it always grows back.
Ingredients
Olive oil – for both roasting and sautéing
1 large or 2 small heads of cauliflower
1/2 teaspoon salt
1 generous tablespoon cumin seeds
1 brown onion, diced
3-5 cloves of garlic, finely chopped
1 x 400g tin cannellini beans, drained and rinsed
500ml veggie stock*
500ml water
Black pepper to taste

To garnish and serve

A handful or two of toasted pepitas (pumpkin seeds)
Reserved cauliflower florets
Lemon thyme or any other herb you fancy
Chilli flakes (I had none when I took this photo but they usually go on top of everything!)
Toasted bread, preferably sourdough
Method
1. Preheat your oven to 200°C or 180°C fan forced

2. Cut the cauliflower head and the tender part of the core into bite-sized pieces.

3. Place in a large mixing bowl with a generous glug of olive oil, salt and cumin seeds. Toss to coat the cauliflower in the oil, salt and cumin and then spread over a tray or two and place in the hot oven for 25 minutes.

4. If your pepitas aren't toasted already, clear a little spot on your baking tray and add these for the final 2 minutes of cooking.

5. While the cauliflower is roasting, heat another generous glug of olive oil in the bottom of a pot over a medium-high heat. Cook the onion with a generous pinch of salt for about 5 minutes and then add the garlic and white beans (and an additional pinch of salt if you feel so inclined) and cook for another couple of minutes, then remove from the heat.

6. Once the cauliflower is cooked, remove from the oven and allow to cool for 5 minutes. I always spend this time impatiently picking at the smaller pieces and burning my mouth in the process (worth it). Reserve some of your favourite looking florets as a garnish and pop the rest of the roasted cauliflower in a high speed blender, making sure you scrape any rogue cumin seeds off the tray.

7. Add the cooked onions, garlic, white beans, stock, water and black pepper to taste. Puree until smooth and then ladle into bowls and top with roasted pepitas, reserved cauliflower florets and lemon thyme.

8. This will make about 2 litres of soup in total and the leftovers store and reheat beautifully.

*If you have a litre of liquid veggie stock on hand and want to use the entire thing, by all means do. The reason I only use a half litre here is because I use a decent amount of salt and cumin in the roasting stage and I feel that more stock will overpower the sensational flavour of this soup. I use an organic powdered stock by San Elk which I highly recommend.