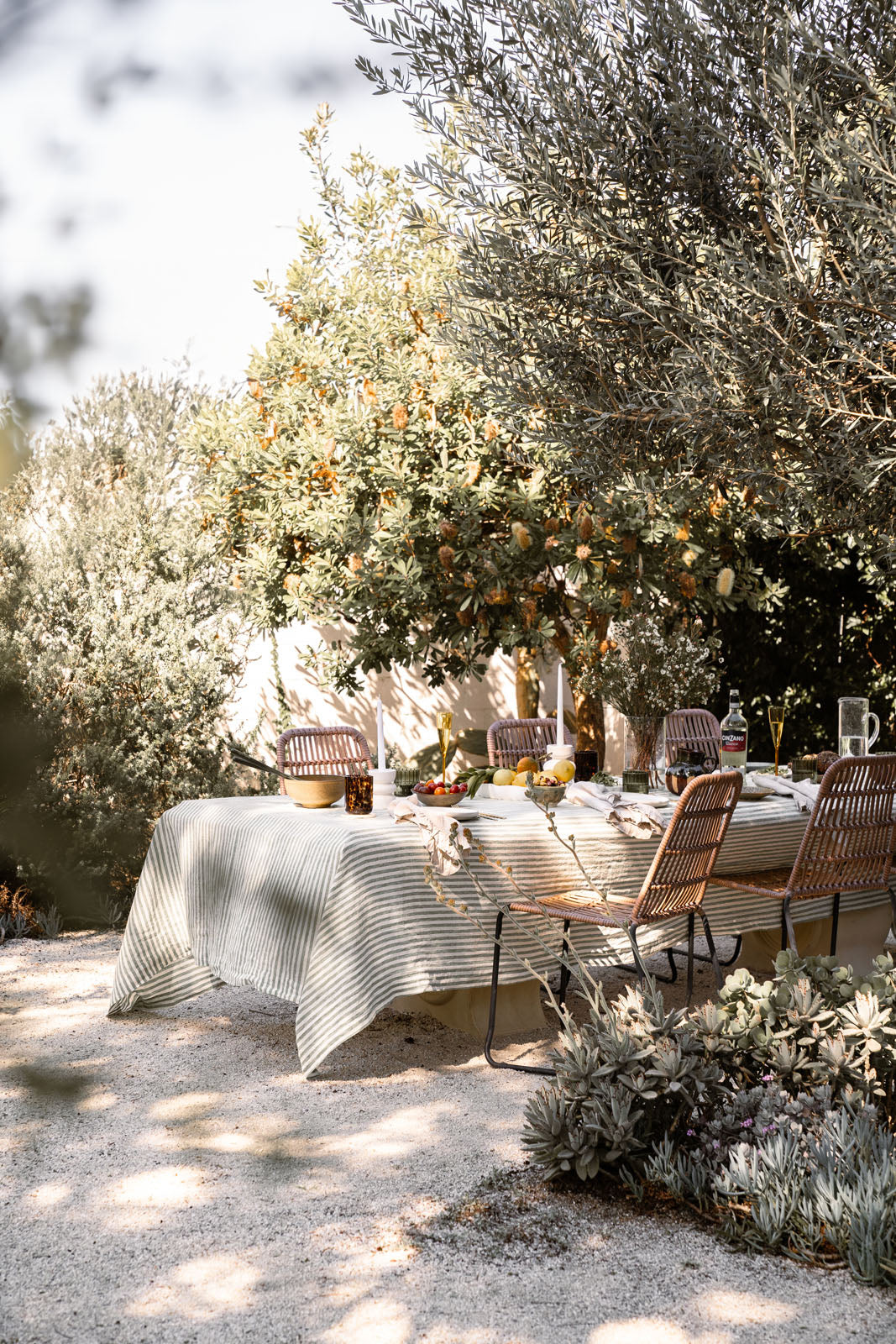 Come with us to the Botanical Paradise that is Miami No 5
Posted: 18 September 2023
Envision your ideal garden: abundant succulents, native flora, mature olive trees, and a hand-crafted swing envelop a quaint Mid-Century modern home. It's the picturesque setting for our Ivy Stripe campaign shoot. With an outdoor fireplace and dining alcove, this verdant sanctuary is designed for summer days and artistic inspiration.
For just one moment forget the bedroom of your dreams and think of the garden of your dreams, because this one is certainly ours.
The house with all its Mid-Century modern charm is surrounded by gardens filled with lush succulents and natives, mature olive trees and a hand-crafted wooden swing creating the perfect backdrop for our latest campaign shoot for Ivy Stripe. The incredible green space also boasts an outdoor fireplace and private pottery studio, perfect for the warm summer days ahead, a testament to the boundless creativity that can be drawn from the natural world when paired with thoughtful design. As you look around, it's evident that every element of this garden has been carefully curated, creating a visual feast for the senses. The interplay of light and shadow in the golden hour light, and the juxtaposition of textures all contribute to an atmosphere of tranquillity and creativity. 
In conversation with the owner, Bec Wyatt...
Q: Tell us about your beautiful garden, where did the inspiration come from? 


A: When we bought our home 15 years ago, it barely had any greenery. We spent a lot of time planting hedges and creating privacy...and then 5 years ago, after 18 months of researching and building a Pinterest board of dry gardens...we took the leap, dug up our lawn and made our forever garden!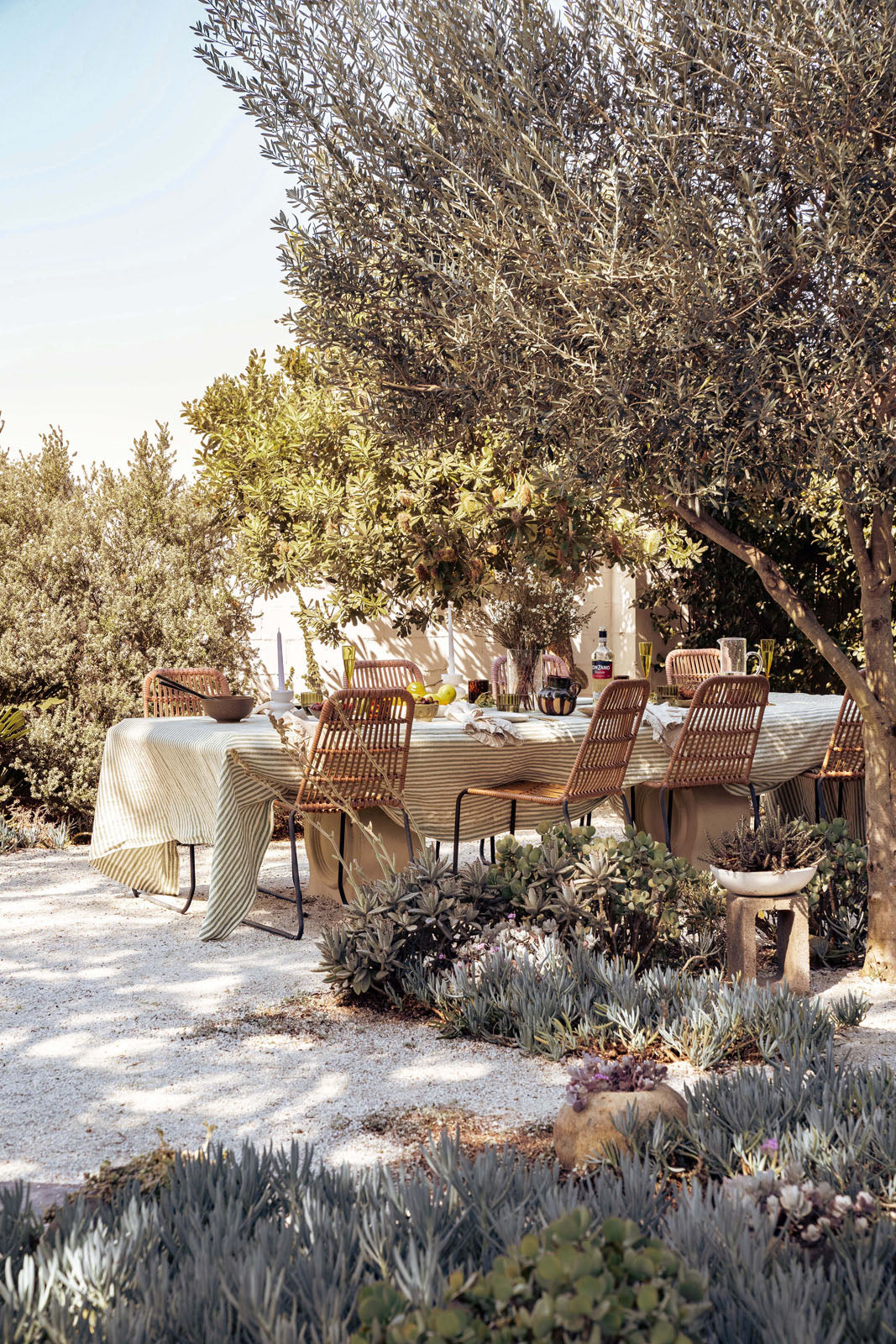 Q: What is your favourite nook in your garden? 


A: This is such a tough question...honestly it changes with the seasons! Our dining alcove is definitely our most used nook all year round, but the fireplace is where we spend our winters, making jaffles and toasting marshmallows. 

Pictured is the glorious sunlight dining area with our French Flax Linen Table Cloth in Ivy Stripe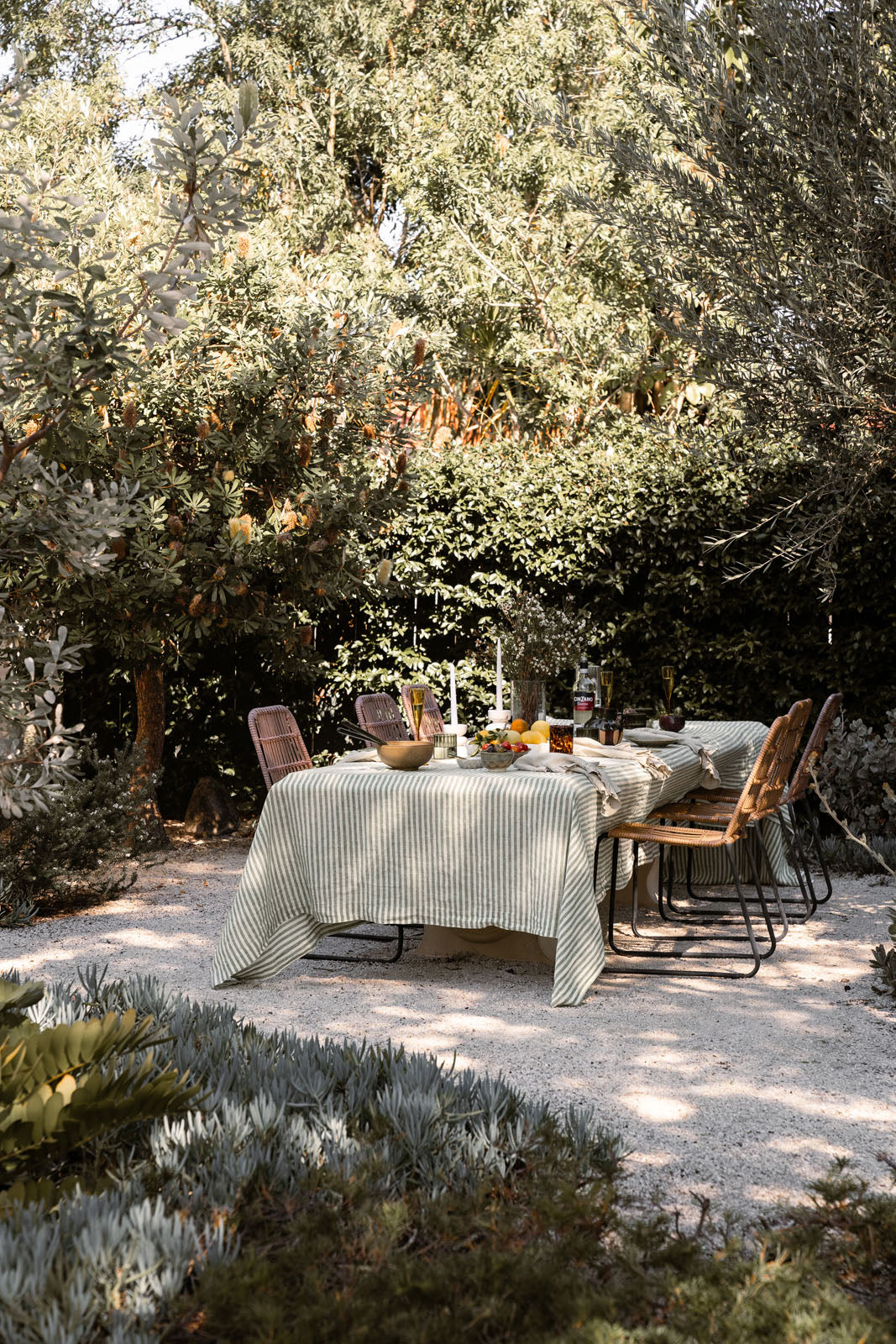 Q: Do you have any advice for planting a low maintenance garden? 


A: Know your soil. Know your sun-fall. Know your climate. I found these three things to be the biggest factors in plant success. Every plant has its own conditions for optimal growth...and if you can match a plant with these conditions, there is very little needed from us. I chose a plant palette of natives, succulents and cacti that are drought tolerant and provide colour all year round.
Q: We saw you have a ceramics studio in this space, tell me a little more about your practice?


A: I started dabbling in ceramics around 4 years ago, and just really loved the process of making something from nothing. I spent the first few years watching videos and experimenting with different hand building techniques and filling my home with pretty things. I recently started a little brand called HARA Ceramics, which is a small range of oil burners, incense trays, vases and bowls. I have an exciting new ceramic project in the works...so stay tuned!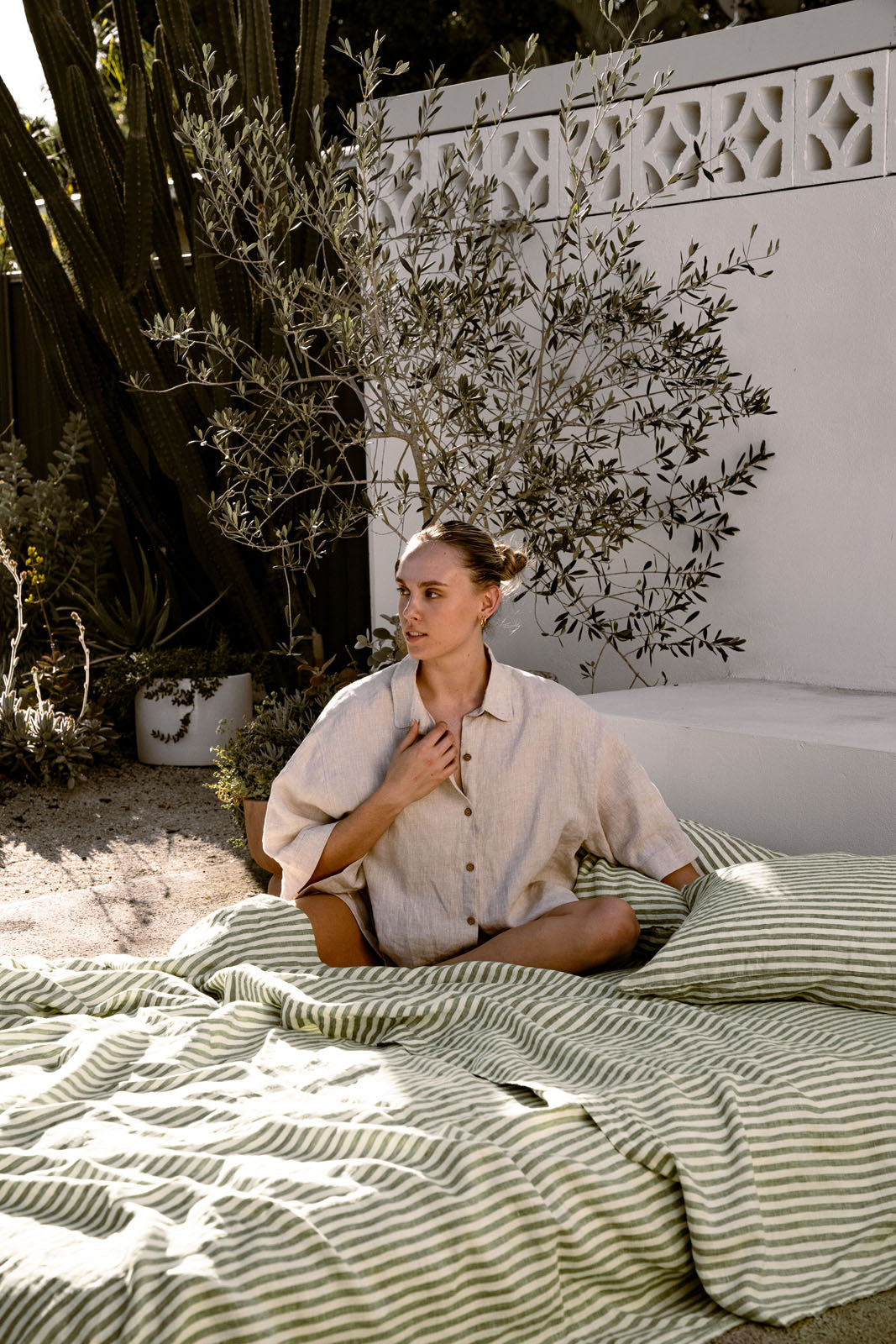 Q: You use this space to rent for shoots and events, tell us the feedback you receive from your clients?


A: We only listed it as a photoshoot location after doing a shoot for Kind Curations last year. The feedback we got about our home and garden was so positive, we decided to sign up with a few agencies. Since then we have done shoots with VRG Girl, Business & Pleasure, Moolkshop, and most recently your team at I Love Linen! We have a few bookings coming into Spring, which is always a beautiful time for a garden shoot. Most people when they see our garden for the first time are really surprised...they don't expect to see such a big Mediterranean backyard at a little beach house on the Gold Coast. For us, we just wanted to build a sanctuary that would feel like an escape without leaving home.