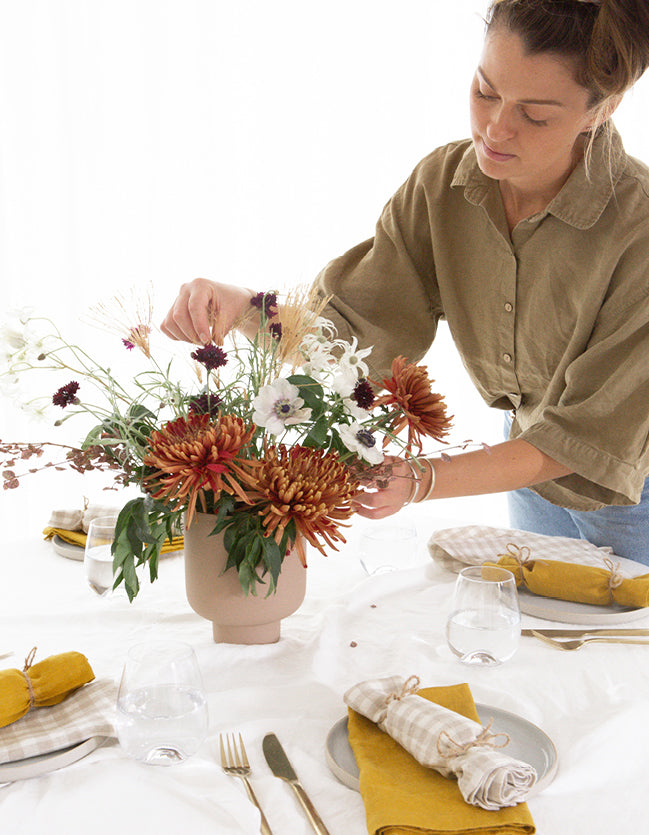 Christmas Dining Centrepieces with @huckleberryflowers
Posted: 03 December 2020
Our good friend, Haylee, and her beautiful floral business Huckleberry Flowers styled our recent Christmas Dining Shoot.
Our good friend, Haylee, and her beautiful floral business Huckleberry Flowers styled our recent Christmas Dining Shoot. We decided to join forces with Haylee and style a beautiful dining set-up ready for all the season's celebrations. Drawing inspiration from our French linen dining collection, Haylee created floral centrepieces to perfectly complement the tablecloths and napkins we styled during the shoot.

We asked Haylee a few questions to find out a bit more about her, her work and how she's spending the season.
1. What are your favourite flowers to work with during this season?

Around this time of year, I love working with Peonies (though a little bit tricky and high maintenance in this heat). The colour and the transitional opening is amazing – who doesn't love Peonies! I can also add Delphiniums, Beech Foliage and Flowering Dogwood to this list. Not only do these flowers bring height and vibrant colouring, but they create a lush and floaty landscape that is perfect for any occasion. The heat doesn't stop dried flowers though! Dried flowers are great for any occasion and can provide amazing contrast.

2. What are you looking forward to for this festive season at home?

This festive season I am looking forward to spending quality time with my family and friends. After a crazy year, it will be nice to catch-up and relax with them. Nothing beats a warm summer's day and taking the dogs down to the beach and just enjoying some time to wind down after a busy year. Of course, eating lots of food is on the agenda too!

3. What makes you feel most at home?

Being a Taurus, I very much love and appreciate being at home and in the company of my partner and my two dogs. It's the simplest things that give me great comfort such as wearing loungewear and eating a hearty home-cooked meal.
4. What are some of the self-care rituals you love to practice?

Lots of sleep, candles and baths. These are a few of my favourite self-care rituals. As a florist, I am always on my feet so when I take time for myself, these are the things I always turn to. Not to mention, hanging out with my amazing dogs.

5. Describe your ideal dining setting/experience.

Lavish yet simple. My ideal dining setting would be full of flowers and food. The flowers would be over-the-top in the centre and make their way down the middle of a long grazing table with linen napery. A ploughman's style spread, with a mix of cheeses, fruits and bold flavours would surround. A relaxed environment with family and friends, where the colour scheme would be rich and vibrant.

6. What do you love most about being a florist and styling florals?

I love creating beautiful floral arrangements for my clients' special events. Since being a florist, I have loved having the freedom and creative powers over floral briefs and nailing it with my own spin to it. No matter the flower size, height or shape – although in the background of the event or a subtle addition, they stand out and bring any event to life. That is what I love the most.