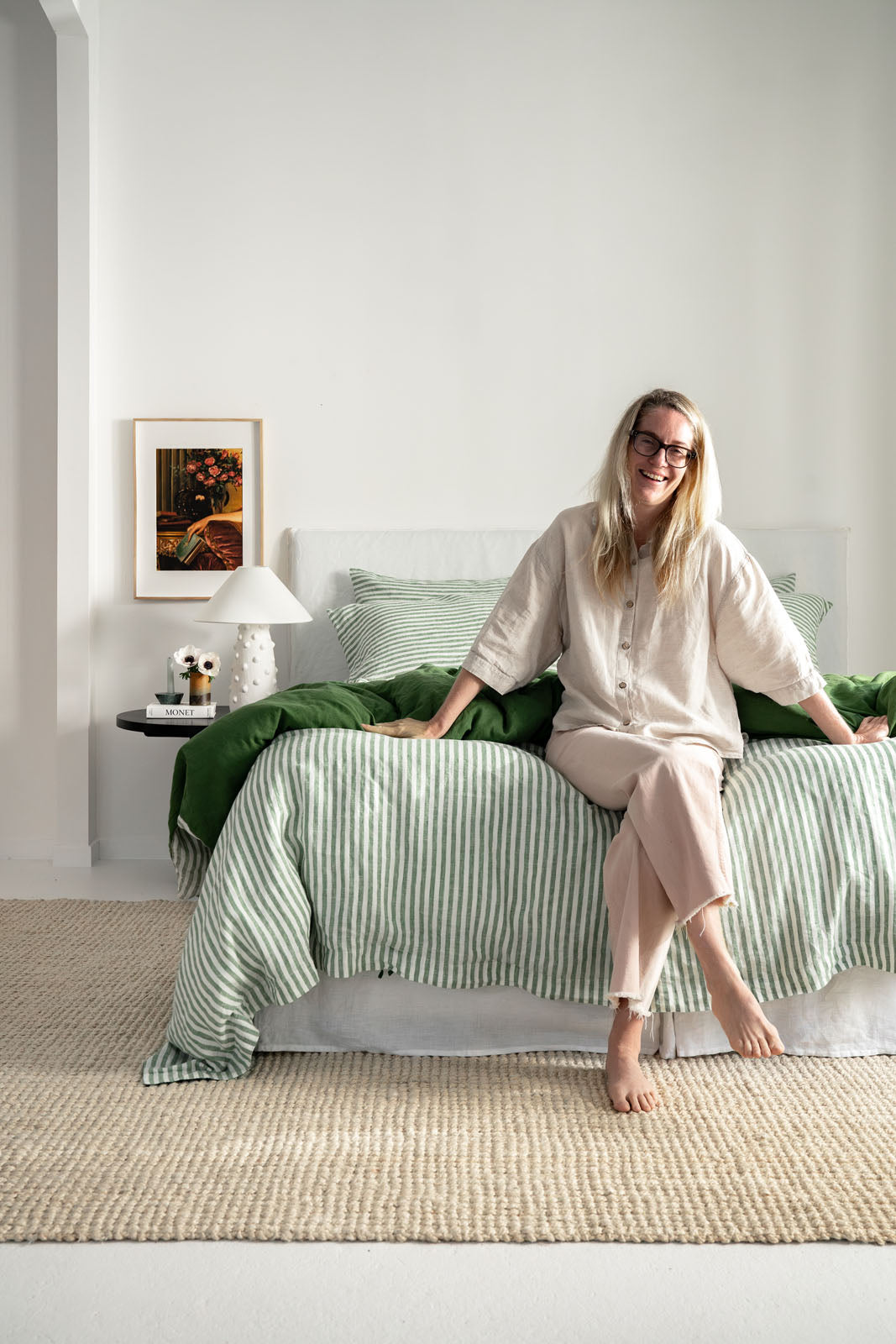 Behind the Design: Welcome Ivy Stripe
Posted: 18 September 2023
Come and explore our newest stripe to our coveted signature French Flax linen range. You can do no wrong with a classic stripe, and the shade and style is so versatile, allowing you to create multiple looks depending on your mood or design preferences. You'll love the deep rich green of Ivy set against a softer milk stripe - welcome Ivy Stripe indeed.
Welcome, Ivy Stripe 
What started as our first thicker style stripe as Marine Blue Stripe in 2019, continued on with our best selling Sage Stripe and now we have added another beautiful green stripe to our range. Ivy Stripe is the perfect pairing for creating a classic and structured look, while the rich green evokes the harmonious qualities of nature.


With this launch we're also particularly excited to design a Double-Sided Quilt Cover - one side stripes, the other deep Ivy. It creates two design options in one and can create an instant design change up simply by flipping your Quilt Cover over.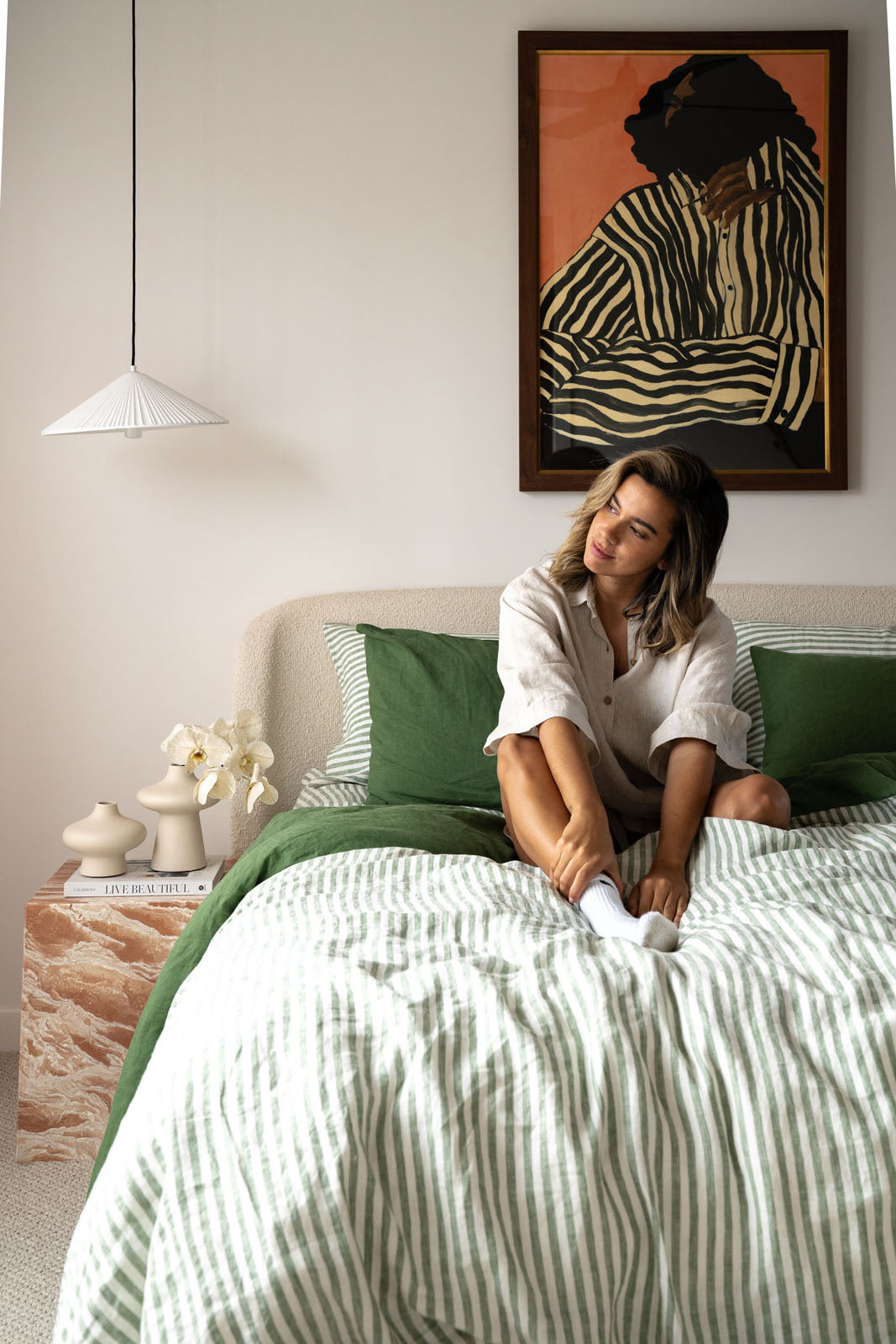 Created from our love of green
If you love the look and feel of strong and clean lines then we encourage you to really lean into this design with both the Quilt Cover and Sheet Set in this beautiful French Flax Linen fabric - showcasing the stripe. It is elevated, elegant and while the reverse solid green balances the look.

Otherwise you can flip the quilt cover over to hero the solid green side, with a peep of the Ivy Stripe matching back to your new Sheet Set. This look feels balanced and deeply inviting, with the Ivy striking just the right shade of green.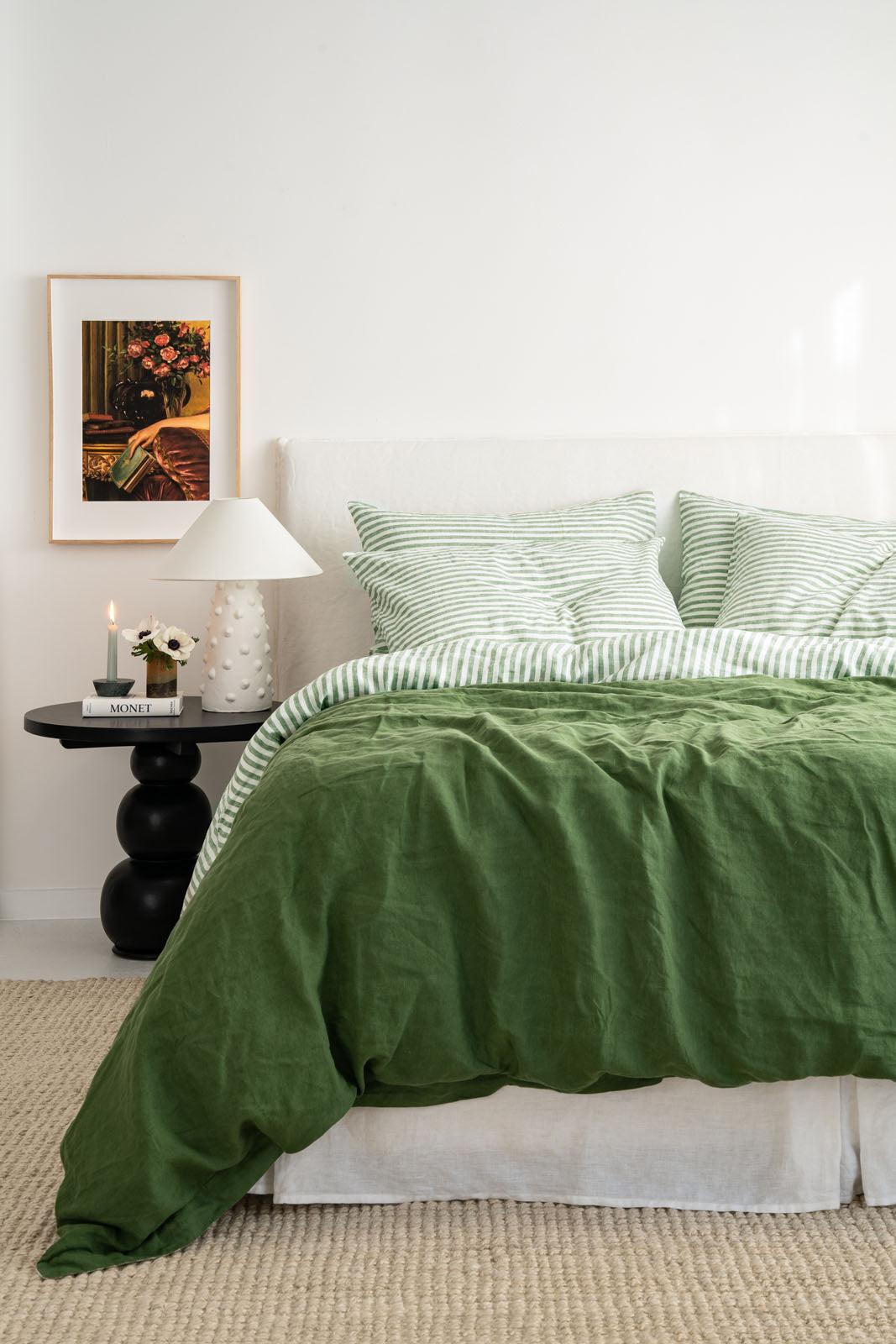 Create your new sanctuary with Ivy Stripe
Inspired by a multitude of ideas, Ivy Stripe feels part Euro Luxe, Mid-Century Modern and even cosy Farmhouse. The point is, that you have so many creative options to play with as the stripe and the shade of green works with so many of our existing shades in our signature French Flax Linen range. 
"Our classic stripes range has for a long time been a fixed staple in our collection, and when we were choosing our new shades Ivy Green just suits itself perfectly to a chic stripe and I cannot wait to see how our community styles it."
- Lauren, Founder
What we absolutely love about our latest shade and stripe, part of our growing Pure French Linen Bedding range, is its almost chameleon like properties. You can lean into the elegant Italian Villa inspired aesthetic, play with nostalgic elements as you create your Mid-Century boudoir and create your perfect little cottage weekender look and feel by mixing and matching our other linen shades. It is the new pattern to elevate your bedroom with a focus on your Quilt Cover or create a classic base with your Sheet Set.
Green is Good
From a styling perspective, we had such a satisfying time working with different tones and textures and we encourage you to be creative too. For our hero look we loved playing with contrasting colours by using an elegant deep black rounded bedside table and calling out those deeper tones through the considered use of the artwork on the wall. 


Lauren says "I want you to feel elegant but cosy the moment you unbox your new bed linen and start creating your new space with our new exclusive fabric"