Behind the Design: Welcome Charcoal Gingham
Posted: 10 July 2023
Our latest and exclusive design evokes cosy nights of slumber and is delightfully versatile, allowing you to style it with so many of the other beautiful colours in our range. A deep and striking charcoal set against a softer milk check creates the most perfect pattern, all that is waiting is for you to put it on your bed.
Shop our newest addition, Charcoal Gingham
What started as our first design, as Beige Gingham in 2020 has expanded into a number of colourways including our latest addition, the perfect pairing for creating a cosy trans seasonal look for your bedroom.


If you love the look and feel of strong contrasting colours, then opt to really lean into this design with both the Quilt Cover and Sheet Set in this beautiful French Flax Linen fabric. It is elevated, elegant and while the gingham pattern adds a pop of pattern the charcoal and off white keep things sophisticated.
Create your new cosy with Charcoal Gingham
Inspired by creating a cosy nest, Charcoal Gingham is both striking and flattering on your bed. We can't wait for you to create a whole new look by styling your bed with this new French Linen design.

What we absolutely love about our latest shade, part of our growing Pure French Linen Bedding range is you can style it well beyond the obvious monochromatic design options. Cottage Core? Check. Japandi? Check. Chic little Parisian loft style? Also check. It is the new pattern to elevate your bedroom with a focus on your quilt cover or create a classic base with your sheet set.
"When we first launched our Gingham range in 2020 we were blown away by the response and have continued to work with this fantastic pattern in a range of shades. I've wanted to bring this classic design to life for some time now, I've been waiting patiently and am so excited to see how our community styles it"
- Lauren, Founder and Designer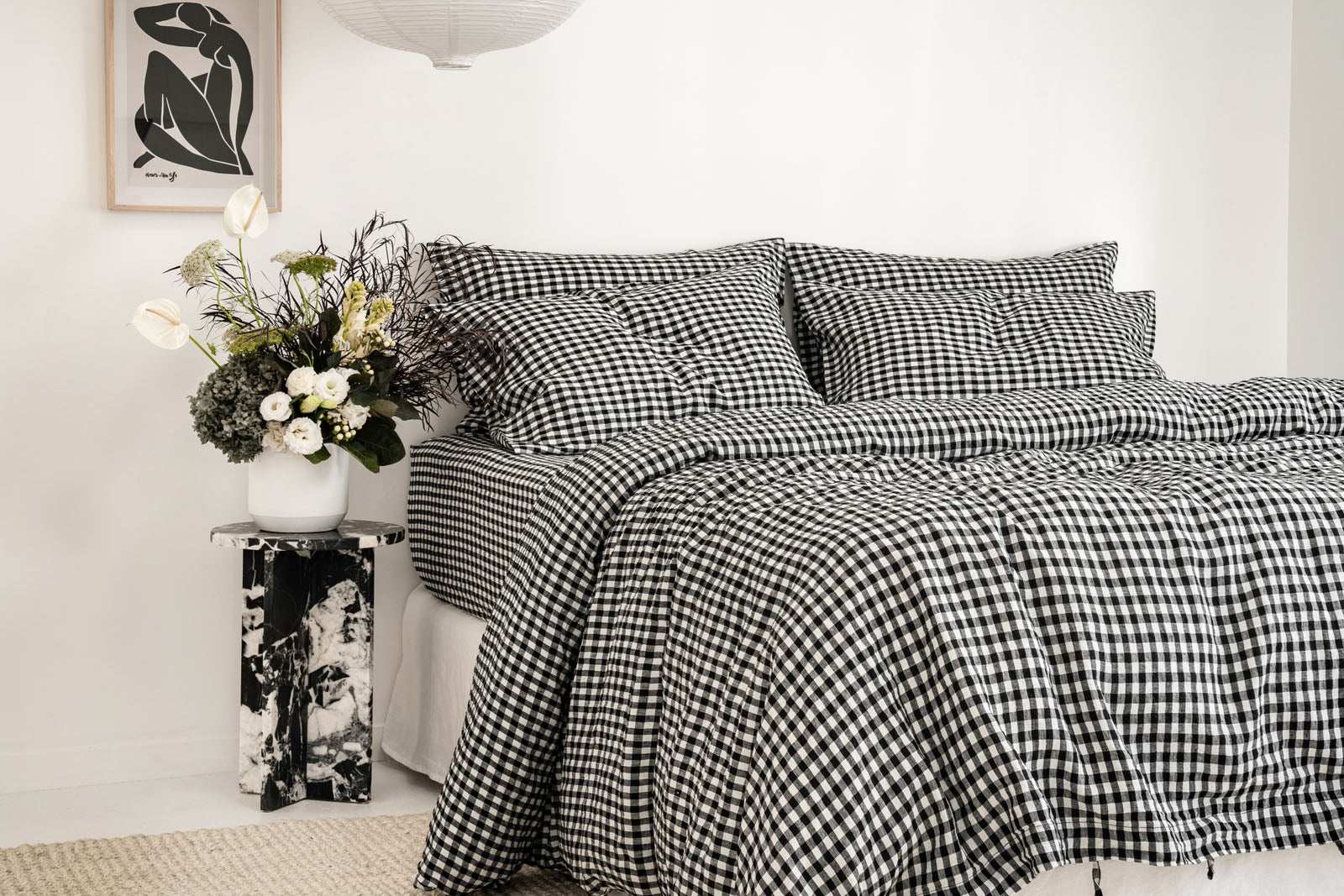 Monochrome Kind of Mood
Form a styling perspective, you can play around with the tones and textures in your bedroom. Lean into the contrast of black and white with a marble bedside table from our friends at Fleur Studios for example, and carry the theme on with an elegant floor lamp by coveted designers McMullin & Co.


Lauren says, "I want you to feel super cosy, homely and comfortable the moment you layer your bed in our new exclusive fabric"