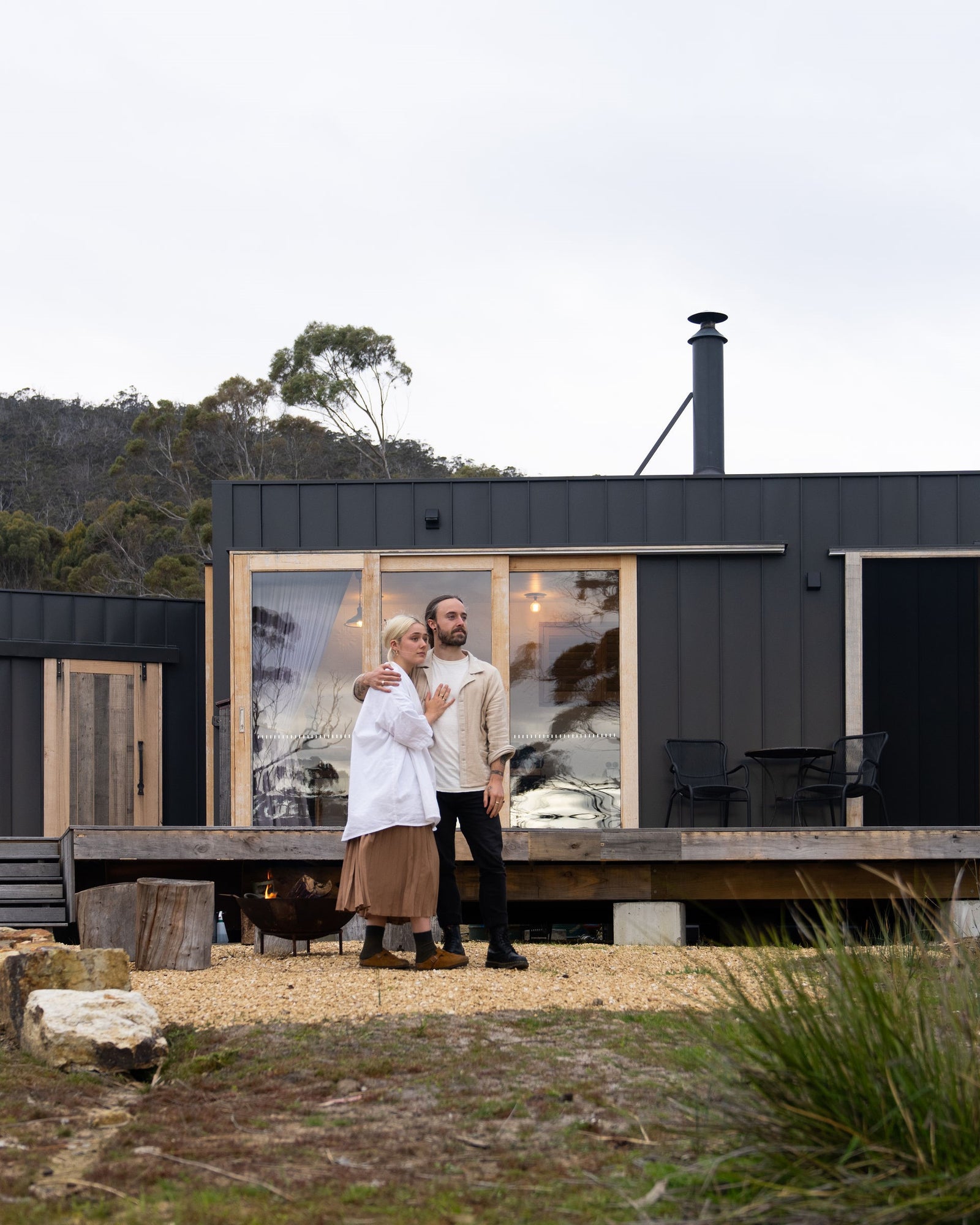 A Perfect Tasmanian Escape at The Hide on Bruny Island
Posted: 03 July 2023
If you are looking for a secluded and calming space to relax, look no further than The Hide, located on the wild coastline of Sheepwash Bay in Tasmania. The interior style is a combination of old and new with repurposed materials, providing a unique and rustic atmosphere. Your stay will allow for immersion in the natural surroundings with activities such as beach walks, snorkelling, and foraging for wild oysters. The Hide offers a slower way of living, perfect for unwinding and enjoying the expansive waterfront view.
When the wonderful owner of this magical destination reached out to us we immediately fell in love with the experience she has created for her guests.
We're such massive fans of travelling throughout Tasmania and making the effort to Bruny Island is highly recommended and rewarding. Once you arrive you'll experience an opulent haven nestled within a rugged, seaside landscape off the coast of wild and beautiful Bruny Island in Southern Tasmania.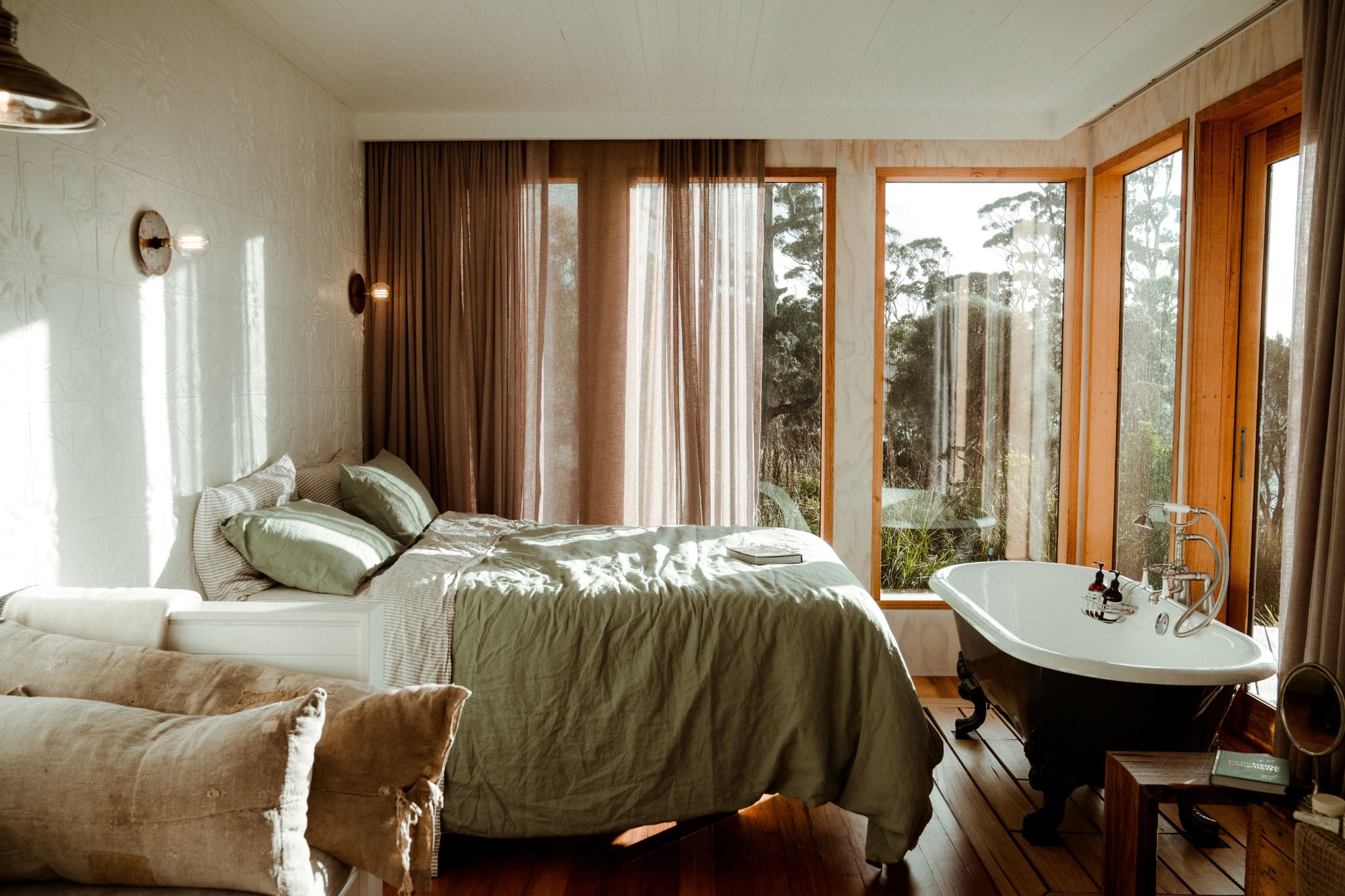 The considered and contained space has been designed to create ultimate peace and quiet, allowing you to indulge in a cosy sanctuary as you embark on your adventure in Bruny Island. From the comfort of your bathtub, witness the majestic sea-eagles soaring above and the coastal waters lapping at your shore. Spend a few days exploring the local artisans and gourmet shops and chances are you won't want to check out. But first you can read along as we find out all there is to know about this stunning location.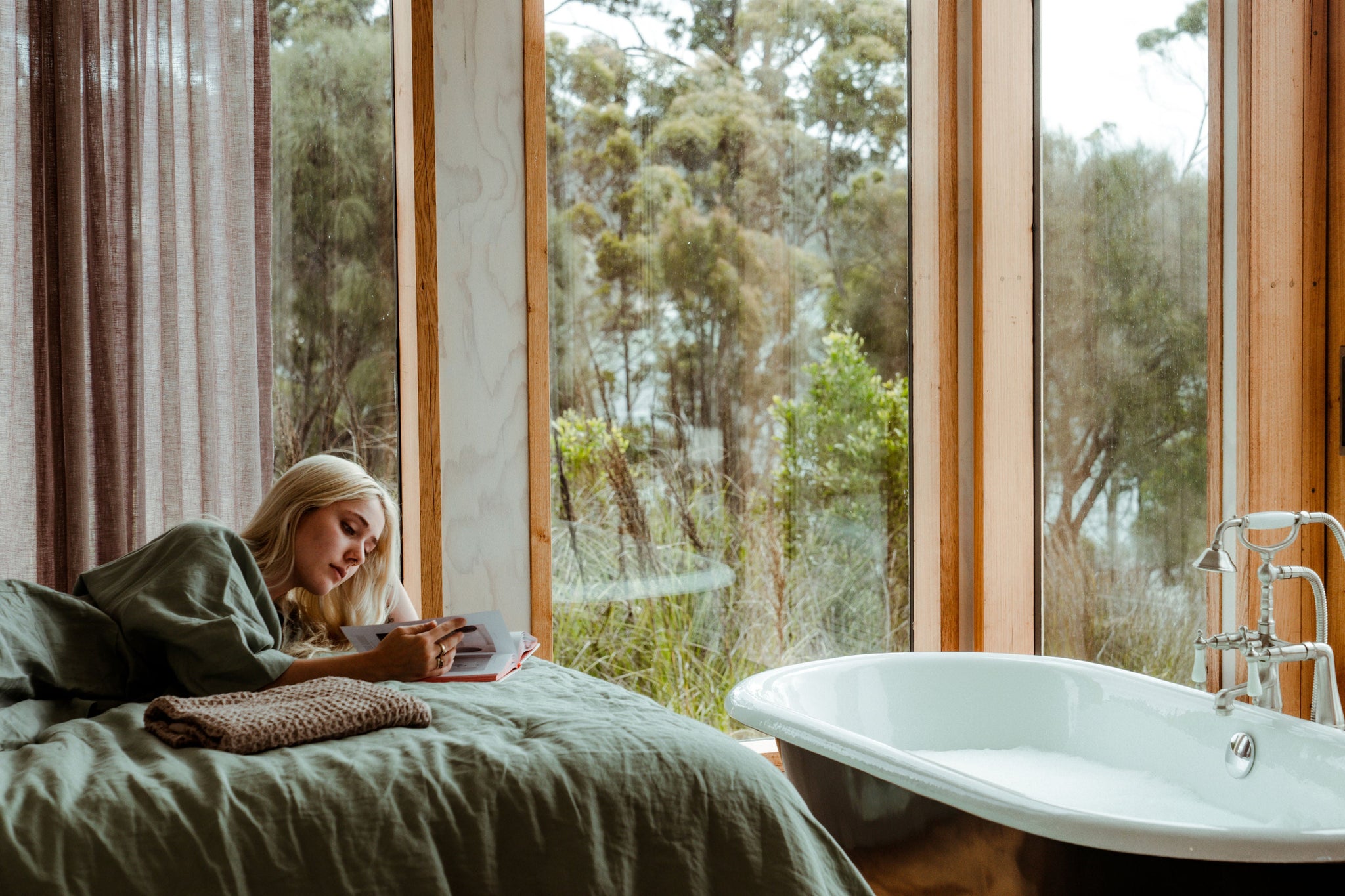 Q: How would you describe the interior style of The Hide?


A: The Hide is designed to be a secluded nook to enjoy whilst looking out onto the wild coastline of Sheepwash Bay. There is a mixture of old and new with repurposed floorboards from a shearing shed, furniture built from old colonial rafters, and cushions repurposed from old French flour sacks. It is a simple and calming space.

This incredible space features our Sage Quilt Cover Set and Sage Robe
Q: What does the perfect stay look like at The Hide?


A: A 2-3 night stay will allow you to immerse yourself into the experience of being at Sheepwash Bay. Without having to leave the property enjoy beach walks searching for seahorse skeletons, snorkel amongst the sealife and forage wild oysters off the rocks. Explore the forest and spot Tasmania's 12 endemic birds. If you feel like engaging in the outdoors you can cook dinner on the fire pit, or enjoy a picnic of local produce. After reading and relaxing, enjoy a steaming hot shower under the stars or soak in the deep bath. Wake up to hot sourdough dropped in your letterbox from John (@thebrunybaker), grind up your fresh Tasmanian roasted coffee beans and set the coffee on the gas.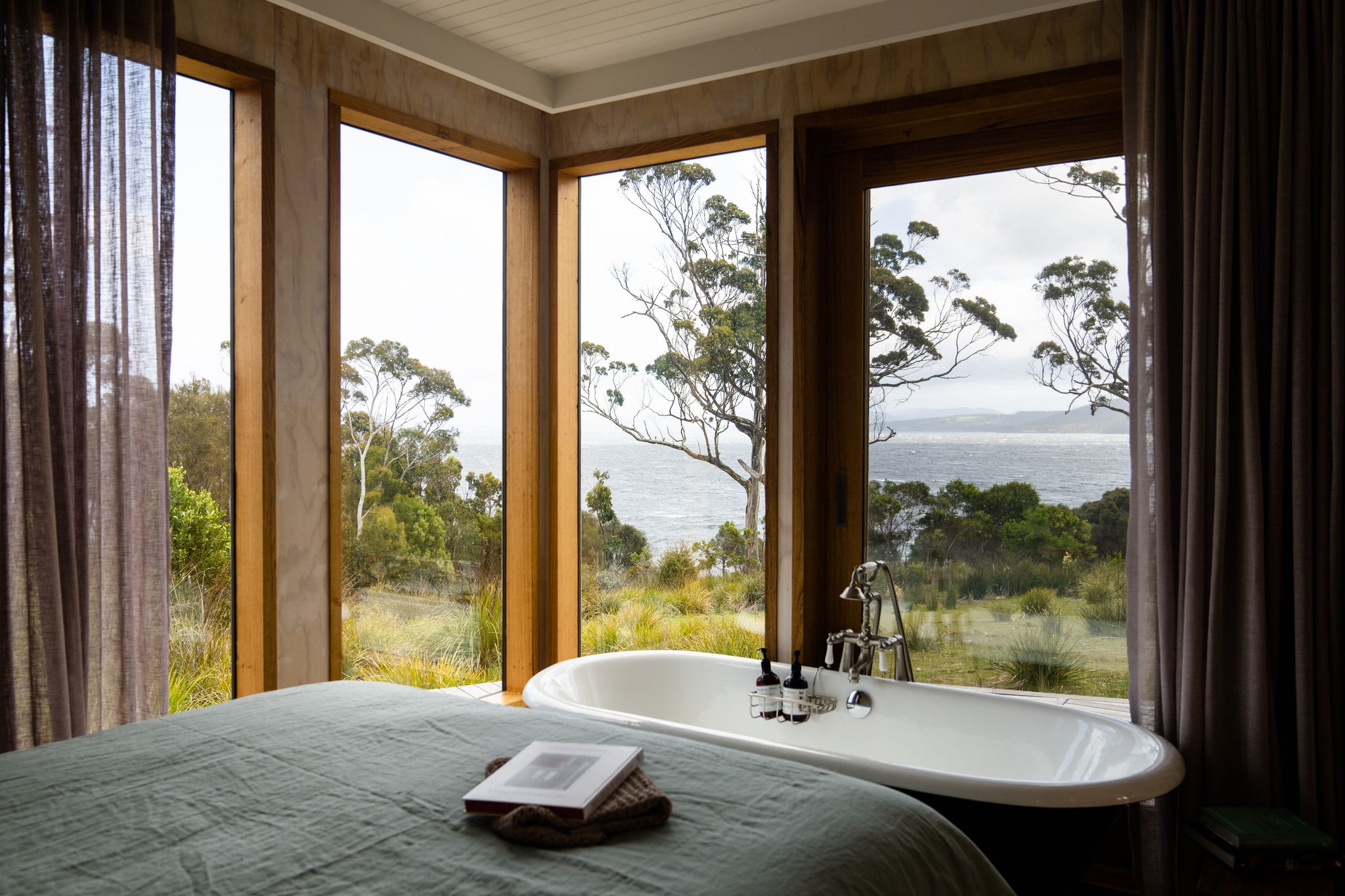 Q: What makes staying at The Hide so relaxing? 


A: Staying at The Hide allows you to unwind from normal daily life. It is a space set up to instantly engage you in living a different, slower way. With an expansive waterfront view you can not see any other man made structures, this instantly relaxes the eyes and slows the mind. Bird calls and water lapping are the soundtrack to your stay.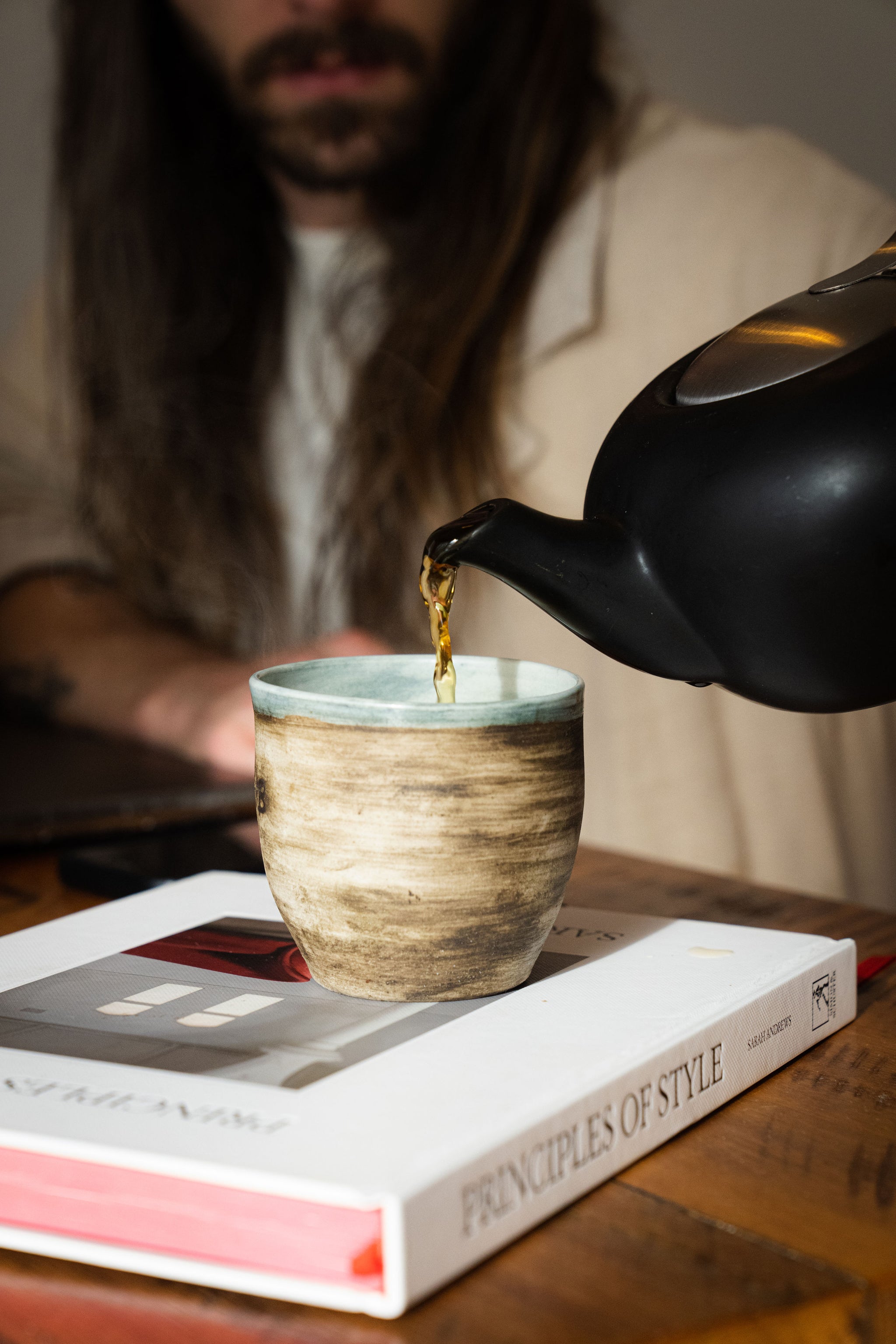 Q: What are three amazing ways to pass the time during your stay while at The Hide or on Bruny itself? 


A: To me the idea of lying on the recliners watching sea-eagles and reading a whole novel whilst sipping martinis is heavenly! Equally amazing is time spent surfing the break at Cloudy bay, or snorkelling for crayfish out the front. If you are after an organised nature experience Rob Pennicotts cruise to the seal colonies is world class.
Q: There is so much to do in Bruny - it's a magical place! Share with us your local knowledge please. Where would you go for:


Wine (just a nice place to have a drink) — Get shucked oyster bar offer a superb glass of Tassie fizz to go with your oysters.The winery has a great range of wines and ciders and you can enjoy these from a bean bag in amongst the vines.

Great Walk — If you're up for some incline the Fluted Cape walk at Adventure Bay is a must. It traverses the top of the sea cliffs (1.5 hrs). A flatter option is the walk to Mars Bluff at cape Queen Elizabeth- a couple of hours return (depending on the tide) to see the famous stone archways (tip: go at LOW tide!). Really happy to discuss many other hiking options when you stay - some secluded, some intrepid!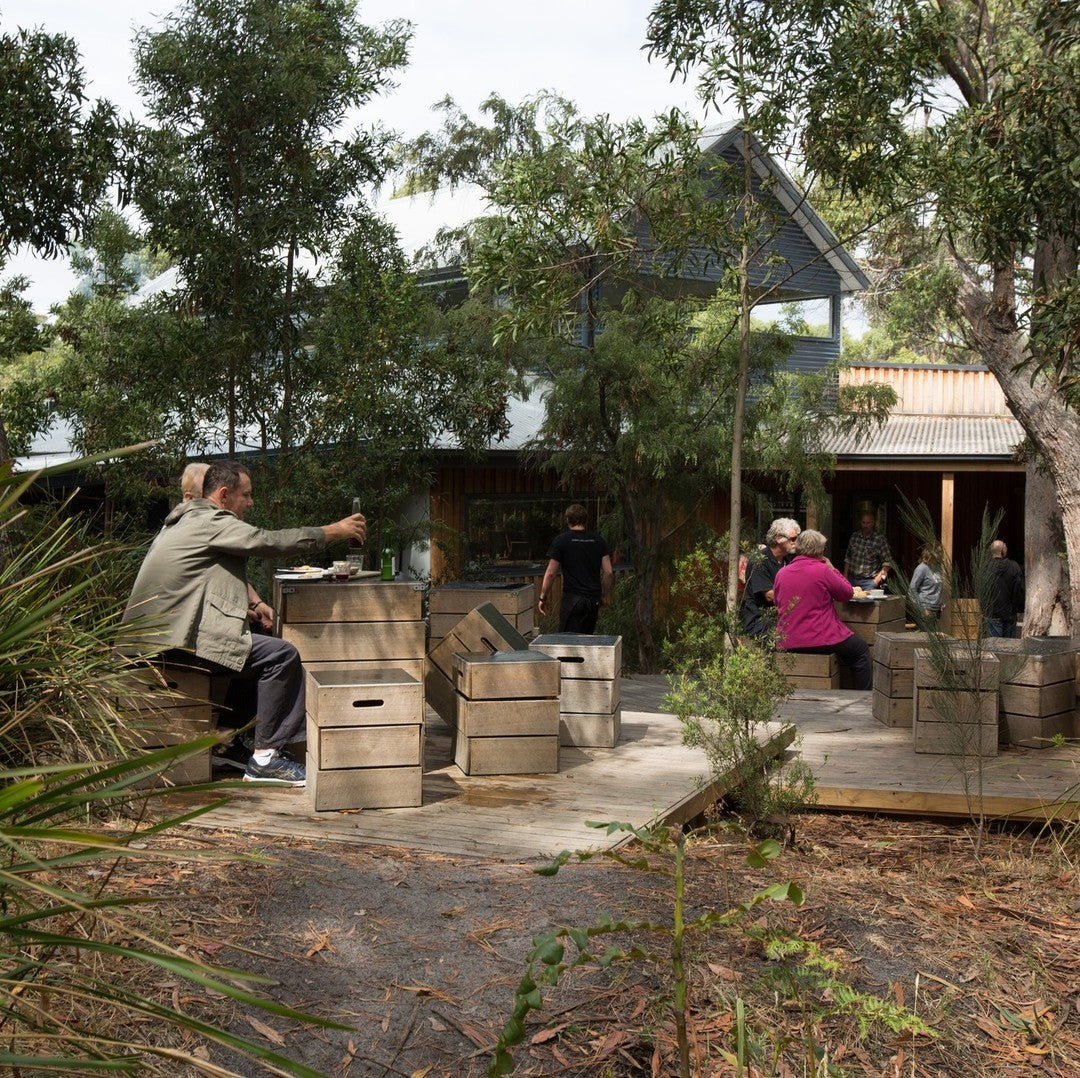 Restaurant/Food tip —
DAY TIME: The Bruny Island Cheesery offers great craft beers made on site to accompany their superb cheeses. Pennicotts at Adventure Bay do a great fish and chips on a deck overlooking the water.
EVENINGS: the local hotel is 5km from us and has a good range of pub fare. The winery does some evening meals as do the little cafe at Dennes Point (always ring ahead!)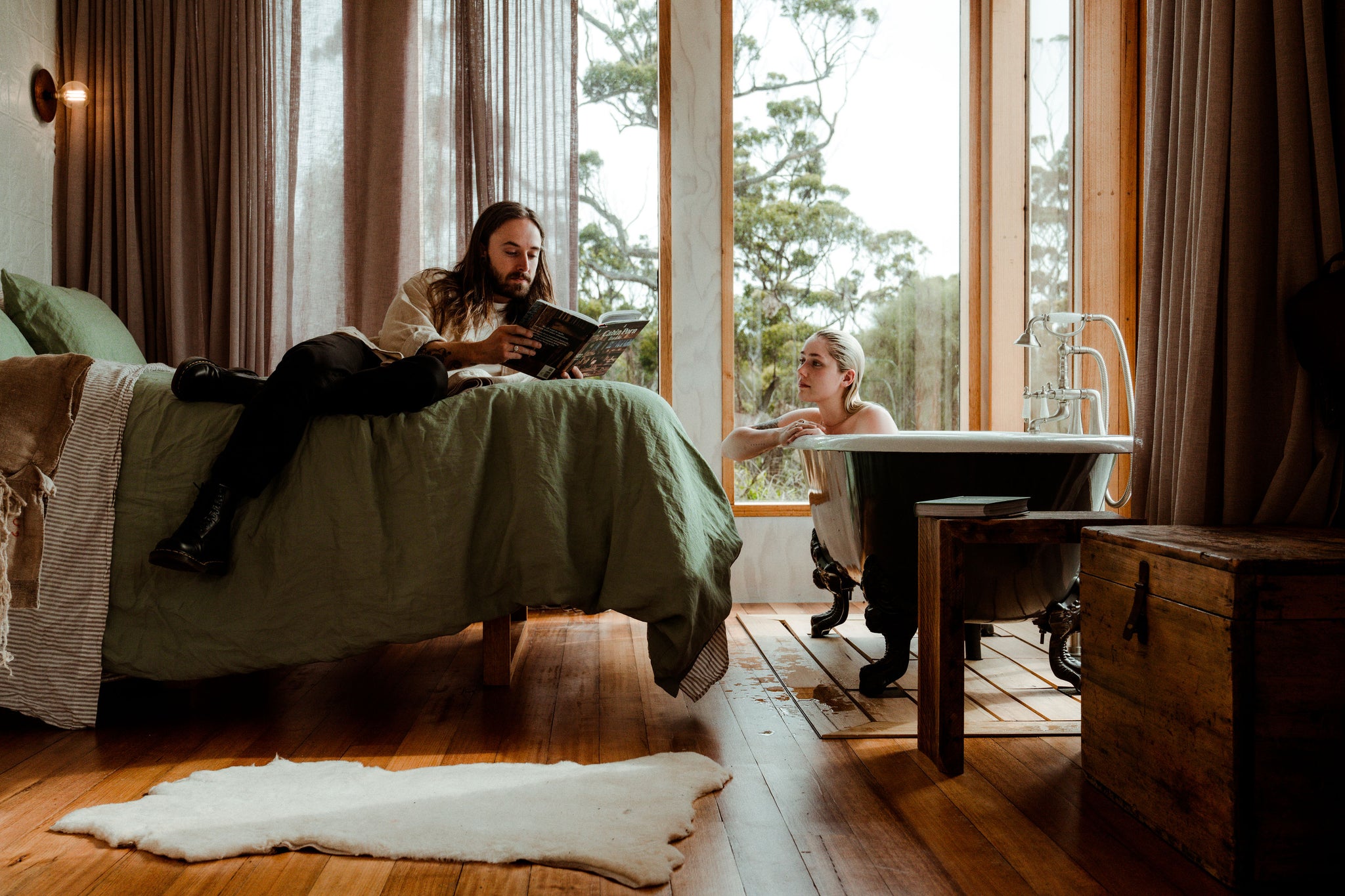 Q: We believe that if you sleep well, you live well. What does a perfect sleep wind down routine look like when staying at The Hide?

A: A therapeutic soak in the clawfoot bath, wrap yourself into a linen robe and enjoy a cup of sleepy time tea on the deck whilst watching the native animals and birds. Lucky guests may even spy a white wallaby or an Aurora Australis to the south. Dive into bed between lush linen sheets.